The Broken Hearts Gallery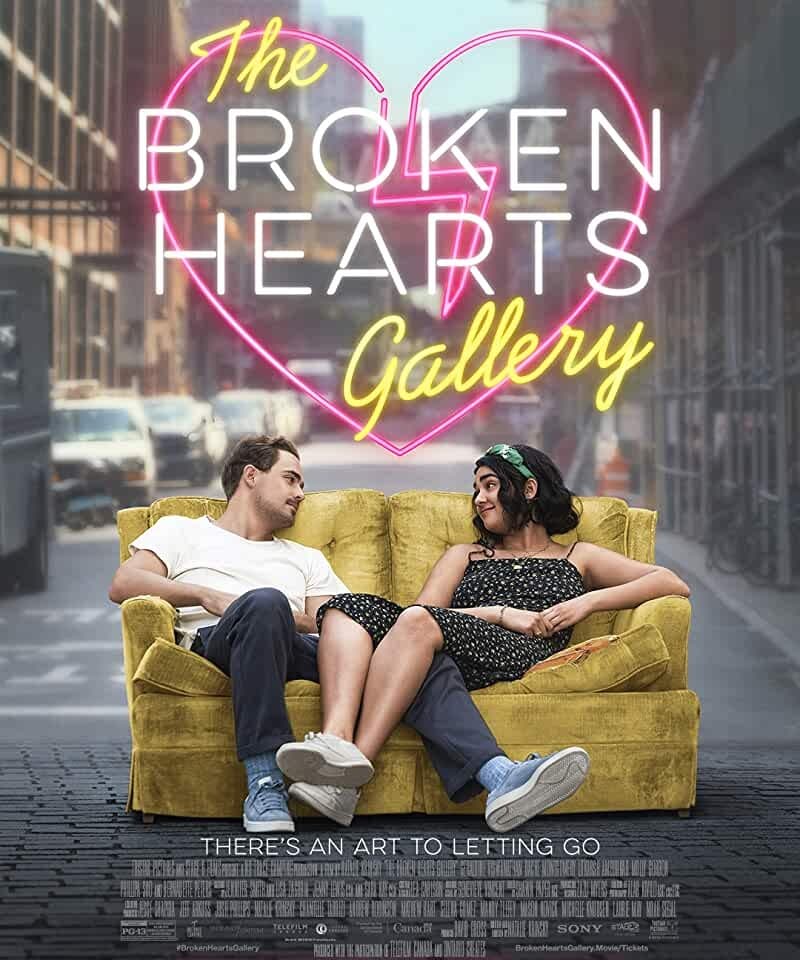 The Broken Hearts Gallery is Sony Pictures' YA romantic-comedy film written and directed by Natalie Krinsky (Gossip Girl), in her directorial debut. The film stars Geraldine Viswanathan (Blockers), Dacre Montgomery (Stranger Things), Utkarsh Ambudkar (Pitch Perfect), Molly Gordon (Good Boys), Phillipa Soo (Hamilton), Suki Waterhouse (Assassination Nation), Taylor Hill (Too Old to Die Young), Sheila McCarthy (The Umbrella Academy), and Bernadette Peters (The Good Fight). Selena Gomez serves as the executive producer.
The movie's official synopsis reads, "What if you saved a souvenir from every relationship you've ever been in? The Broken Hearts Gallery follows the always unique Lucy (Viswanathan), a 20-something art gallery assistant living in New York City, who also happens to be an emotional hoarder. After she gets dumped by her latest boyfriend, Lucy decides that she must let go of her past to move forward, and comes up with a lovely, artistic way to help herself and others who have suffered heartbreak. Lucy is inspired to create The Broken Heart Gallery, a pop-up space where people can leave mementos and trinkets love has left behind. Word of the gallery spreads, encouraging a movement and a fresh start for all the romantics out there, including Lucy herself".
The film was initially scheduled to hit theaters back on July 17th, but was pushed back multiple times because of the ongoing crisis. The film is scheduled to be theatrically released in the United States and moviegoers will be able to see the movie, if theaters are open in their area.
The Broken Hearts Gallery release date: September 11, 2020
---
I Am Woman
I Am Woman is an Australian biographical music/drama film about feminist icon Helen Reddy. It's directed and produced by award-winning director Unjoo Moon, from a screenplay by Emma Jensen (Mary Shelley). Tilda Cobham-Hervey (Hotel Mumbai) stars as the singer Helen Reddy alongside Evan Peters (X-Men: Apocalypse), Danielle Macdonald (Bird Box), Matty Cardarople (Stranger Things), and Rita Rani Ahuja (Speechless).
The film is a story of fearless ambition and passion, about a woman who smashed through the patriarchal norms of her time to become an international singing superstar. The film opens with Helen Reddy (Cobham-Hervey), aged 24, arriving in New York in 1966 with her three-year-old daughter, a suitcase, and just $230. She leaves her old life in Australia for New York and stardom, only to find that the industry's male gatekeepers don't take her seriously.
Within weeks, she was broke. Within months, she was in love. Within five years she was one of the biggest superstars of her time, with eight number one US singles, her own hourly TV show, and an icon of the 1970s feminist movement. Reddy wrote and sang the song "I Am Woman" that became the power anthem that galvanized a generation of women to fight for change.
Helen finds an encouraging friend in legendary rock journalist Lillian Roxon (Macdonald) who becomes her closest confidant. When ambitious aspiring talent manager Jeff Wald (Peters) sweeps Helen off her feet, everything changes as he becomes both her husband and manager and relocates the family to California. Increased fame leads to added pressures on themselves and their relationship, forcing Helen to find the strength to take control of her own destiny.
The film had its world premiere at the Toronto International Film Festival on 5 September 2019. The film holds an approval rating of 71% based on 14 reviews on Rotten Tomatoes with a lot of praise for Cobham-Hervey's performance. This music biopic drama is a must-watch that will be released in select theatres and on-demand.
I Am Woman VOD release date: September 11, 2020
---
The Devil All The Time
The Devil All The Time is Netflix's original psychological thriller film based on the novel of the same name by Donald Ray Pollock. Directed by Antonio Campos (Afterschool) and co-written with Paulo Campos and produced by Jake Gyllenhaal (Zodiac). Spanning the time between World War II and the Vietnam war, Campos' The Devil All The Time renders a seductive, wretched and horrific landscape that pits the justice against the corrupted.
The film stars an incredible ensemble cast comprising Tom Holland (Spider-Man: Far from Home), Bill Skarsgård (IT), Riley Keough (Logan Lucky), Jason Clarke (Dawn of the Planet of the Apes), Sebastian Stan (Captain America: The Winter Soldier), Haley Bennett (Swallow), Eliza Scanlen (Little Women), Mia Wasikowska (Alice in Wonderland), Harry Melling (The Old Guard), and Robert Pattinson (Tenet).
RELATED: THE DEVIL ALL THE TIME: NETFLIX RELEASES 1ST TRAILER FOR STAR-STUDDED THRILLER
The premise of the movie is as follows; In Knockemstiff, Ohio and its postwar neighboring backwoods town teeming with corruption, brutality, sinister characters packed into every corner — an unholy crooked preacher (Pattinson), twisted serial-killing couple (Clarke and Keough), and the corrupt local sheriff (Stan) — converge around young Arvin Russell (Holland) as he fights the evil forces that threaten him and those he loves.
The R-rated film portrays a religious community and its sprawling underbelly taking faith and ideals to horrific extremes. This is from the director of "Simon Killer" and "Afterschool" and that means we will be primed for the dark canvas the filmmaker paints. This harrowing gothic with a ridiculously good cast is a must-watch.
The Devil All The Time Netflix release date: September 16, 2020
---
Antebellum
Antebellum is Lionsgate's psychological horror-thriller film written and directed by Gerard Bush and Christopher Renz in their feature directorial debut which takes American race relations to another level. It stars Janelle Monáe (Hidden Figures), Jena Malone (The Neon Demon), Eric Lange (Nightcrawler), Jack Huston (American Hustle), Arabella Landrum, Kiersey Clemons (Dope), Robert Aramayo (Game of Thrones), and Gabourey Sidibe (Precious).
The film follows a successful author, Veronica Henley (Monáe) who finds herself trapped in a horrifying nightmarish reality during the Underground Railroad period and must uncover and find a way to break free from the mind-bending mystery before it's too late.
This film feels weird, unique, and interesting in different ways and the final product has mysteries to spare. The film explores the dynamics and dilemmas of antebellum slavery from the sensibility of a 21st century Black woman, who is still well aware of its legacy in contemporary American society. It received mixed reviews from critics, who felt it did not live up to its full potential.
RELATED: HAUNTING NEW TRAILER FOR ANTEBELLUM REVEALS THE SECRET HORROR IN BLACK TIME TRAVEL
Antebellum was originally scheduled to be released on April 24, 2020, but was delayed to August due to the COVID-19 pandemic, later it was pulled off the release schedule. Now the film is scheduled to be released in the United States through premium video on demand, while still playing in theaters in select overseas countries. Slavery movie fatigue aside, the slickly-produced "Antebellum" is almost guaranteed to be a conversation-starter, and will likely generate volumes of thoughts.
Antebellum VOD release date: September 18, 2020