Ava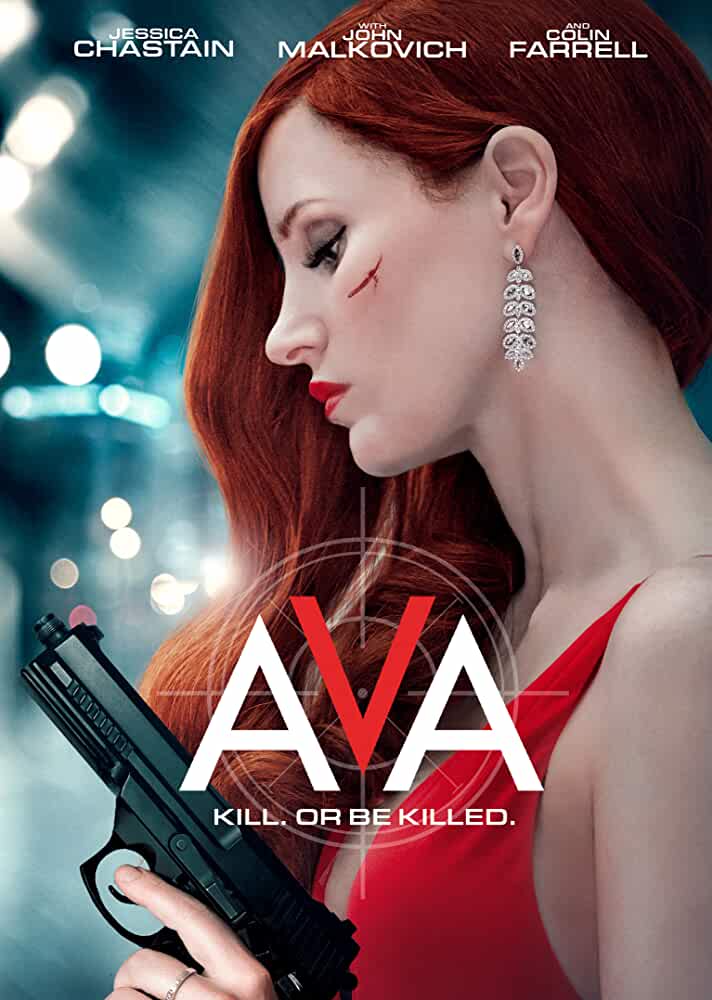 Ava is Vertical Entertainment's action-thriller film directed by Tate Taylor (Get On Up) and written by Matthew Newton. It stars Jessica Chastain (Zero Dark Thirty, Molly's Game), John Malkovich (Red), Common (John Wick: Chapter 2), Geena Davis (Beetlejuice), Colin Farrell (The Gentlemen), Ioan Gruffudd (Fantastic Four), Jess Weixler (The Good Wife), Diana Silvers (Booksmart, Space Force), and Joan Chen (Tigertail). This a generic action movie and feels like a rip-off of other assassin thrillers, but the only redeeming thing is Chastain's charisma and convincing badass portrayal.
Ava (Chastain) is a deadly mercenary who works for a black ops organization, travelling the globe and specializing in high profile hits. Ava's career takes a bad turn when a high profile job goes wrong due to faulty information provided to her. With a botched hit (as well as a track record for questioning the validity of her targets), Ava is told to take a hiatus until the heat blows over, but secretly the head of the organization, Simon (Farrell), has ordered a hit on her to ensure nothing traces back to the company.
With the recent death of her father, Ava decides to go back home to Boston and attempt to mend her relationship with her mother and sister, Judy (Weixler), though the homecoming proves to be far from happy as the years of estrangement have created resentment. To complicate things further, Ava's ex-fiancé, Michael (Common) is now in a relationship with Judy and involved with an underground gambling ring that Ava knows all too well from her younger days. Ava now has to save her family and herself from multiple threats, while battling her own demons.
Ava VOD release date: September 25, 2020
---
Greenland
Greenland is STX Entertainment's action/ thriller disaster film directed by Ric Roman Waugh (Angel Has Fallen), from a screenplay by Chris Sparling. It stars Gerard Butler (300), Morena Baccarin (Deadpool 1 & 2), David Denman (13 Hours), Hope Davis (Captain America: Civil War), Roger Dale Floyd (Doctor Sleep), Claire Bronson (Ozark), Andrew Bachelor (The Babysitter), and Scott Glenn (Daredevil). The story follows an estranged family that tries to survive an extinction-level event as scientists discover that fragments of a comet will hit Earth in few days, and the only hope of survival is to take shelter in a group of bunkers in Greenland.
Greenland revolves around a family who must fight for survival as a planet-killing comet race to Earth in less than 48 hours. John Garrity (Butler), his estranged wife Allison (Baccarin), and young son Nathan make a perilous journey to their only hope for sanctuary. Amid terrifying news accounts of cities around the world being leveled by the comet's fragments, the Garrity's experience the best and worst in humanity. As the countdown to global apocalypse approaches zero, their incredible trek culminates in a desperate and last-minute flight to a possible safe haven.
Director Waugh is re-teaming with Gerard Butler after last year, Angel Has Fallen movie. It was originally scheduled to be theatrically released on June 12, 2020, but was delayed to July 30, 2020, and then August 14, 2020, due to the COVID-19 pandemic. The studio wanted to have a theatrical release so they hold on to the launch not moving it to on-demand. The time is finally approaching for the disaster film, it is scheduled to be released in the United States theatrically in September. Greenland is a movie that will keep its viewers on the edge of their seats.
Greenland release date: September 25, 2020
---
Misbehaviour
Misbehaviour is a comedy-drama film based on a true story from director Philippa Lowthorpe (The Crown) in her feature filmd debut, with a screenplay by Gaby Chiappe and Rebecca Frayn, from a story by Frayn. The film stars Keira Knightley (Pride & Prejudice and Pirates of the Caribbean), Gugu Mbatha-Raw (Miss Sloane), Jessie Buckley (Chernobyl), Keeley Hawes (High-Rise), Phyllis Logan (Downton Abbey), Lesley Manville (Phantom Thread), Rhys Ifans (The Amazing Spider-Man), Lily Newmark (Cursed), Stephen Boxer (Lucky Man), Maya Kelly (There She Goes), and Greg Kinnear (Little Miss Sunshine).
The 1970 Miss World competition took place in London, hosted by the US comedian Bob Hope (Kinnear), which proved an unexpected flashpoint. At that time Miss World was the most-watched TV show in the world with over 100 million viewers. The pageant's organizers, Dolores Hope (Manville) and Julia Morley (Hawes) were targeted by a group of feminists — including renowned activists Sally Alexander (Knightley), and Jo Robinson (Buckley) — protesting the competition as objectifying women.
They were assailing the Miss World event from outside, but from the inside, a major change was spearheaded by one of the pageant contenders, Jennifer Hosten (Mbatha-Raw), Miss Grenada titleholder, who saw competing in Miss World as an act of empowerment for Black women to take the spotlight. What emerges is a clash between two very different ideas of what such a public celebration of beauty can truly mean.
Arguing that beauty competitions objectify women, the newly formed women's liberation movement achieved overnight fame by invading the stage and disrupting the live broadcast of the competition. When the show resumed, the result caused an uproar: the winner was not the Swedish favourite but Miss Grenada, the first black woman to be crowned Miss World. In a matter of hours, a global audience had witnessed the patriarchy driven from the stage and the Western ideal of beauty subverted.
The film was released in the United Kingdom on 13 March 2020. Due to the COVID-19 pandemic, the film's theatrical release was cut short and the film was released early to video on demand in the United Kingdom on 15 April. The film holds a 88% Rotten Tomatoes score based on 33 reviews. Misbehaviour will hit select theaters in US and VOD platforms at the same time. This is a straightforward political, feel-good movie with a spirited message and it should be in your watchlist.
Misbehaviour VOD release date: September 25, 2020
---
The Glorias
The Glorias is a biographical film directed and produced by Julie Taymor (Frida), from a screenplay by Taymor and Sarah Ruhl. It's based upon Gloria Steinem's own memoir My Life on the Road. In this nontraditional biopic chronicle of a trailblazing life, Taymor crafts a complex tapestry of one of the most inspirational and legendary figures of modern history. This is Taymor's second portrait of a real person after Frida.
The equal rights crusader, journalist, feminist, and activist Gloria Steinem is an indelible icon known for her world-shaping activism, the guidance of the revolutionary women's movement, and writing that has impacted generations. From her role in the revolutionary women's rights movement to her travels throughout the U.S. and around the world, Steinem has made an everlasting mark on modern history.
The Glorias takes audiences across five decades with four different versions of Steinem portrayed onscreen played by Oscar winners Julianne Moore (Still Alice) and Alicia Vikander (Tomb Raider) as well as Lulu Wilson (Becky) and Ryan Kiera Armstrong (Anne with an E). Bette Midler (Hocus Pocus), Janelle Monáe (Hidden Figures), Timothy Hutton (The Haunting of Hill House), Monica Sanchez (Dexter), Kimberly Guerrero (Longmire), and Lorraine Toussaint (Orange Is the New Black) also star.
The film showcases Gloria as a child (Armstrong) and teen (Wilson) to intrepid Playboy-infiltrating New York journalist (Vikander) and finally, the woman they were all on the way to becoming, the mature Ms. founder (Moore), a recognizable long-haired woman in a t-shirt, jeans and aviators. Taymor taps into key insights that make this biopic worthwhile which also feels unwieldy at times yet inspiring, there's a framing device literally allowing all the younger versions of Steinem to be in conversation with her older self as her evolution and education as a feminist progresses.
The Glorias traces Steinem's influential journey to prominence–from her time in India as a young woman to the founding of "Ms." magazine in New York, to her role in the rise of the women's rights movement in the 1960's, to the historic 1977 National Women's Conference and beyond. The Glorias also includes a number of iconic women who made profound contributions to the women's movement, including Dorothy Pitman Hughes (Monáe), Flo Kennedy (Toussaint), Bella Abzug (Midler), Dolores Huerta (Sanchez), and Wilma Mankiller (Guerrero).
Taymor gives us her singular take on that rare genre- the Female Road Picture, one in which the female leads do not die in the end, and where the "narrative" is not driven by romance or a bad marriage, or unrequited love or, for that matter, men. Gloria's road story is about her "Meetings With Remarkable Women". And that is a love story in itself.
It had its world premiere at the Sundance Film Festival on January 26, 2020. The film holds an RT score of 73% based on 15 reviews. The pic was set for a September 25 release, but, as with all films, theatrical release was cut short. As a result, The Glorias is shifting from a theatrical release and heading straight to stream exclusively on Amazon Prime Video in U.S. and Canada and be available for purchase.
The Glorias Amazon release date: September 30, 2020

Which September movies are you most excited about? Which movies will you be seeing during the month of September? Let us know in the comments below or on our social media and be sure to come back to The Illuminerdi for more movie news!
KEEP READING: NEW AUGUST MOVIES IN 2020 YOU DON'T WANT TO MISS