Marvel's first Disney+ TV series, WandaVision is ready for its launch and now new stills and new details were revealed about the show by Entertainment Weekly.
It's been more than a year since Marvel released any film, 2020 was supposed to launch MCU's Phase 4 with Black Widow but due to the ongoing coronavirus pandemic the release schedule changed drastically but the studio is ready to make their television debut. MCU's first strike into TV will be WandaVision, which loped The Falcon and the Winter Soldier due to production halts.
WandaVision was never intended to kick off this new era of the Marvel Cinematic Universe but since it was closest to completion it is set to be the first Marvel content to be released out of phase four of MCU. It centers on Elizabeth Olsen's reality-altering, Wanda Maximoff, and Paul Bettany's charming android, Vision, living in a trippy sitcom-inspired world of domestic bliss. But in the end, this show is the more fitting one to launch this new stage of Marvel TV as this series is based on TV.
RELATED: WANDAVISION RELEASE POTENTIALLY DELAYED TO 2021 IN LATIN AMERICA, BUT DON'T PANIC…YET
Kevin Feige tapped Jac Schaeffer (Black Widow) to serve as head writer, Matt Shakman (Game of Thrones and Fargo) as director, and Mary Livanos as co-executive producer. Together, they strived to nail down the six-episode mini-series' irreverent tone.
Entertainment Weekly had the chance of visiting the set of WandaVision. For its monthly magazine cover story, it reveals new insights from the Disney+ show as well as new stills from it, that you can see below.
WandaVision: A Buffet of Sitcoms
From the very beginning, Marvel Studios has made it clear that the show on Disney+ will be unlike anything else the franchise has produced to this date. The show is modeled after classic TV sitcoms of the different generation's from campy 1950s classics to the zany family shows of the '90s. Not only is the tone of WandaVision going to be similar to those old programs, but it was also filmed similarly.
According to Entertainment Weekly, Marvel Studios did something secretively unique. For its premiere episode, Marvel went full midcentury sitcom, inspired from The Dick Van Dyke Show setting, WandaVision was filmed in classic black and white in front of a live studio audience (All of the audience members signed very strict NDAs, for not spoiling any of the content of the show). The audience sat in front of the set and reacted to the scenes in real-time, much like traditional multi-camera sitcoms, causing the production to feel like a stage play at times.
"It was insanity," Elizabeth Olsen said about shooting in front of a live studio audience for some episodes. "There was something very meta for my own life because I would visit those tapings as a kid, where my sisters were working [on Full House]." Her co-star, Paul Bettany said "We were all so high by the end of it, we wanted to keep on running the show. Maybe take it out on tour or something. WandaVision on ice."
"The show is a love letter to the golden age of television," head writer Jac Schaeffer explains to EW. "We're paying tribute and honoring all of these incredible shows and people who came before us, [but] we're also trying to blaze new territory." It was Marvel Studios president Feige who came up with the idea. Livanos said "It really does feel like we're all programmed to know and love and understand these suburban family sitcoms. So, to mess with expectations has been really fun."
Set after Endgame, the series starts with the married witch and an android living in the idyllic town of Westview. Schaeffer teased "We find Wanda and Vision living a blissful suburban existence, trying to keep their powers under wraps". "It's always so appealing when outsiders find each other. They're both different with capital Ds. Wanda has so much pain, and Vision has so much curiosity." Schaeffer added.
WandaVision's Cast and Characters
The titular characters, Wanda Maximoff and Vision have been supporting characters in the MCU and now that will change. For actress Elizabeth Olsen, this show promises a chance to explore Wanda like never before, she said "It's been the biggest gift that Marvel's given me, getting to do this show. You get to just focus on her and not how she felt through everyone else's story lines."
Olsen added "I already felt like I had ownership of her because Marvel always encourages you to be part of the process. But even more so now, I feel I have a really strong sense of ownership. If anyone wanted to ask me a question about the future or just a question about what she would think, I feel like this time has provided that."
Paul Bettany admits that he was surprised when the show was first pitched to him "I thought I was being brought in to be let go. I thought Kevin was doing the decent thing and bringing me in, and he and [executive producer] Louis [D'Esposito] were going to tell me, 'It's been a great ride, and it's over.' So it was a really pleasant surprise for me and my bank manager, too, obviously."
Returning characters include Antman and The Wasp's character Jimmy Woo played by Randall Park and Thor's character Darcy Lewis played by Kat Dennings. The Westview also introduces a few new characters: Kathryn Hahn stars as Agnes, the prototypical "nosy neighbor," who gleefully inserts herself into Wanda and Vision's lives, and Teyonah Parris as the grown-up version of Monica Rambeau, a character who previously debuted in Captain Marvel as a young girl.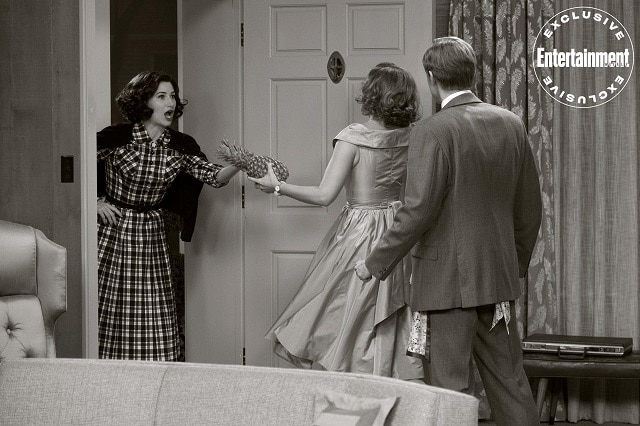 Schaeffer is tight-lipped about how Jimmy and Darcy's role fits into the series, but she adds that the actors' former TV experience, Park on Fresh Off the Boat, Dennings on 2 Broke Girls makes for a delightfully meta twist. "It was particularly fun to bring two veteran sitcom performers into the mix," she added.
Kathryn Hahn talked about joining the Marvel Cinematic Universe as: "I've always loved that gasp of human magic that they have. It's not like I had never done anything like this, but especially since becoming a mom, I have always been interested in those jolts of adrenaline and humanity."
In a classic sitcom there always exists a nosy neighbor character. Without the neighbor peering over fences or barging in without knocking, a sitcom is not complete. Kathryn Hahn's Agnes — part Ethel from I Love Lucy, part Gladys from Bewitched — fills that role for Wanda and Vision. Hahn explains "[She's] the next-door neighbor that won't get off their couch at the end of the night. She's the one that's just going to be always in your business."
The mini-series begins in a black and white setting, which takes inspiration from the '50s and '60s-era sitcoms like I Love Lucy and The Dick Van Dyke Show, but it also shifts to the genre's heyday in the '80s and '90s as we can see by Hahn's decidedly '80s leg warmers.
Many fans have been eagerly waiting for new MCU content, WandaVision will likely satisfy the audience pretty soon. The excitement in fans is huge for the first MCU show and Teyonah Parris, echoed this, adding: "It's pretty epic, and it's been really exciting to be a part of it."
WandaVision's EW cover:
How excited are you for the WandaVision series? What are you most looking forward to from the iconic pair? Let us know your thoughts in the comments below on our social media and be sure to come back to The Illuminerdi for more Marvel news.
KEEP READING: WANDAVISION TO FEATURE NEW SERIES OF BTS GALLERY EPISODES ON DISNEY+