The Mandalorian "Chapter 13: The Jedi" revealed exciting ties to the animated series, Star Wars: Rebels, during Ahsoka's lightsaber battle. Ahsoka Tano made her live-action debut in last week's episode which was written and directed by Dave Filoni himself.
Dave Filoni has been telling Ahsoka's story for over a decade now, first introducing her in the animated movie Star Wars: The Clone Wars and exploring her time as a Padawan in the subsequent animated Star Wars: The Clone Wars series. Ahsoka was also a part of Star Wars: Rebels, featured prominently in season two.
Star Wars fans lost their minds during the most recent episode of The Mandalorian, which included not only the live-action debut of fan favorite Clone Wars character, but also the mention of Star Wars: Rebels villain Grand Admiral Thrawn. Thrawn was originally a character from the Star Wars legends books, but was brought into the Star Wars cannon through a trilogy of books from the author who initially created the character and when he became a major antagonist on Star Wars: Rebels.
RELATED: GRAND ADMIRAL THRAWN IS COMING TO STAR WARS LIVE ACTION
The strategic minded Imperial Grand Admiral Thrawn was last seen at the end of Star Wars: Rebels when he and Jedi Padawan Ezra Bridger were whisked away to places unknown by the purrgil. When Ahsoka revealed that she was not only fighting against what remained of the Empire, but had a larger quest of finding Thrawn, it was a huge moment for many fans. However, it also brought up a few questions.
DAVE FILONI TEASES IF THE MANDALORIAN IS SET BEFORE THE FINAL SCENE OF STAR WARS: REBELS
In the final scene of Star Wars: Rebels, Sabine Wren narrates what each of the main characters have been doing since the final battle in the Star Wars: Rebels finale. Wren herself has remained on Lothal protecting her friend's home world, but after the fall of the Empire decides to search for the long missing Jedi Padawan. Ahsoka is seen apparently joining Sabine Wren on her quest to find Ezra Bridger, and Grand Admiral Thrawn.
RELATED: ROSARIO DAWSON REVEALS THE INCREDIBLE MOMENT SHE "DISAPPEARED" INTO HER AHSOKA CHARACTER
Now, considering Ahsoka was searching for Thrawn during The Mandalorian, this brought up the question of when exactly the final Star Wars: Rebels scene took place. Was it before or after her appearance in The Mandalorian which is set five years after Return Of The Jedi? Dave Filoni was asked this very question in an interview with Vanity Fair.
Filnoi said, "That's not necessarily chronological. I think the thing that people will most not understand is they want to go in a linear fashion, but as I learned as a kid, nothing in Star Wars really works in a linear fashion. You do [Episodes] Four, Five and Six and then One, Two, and Three. So in the vein of that history, when you look at the epilogue of Rebels you don't really know how much time has passed. So, it's possible that the story I'm telling in The Mandalorian actually takes place prior to that. Possible. I'm saying it's possible."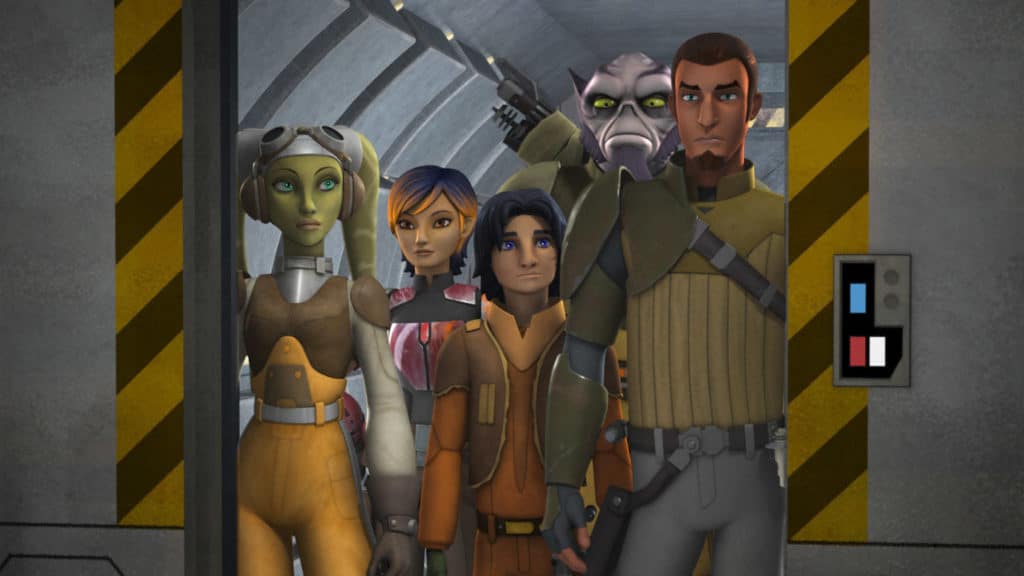 Dave Filoni is careful with his answer not committing to any specifics, but the possibility of the timeline's fluidity does leave room for a lot of interesting potential. If The Mandalorian takes place before the final scene of Star Wars: Rebels, it opens up a number of possibilities including the fact that this could point to Sabine currently being on Lothal. If Mando's adventures bring him to Lothal for any reason, it could lead to the live-action introduction of Sabine Wren.
RELATED: DAVE FILONI EXPLAINS AHSOKA'S AMAZING JOURNEY FROM CLONE WARS TO THE MANDALORIAN
This also opens up a possible story that Star Wars: Rebels fans have long been hoping to see, in which Sabine and Ahsoka search for Ezra Bridger. Perhaps Ahsoka is searching for Thrawn specifically to find Ezra, or there could be a separate unknown reason that she is hunting the Imperial. Maybe fans could finally get their wish of a series focusing on Ahsoka and Sabine on a quest to find Ezra with other members of the ghost crew making appearances as well. The Star Wars universe is truly in Dave Filoni's hands.
Do you think The Mandalorian is set before the final scene of Star Wars: Rebels? Do you want to see a series about Ahsoka and Sabine searching for Ezra? What do you think Dave Filoni has up his sleeves for us? Leave your thoughts in the comments below or on our social media.
KEEP READING: INFAMOUS PRODUCTION CREW MEMBER FROM THE MANDALORIAN CHAPTER 12 THE SIEGE ERASED BY DISNEY
Source: Vanity Fair