New details of what Sting wanted in WWE, and why not getting it made him sign with AEW, has just been released.
In case you haven't heard the big wrestling news this week, I'll lay it down for you. First, AEW and Impact Wrestling have established a cross-promotional partnership. The second big news is that Sting has signed with AEW. That's right Sting is All Elite.
RELATED: YOUNG BUCKS TALK ABOUT WANTING TO WORK WITH IMPACT FOR THE LAST TWO YEARS
Dave Meltzer of the Wrestling Observer laid out some of the details why Sting didn't resign with WWE and what led him to sign with AEW in his newsletter.
"WWE had no interest in him as a television character. Khan wants to make him a regular television character, although he very clearly has to be protected when it comes to not taking bumps. Still, it is known Sting wanted to do a Cinematic match with Undertaker, and for whatever reason, while fans have clamored for Undertaker vs. Sting for years, it has never been a match that appealed to McMahon," Meltzer said.
Sting Is Back But How Active Will He Be
Sting along with the entire wrestling internet has been talking about doing a final match with Undertaker for a long time. However, Undertaker finally retired and it looks like it's for good this time. Without that dream match with Undertaker, there really wasn't any point for Sting to stick around.
The last time Sting wrestled he got injured pretty bad after Seth Rollins Buckle Bombed him into the turnbuckle. Sting is just an old guy who has been wrestling since the '80s and injuries are bound to happen.
What makes this return strange is that Sting signed a multi-year deal with AEW. President of All Elite Wrestling Tony Khan plans on the veteran wrestler being a regular presence on weekly TV. WWE didn't want to use Sting like that for a reason and I think AEW may find out why the hard way.  
Be Gentle With The Stinger
Khan wants to protect Sting and not have him take bumps or at least minimal bumps. This sounds to me like squash matches to me, which will work. Also another possibility is to have Sting up in the rafters WCW style. He did that for like a year without wrestling a match and the fans loved it. However, if I'm in the ring with Sting and he asks me to Irish whip him into the turnbuckle, then I'm going to do it. It's very possible that Sting will overestimate his health and start insisting he takes bumps and injures himself. 
RELATED: KENNY OMEGA TO APPEAR ON IMPACT TO SPEAK ON SHOCKING "WINTER IS COMING" FINISH
If he starts wrestling again, and I think that is a very high likelihood, AEW needs to be smart. The cagey veteran needs to be put in the ring with guys with a lot of experience like Dustin or Cody Rhodes, Chris Jericho or Kenny Omega. They should also not have Sting wrestle more than like twice a month.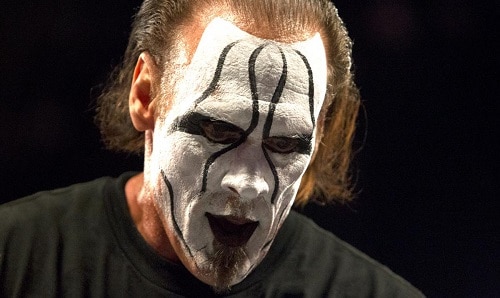 Sting's Back But Will The WCW Fans As Well?
Sting was the face of TNT, meaning the face of WCW for a very long time. TNT and Sting are kind of synonymous with one another. Reportedly the reason he was brought back to TNT/AEW is to bring back the WCW viewers. This is crazy to me because WCW died in 2001. Let's say a WCW fan stopped watching wrestling in 2001 when WCW died. They hear about Sting's big return and tune in to see him now. Sting is going to look really old, it's going to be depressing and the viewer is going to feel old.
Despite all my apprehension for Sting's return this is big news. He's arguably one of the most popular babyfaces of all time. He is certainly at the top of the '80s and '90s list. I am very interested to see how AEW uses him and how long he lasts as a regular on TV and PPVs.
Are you excited to see Sting in AEW? Do you think he will start wrestling again? Is there anyone in AEW you want to see him wrestle?  Stinger Splash your comments and opinions below.
KEEP READING: TRIPLE H ON WWE WORKING WITH OTHER PROMOTIONS: 'WE'RE OPEN FOR BUSINESS'
Source: Sportskeeda, Wrestling Observer Premium