NXT big Triple H is ready and willing to make deals.
Last week was a spectacular week for professional wrestling. Sting arrived at AEW, Kenny Omega has finally captured the AEW world championship, and the company has officially confirmed a cross-promotion with Impact Wrestling. A development that many AEW fans have long been waiting for.
Triple H Wants To Make A Deal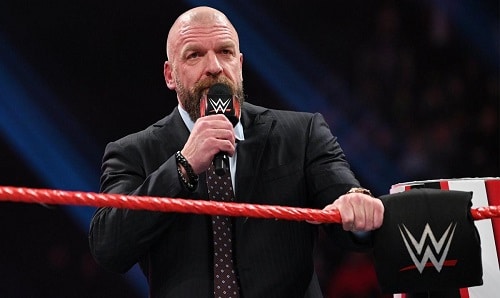 Now fans have begun to look over the river to see how the WWE will answer. In a recent media call interview promoting the fourth annual NXT Takeover: War Games, NXT showrunner Triple H was asked whether WWE or NXT would be open to collaborating with other promotions in the future. As reported by Wrestlezone, the cerebral assassin replied, 
"We're open for business in a lot of ways and a lot of things… People's thoughts and misperceptions, their perceived knowledge of what we do and how we think is often greatly misinterpreted and not accurate. Are we open to the right business opportunities? Yeah, at any given time we're open to things. It just depends on what they are and if they're beneficial to us in the long-term.

When I say long-term I don't mean three months, I mean 10 years. Long-term. That's how we think. We're not necessarily worried about minute-by-minutes. Open for business, I think Vince says that a lot and I've been around him long enough that if it's the right thing and meaningful to business, he's open to anything."
While this sounds earnest, one major thing that many wrestling fans know is that both WWE and NXT run differently. For those who do not know, Vince McMahon, the chairman of the company, is in charge of WWE's main shows: Monday Night Raw and Friday Night Smackdown. Triple H is in charge of NXT. While Raw and Smackdown are mostly targeted toward a mainstream audience on cable television, NXT is targeted more toward fans of developmental and indie wrestlers.
RELATED: WWE UNDEFEATED WRESTLING GAME NOW AVAILABLE FOR IOS AND ANDROID FOR FREE; CHECK OUT NEW TRAILER
WWE has acquired wrestling promotions such as WxW (Wrestling Xtreme Wrestling), ICW (Insane Championship Wrestling) PROGRESS Wrestling, and Evolve Wrestling, and have put their content up exclusively on the WWE Network. Also in the past, WWE has made deals for their stars to go to another promotions to finish out their contract. For instance, before coming to the WWE, CM Punk made a deal with both Ring of Honor and WWE that he would finish up his contract with Ring of Honor, before heading over to WWE and dropping the ROH title. 
Although a collaboration with WWE may not happen as of this moment, it can still be possible, but more likely with NXT, considering that they are able to attract young talent. What are your thoughts on Triple H's comments? Can you see a collaboration happen with WWE or NXT? What companies would you like to see work with WWE? MLW (Major League Wrestling) AAA, Rev Pro? Let us know in the comments below. 
KEEP READING: YOUNG BUCKS TALK ABOUT WANTING TO WORK WITH IMPACT FOR THE LAST TWO YEARS
Sources: WrestlingZone