Melissa McCarthy shares her hilarious audition video with the hopes of being cast in the upcoming sequel, Thor: Love And Thunder.
Film fans often throw celebrity names that they wish to see cast as their favorite character in upcoming productions. Sometimes actors themselves express their wish in getting a role in a particular movie that they desire. One of the big franchises that's in a constant debate of fan casting is MCU.
Now Bridesmaids and Gilmore Girls star Melissa McCarthy has officially thrown her name for Marvel Studios. McCarthy with her actor husband Ben Falcone submitted an audition tape on her social media as her attempt to appear in Taika Waititi's forthcoming MCU film Thor: Love and Thunder. The video overall is hilarious and fun to watch.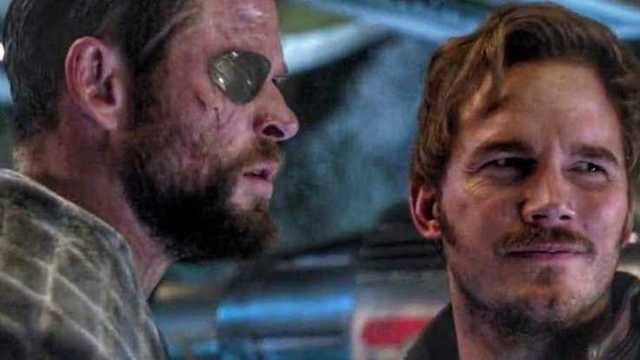 RELATED: JAIMIE ALEXANDER RETURNS AS LADY SIF TO THOR: LOVE AND THUNDER
The highly anticipated fourth standalone Thor movie helmed by Taika Waititi is currently in pre-production in Australia and will start production in January. Besides Chris Hemsworth as the God of Thunder, the film sees the return of many familiar faces, including Natalie Portman as Jane Foster, Tessa Thompson as Valkyrie, Taika Waititi as Korg, Chris Pratt as Star-Lord, and Jaimie Alexander as Lady Sif. Also, Christian Bale was confirmed to be playing Gorr the God Butcher.
With MCU being the hot name and the tremendous success of Waititi's Thor: Ragnarok, it seems like everyone wants a piece of the Love and Thunder action, including the hilarious Melissa McCarthy. She recently posted a video on her Instagram, featuring her and Ben Falcone affirming that they are "desperate" to join the cast of Thor: Love and Thunder.
Melissa McCarthy's Thor: Love and Thunder "Audition Tape"
As a part of the "audition", Falcone declares that he has prepared a monologue from The Tempest while McCarthy's will be from The Trip to Bountiful, which she says she has been doing since she was "about 21". The couple goes on to appeal to Marvel, or "Mar-vel," as Falcone said, which then turns into a riff on the ice cream company, Carvel.
Then Melissa McCarthy adds, "Mar-vel, you make a wonderful movie and a wonderful ice cream cake." They then break into a song, which Falcone hilariously proclaims is "just a taste." He then presents himself up to work the "crafty" (catering) table in case the audition doesn't go according to their plan, and McCarthy goes on to explain her hummus-making abilities.
Neither of them has worked with Waititi or appeared in the MCU before, but fans are on board with the unofficial, cute audition tape. The couple then added that they are already in Australia and can therefore be easy local hires. In the previous film, stars like Sam Neill, Luke Hemsworth, and Matt Damon made an appearance for a comedic sequence. Considering the comedic tone of Thor: Ragnarok, McCarthy, and Falcone could be excellent additions to the cast of Love and Thunder.
RELATED: STAR WARS NOVELIST ADMITS THAT LUCASFILM FORCED HIM TO NOT EXPLORE A ROMANTIC RELATIONSHIP BETWEEN REY AND FINN
McCarthy recently appeared in the HBO Max movie Superintelligence. You can see her in the Hulu drama series, Nine Perfect Strangers in 2021 and she is playing the iconic Disney villain, Ursula in the upcoming live-action remake of The Little Mermaid.
Melissa McCarthy has given us a gift that no one asked for, but it was what we needed right now. Whether this video is only for laughs, or if Marvel Studios or Taika Waititi himself is taking this seriously. It will be cool to see if she appears in the upcoming movie.
Thor: Love and Thunder is currently scheduled for May 6, 2022 release.
What did you think of Melissa McCarthy's audition? Do you want to see her pop up in Thor: Love and Thunder? Let us know your thoughts in the comments below or on our social media and be sure to come back to The Illuminerdi for more Marvel news.
KEEP READING: TESSA THOMPSON GIVES A VALKYRIE TEASE FOR THOR: LOVE AND THUNDER
Source: /Film