Tom Holland stans rise up, as the first official Cherry trailer has been released.
We can clearly see the unique style this movie is going to have. Similar to the book, Cherry will have six chapters. Each chapter will have a new style and camera lenses, which are clearly visible in the Iraq scene and the short shot of Holland stumbling. Even the aspect ratios are a part of the action, as we can see that the soldier training scene will have a 4:3 aspect ratio. The Russo Brothers confirmed this interviews weeks ago and the trailer does a pretty good job at showcasing that.
Cherry Official Trailer
Two things that stand out in the Cherry trailer are the freeze frames and Holland's voice over. We have to wait and see if they only used that in the trailer, but in last Friday's released clip, this stylistic choice has also been used, so it's almost safe to say that we will see more from that in the actual movie. This style is adapted from the book pretty well, but I'm not sure how good that will work in a movie.
RELATED: WATCH THE FIRST OFFICIAL CHERRY CLIP WITH STAR TOM HOLLAND IN UPCOMING WAR DRAMA
Another thing that stands out is that Cherry (Tom Holland) breaks the fourth wall, as he is talking to the audience before and after entering the bank. That's definitely a unique idea, which isn't seen a lot in dramas, but I am really interested to see how many times they use it in the movie. It's my favorite scene in the trailer because it makes the atmosphere feel intriguing and unique.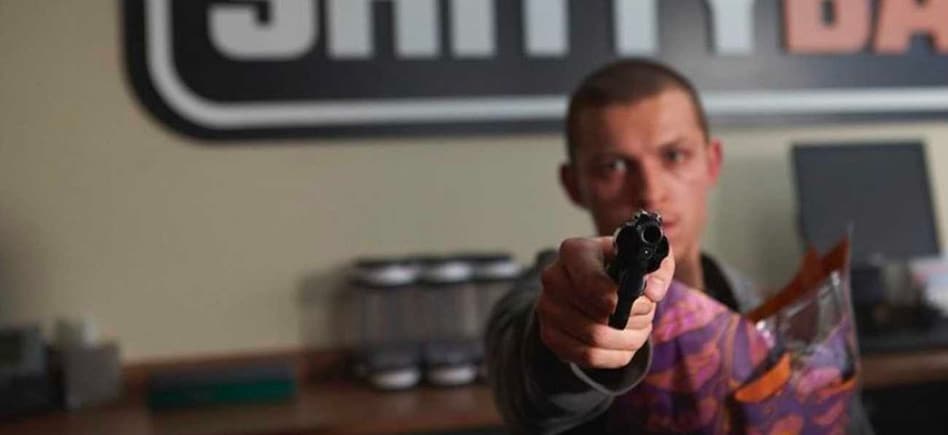 A big part of the trailer shows Cherry and Emily (Ciara Bravo) together, as well as Cherry's time as a soldier and bank robber, but we haven't seen much from Cherry's drug addiction. This might indicate that this will be the more brutal scenes to watch, which seems logical. The chapter about the drug addiction is the longest in the book, right behind the Army part. We have to wait and see how long each chapter in the movie will be, but with a rumored runtime of around 150 minutes, this really seems to be this decade spanning epic, as described by the Russo Brothers.
RELATED: CHERRY RELEASES SEVERAL NEW STILLS AHEAD OF FIRST TRAILER PREMIERE TOMORROW
It definitely looks like Tom Holland is going to deliver a powerhouse performanc. Judging from the style of the trailer and the early reactions, I don't think that he can get into the Oscar race, but he will for sure impress people. Perhaps this might help lead him to a nomination in the near future, after taking on more dramatic roles. We've seen him shine in Netflix's The Devil All The Time and he will probably even top this performance with Cherry.
Cherry Synopsis
In an epic odyssey of romance, war, drug addiction, and crime, a young man (Tom Holland) struggles to find his place in the world.
Cherry was directed by the Russo Brothers and stars Tom Holland and Ciara Bravo. It's Rated R for graphic drug abuse, disturbing and violent images, pervasive language, and sexual content. It hits theaters February 26 and Apple TV+ March 12, 2021.
What do you guys think? Did you like the trailer? Are you excited for the movie? Let's discuss everything in the comments down below and on our Twitter.
KEEP READING: THE UNITED STATES VS. BILLIE HOLIDAY: TRAILER & EARLY REACTIONS LOWER EXPECTATIONS
Source: Apple TV