Our Friend is based on an article written by Matthew Teague and published in Esquire in 2015, The Friend: Love Is Not A Big Enough Word. The article shares Matthew's story of his family's battle with his wife, Nicole's, cancer and the incredible friend that helped them get through the impossible time.
The film adapts the article, not keeping every detail from the heart wrenching article that explores the realities of going through the tragedy of losing a loved one to cancer. But focuses on the core of it, which is the Teague's friend, Dane Faucheux, who helped pull the family through.
OUR FRIEND OFFICIAL TRAILER
Our Friend focusses on Nicole (Dakota Johnson) and Matt Teague (Casey Affleck) as well as their best friend Dane Faucheux (Jason Segel). Each actor gives a masterful performance. The chemistry between the three is amazing to watch as is their chemistry with the young actresses that play the Teague daughters, Isabella Kai and Violet McGraw.
Casey Affleck does an excellent job playing the frustrated and closed off war correspondent. Someone who wants to move the world with his words, but has lost a closeness with his family to do so. Affleck infuses the role with a number of emotions showing grief, exhaustion, devotion, and someone who is at a loss as his life is turned upside down.
RELATED: OUR FRIEND DIRECTOR ON THE "MAGNIFICENT" JASON SEGEL AND "EFFERVESCENT" DAKOTA JOHNSON
Dakota Johnson brings Nicole Teague to life as a wife, mother, friend, and performer. She brings depth and realism to the role with moments of levity for her daughters and truth in her friendship with Dane, as well as her marriage. Johnson shows a woman struggling with her mortality in a way that is touched with great sadness and acceptance, while still showing Nicole as a woman who lived to the fullest until the very end.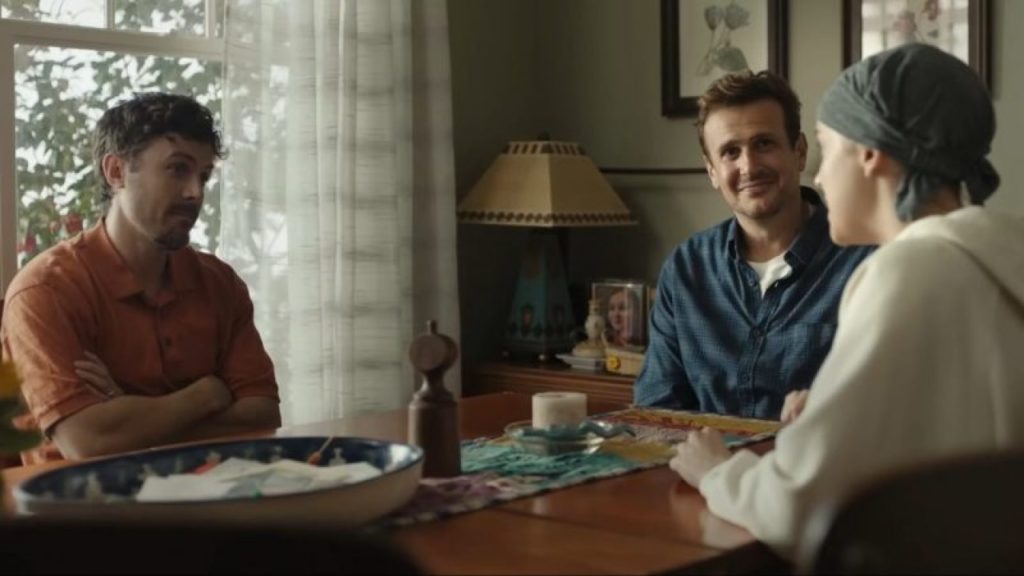 Jason Segel truly shines as Dane Faucheux. The nuance he brings to the role makes him feel real instead of saintly. Dane is initially a man who seems aimless and with a deep sense of melancholy. However, when tragedy strikes and Dane makes an offer that at first seems small and obvious, sticking around for a few weeks to help out his closest friends Nicole and Matt, but manages to be so vital for a family dealing with impossible tragedy.
Becoming the lynchpin that holds the family and the movie together. Segel oscillates between moments of levity as he makes lame jokes to put a smile on the daughters' faces or the deep sadness of mourning his friend, Segel is perfect for the role of Dane.
RELATED: OUR FRIEND DIRECTOR GABRIELA COWPERTHWAITE ON HOW BEING A DOCUMENTARIAN HAS BOOSTED HER CAREER
Writer Brad Ingelsby and director Gabriela Cowperthwaite of Our Friend tell this story in a non-linear way flashing back from the moment that the Teague's decide to tell their children about Nicole's grim diagnosis to when Nicole introduced her husband Matt to her close friend Dane. Then continuously jumping through time during a 13-year period.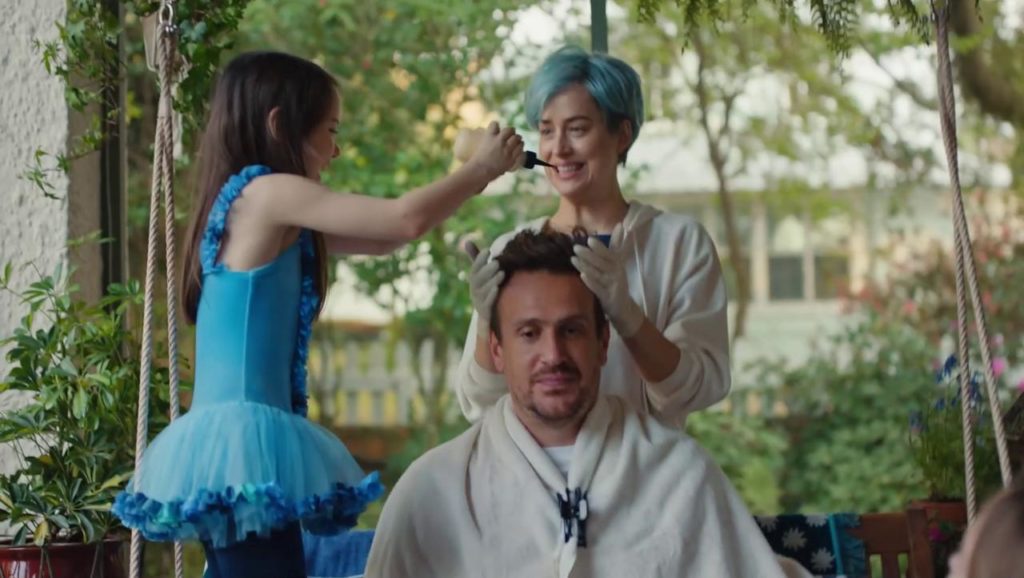 This decision makes the timeline hard to follow at times and can take you out of the moment, jumping from devastation to lighter moments in the relationships. This story choice takes away from some of the emotional weight of moments within the film in a way that feels unnecessary. That being said Our Friend infuses moments of levity and catharsis in a story full of tragedy, grief, and a feeling of inevitability.
Matt Teague's original article focuses on the truth about death and the horrors of cancer in a way that is not often told. He doesn't shy away from the details of what Nicole went through or what he and Dane had to do to try and help her. It isn't surprising that the Ingelsby and Cowperthwaite's film shied away from this aspect of Matt's story.
RELATED: ONE NIGHT IN MIAMI REVIEW: REGINA KING'S BRILLIANT DIRECTORIAL DEBUT IS A MUST WATCH
For anyone who has taken care of a loved one with cancer those aspects would have made it a tough watch and for those that are lucky enough to have not gone through the tragedy, it would have become the entire focus of the film. Instead, what Inglesby and Cowperthwaite focus on is the beautiful and true friendship between these three people and the grief of slowly losing a loved one to cancer.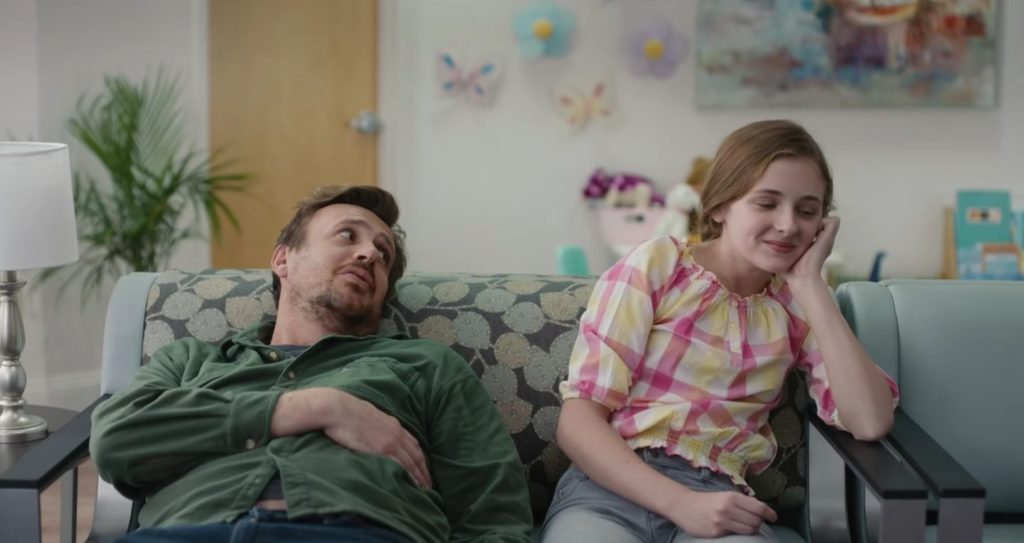 Those who criticize this decision are not entirely wrong, given that Matt Teague wanted to share his story in part because we do not tell the truth about the hardships of death. However, part of why it works in Our Friend is because it helps Nicole be a more well-rounded person, a mother, wife, friend, performer, etc. instead of only being shown as a cancer patient.
Our Friend manages to stand out from similar stories because it is not only based on a true story, with Matt Teague being heavily involved in making the film, but because friendship is at its core. A friend like Dane is a rare thing that is not often seen either in film or real life. He left his life behind for over a year to help his two best friends through the hardest time in their lives. And not only did he help the family get through this he also lost one of his best friends.
Unlike most of the Teague's friends who slowly fell away as the cancer worsened, Dane stayed as a steady force to help take care of Nicole, Matt, and their daughters through it all. Our Friend tells a story of grief and loss that is sadly familiar especially today, but the heart of the film is Dane and his friendship with both Nicole and Matt.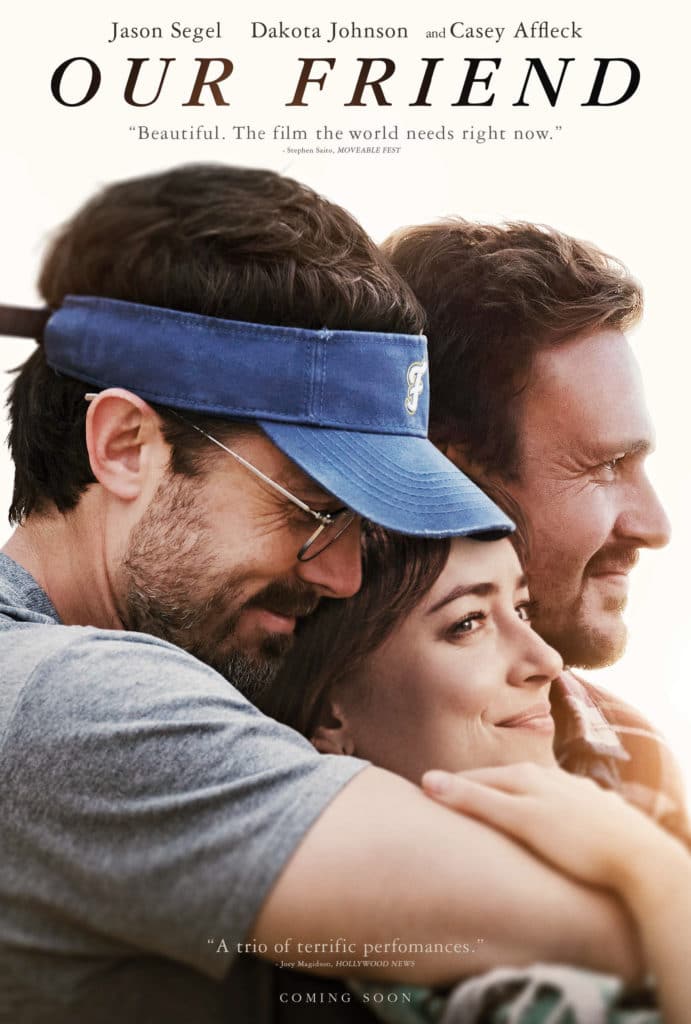 Our Friend premieres in select theaters and on demand January 22, 2021. Our Friend stars Jason Segel, Dakota Johnson, and Casey Affleck. Written by Brad Ingelsby and directed by Gabriela Cowperthwaite. Our Friend is based on the 2015 Esquire article, "The Friend: Love Is Not A Big Enough Word", written by Matthew Teague. Are you going to watch Our Friend? Leave your thoughts in the comments below or on our social media.
KEEP READING: PIECES OF A WOMAN REVIEW: A SUBTLE, POWERFUL EXAMINATION OF GRIEF