What happens when Cassius Clay, Malcolm X, Jim Brown, and Sam Cooke find themselves in the same room? A brilliant movie.
One Night in Miami is a fictional account of one incredible night where icons Muhammad Ali, Malcolm X, Sam Cooke, and Jim Brown gathered to discuss their roles in the Civil Rights movement and cultural upheaval of the 1960's.
One Night in Miami Official Trailer
Academy and Emmy Award winner Regina King makes her directorial debut with One Night in Miami, a movie that was the highlight of many festivals last year and was praised by basically everyone who has seen it, and now I absolutely understand why. It could end up being a major contender during this award season and is one of the best Amazon Prime original movies available.
One Night in Miami is based on the play with the same name by Kemp Powers and stars Kingsley Ben-Adir, Leslie Odom Jr., Eli Goree and Aldis Hodge. All four deliver moving performances, the standout being Ben-Adir as Malcolm X. He delivers a subtle, calm and thoughtful performance, but he also bursts into more emotions in some of the movies strongest scenes.
It's also hard to overlook Leslie Odom Jr. who delivered an absolute beast of a song with "Speak Now", which plays during the credits and should sweep all the Awards. While all of his singing in the movie is incredible, he also delivered a layered performance, with an amazing onscreen presence.
Another highlight is Aldis Hodge, who most people know from last year's The Invisible Man and who will also be playing Hawkman in Black Adam. He had probably the best dialogue scene together with Ben-Adir. He proved that he can take on more dramatic roles and can deliver. These four actors are basically playing each other against the wall.
RELATED: THE SOPRANOS PREQUEL, THE MANY SAINTS OF NEWARK, HAS BEEN DELAYED AGAIN
I was scared that One Night in Miami, as it's really dialogue driven and with a runtime of 114 minutes, could end up being too slow or even boring. However, I couldn't have been proven more wrong. Kemp Powers's screenplay is great the talented performers couldn't have handled it better. Regina King's direction is on point and we all should really be excited to see what she is doing next.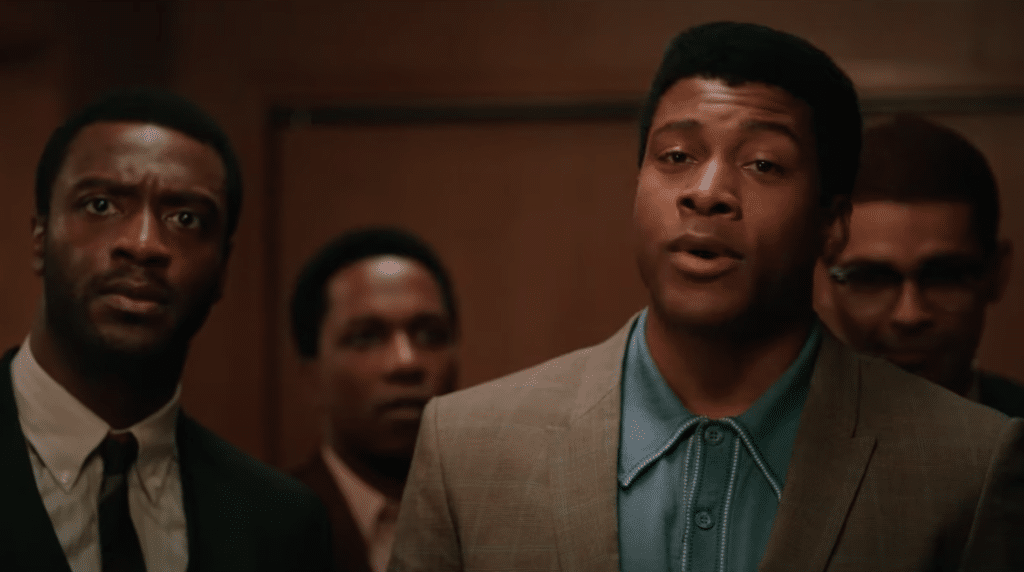 One Night in Miami… is a powerful movie, featuring some amazing performances and memorable scenes, as well as a powerful original song and some beautiful directing. A must watch and a true win for Amazon Prime.
4/5
One Night in Miami… Synopsis
On the night of Feb. 25, 1964, in Miami, Cassius Clay joins Jim Brown, Sam Cooke and Malcom X, and they discuss the responsibility of being successful black men during the civil rights movement.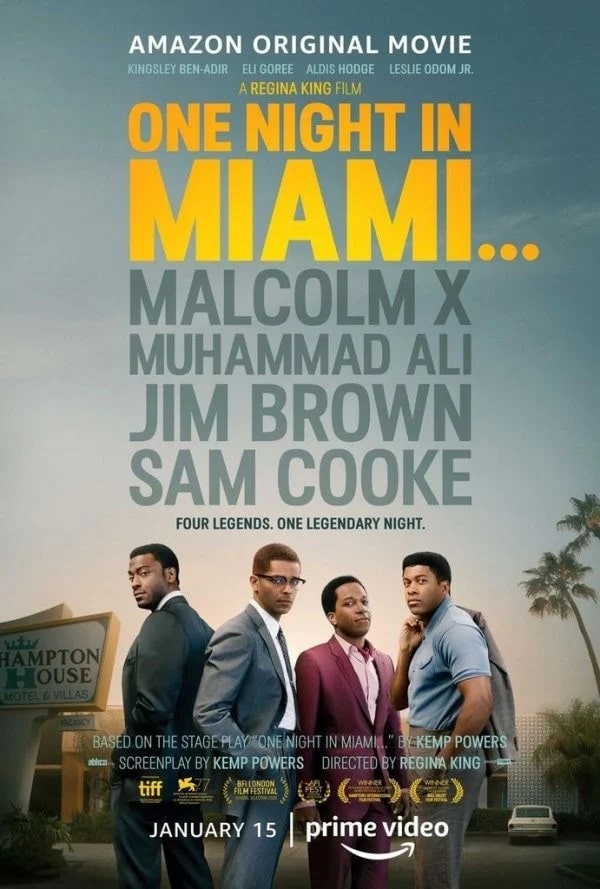 One Night in Miami… is available on Amazon Prime Video.
What do you guys think? Have you seen One Night in Miami…, if so how did you like it? Are you planning to watch it? Let's discuss everything in the comments down below and on our Twitter.
KEEP READING: PIECES OF A WOMAN REVIEW: A SUBTLE, POWERFUL EXAMINATION OF GRIEF