Flora & Ulysses director and author talk about the influence of comics on the film and reveal a few of the many Easter eggs fans can find throughout the film.
Flora & Ulysses is clearly influenced by comic books with the main character being a huge fan of comics and superheroes. Her father is a comic book writer and artist, even having created his own heroes. Flora's love for superheroes grows when she adopts a squirrel, Ulysses, who surprisingly has superpowers himself. Comic books and superheroes are a part of the DNA of Flora & Ulysses and director Lena Khan used this to her advantage.
In a recent press conference for Flora & Ulysses Ben Schwartz excitedly revealed,
"Lena threw Easter eggs throughout that whole movie. Lena put fun little things for people who like comic books and Disney throughout the whole film, which I think is really exciting."
Director, Lena Khan, elaborated on this revelation sharing some of the Easter eggs that fans should be on the lookout for,
"There's so many. There's a whole world for just the comic book nerds. There's like-if you're a comic book person, which, you know, I grew up with my brothers, where like, if you go into the Comic Cave, which is the comic book store, there's a giant penny which would be in the bat cave, originally. You'll see Mysterio with the goldfish thing over his head. Some people will know who the ventriloquist dummy is, the mobster dummy, next to the TV. So, there's all the comic book world references."
Lena Khan also talked about slipping in Ducktales easter eggs, "Bobby's reading the DuckTales comic at the beginning. You'll see some ducks with, like, the different colors of their collars matching the characters in Danny's office."
Alyson Hannigan and author Kate DiCamillo weren't left out of the fun either,
"there's stuff from Buffy hidden in the background. And then there's a lotta things-there's, you know, different books of Kate's that are hidden throughout, so there's just lots of-lots of treats everywhere."
There are a ton more Easter eggs including a line that Marvel fans will recognize from Avengers: Endgame.
KATE DICAMILLO TALKS ABOUT CREATING HER OWN SUPERHERO FOR FLORA & ULYSSES
Author Kate DiCamillo was asked about if she is a comic book fan herself and which are her favorites.
"I am a comic book fan, but not a traditional comic book fan. I've been answering this question since the book came out and I always feel kinda chagrined. What I grew up with and what I love is Charlie Brown and Peanuts, and I actually still read a Peanuts cartoon every morning and it's like it shaped my whole childhood and it still shapes my sensibility."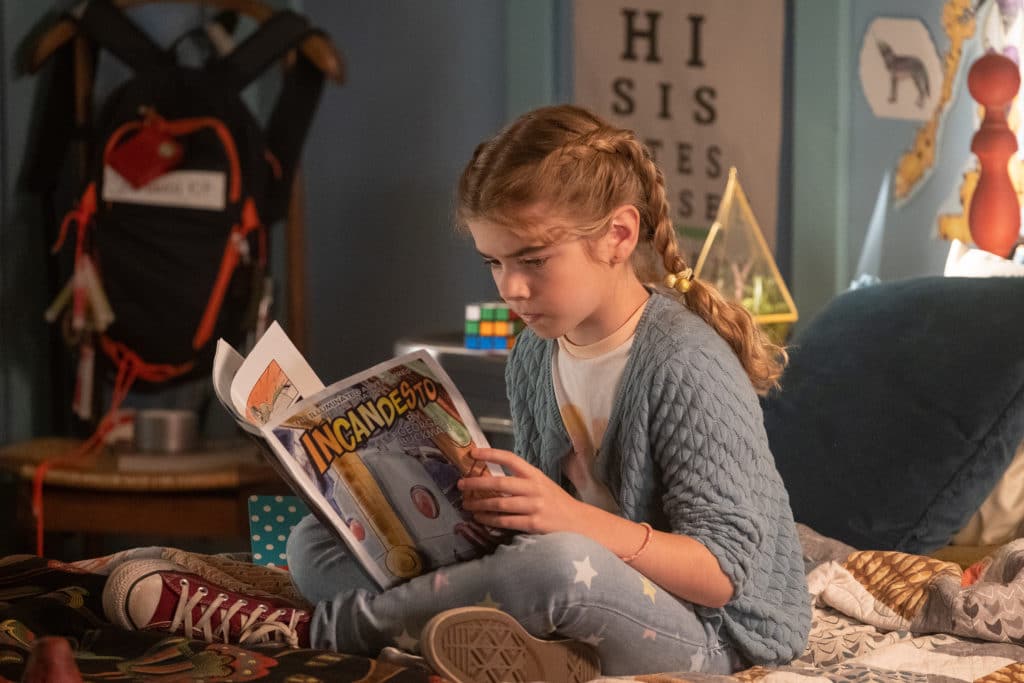 RELATED: RAYA AND THE LAST DRAGON TAKES FLIGHT ON THE NEW COVER OF D23
Kate DiCamillo also talked about doing more research into superhero based comic books while working on Flora & Ulysses and creating her own superhero.
"When I was writing the book and I had Flora love comic book superheroes, when I turned it in, it didn't have a superhero in it. And my editor said, "Oh, you're gonna have to make up a superhero." And I thought, "I can't do that." But then, I did, and that's Incandesto, and it was really fun. So, then I went back and did prep work by reading superhero comics and stuff, so kinda backwards."
FLORA & ULYSSES TRAILER AND OFFICIAL SYNOPSIS
Disney's "Flora & Ulysses" is a delightful comedy-adventure based on the Newbery Award-winning book about 10-year old Flora, an avid comic book fan and a self-avowed cynic, whose parents have recently separated. After rescuing a squirrel she names Ulysses, Flora is amazed to discover he possesses unique superhero powers which take them on an adventure of humorous complications that ultimately change Flora's life–and her outlook–forever.
Flora & Ulysses is written by Brad Copeland based on the children's novel written by Kate DiCamillo and directed by Lena Khan. The film stars Matilda Lawler, John Kassir, Alyson Hannigan, Ben Schwartz, Danny Pudi, Anna Deveare Smith, Benjamin Evan Ainsworth, Janeane Garofalo, Kate Micucci, and Bobby Moynihan. Flora & Ulysses will premiere on Disney Plus February 19, 2021
Are you going to watch Flora & Ulysses? How many Easter eggs did you find? Leave your thoughts in the comments below or on our social media.
KEEP READING: THE MINI DUCKTALES REUNION IN FLORA & ULYSSES WAS NO ACCIDENT ACCORDING TO DIRECTOR