Flora & Ulysses features a mini reunion of stars from the fan favorite Ducktales reboot.
Flora & Ulysses is an upcoming Disney Plus original movie based on the award winning children's novel by Kate DiCamillo. The film follows Flora Buckman and her pet super-powered squirrel, Ulysses. And if that wasn't crazy enough to grab your attention, the film also features a mini Ducktales reunion. Danny Pudi, Ben Schwartz, Bobby Moynihan, and Kate Micucci are all in Flora & Ulysses. They are also the voices of Huey, Dewey, Louie, and Webby respectively on Ducktales.
FLORA & ULYSSES A MINI DUCKTALES REUNION BY DESIGN
During the press conference for Flora & Ulysses director Lena Khan was asked if this Ducktales reunion was intentional.
Lena answered, "You know, after we got the first couple, then yeah…Everybody from that show is fantastic. And then we just were enjoying it. We, like, threw in, like, Bobby's reading the DuckTales comic at the beginning. You'll see some ducks with, like, the different colors of their collars matching the characters in Danny's office. So, yeah, after a while, we realized that the best goldmine in all of television is DuckTales and we must bring everybody from there onto the movie."
RELATED: DUCKTALES REBOOT TO END UNEXPECTEDLY AFTER SEASON 3 WITH FINALE IN 2021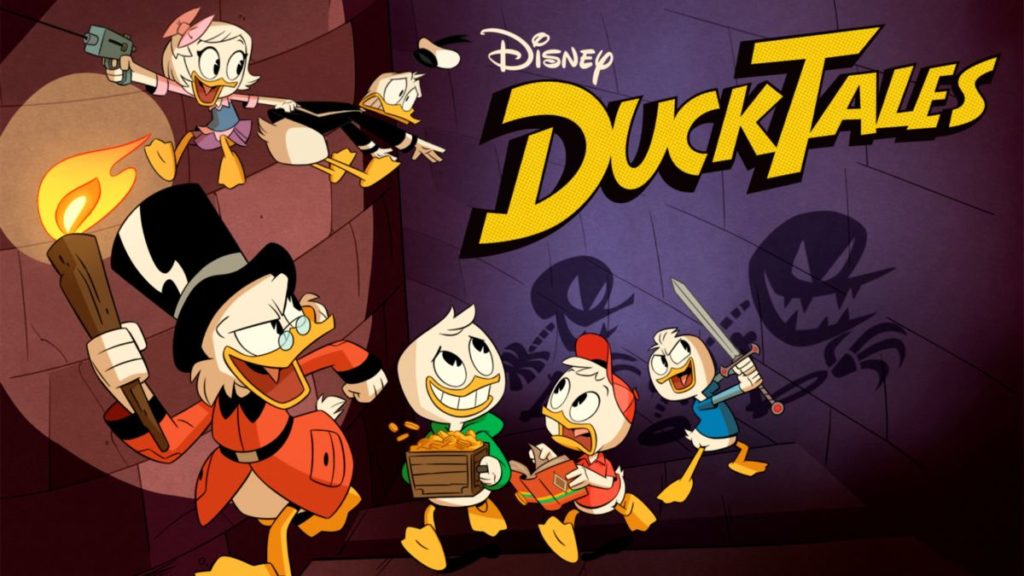 The extra Ducktales Easter eggs are a treat for fans and make it obvious that director Lena Khan appreciates the many fans the series has. Ben Schwartz plays George Buckman, Flora's father, in the film and Danny Pudi plays Miller an animal control officer.  The pair have an obvious chemistry in the film which makes sense given that they have worked together for years now. When Ben and Danny were asked what was improvisation versus what was from the script Ben answered,
"The script that Brad wrote was so good and Lena gives us room to play…It's always within the boundaries of what that scene is and only if it heightens either the emotion or the comedy of the scene without bringing it elsewhere. I'm sure Danny and I played-I know Matilda and I definitely improvised a couple times, which was very exciting."
Danny then added, "I'm just trying to think. I think it was a lot of- well, I mean, first of all, Ben and I have history of fighting for the last three years as brothers in an animated show, so that was very helpful…I think we started with the script. It was so good. Obviously, the world is so fully realized. And then we would just play while we were chasing each other."
RELATED: REBOOT OF DARKWING DUCK ANIMATED SERIES IN DEVELOPMENT FOR DISNEY PLUS WITH SETH ROGEN AS EXECUTIVE PRODUCER
Ducktales will be ending this year so it is a real treat that Flora & Ulysses features a reunion of sorts for fans of the series to watch. The hilarious dynamic of Danny Pudi's Miller and Ben Schwartz's George Buckman is endlessly fun to watch. Bobby Moynihan and Kate Micuccio are excellent as well with Moynihan's back and forth with Matilda Lawler's Flora is great.
FLORA & ULYSSES TRAILER AND OFFICIAL SYNOPSIS
Disney's "Flora & Ulysses" is a delightful comedy-adventure based on the Newbery Award-winning book about 10-year old Flora, an avid comic book fan and a self-avowed cynic, whose parents have recently separated. After rescuing a squirrel she names Ulysses, Flora is amazed to discover he possesses unique superhero powers which take them on an adventure of humorous complications that ultimately change Flora's life–and her outlook–forever.
Flora & Ulysses is written by Brad Copeland based on the children's novel written by Kate DiCamillo and directed by Lena Khan. Flora & Ulysses stars Matilda Lawler, John Kassir, Alyson Hannigan, Ben Schwartz, Danny Pudi, Anna Deveare Smith, Benjamin Evan Ainsworth, Janeane Garofalo, Kate Micucci, and Bobby Moynihan. The first two seasons of Ducktales are available on Disney Plus now. Flora & Ulysses will premiere on Disney Plus February 19, 2021
Are you going to watch Flora & Ulysses? Are you excited to see a mini Ducktales reunion in Flora & Ulysses? Leave your thoughts in the comments below or on our social media.
KEEP READING: DISNEY INVESTOR DAY REVEALS NEW FILMS AND SERIES AND THE RETURN OF OLD FAVORITES