The first trailer for the highly anticipated The Suicide Squad is here and it looks awesome.
The Suicide Squad Official Red Band Trailer
Director James Gunn yesterday revealed a new poster for his take on the Suicide Squad announcing the trailer would drop today.
The trailer gives audiences a clear look at James Gunn's vision, showing off some really R-Rated action and jokes, highlighting Margot Robbie's iconic Harley Quinn, John Cena as Peacemaker, Idris Elba as Bloodsport and King Shark, who has won fans over in a minute. Gunn confirmed that the fan-favorite shark will be voiced by none other than Sylvester Stallone. The trailer also features a great choice of music, something that Gunn is known for since his two Guardians of the Galaxy movies.
We also got a bunch of great looking character posters, showing of some of the squads members.
RELATED: SHAZAM! FURY OF THE GODS ADDS HELEN MIRREN TO THE CAST AS VILLAIN HESPERA AND HERE'S WHAT IT MIGHT MEAN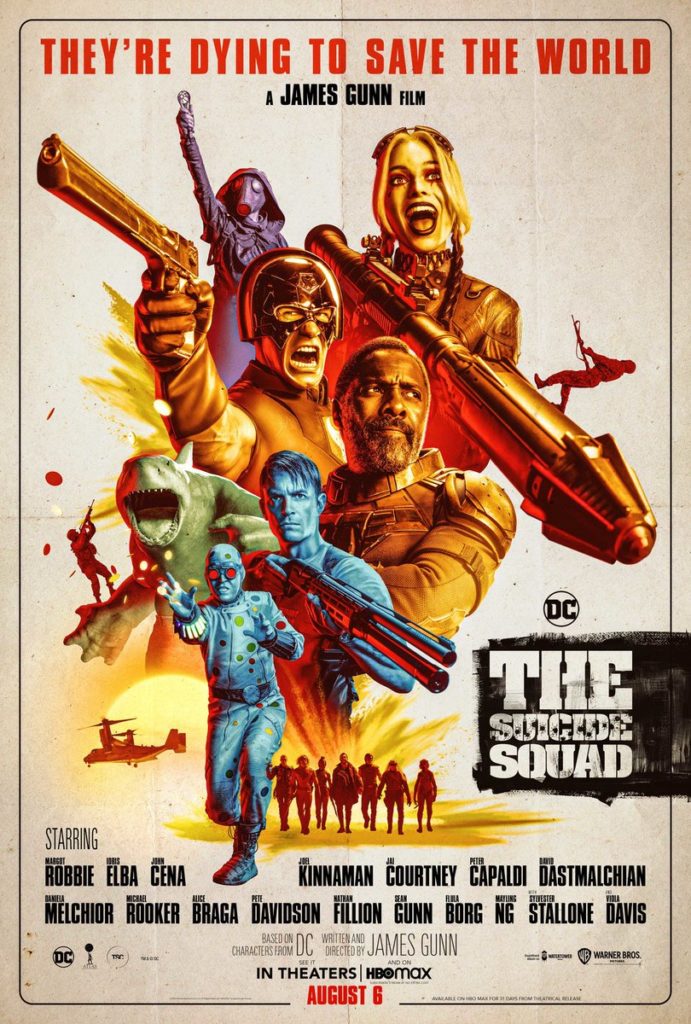 The Suicide Squad Synopsis
Welcome to hell—a.k.a. Belle Reve, the prison with the highest mortality rate in the US of A. Where the worst Super-Villains are kept and where they will do anything to get out—even join the super-secret, super-shady Task Force X. Today's do-or-die assignment?

Assemble a collection of cons, including Bloodsport, Peacemaker, Captain Boomerang, Ratcatcher 2, Savant, King Shark, Blackguard, Javelin and everyone's favorite psycho, Harley Quinn. Then arm them heavily and drop them (literally) on the remote, enemy-infused island of Corto Maltese. Trekking through a jungle teeming with militant adversaries and guerrilla forces at every turn, the Squad is on a search-and-destroy mission with only Colonel Rick Flag on the ground to make them behave…and Amanda Waller's government techies in their ears, tracking their every movement.

And as always, one wrong move and they're dead (whether at the hands of their opponents, a teammate, or Waller herself). If anyone's laying down bets, the smart money is against them—all of them. (Warner Bros.)
The Suicide Squad will hit theaters and HBO Max on the same day, August 6, 2021. What do you all think? Do you like the trailer? Are you excited for the movie? Let's discuss everything in the comments down below and on our Twitter.
KEEP READING: STARRO IS THE PRIMARY ANTAGONIST OF JAMES GUNN'S THE SUICIDE SQUAD