Our review for Concrete Cowboy, a coming of age and family drama with Stranger Things star Caleb McLaughlin and Idris Elba.
After its premiere at last years Toronto International Film Festival, Concrete Cowboy was soon after acquired by Netflix. While 2020 definitely wasn't a good year for theatrical releases, streaming services became even more important in the film industry. That led to the acquisition of quite a few independent productions that premiered at film festivals. Netflix for example not only bought Concrete Cowboy, but also the Zendaya and John David Washington starring Malcolm & Marie or Halle Berry's directorial debut Bruised.
The most interesting part that the movie explores is the rarely seen urban-cowboy subculture. I for one didn't know about it, but I am happy that I do know. Director and writer Ricky Staub wrote a story about a father and his son coming back together, while Cole (Caleb McLaughlin) learns alongside the audience about his father's community. It's also really nice that the majority of the supporting cast really live in this community, which gives Concrete Cowboy a feel of authenticity.
The cast delivered some fine performances, but Caleb McLaughlin definitely stood out as he plays Cole vulnerable yet brave, as he tries to find his home. The Stranger Things star further establishes himself as an upcoming talent. Idris Elba is great as always, but doesn't have as much screen time as I expected.
The biggest problem the movie encounters is that it doesn't know where its strengths lie. Every time it focuses on the father-son relationship or on Cole learning more about his father's community and training with his horse, the movie shines. But sadly we spent most of the time with Cole and his friend Smush (Jharrel Jerome) driving in a car, slowly drifting off into a criminal path in order to be able to buy a range.
RELATED: 'BULL' DIRECTOR ANNIE SILVERSTEIN ON DISCOVERING HER DYNAMIC LEAD, DANGEROUS BULL FIGHTS, & POST-PANDEMIC FILM
There is also an underdeveloped love story, that would have needed some more time to be fully fleshed out. So sadly it can't show it's full strength as it struggles to find balance between it's side plots.
Concrete Cowboy is a really well shot drama, featuring fine performances by it's main cast that explores a rarely seen subculture, which struggles to find the strengths of its story at times.
3,5/5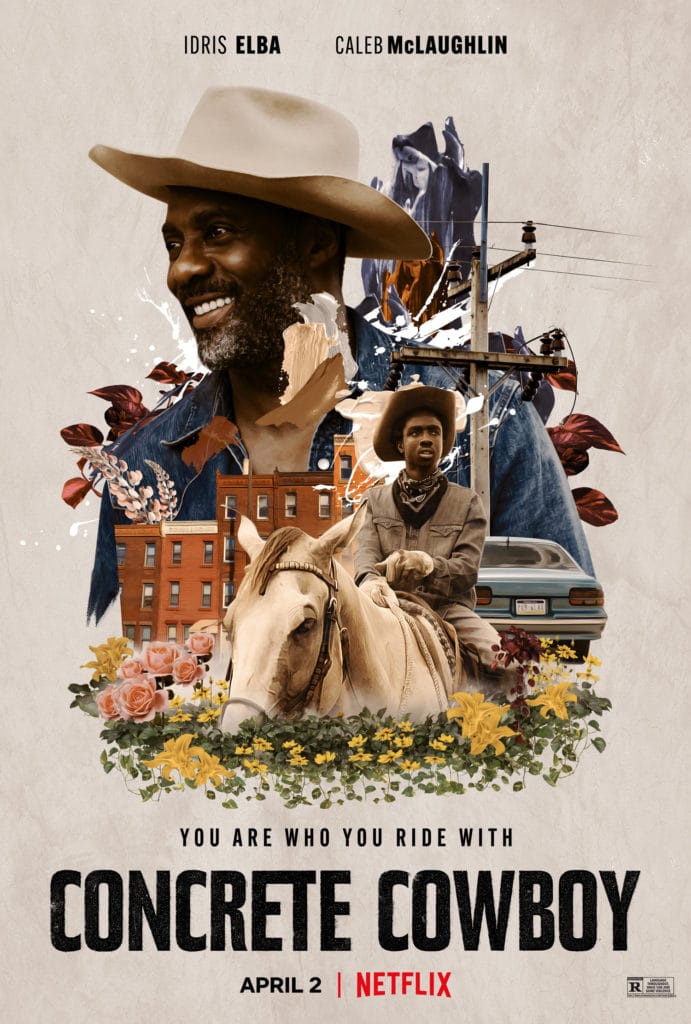 Concrete Cowboy Official Synopsis
While spending the summer in North Philadelphia, a troubled teen (Caleb McLaughlin) is caught between a life of crime and his estranged father's (Idris Elba) vibrant urban-cowboy subculture. (Netflix)
Concrete Cowboy is Rated R for language throughout, drug use and some violence and hits Netflix globally April 2, 2021. Concrete Cowboy is based on the novel 'Ghetto Cowboy' by G.Neri and is directed by Ricky Staub. It stars: Caleb McLaughlin, Idris Elba, Jharrel Jerome, Byron Bowers, Lorraine Toussaint and Clifford "Method Man" Smith.
What do you guys think? Have you seen Concrete Cowboy, if so how did you like it? Or are you planning to watch it? Let's discuss everything in the comments down below and on our Twitter.
KEEP READING: BULL REVIEW: ELEVATES EVEN ITS QUIETEST MOMENTS