Hasbro's fan-favorite Power Rangers Lightning Collection figure line has been going strong since the first batch of figures was released back in April of 2019. The first two years of the line had strong momentum of figures releasing left and right, but due to a number of global shipping delays present in 2021, a number of the figures revealed by the Hasbro team since the spring have seen their original release dates delayed.
After so long it may be hard to keep track of what figures have been shown off, and with how many there are there could be some that slipped under the radar of collectors. Let's take a look at what figures we know are coming and can be pre-ordered right now!
HASBRO PULSE FAN FEST- APRIL 2021
The earliest batch of figures that have yet to appear in the hands of collectors is those revealed at Hasbro's Fan Fest event back in the spring. On this day they showed off the next batch of Metallic Armor MMPR Rangers for Yellow, Black, Blue, and Red to go with the Pink released at the end of 2020. The Target Exclusive Tyrannosaurus Sentry figure was a big surprise to cap off the day.
RELATED: NEW POWER RANGERS LIGHTNING COLLECTION FIGURES REVEALED AT HASBRO FAN FEST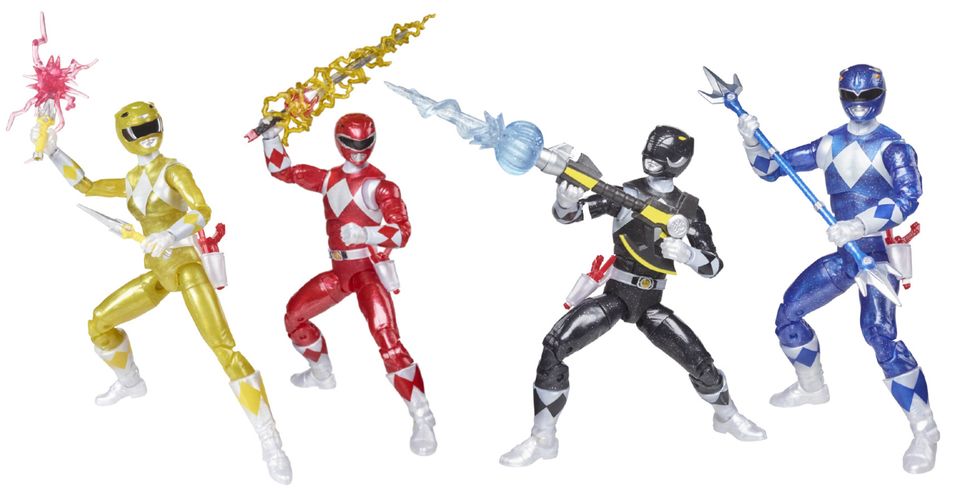 Currently, the Metallic Armors are some of the lucky ones who have yet to be delayed, though dates change every week at this point, for now, they are still slated for the November 1st, 2021 release that they have always been shown to have. These Power Rangers figures can still be pre-ordered exclusively at Hasbro Pule for $26.99 each.
The Tyrannosaurus Sentry has not been as lucky, however. He was originally slated to release in September on Hasbro Pulse and in October at Target, though recently both sites have issued delays for him, now expecting to receive their stock in March 2022.
THE SUMMER FAN FIRST FRIDAYS
Over the summer of 2021, a number of Power Rangers Fan First Fridays occurred for the brand to show off more Power Rangers figures, May 14th, June 11th, and July 2nd all saw a number of new figures revealed that are the bulk of the backlog fans are waiting for. Heading back to May was the announcement of the rest of the A-Squad S.P.D. team. These ones are all over the place currently, Yellow and Green have just popped up in Singapore while Red just released in the US from the online store Dorkside Toys.
The main store outlets for these Rangers have all delayed their orders from Fall 2021 to numerous dates between January and March 2022. Red and Yellow can be ordered from Hasbro Pulse, Entertainment Earth, and other Fan Channel retailers while Green is exclusive to Best Buy and Pink Exclusive to GameStop.
While A-Squad might have been lucky to start releasing at least a little bit, the big reveal of this May event was the next Wave of VS Packs including Mighty Morphin' Power Rangers – Yellow vs Scorpina and In Space Blue vs Psycho Silver. These sets appeared to have a good chance of meeting their October 1st, 2021 release date as they for a while went undelayed, though that streak was broken as just recently they were pushed to November/December depending on the store.
RELATED: NEW POWER RANGERS LIGHTNING COLLECTION GAMESTOP PINK RANGER ITEMS REVEALED
June saw the Power Rangers: Pioneers in Pink reveal event which had two role-play items and two figure items for GameStop. The role-play items made it out in stores already but all of the Pink Ranger figures have been delayed. GameStop claims the end of 2021 for the Kat Pink 2 Pack and January 2022 for Cel-Shade Pink while Hasbro Pulse has Cel-Shade Pink for March.
The final Power Rangers Fan First Friday event was on July 2nd for Wave 10 and the Eye Guy figure. Most retailers listed these figures for January or April 2022 from the very beginning but GameStop was bold in listing them for September 2021, something they push every week currently.
POWER MONTH- AUGUST 2021
RELATED: LIGHTNING COLLECTION: HASBRO GIVES DETAILS ON THE INCREDIBLE TMNT X POWER RANGERS FIGURES
Despite all of the announcements already with delays occurring Hasbro went forward with their big August Power Month event to show off even more figures. The big kick-off to this event was the TMNT crossover figure sets. For the most part, these are not to be expected until April 2022, but like before GameStop still lists them for the end of 2021, so who knows which date will win?
From this point, though everything Hasbro showed off was all 2022 release dates to begin with, highly unlikely to see any release in 2021 for Ninja Blue and Black, slated for a winter release at Target. Same for the villains reveal of Finster and the Ecliptor/Astronema two-pack, both coming in April 2022 at Amazon.
Of course, that brings us to yesterday's reveal of Ninja White and Pink, who will also appear in April 2022 at Target.
FIGURES YOU CAN'T ORDER YET
RELATED: HASBRO ANNOUNCES RETURN OF SUCCESSFUL 2-DAY "PULSE CON" ON OCTOBER 22-23, 2021
While everything mentioned already can still be pre-ordered, if still available, there have been two figures that haven't even gotten that far yet. Pudgy Pig will go up to order for fans during the weekend of Hasbro Pulse Con 2021 taking place on October 22nd and 23rd along with a number of other exclusive items for other brands, though it's yet to be seen if he will release that weekend like the exclusive figure at this event last year or if he will be another to add to the delay pile.
Finally is the elusive Andros figure. First shown back in May as well Hasbro claimed he was being revealed early and details on when he could be ordered would be shown later on. Since he has popped up on the Target website but is unable to be ordered yet. The next event he might finally be able to be ordered during is the finale of Target's Fall Geek Out on October 3rd or perhaps like the pig, he will also go up Pulse Con weekend.
To stay up to date with all the news for the Power Rangers Lightning Collection fans can check out The Illuminerdi's Josh Perry on his weekly Lightning Storm YouTube series every Saturday at 9:00 am Pacific or on Twitter at @LightningFigPR. How many of these figures have you already pre-ordered? Leave your thoughts in the comments below or on our social media.
KEEP READING: HASBRO'S POWER RANGERS LIGHTNING COLLECTION: HEADING IN A NEW DIRECTION?