I Know What You Did Last Summer debuted its first four episodes on Amazon Prime on October 15th, 2021. Join The Illuminerdi as we dive into the history of the horror franchise. 
This reboot TV series is the fifth installment, so to speak, in the I Know What You Did Last Summer franchise. Lois Duncan began the franchise with a young adult thriller novel in 1973. Two decades later, the book would be loosely adapted into a film franchise that began with a 1997 film of the same name. A direct sequel titled I Still Know What You Did Last Summer, starring returning cast members Freddie Prinze Jr. and Jennifer Love Hewitt, would follow in the fall of 1998.
RELATED: BLACK ADAM PRODUCER TEASES DOCTOR FATE'S DYNAMIC WITH HAWKMAN AND THE JSA
Let's take a peek and what happened next.
I KNOW WHAT YOU DID LAST SUMMER: ONE BOOK, THREE FILMS, AND A TV SERIES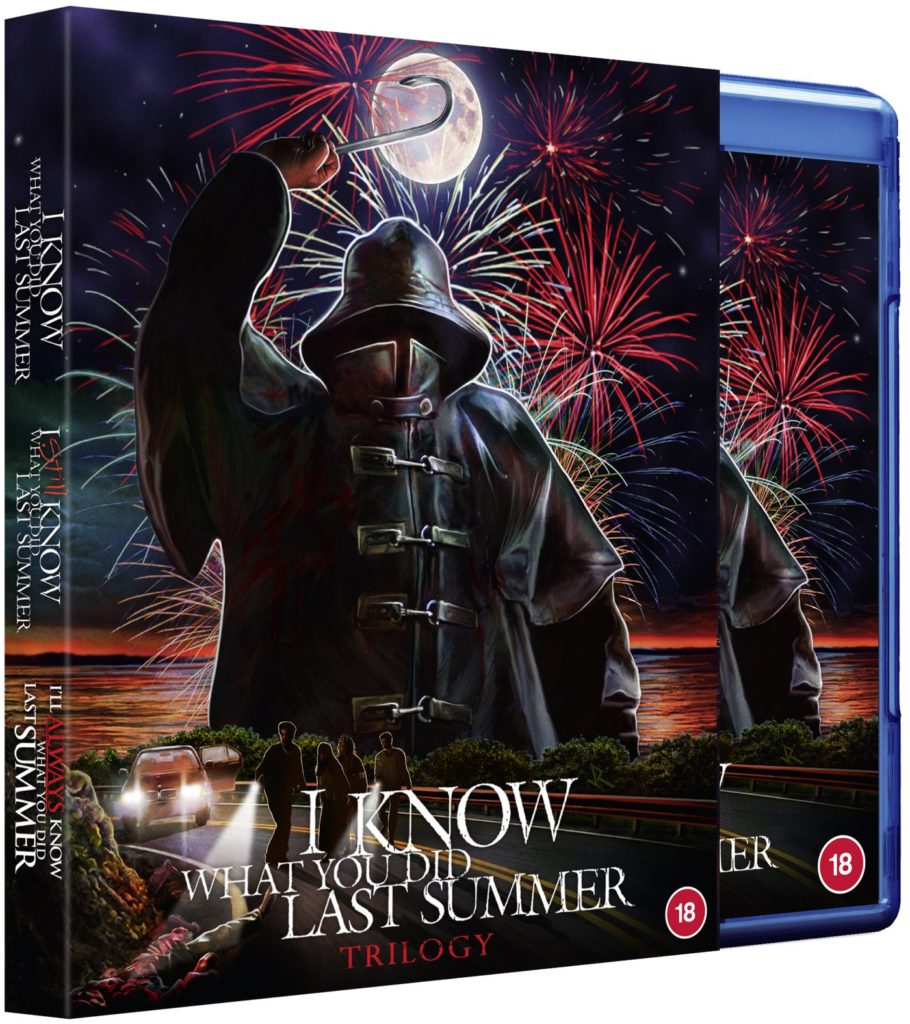 A very loose, direct-to-video sequel would follow in the summer of 2006. I'll Always Know What You Did Last Summer saw a new cast of characters trying to survive the onslaught of an undead version of "The Fisherman", the killer from the first two films. Stunt Coordinator Don Shanks portrayed this version of the killer. 
The first film, I Know What You Did Last Summer (1997), was directed by Jim Gillespie and starred Jennifer Love Hewitt as Julie James, Sarah Michelle Gellar as Helen Shivers, Ryan Phillipe as Barry Cox, Freddie Prinze Jr. as Ray Bronson, and Muse Watson as Ben Willis (AKA The Fisherman). 
Julie James, Helen Rivers, Ray Bronson and Barry Cox are the original cast of characters from Lois Duncan's 1973 novel, I Know What You Did Last Summer. But there are several core differences from the original story and the adaptations that followed. Jim Gillespie's 1997 feature saw the gang hit a grown man who was standing in the road while in the book, the unfortunate crew of teens ran over a ten-year-old boy riding his bicycle in the dark. 
In both versions, a family member of the deceased comes after Julie, Helen, Barry and Ray, torturing them slowly before moving in for the kill. The original novel's killer was a Vietnam veteran named Collingsworth Wilson. He was the half-brother of David Gregg, the poor child who died in that hit-and-run.
I KNOW WHAT YOU DID LAST SUMMER: THERE HAS NOT BEEN A FAITHFUL ADAPTATION OF THE BOOK TO DATE
Collingsworth, or "Collie," played a second role in the book as "Bud," Julie James' boyfriend. In the climax of I Know What You Did Last Summer, Lois Duncan reveals that Collie and Bud are one and the same. Ray Bronson narrowly saves the day, incapacitating Collie from behind.
Jim Gillespie removed the characters of David Gregg and Collingsworth Wilson from his film adaptation entirely.
This new story, which was written by Kevin Williamson, was designed to be more of a slasher than a thriller, distancing itself from the novel. Furthermore, the setting of an apple-pie college town was dropped in favor of a small fishing town, presumably to better service I Know What You Did Last Summer's new, hook-wielding, slicker-wearing masked murderer. 
In the film, "The Fisherman" turns out to be Ben Willis. He is father of David Egan, the man the group of teens believed they had killed. The twist is that Ben Willis is actually the one they ran over, not David Egan. Willis had murdered his own son-in-law, and was now seeking revenge on Julie and company for trying to kill him. 
While there's no accounting for taste, I would argue that the surprise twist in the novel is far superior to the twist in the film. The revelation of Bud and Collie's unity is quite shocking, and the third act is paced much better than in the film, which drags on for far too long. The personal connection between the victim of the accident and the killer is also lost in the change from Collie to Ben Willis. 
I KNOW WHAT YOU DID LAST SUMMER: THE FISHERMAN IS NO FREDDY KRUEGER
Furthermore, the franchise's obsession with creating a slasher villain along the lines of Jason Voorhess, Michael Myers or Freddy Krueger did far more harm than good. Despite a decent performance from Muse Watson, Ben Willis isn't a very interesting character. His transformation into a vengeful apparition or pseudo-zombie in I'll Always Know What You Did Last Summer is proof that the film franchise should have stayed more faithful to the original story. 
The mystery of Amazon Prime's I Know What You Did Last Summer is still unfolding, and it's anyone's guess who is behind these new killings. As long as it's not Ben Willis (or his ghost) murdering the teens again, the twist in the TV show will likely surpass the film's weak mystery. 
Amazon Prime's I Know What You Did Last Summer stars Madison Iseman as twins Allison and Lennon, Brianne Tju as Margot, Ezekiel Goodman as Dylan, Sebastian Amoruso as Johnny, Ashley Moore as Riley, Bill Heck as the twins' father Bruce, Cassie Beck as Riley's mother Courtney, Spencer Sutherland as Dale, Chrissy Fit as Kelly, Fiona Rene as Lyla, and Eric William Morris as Officer Doug Cruise. New episodes air on Fridays.  
Stay tuned to The Illuminerdi for more stories on I Know What You Did Last Summer! Let us know which installment in the franchise is your favorite in the comments below or on our social media!
KEEP READING: HALLOWEEN KILLS: DIRECTOR DAVID GORDON GREEN TALKS FAN RESPONSE TO THE HORRIFIC DEATH OF (SPOILER)