Hawkeye is an upcoming Disney+ MCU TV series, slated for release on November 24th, 2021. Join The Illuminerdi as we dig into star Jeremy Renner's comments from a recent press conference.
The show will continue Clint Barton's post-Endgame story, introduce a new Hawkeye in Kate Bishop, introduce "Echo", and potentially bring the Marvel Netflix stories back into the MCU limelight. Hawkeye star Jeremy Renner spoke about how the show is influenced by the prior events of Avengers: Endgame.
HAWKEYE: JEREMY RENNER CALLS BEGINNING OF SHOW "A VERY HAPPY STEP FORWARD"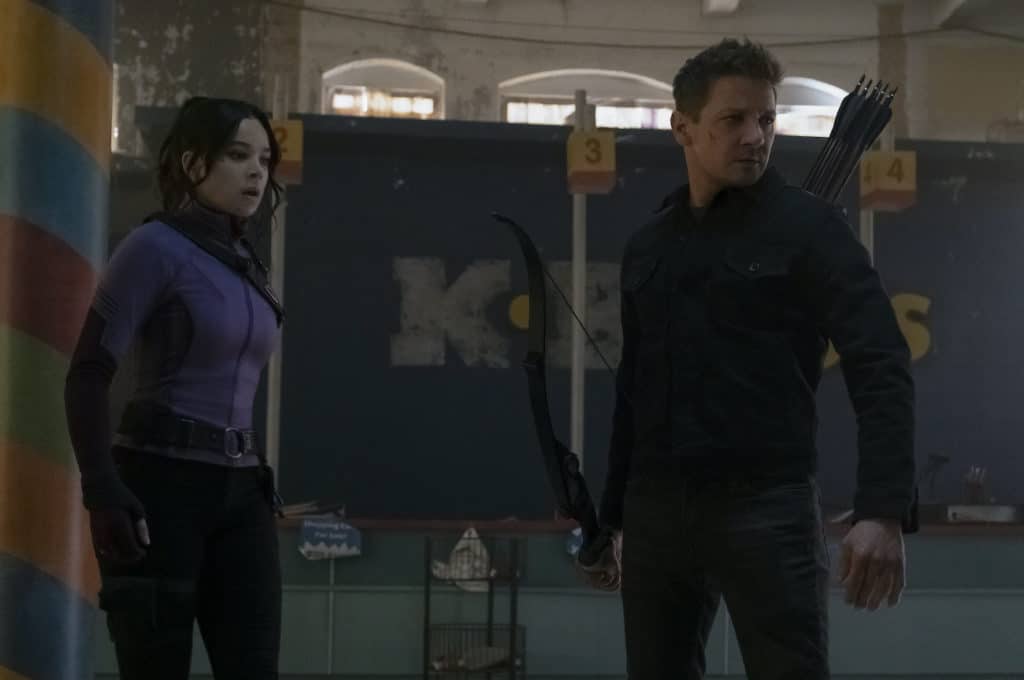 "There's an emotional through line that ties in Endgame stuff, and it's a lot of healing and these kinds of things. We start off with a very happy step forward into family vacation, into New York, Christmas and taking the kids to see a musical. Everything kind of goes sideways from there."

-Jeremy Renner, star of Hawkeye
During the events of Avengers: Endgame, Clint Barton lost his family in the decimation and took up the new vigilante identity of "Ronin". Ronin was a far more brutal antihero than Hawkeye, as he dealt out lethal punishment that would have made Frank Castle proud. By the time this new TV show occurs, Barton is back to being a family man.
RELATED: HAWKEYE'S JEREMY RENNER AND HAILEE STEINFELD BREAK DOWN THE DUO'S "COMPLICATED RELATIONSHIP" IN THEIR NEW SHOW
According to the quote above, the peace and solace of suburban life isn't built to last, and Hawkeye finds himself drawn back into the dangerous world of superheroics. Luckily for Clint, he has a new friend in Kate Bishop (Hailee Steinfield), a bow-and-arrow wielding youngster who models herself after the original Avenging archer. Renner teased their upcoming dynamic, saying-
HAWKEYE: UPCOMING DISNEY+ SERIES TACKLESS LOSS AND THE WEIGHT OF TRAGEDY
"…Outside of dealing with the loss, and there's a lot of things that are lost, you know what I mean? It's addressed in the show, which I think is beautifully intimate and brings our characters closer together, as well as the audience. I think there's a lot of weight that's carried. There might be a seeming veneer of grumpiness in his resting face in the show, but ultimately it comes from the weight and the tragedies and loss that come with the game. It's managing losses, that's the superhero game. The lightness and brightness that Hailee's character brings in counteracts that, and comes in and gets it to level out some. It's pretty cathartic and I think quite beautiful."

-Jeremy Renner, star of Hawkeye
Perhaps the greatest loss Clint Barton has suffered onscreen was the death of his SHIELD partner, Natasha Romanoff. The superspy had a longstanding history and friendship with Barton, and their bond was so deep that Barton tried to sacrifice himself so that Black Widow might live.
RELATED: HOW BLACK WIDOW SETS UP YELENA BELOVA TO BE A DEADLY ANTI-HERO IN THE FUTURE OF THE MCU
Unfortunately for Hawkeye, there were no witnesses to his selfless deed. The villainous Contessa Valentina Allegra De Fontaine took advantage of this fact and convinced Yelena Belova that Barton was responsible for the death of her adoptive sister. The new Black Widow was sent on the warpath against Clint Barton, with the simple mission of taking him out.
HAWKEYE: BLACK WIDOW SET THE STAGE FOR A FIGHT BETWEEN BELOVA AND BARTON
Jeremy Renner refused to spill the beans on that upcoming conflict. He had little to say about their fight in the press conference.
"I don't know, I can't tease too much about that, I'm aware that's there, definitely aware that's happening. I don't know what the deal is with that. Hopefully that gets sorted out."
While the MCU stars tight-lipped comments may not have revealed anything, it's only a matter of time before their duel is put out there for the world to see. Hawkeye will run for 6 episodes, beginning with the first two episodes on November 24th, 2021.
Hawkeye has its two-episode premiere on Disney+ this November 24 and stars Jeremy Renner as Clint Barton, Hailee Steinfeld as Kate Bishop, Vera Farmiga as Eleanor Bishop, Fra Fee as Kazi, Tony Dalton as Jack Duquesne, Zahn McClarnon as William Lopez, Alaqua Cox as Maya Lopez / Echo, Florence Pugh as Yelena Belova / Black Widow, and Brian d'Arcy James in an undisclosed role.
KEEP READING: HAWKEYE: THE BIGGEST QUOTES AND MOST INTRIGUING TAKEAWAYS FROM THE MARVEL PRESS CONFERENCE