Encanto is Walt Disney Animation Studio's 60th canonical animated film continuing the legacy that Walt Disney himself began over 80 years ago with Snow White.
Encanto tells the story of the magical Madrigal family each of whom is bestowed a magical gift except for Mirabel. When the magic is threatened Mirabel begins to search for what is affecting the family's magic and how she can fix it. The Illuminerdi was able to attend the Encanto Virtual Press Conference with the filmmakers as they talked about the inspiration for different aspect of the family's magic in the film.
RELATED: ENCANTO: LIN-MANUEL MIRANDA REVEALS HIS FATHER'S INFLUENCE ON THE FILM AND BREAKS DOWN HIS WRITING PROCESS FOR 2 NEW SONGS
Encanto co-writer and co-director Charise Castro Smith is no stranger to houses with strong personalities. Smith was a producer on Netflix's hit horror series The Haunting Of Hill House. The house in Encanto is tied to  the Madrigal family through the magic that created their home and gifts nearly every member of the family with a power. But beyond the magic the Madrigal's home has a unique personality of its own throughout the film.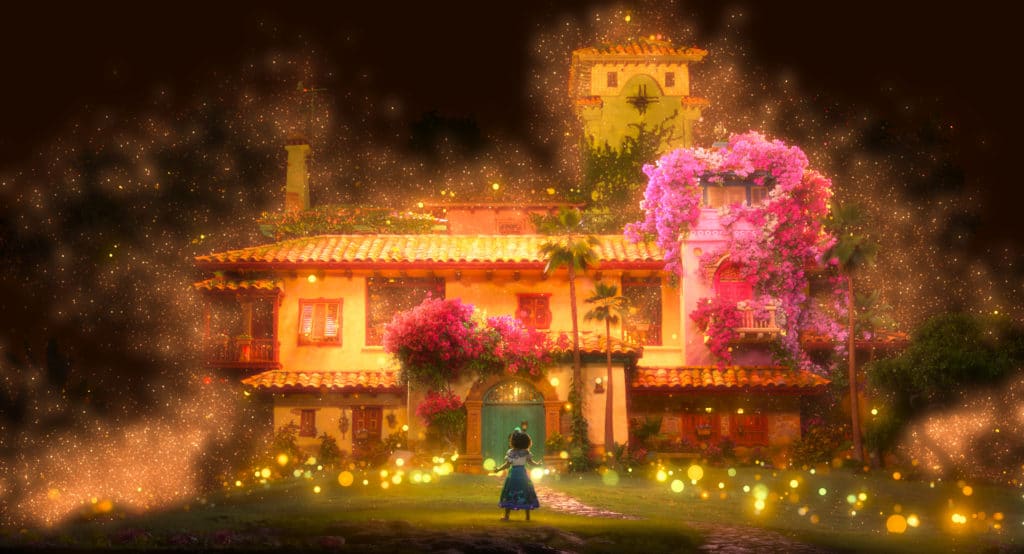 During the Encanto press conference Charise Castro Smith revealed the inspiration for the personality of the Madrigal's home.
"From very early on, Byron and Jared knew that this house was gonna be magical, and alive, and joyful, and we wanted it to really reflect the family that lived in it. You sort of have emotional attachments to the house. And as we're trying to crack the character of this house, what was it gonna be, how was it gonna act? We really landed on the metaphor of this house behaving like the family dog.

So, it sort of has favorites. Like, it has different relationships with each person in the family. But it sort of is, a communal, kind of beloved family member by everyone. And it's really also sort of a metric for how the family is doing, ultimately, throughout the movie. But, it really is one of the most joyful, cool parts of this movie. And the animators did just an incredible job with it."
ENCANTO DIRECTOR REVEALS THE INSPIRATION BEHIND EACH OF THE MADRIGAL'S MAGICAL POWERS
RELATED: PRESIDENT OF WALT DISNEY ANIMATION STUDIOS REFLECTS ON ANIMATED CLASSIC FILMS FROM SNOW WHITE TO ENCANTO AND INTO THE FUTURE
This isn't the only intriguing inspiration that the writers used for the different aspects of the Madrigal's magic in the film. Encanto director and co-writer Jared Bush broke down how they used standard family archetypes to inspire which powers each character was given. This inspiration largely began with their own families and the different roles they play.
"So, I mean, literally, from day one, we knew we wanted to tell a story with an extended family. I think honestly, at Disney, we've tried many times to like, "Maybe there should be more family members." And ultimately you're like, "Nah, there's just one person." Like, Moana's going on a boat, that's just by herself, family's not coming. So, for this movie, from the beginning, we knew we had to make that a priority.

And we also knew, "okay, well, if we're gonna have 12 members of the family, they have to separate. Who are these people gonna be?" So early on, all of our research was really our own families. And we found these archetypes. Whether it's, the black sheep of the family, or the golden child, or the responsible one, or the mom who heals with her food, all of these things felt very familiar to us, and very relatable, universally around the world, we found these archetypes.

And so, what we found early on for Charise and I is that we had to build the story to work as if there were no magic in it. And we couldn't say, "It's all magic all the time." And we had to feel like this is a family story that functions, and that we can relate to, whether or not there's magic. And then, we also happen to really love magic.

And so, then that was a really fun part is saying, "Okay, the responsible strong one, what does that turn into? Oh, she can lift anything." Or, "Here's a guy, he's sort of nervous, and he's sort of, like, always worrying. Then he's a guy who can see the future, and he's always worried about what's about to happen." Or Isabela, who's the golden child, flowers literally spring up in her footsteps. So, I think what we really tried to do was take these very relatable, familiar dynamics, and then just plus them and make them magical."
RELATED: ENCANTO: STEPHANIE BEATRIZ GLOWS ABOUT JOINING THE IMPRESSIVE LEGACY OF DISNEY HEROINES
While magic is key to Encanto, the fact that the team wanted to be sure this family made sense and worked without the magic is an important revelation. This focus on making sure the family is more than conduits for magic in the film helped to make each character and the different relationships feel genuine. Especially with so much of the film focused on the family member who lacks magic. Jared Bush also revealed that the youngest member of the Madrigal family member, Antonio, was largely inspired by his own son especially his magical power of communicating with animals. Even Antonio's room takes inspiration from Jared Bush's son, but with the extra Disney magic.
"Well, one of my sons loves animals. He calls himself an animal whisperer. And he's very shy and quiet with all people. But you put him around an animal, and immediately it's best friends, and they're talking, going to town. His room literally is themed like a rainforest, right now. Like, that's the wallpaper he wanted.

He has an inflatable palm tree in his room. And so really, for him, I was thinking about Antonio, and going back and forth. And there's something, I think, for a lot of kids, there's this wish fulfillment about being able to talk to animals, or you have this really special connection. So, I'd say for me, definitely, I see my son in Antonio, for sure."
Magic is integral to the family and story of Encanto. As Mirabel learns more about her family and their magic, hidden truths come to light. The inspiration that was taken from the creators own families and the usual archetypes in a family to inspire the magic is intriguing. But the fact that the Madrigal's home was inspired by the family dog is especially fun to see. The way that the filmmakers were able to entwine the magic into the characters and the story is especially impressive.
Encanto is exclusively in theaters November 24, 2021. Are you going to see Encanto? Are you excited to see the unique magic in Encanto and how it is tied to the Madrigal family? Leave your thoughts in the comments below or on our social media and check back with The Illuminerdi for more Disney and Encanto.
KEEP READING: ENCANTO REVIEW: A MASTERFULLY ANIMATED MAGICAL TALE FULL OF HEART, HUMOR, AND TREMENDOUS MUSICENCANTO: STEPHANIE BEATRIZ GLOWS ABOUT JOINING THE IMPRESSIVE LEGACY OF DISNEY HEROINES