Star Wars has a ton of exciting content coming to Disney Plus with new stories for numerous fan favorite characters. One such series is the upcoming Ahsoka. The new series will focus on the titular character, Ahsoka Tano, who was first introduced in the animated series Star Wars: The Clone Wars and Star Wars: Rebels. She then made her live-action debut, played by Rosario Dawson, in the second season of The Mandalorian.
Not much is known about the plot of the new series, although there has been a lot of speculation surrounding Ahsoka's questions about Grand Admiral Thrawn during her appearance in The Mandalorian's second season. Many are speculating that this new series will include the former Jedi searching for Star Wars: Rebels Padawan Ezra Bridger who was last seen with Grand Admiral Thrawn when the pair disappeared.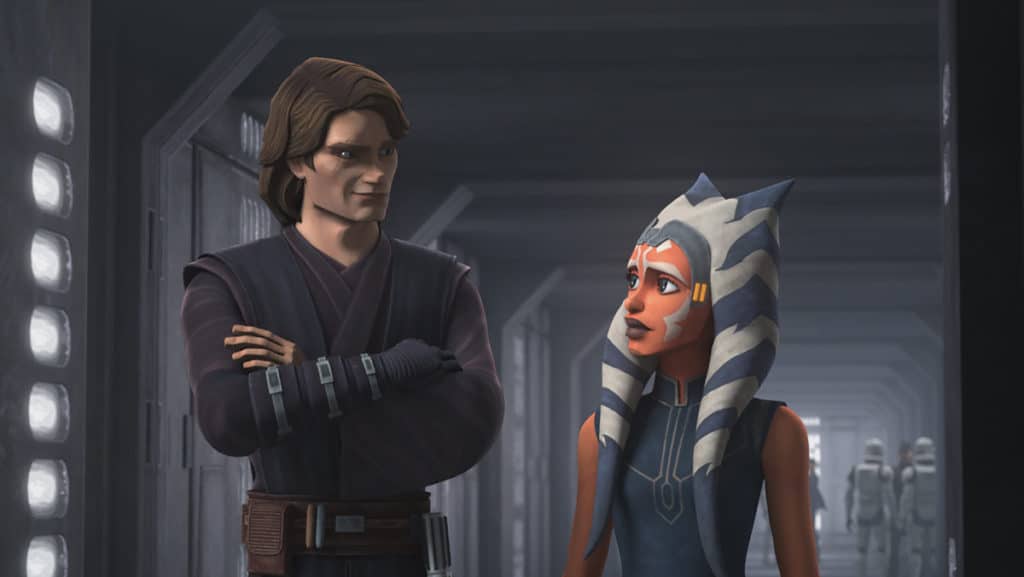 RELATED: AHSOKA: HAYDEN CHRISTENSEN TO REPRISE HIS ROLE AS ONE OF STAR WARS MOST INFAMOUS CHARACTERS IN NEW SERIES
There has been some exciting casting new that seems to support this theory. Deadline broke the news in November that Natasha Liu Bordizzo was cast as Star Wars: Rebels character Sabine Wren who was close friends and part of the same Rebel cell as Ezra Bridger before he disappeared. The Hollywood Reporter revealed in October that Hayden Christensen will be reprising his role as Anakin Skywalker aka Darth Vader in Ahsoka although it is unclear how he will be returning, whether it be in flashbacks, as a force ghost, etc.
NEW DETAILS ABOUT IVANNA SAKHNO'S MYSTERY AHSOKA CHARACTER
Deadline recently broke the news that Ivanna Sakhno has been cast in Ahsoka, but up until now the character has remained a mystery. The one detail that Deadline did reveal is that Sakhno's seems to be playing an original character.
We here at The Illuminerdi have been doing some digging and have managed to find new details that shed light on Sakhno's character. According to our sources Ivanna Sakhno will be playing a character named "Astrid" who is described as striking and ferocious. A formidable mercenary who must now decide between two paths. Astrid can either follow the path of her unit or take hold of her own aspiration in service of her own glory.
With plot details being kept under wraps, how exactly this mercenary character will play into the story is still a mystery. It is intriguing that she seems to be at a crossroads and will need to make a life altering decision. Could she be on the hunt for Thrawn as well? Or perhaps the titular character herself given the Imperial holdouts that Din Jarin has continued to deal with during the first two seasons of The Mandalorian.
RELATED: AHSOKA: NEW CHARACTER DETAILS FOR THE HIGHLY ANTICIPATED STAR WARS SERIES: EXCLUSIVE
We also broke the news that Ahsoka is looking to cast Barriss Offee a former Jedi Padawan and close confidant of Ahsoka's until she turned against the Jedi order and framed Ahsoka for a terrorist attack she herself committed. How Barriss will play into the series is also still a mystery, but hopefully fans will finally learn what happened to the former Jedi Padawan after her arrest during Clone Wars.
Ahsoka is bringing a number of Star Wars animated characters into live action the same way The Mandalorian did in season two with Ahsoka Tano and Bo-Katan Kryze. Ahsoka Tano became a fan favorite during her time on Clone Wars as Anakin Skywalker's young Jedi Padawan. The pair had a very close relationship and an almost familial bond with the former Jedi Padawan referring to him as her brother after she left the Jedi order.
Ahsoka and Anakin last saw each other after Anakin had fallen to the dark side and become Darth Vader. The pair faced off against one another in the season two finale of Rebels and with Hayden Christensen reprising his role in Ahsoka the pair may finally get closure after Anakin's betrayal. Rebels final scene takes place after the original trilogy and seems to set up Ahsoka and Sabine Wren beginning the hunt for the still missing Ezra Bridger. This new series seems like the perfect opportunity to explore this story.
RELATED: AHSOKA: IVANNA SAKHNO TO JOIN NEW STAR WARS SERIES STARTING PRODUCTION IN 2022
Dave Filoni serves as writer on Ahsoka as well as executive producer alongside Jon Faverau with the series expected to begin shooting in early spring 2022. With the inclusion of not only fan favorite animated Star Wars characters, but new characters like Ivanna Sakhno's Astrid, Ahsoka is primed to be an exciting new installment into the Star Wars saga. Star Wars fans have a ton of exciting projects on the horizon with The Book Of Boba Fett, Obi-Wan Kenobi, Andor, The Acolyte, Lando, and the highly anticipated third season of The Mandalorian.
What do you think about Ivanna Sakhno's new mercenary character? How do you think she plays into the series? Leave your thoughts in the comments below or on our social media and check back with The Illuminerdi for more Star Wars and Ahsoka news.
KEEP READING: THE ACOLYTE: LUCASFILM IN ADVANCED NEGOTIATIONS WITH AMANDLA STENBERG TO PLAY MYSTERIOUS LEAD CHARACTER: EXCLUSIVE