A new rumor about Peacemaker may spoil the identity of two major new DCEU characters, so consider this your official warning if you want to avoid any possible spoilers.
James Gunn's upcoming DCEU TV series, Peacemaker, stars John Cena, who plays the titular character. Spinning out of Gunn's first DCEU film, The Suicide Squad, Peacemaker is a costumed soldier who wants peace, no matter the cost. He is the man who killed Rick Flag and sought to keep a horrible secret of the US Government hidden on orders of Amanda Waller. Peacemaker is not a hero, and he is not in the company of heroes. 
PEACEMAKER IS NOT A SUPERHERO
Joining John Cena on the Peacemaker TV show are Jennifer Holland as NSA Agent Emilia Harcourt, Nhut Le as Judomaster, Freddie Stroma as Vigilante, Steve Agee as John Economos, and most importantly, Danielle Brooks as Leota Adebayo and Robert Patrick as Auggie Smith.
In the show, Auggie Smith is the father of Cena's character, and Leota Adebayo is a new member of the government task force Peacemaker is a part of. This task force includes Economos and Harcourt, who worked for Amanda Waller and A.R.G.U.S. in The Suicide Squad. A rumor, which should be taken with a grain of salt, indicates that Viola Davis would reprise her role as Amanda Waller in the series.
RELATED: Peacemaker: James Gunn Shares Badass Image of Little-Known Judomaster Ahead of 1/13 Premiere
Her connection to Peacemaker, Harcourt and Economos as a (possibly former) employer was obvious, but her relationship to Leota Adebayo was a mystery. A new rumor from Twitter leaker MyTimeToShineHello claims that Amanda Waller is actually the mother of Leota Adebayo and that Auggie Smith is secretly the DC supervillain known as White Dragon. 
PEACEMAKER: IS AMANDA WALLER LEOTA ADEBAYO'S MOTHER?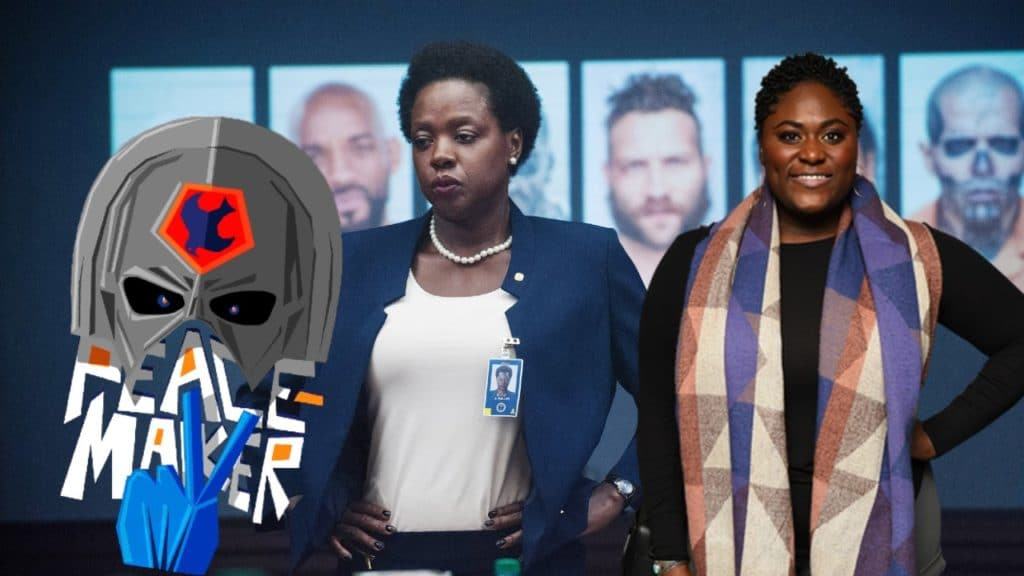 Amanda Waller has had several daughters throughout DC Comics history, but none of them were named Leota Adebayo. Her daughter Damita died horribly, and her daughters Claudia and Celine went on to have a relationship with the Teen Titans. None of these characters particularly resemble Danielle Brooks' character in the show, in terms of costume design or characterization.
RELATED: Peacemaker Breaking News: Watch The Comedic First Full-Length Trailer Of The "Workplace Comedy" From DC Fandome 2021
Leota Adebayo may be a fake name intended to misdirect, and she may be one of these characters. Alternatively, it's more than possible that Leota Adebayo is a new character created by James Gunn, and that her rumored relationship with Amanda Waller is merely inspired by her comic book daughters. 
Viola Davis is one of the strongest performers in the DC Extended Universe and James Gunn's The Suicide Squad is so much stronger with "The Wall" in it. Amanda Waller was a bit of a disappointment in TSS, but a return in the series featuring a dynamic mother-daughter relationship could more than makeup for it. 
IS PEACEMAKER'S FATHER THE WHITE DRAGON?
As for Robert Patrick's character, Peacemaker's father was a nazi in the source material. He fled for his war crimes, later committing suicide and haunting his son as a ghost, or possibly as an illusion cast by Peacemaker's troubled mind. White Dragon was a white supremacist named William Heller who posed as a vigilante. He encouraged young men to join the Aryan Brotherhood and fought alongside The Fourth Reich. 
While White Dragon is not usually tied to Peacemaker in the source material, both he and Peacemaker's father are Nazis, so James Gunn may have fused them into one character for the DCEU. Only time will tell if these rumors are true, but with the show just right around the corner, we will know sooner rather than later. 
Would you like to see Amanda Waller in the series? What would her relationship with her kids be like? How much John Cena in tighty -whities will we get? Let us know your thoughts in the comments below or on our social media!
Source: Twitter
KEEP READING: GUARDIANS OF THE GALAXY VOL. 3 Reveal: Chukwudi Iwuji to Play the High Evolutionary