The long-awaited second season of Prime Video's rotoscope animated series, Undone, is only weeks away and it looks like sisters Alma and Becca will be front and center as Becca becomes embroiled in the universe bending sci-fi fantasy elements of the series. Undone follows Alma Winograd-Diaz (Rosa Salazar) and her family. After a car accident, Alma's life is changed when she is able to see and interact with the universe and time in an entirely new way, compounded by her new mission to save her long-deceased father with these new abilities.
During WonderCon 2022 The Illuminerdi had the opportunity to participate in roundtable interviews with the cast of Undone including Rosa Salazar who plays Alma Winograd-Diaz, Angelique Cabral who plays her younger sister Becca Winograd-Diaz, and Constance Marie who plays their mother Camila Diaz. Rosa and Angelique gave us some interesting insights into the upcoming second season digging into the sibling dynamic between their characters and teasing a new character that fans can look forward to meeting. With Becca joining Alma in her abilities the pair were asked about how that impacted their relationship.
Angelique Cabral answered, "The best. It's actually really great. Obviously season two is the best, we had so much fun. And I loved that just basically Becca is like, 'Ok, fine. I'll do it, get off my dick.'"

Rosa Salazar added, "I love that, because it's such a true family dynamic. Like, I don't know if you have siblings. You're two people in a family, you didn't choose to be there. You're incredibly different. And yet, we're on this team. This arbitrary team and you have two people who are like so incredibly, their responses are so different. I'm so intense and obsessive about it. Like, you gotta go on this journey, girl.

And she's just like, she's got a more honestly spiritual approach to it, which is like, why can't we, and these are my favorite lines in the whole thing, 'Why can't we just figure this out, right here, right now, in this timeline?' And Alma's like, '[SCOFFS] Because we can go to other ones, and we can fix this'. And so, it's just two, we get to come together and reflect the audiences' difference of opinion on the subject.

Which is like, would you go back in time and fix everything if you could? And some people would be like, 'Well you know what, I'm perfectly happy to be here and to be present and to move forward rather than backward. And, I think, you get to have that fun dynamic between, and also it's just like sisters, time travel cops!"
RELATED: THE BOYS PRESENTS: DIABOLICAL SUPERVISING DIRECTOR AND EXECUTIVE PRODUCER TALK ABOUT WHAT THEY WOULD LIKE TO FURTHER EXPLORE ABOUT THE WORLD OF VOUGHT AND THE BOYS IN A POTENTIAL SEASON 2
Alma was largely alone, aside from her deceased father, when discovering her abilities in the first season so the addition of Becca into this part of the story will likely incorporate an exciting new dynamic. With Becca and Alma seemingly having different perspectives on not only their abilities but how to deal with trauma it will surely add not only some interesting tension but perhaps build a deeper relationship between the two.
The Undone cast was also asked about any new characters in the second season and while Angelique Cabral played coy, "You'll have to see, we can't tell you." Rosa Salazar was quick to offer a bit more information teasing a new Shaman character.
ROSE SALAZAR TEASES A NEW CHARACTER IN SEASON 2 OF UNDONE
"I will tell you! There is one character who if we are going, because we talk about well, in the first season, is Alma a Shaman or is she schizophrenic? Also, why can't I be both? You can be a Shaman and still have some behavioral issues. Speaking from personal Shamanic experience. But there is a woman who is, there are several women and several people who are Soothsayers, Seers, Shamans, whatever you want to call them. And we get to, because of the rotoscope animation, see what they see.

And the way that is done, it took this show from the cool, like experimental art form that it was and just like made it incredibly, incredibly expansive. And what is possible in season two will blow your mind. The way we see these visions. The way they manifest in different ways every time, it's mind blowing.

And it's very rare for actors to be, I mean not rare, we all love to smell our own farts, but it's rare for us to be looking at something we did and going like, 'Wow, this is amazing, I'm so proud. And I'm glad this is out there." But this is the thing that I think the three of us can confidently sit here and say, It's the jewel in our crown."
RELATED: THE BOYS PRESENTS: DIABOLICAL EXECUTIVE PRODUCER AND SUPERVISING DIRECTOR REVEAL WHICH ANIMATED CHARACTERS THEY'D LIKE TO SEE APPEAR ON THE BOYS AND DIG INTO THE HOMELANDER EPISODE
Shamans have been an important part of Undone story since the first season with Alma and her father both being fascinated by what Shaman actually are as well as the possibility that Alma and her maternal grandmother may in fact have Shamanic abilities. It seems season two of Undone will continue to explore this possibility and by introducing more characters like this perhaps provide even more insight. The rotoscope animation offered a perfect medium to explore Alma's perspective and her perception of the universe so it will be exciting to see this used not only with Alma, but now Becca and other characters as well. Undone season two seems primed to be even bigger than the first.
Undone season 1 is available now on Prime Video. Season 2 of Undone will debut on Prime Video on April 29, 2022.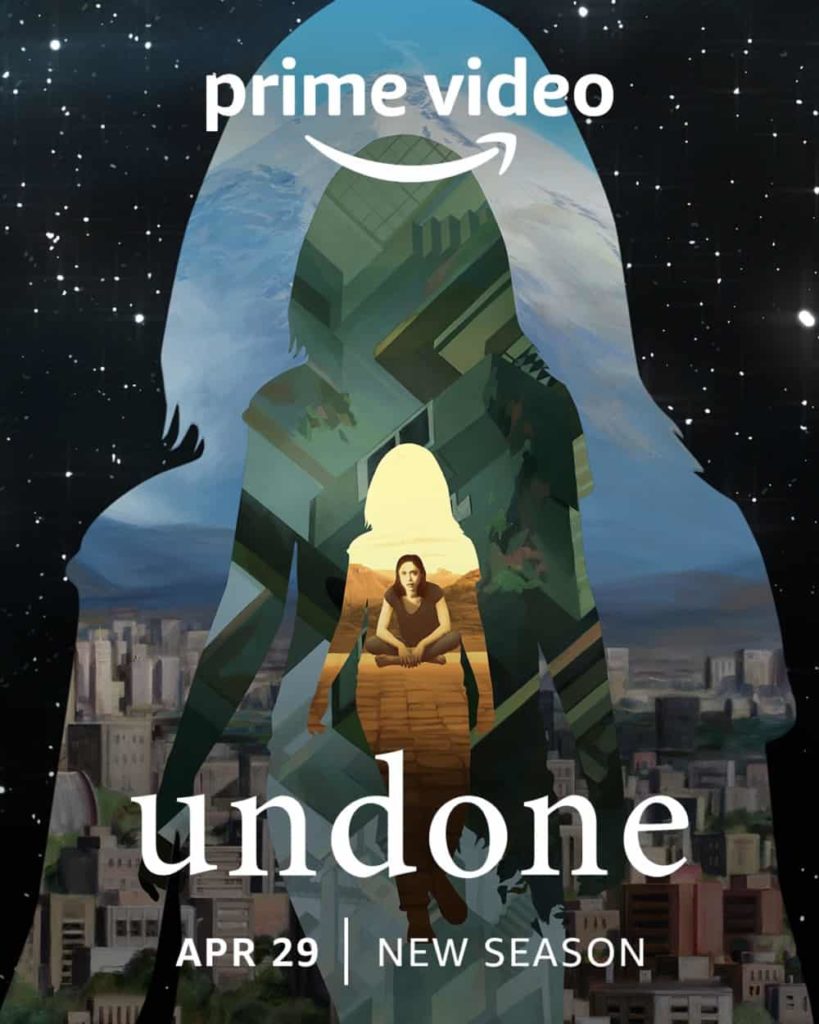 Are you a fan of Undone? Are you excited about Season 2? Are you sure the show is actually real? Leave your thoughts in the comments below or on our social media and check back with The Illuminerdi for more Undone.
KEEP READING: UNDONE CAST AND CREATOR TALKS ABOUT HOW THE ANIMATED SERIES APPROACHES MENTAL ILLNESS