One of the biggest nights in fashion, the Met Gala, is back and taking over social media.
The Met Gala is an annual fundraiser that focuses on raising money for the Metropolitan Museum of Art's Costume Institute. Usually raising around eight-figure sums, this event is where invited A-listers come dressed to impress on a completely different level compared to most award ceremonies. This year's theme focuses on the second part of a two-part exhibit, "In America: An Anthology of Fashion" which is also being called "Gilded Glamour and White Tie."
RELATED: VIOLA DAVIS IN TALKS TO STAR IN EXCITING AMANDA WALLER HBOMAX SERIES
The concept of Gilded Glamour focuses on the fashion that took place during the Gilded Age of New York around 1870 to 1890. During this time, New York flourished, becoming modernized in all aspects from economics, politics, social, and a huge push on changing the fashion world. This era of fashion is so popular, that we tend to see it as inspiration in a lot of fashion shows, movies, and TV Shows. A great example of this is HBO's latest hit show, The Gilded Age.
One thing that makes this fashion style so exciting is the use of colors, patterns, and shaping around the waist to make the dress and wearer stand out. Which means that this is a perfect theme for the Met Gala which is all about going big and then pushing it to go even bigger.
RELATED: NOONAN'S (wt) Gets Exclusive 10-Episode Order at HBO Max
While making our list of best and worst dressed, we focused on a few important details. The first thing is the design of the outfits. Do they have a cinched look to them at the waist or tailored to the body? What about the garnish? Give us lace, details, and blind us with all the gems possible. Not to mention, color. We want to see the color and the glitz and glamour that makes this era iconic. Lastly, bonus points for anyone who incorporates a fashionable hat.
The Best of the Best at the 2022 Met Gala
Blake Lively is the queen of the Met Gala. Every year fans know that she can be trusted not only to be on theme, but also to steal the show. She the queen of Met Gala looks, and she was one of the evening's co-hosts, along with her husband Ryan Reynolds, Regina King, and Lin-Manuel Miranda.
RELATED: The Adam Project Review: Levy & Reynold's 2nd Collaboration is Genuine Excellence
This year Lively shined in a grand Atelier Versace gown that started off with a beautiful blend of pink and bronze. But as she started to head up the stairs, she paused and gave us a show that fans will be talking about until next year. Because before our eyes, the train was turned inside out, revealing a beautiful baby blue and teal dress.

Here is the clip from AP Entertainment catching the moment.
If you are thinking this is giving major Lady Liberty vibes, you would be spot on. Her look focuses on inspiration from New York City architecture which includes the Statue of Liberty, the Empire State Building, and the blue ceiling of Grand Central Station. Blake Lively made our Gilded Glamour dreams a reality and then some.
Jessica Chastain is utterly mesmerizing in this dark red dress by Gucci. Between the turban, the draping, and the sequins, this look screamed glitz and glamour. Not to mention, the silver snake winding around her waist and shoulders is not enough to overpower the dress but adds a perfect break from the red.
RELATED: 2022 Oscars Recap: Reviewing the Shocking Drama and Full List of Winners
While Norma Desmond, the antagonist in Sunset Boulevard isn't from the Gilded Age, it doesn't matter. This woman is a star, and she knows it!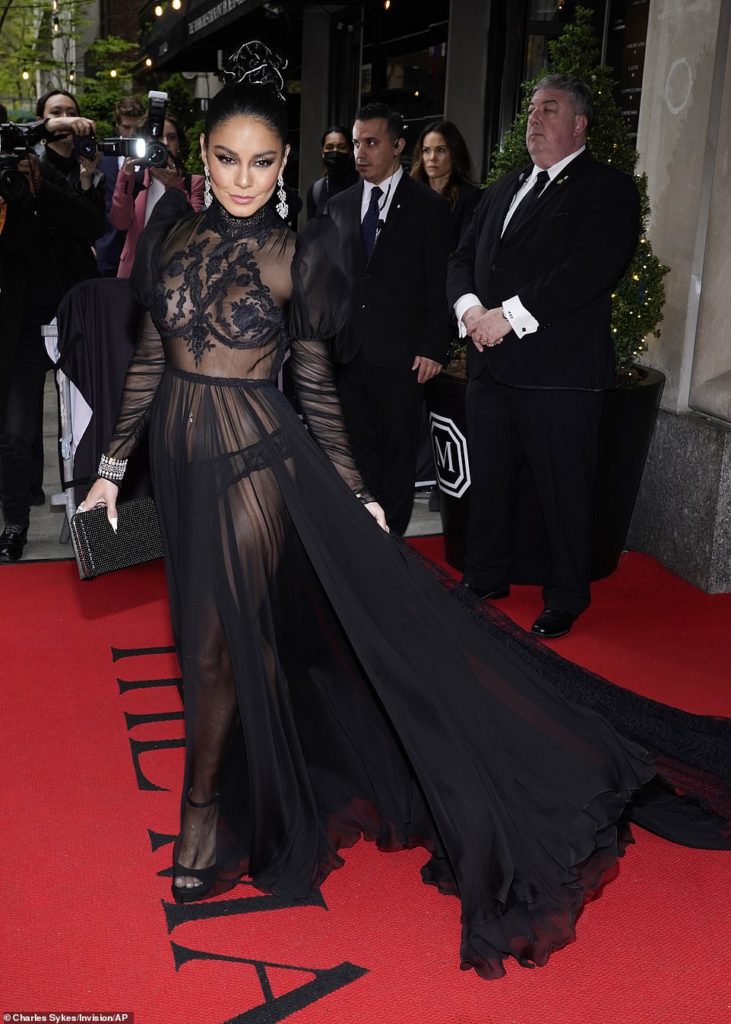 Yes, yes, yes, and YES! Vanessa Hudgens was not playing around this year while she co-hosted Vogue's red carpet livestream during the Met Gala. We are living for this black, sheer floor-length gown designed by Mochino. This dress set the bar very high for black dresses. Which oddly seemed to be very popular this year for the Met Gala. It's just a shame majority of them could not hold a candle to this flawless creation.
This dress from H&M might look rather simple, but it all comes down to the detail. There is just something mesmerizing about this dress from the grey color to the beading, all the way to the pattern itself. Plus this dress was hand-stitched! Anyone who sews probably can already feel some hand cramping in sympathy to the designer Victor Glemaud.
Every year fans of the Met Gala joke regarding how the majority of men wear just the usual tux. And kudos to the men who did this year because that is probably the closest they have gotten to them. But Evan Mock stole our breath in this outfit from Head of State. Not only does he look fantastic in that corseted jacket, but the pleated wide-legged trousers are eye-catching. This is an XOXO from us to this Gossip Girl actor who nailed that "white Tie" theme.
Every ball needs a Cinderella moment and this reporter is ours! Talk about understanding the assignment. Just look at this beautiful gold and white gown that Genesis Camila Suero is wearing. Not only was she the talk of the Met Gala, but she also stole the show on the internet as everyone couldn't grasp that she was just there to report on the event.
RELATED: Sneakerella Sneak(er) Preview of New Original Song "Kicks" Ahead of May 13 Release
Some fans even stated that she needs to be officially invited next year and joked about starting a petition to see it happen.
This is a look that serves on so many levels. Cynthia Erivo is gorgeous in this Louis Vuitton work of art, while also paying homage to Black women of the 19th Century. Between the lace, the layering of fabric, and the feather train, Erivo looked regal, angelic, and wickedly fierce all at the same time.
The Worst of The Worst at the 2022 Met Gala
A baseball cap with a wedding gown?! There is so much going on in this photo, and none of it works. That's all we can say about this Met Gala look, because we are just left speechless by this
Personally, I am aware that Emma Stone is not Cruella Devil, but this was still an utter letdown. This white, uber-simple Louis Vuitton halter minidress just does not do anything for us. Honestly, we can't name one award show that this would look good at. But it especially does not work for the Met Gala.
REALTED: Cinderella Starring Camila Cabello Reveals New Stills
Maybe it's just the color white. With a theme where color shines, why would anyone choose simple white? This open crisscross top just doesn't seem to be tailored and definitely does not look like it belongs with the simple, side layered skirt with random tulle flowers. It just doesn't make sense and left us scratching our heads.
Anything looks good on Gigi Hadid, but not everything is meant to be worn at the Met Gala. This red vinyl catsuit just doesn't scream Gilded Age, even with a corset. Without the coat, she looks like she might be the next female superhero to sit on the big screen, but with the coat, she looks like maybe a couch you would have found in the 19th century.
The Show Must End
With around 400 A-listers in attendance, this list could go on for days. Especially with more of the looks we absolutely loved. Including Billie Eilish's corseted dress by Gucci that screamed "Gilded Glamour".
But most importantly was sustainable and made from upcycled fabrics. Or Cardi B who was decked out in a gold chained Versace dress. And while we didn't like the majority of the simple white dresses, it also seemed that a few handfuls of celebrities got the idea to wear all black. Which honestly at times felt more like a funeral march, than the biggest night for pushing the fashion envelope.
You can catch a variety of Met Gala coverage online from exclusive interviews, getting ready with the celebrities, best/worst dressed lists, and so much more. But our favorite way to get all our Met Gala news is through the art of tweeting. Especially when it is regarding Shawn Mendes's look for the evening.
One of the great things about fashion and art in general, is it's subjective. Let's us know in the comments what are some of your favorite picks from last night? Ultimate favorite outfits from passed events? And don't forget to share your own favorite looks.
KEEP READING: QUEEN CHARLOTTE: CAST ANNOUNCED FOR MYSTERIOUS BRIDGERTON PREQUEL