Firestarter is one of many beloved books by Stephen King. A supernatural thriller which follows a young family on the run. And as with many of Stephen King books, Firestarter was already adapted as a feature film in the year 1984.
The original Firestarter was directed by Mark L. Lester and starred Drew Barrymore, David Keith, Martin Sheen, and George C. Scott in the main roles. It went on to gain mediocre reception from critics and audiences alike and also wasn't a huge box-office success. Now Universal and Blumhouse collaborated again to bring us a remake that no one ever asked for and that (spoiler alert) isn't really good.
Firestarter Official Trailer
Charlie (Ryan Kiera Armstrong) has always been different due to her special powers, which she has had since her birth. With the counsel of her parents, Andy (Zac Efron) and Vicky (Sydney Lemmon), she has always been able to suppress her powers. After an accident at school starts a chain of unfortunate events, Charlie and her family go on the run from an evil organization that want Charlie's powers.
First and foremost, I have never read the novel, nor have I seen the 1984 original film, so Firestarter (2022) was my first introduction to the story. And I didn't really like it.
It is safe to say that Ryan Kiera Armstrong is the star of the new film. She delivers a solid performance and brings a menacing presence to the role, especially in the more action packed scenes. Zac Efron plays the father, who also has special powers, but with a twist. It's the kind of role that we haven't really seen from him before and he delivers. Sure, it's nothing show-stopping, but he brings a sort of intimidating presence to the scenes in which he uses his powers. In short, I liked the casting, even though the film terribly wasted the likes of Michael Greyeyes and Kurtwood-Smith.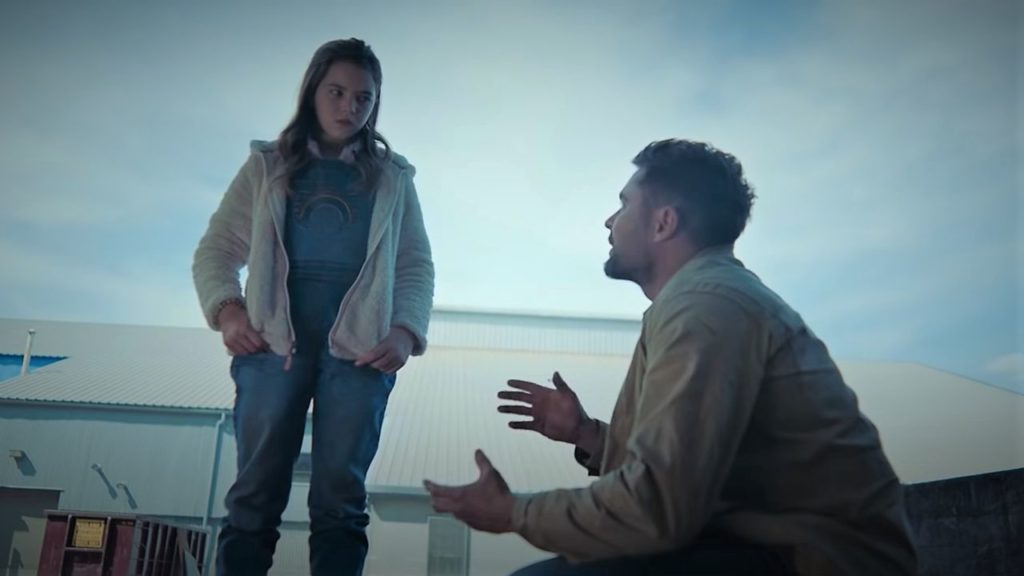 However, the true highlight of Firestarter is its score. It is an atmospheric throwback to the horror scores of the 80s and I genuinely wouldn't mind just casually listening to it. The score was crafted by John Carpenter, Cody Carpenter (the son of the legendary horror director, writer and composer), and Daniel A. Davies. The music in the 1984 original was done by Tangerine Dream and while I haven't listened to it, I can only imagine that a score by the horror legend himself must've definitely been an upgrade. And while the directing and vision feel bland for 95% of the film, there are a select few of interestingly filmed shots and scenes, that get enhanced by the great score.
RELATED: THE NORTHMAN REVIEW: ROBERT EGGERS IS 3 FOR 3 WITH BIG, BRUTAL & MUDDY VIKING EPIC
While Firestarter's score soars, the rest falls very flat as there is next to nothing that I liked about it. The film's screenplay, which is written by Scott Teems (Halloween Kills) is all over the place. The dialogue is very clunky, the characters make some totally nonsensical decisions just so, to quote Ryan George and his hit web series, Pitch Meetings, "So the movie can happen".
The character work is dull and their powers are basically whatever the film needs them to be. Nothing really makes sense and it also never makes you care, because you never feel a sense of dread or danger as Charlie can basically do anything with her powers and no one gets in her way. While the film throws a bunch of exposition at you, it never cares to really explore its story, the characters, their powers or the evil organization hunting them. The 94 minutes feel endless and I was quite bored while watching the film. Firestarter feels biteless.
RELATED: THE BAD GUYS REVIEW: A STYLISH AND FUN HEIST FOR THE ENTIRE FAMILY
Part of that problem comes from Firestarter not knowing what it wants to be. Sometimes it tries to be scary, even though it only uses the most obvious jump scares. Other times it just wants to be a standard thriller. And then there is the part where it wants to be a full on superhero origin story. Halfway through the film, it starts to pull out basic superhero origin story tropes and even teases more at the end of the film. There was just no clear vision and you feel that. Because of that, Firestarter becomes unintentionally hilarious at times.
Firestarter is an uninspired remake, while its convoluted and messy screenplay made it far more hilarious than thrilling.
2/5
Firestarter is now playing in theaters and on Peacock. What do you all think? Are you planning to watch it? Have you read the book or seen the original film? Let's discuss everything on our social media.
KEEP READING: TOP GUN: MAVERICK REVIEW – OVER 30 YEARS LATER, STILL THE EPITOME OF SUMMER MOVIES