Unhuman is a new Blumhouse horror comedy that leans into the ridiculous camp of both the high school and horror genres. The movie begins with a Breakfast Club group of teens, but instead of bonding in detention they must fight for their lives in order to survive what seems to be a zombie apocalypse. The Illuminerdi had the opportunity to speak with Marcus Dunstan the director and co-writer of Unhuman about his movie.
Dunstan talked about the anti-bullying themes and why they are so close to his heart while also revealing a fun John Hughes Easter egg that fans may have missed. During our interview Marcus Dunstan, talked about the Unhuman's theme of bullying and how he approaches it beyond the simple idea that bullying is bad.
RELATED: UNHUMAN REVIEW: FUSES GOOSEBUMPS, EUPHORIA, SAW & WORLD WAR Z BUT SOMEHOW WORKS
"Not just bullying as in the obvious statement that, 'bully is bad.' But the idea of how many facets of bullying there are and that bullies themselves are sometimes playing with pain. If we understood, we could probably cut this off at the pass a lot earlier."
Dunstan revealed that his interest in using bullying as a theme comes from his own experience being bullied as a kid. Dunstan talked about how he uses his art and love of horror to tackle his past trauma and hopefully not only shed light on the problem, but perhaps help solve it. Unhuman approaches bullying from multiple angles beyond the stereotypical jerk jock, although that character is an important part of the film.
UNHUMAN DIRECTOR REVEALS THE DEEPLY PERSONAL REASONING BEHIND THE ANTI-BULLYING MESSAGE OF THE HORROR COMEDY
"Having been bullied. When I was a kid it was a really awful episode and I can still feel it and everything. And I needed in order to survive it, in order to not be stuck in that moment I needed to transform that wound into a weapon. And that weapon became writing, became working in horror. And not using horror to bash and smash others like a bully could, but use it to sometimes depict a bully and give that bully a what for and maybe teach other people to back off."
RELATED: AMERICAN CARNAGE RELEASES THRILLING NEW TRAILER STARRING JENNA ORTEGA!
High school is the perfect setting for a horror movie that is commenting on the bullying epidemic. Dunstan took inspiration from one of the most well known directors in the teen movie genre, John Hughes, with the obvious Breakfast Club influences. High school is already an insane period in many people lives full of fear, change, and big life questions. By throwing horror into the mix, Dunstan adds a new layer of insanity and campiness to the genre. Interestingly the John Hughes inspiration doesn't end with the high school tropes or obvious 80s movies influences, Dunstan revealed that the name of the high school in Unhuman is actually a fun homage to John Hughes as well.
"We were throwing our arms around the John Hughes of it all where Evanston and then his high school of Hill, that's where we came up with Evanston Hill."
Marcus Dunstan has been working in horror for a while and is clearly a fan of the genre. His approach to what horror can do both in how it plays with other genres, like campy humor in the case of Unhuman, as well as how it can shine a light on major issues like bullying demonstrates his deep understanding and love for this genre. Dunstan also has an interesting head canon when it comes to the genre of horror, notably a belief that there could in fact be a horror verse of sorts where all of the major horror villains exist.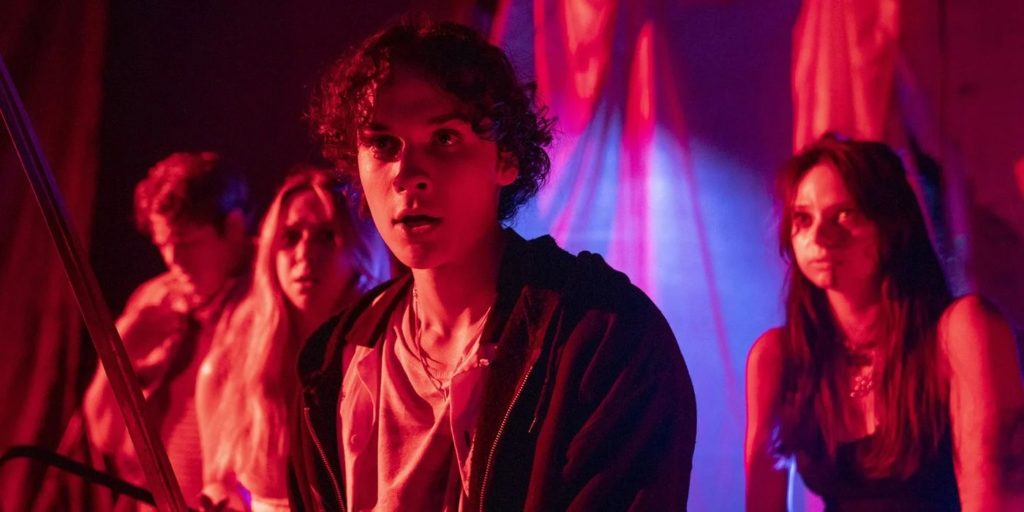 "Every now and again, if I have my Druthers, I kind of think of, what if all horror movies exist in their own universe? And they have different quadrants and realms. You know, Pinhead's down there waiting for someone to slip up, Michael Myers is there waiting for his moment, Jason's twiddling his thumbs on a lake that's frozen in the winter. And there's an existence and what's waiting is the immoral human fabric conundrum to wander into their path. And that is what we wanted to do with high school, is take these combustible teens and adolescents and really scare them onto the right path."
RELATED: MS. MARVEL: KEVIN FEIGE TEASES THE EXCITING POTENTIAL FOR A REAL LIFE AVENGERSCON
Unhuman takes the idea of scared straight to a new level with bullies having to face a world full of death and horror. It is interesting that Dunstan's own experience inspired not only the message of anti-bullying, but how exactly Unhuman approaches bullying and the depiction of bullies. The movie takes on bullying of all kinds, not just the classic trope of the jock picking on someone who isn't popular. Taking one's trauma and turning it into art as a way to process is nothing new, but it is a tool that often proves quite effective. Dunstan working through his message of anti-bullying with Unhuman gives the movie a new unexpected depth.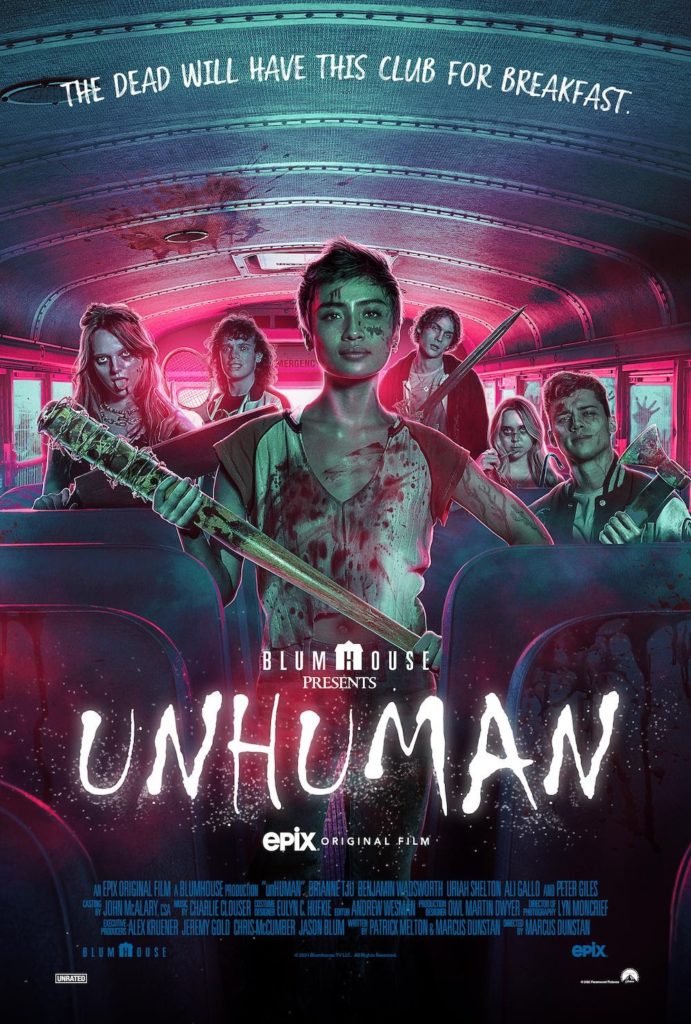 Unhuman is available on digital and Epix now. Have you watched Unhuman? What do you think about teaching lessons about bullying through horror? Do you also like the idea of a horror-verse? Leave your thoughts in the comments below or on our social media and check back with The Illuminerdi for more.
KEEP READING: UNHUMAN STAR BRIANNE TJU ON BEING AN ASIAN WOMAN IN LEAD ROLE OF NEW JOHN HUGHES INSPIRED HIGH SCHOOL HORROR FILM: EXCLUSIVE INTERVIEW