If a new rumor is true, Cameron Monaghan, known for his roles in Shameless and Gotham, may be bridging the gap between Star Wars' live-action and video game properties.
Kristian Harloff recently announced via Youtube that he's heard from a trusted source that Lucasfilms is planning a Disney+ series centered around Monaghan's Jedi Fallen Order character.
RELATED: STAR WARS CELEBRATION SHOWCASES SEVERAL NEW LUCASFILM PROJECTS
In the video below, the industry insider states that this is only a rumor and in no way a confirmed report. Still, the information comes from a source that Harloff fully trusts and has received credible information from in the past.
Is Cameron Monaghan Coming To Star Wars Live-Action?
Harloff makes a lot of good points as to why a Cal Kestis Disney+ show with Cameron Monaghan makes sense for Lucasfilms and Star Wars.
He relates the live-action introduction of Monaghan's video game character to that of Katee Sackhoff's Bo-Katan Kryze. Bo-Katan, a fan-favorite character first introduced in The Clone Wars animated series, made the jump to live-action in The Mandalorian season 2 and is set to play a major role in the upcoming season 3.
RELATED: STAR WARS JEDI: SURVIVOR TEASER TRAILER HITS NET FROM STAR WARS CELEBRATION
Harloff reiterates that this information is just a rumor, but he and many other Star Wars fans would love to see Monaghan reprise his role in live-action.
What Could a Cameron Monaghan-led Show Mean for Star Wars?
Many Star Wars characters have been introduced through animation and made the jump to live-action because of their popularity. As Harloff mentioned in his video, Bo-Katan is the most recent example of this, but other notable characters to do so include Boba Fett, Ahsoka Tano, and General Grievous.
Star Wars has never shied away from keeping its live-action and animated projects connected with characters going back and forth between the two.
RELATED: GOD OF WAR RAGNAROK LEAK SUGGESTS NEW RELEASE DATE
However, no Star Wars character has ever jumped from video games to live-action, but Cal Kestis could be the first.
It would make a lot of sense for Disney to be working on a Cal Kestis Disney+ series with Cameron Monaghan. Jedi Fallen Order was a massive success for the franchise, and the upcoming sequel Jedi Survivor is one of the most anticipated games of 2023.
Disney has shown they want to maintain a connected Star Wars universe on Disney+. The Mandalorian, The Book of Boba Fett, and the upcoming Ahsoka show are all connected and have characters crossover between the three.
RELATED: GUARDIANS OF THE GALAXY 3: NICO SANTOS JOINS EXCITING THREEQUEL
With a Cal Kestis series, Disney can continue to expand this interconnected universe they've created on Disney+ but with a show that takes place earlier in the Star Wars timeline, Obi-Wan Kenobi.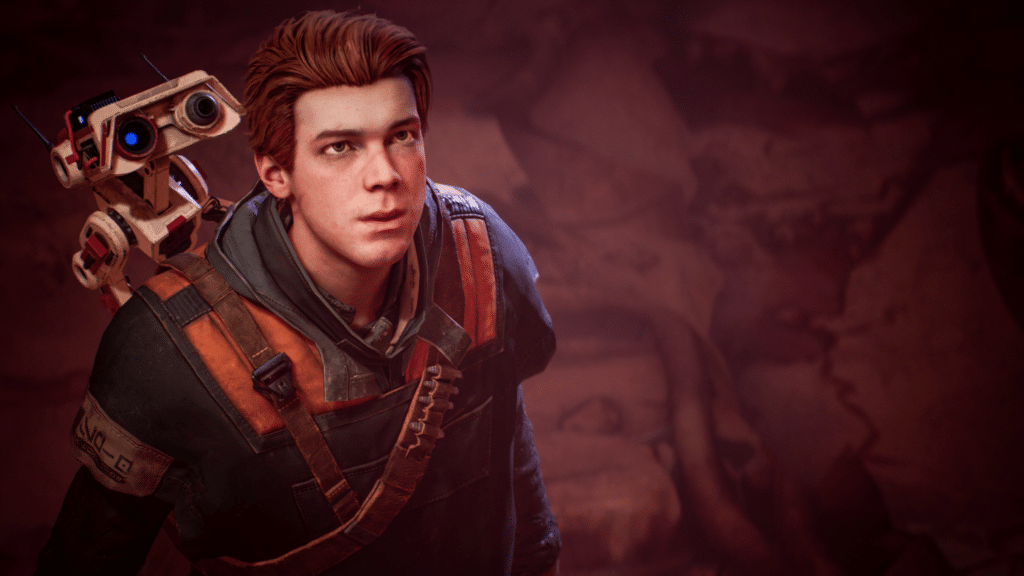 Fallen Order, Survivor, and Kenobi occur during the same time period, between Revenge of the Sith and A New Hope. Both feature jedis, who, after surviving Order 66, have to outrun the Empire and its Inquisitors, so the connection practically writes itself.
Besides, Cameron Monaghan is already a well-established actor in Hollywood, so fans have expected him to portray a live-action Cal Kestis since the original game was released.
RELATED: WEREWOLF BY NIGHT: MICHAEL GIACCHINO CONFIRMS HE WILL DIRECT MARVEL SPECIAL
Of course, this all stems from a rumor, so fans should take it with a grain of salt. Fans can see where Cameron Monaghan and Cal Kestis' Star Wars journey goes next when Jedi Survivor releases next year.
Do you think this rumor is true or not? Have you played Jedi Fallen Order? If so, what did you think about Cal Kestis? Would you like to see Cameron Monaghan play a live-action Cal Kestis? Let us know in the comments or reach out to us on Twitter.
KEEP READING: SPIDER-MAN: MILES MORALES ANNOUNCED FOR PC
Source: Kristian Harloff