Michael Bay's latest action blockbuster, Ambulance, has first responders at the center of the story with EMT Cam Thompson (Eiza González) trying to keep her patient, a police officer, alive while on board a hijacked ambulance. Throughout the film Cam Thompson's heroics are highlighted as she does everything she can to keep the officer alive even returning to the ambulance after nearly escaping because he flatlined.
The Illuminerdi had the opportunity to speak with Ambulance's A. Martinez who plays Papi a criminal associate of Danny's (Jake Gyllenhaal.) During our interview A. Martinez talked about how Michael Bay honors first responders throughout Ambulance especially with the portrayal of EMT Cam Thompson.
A. MARTINEZ EXPLAINS THE MANY WAYS MICHAEL BAY HONORS FIRST RESPONDERS WITH AMBULANCE
Well, [Michael Bay] does, it's an incredible honor to first responders. I mean, you look at Eiza González, that character, what she did with it too. She is brilliant in the movie. And she's brilliant from the get all the way to the very end and it is just such a tribute to the courage and the ingenuity that it takes to actually do that job day after day after day, to be at the precipice between life and death.

And to be the person who's willing to keep coming to work. And you see in her character how much that costs those people, you see that kind of at the beginning when you meet her, she's become closed off to a lot of stuff because that's the only way she can survive. So it's a beautiful, beautiful tribute to them.
RELATED: AMBULANCE ACTOR GARRET DILLAHUNT REVEALS MICHAEL BAY'S DIRECTORIAL PROCESS IN NEW ACTION THRILLER: EXCLUSIVE INTERVIEW
Eiza González has one of the most compelling arcs in Ambulance and delivers a stunning and layered performance. The portrayal of her commitment to helping Officer Zach even willing to risk her life is an extraordinary tribute to the real life first responders who at times put their own safety at risk to help others. A. Martinez also revealed that Michael Bay brought in actual first responders and law enforcement professionals to portray some of these characters.
And of course, he and law enforcement as well, in fact, at the premiere, he basically said, okay, he started saying, "Stand up if you're an EMT. Stand up if you're a law enforcement officer. Stand up, if you're someone who's served overseas and you had to use a gun and stuff." And he had, there were just so many people that he had, and he does this all the time. He brings those people that he honors, he brings them into the process.

And a lot of them were real guys in the movie. And part of the reason the thing is so realistic is that you have the real guys doing those things. They're not just actors, they're actually people that are trained. So he does that. And I think it's to his credit that he actually cares about those people enough and is willing to put it out there that they deserve our praise and our respect. And sometimes in our culture nowadays, there's a lot of mixed feelings about a lot of folks that do the work that these people do.

I mean, I have law enforcement officers in my family, and I know the difficulties and the trade offs and the sacrifices. And at the end of the day, when things have worked out well, you breathe a sigh of relief, actually, if it's your loved ones that are doing that kind of work. So I respect him for doing that. And I think the film works on so many levels, but not the least of which is it honors people that do that real, real, real hard work.
RELATED: HAWKEYE STAR ALEKS PAUNOVIC REVEALS MARVEL STUDIOS' SECRET FILMING PROCESS: EXCLUSIVE INTERVIEW
The way that Bay honored them not only with the movie itself, but at the premiere is touching. Michael Bay using real first responders and law enforcement professionals adds an authenticity to the performances in Ambulance. Michael Bay is famous for his bombastic action blockbuster and while Ambulance definitely delivers on that the deeper meaning behind the movie is important as well.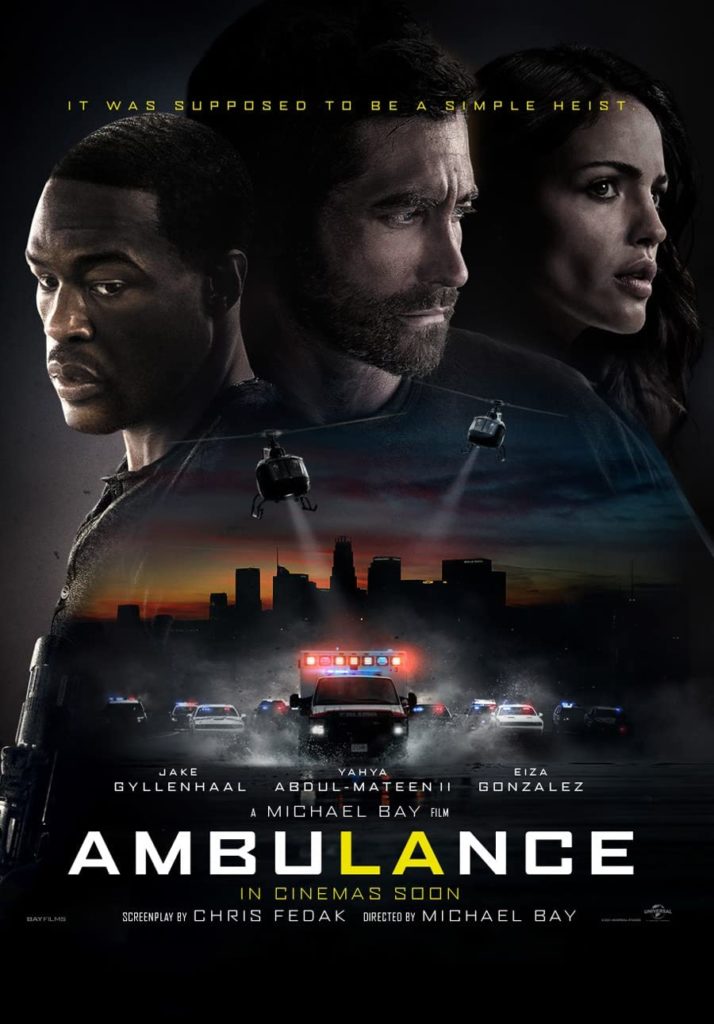 Ambulance is available on digital, DVD, and Blu-Ray now. Did you see Ambulance? Are you excited to own the new Michael Bay movie? What did you think about how it portrayed and honored first responders? Leave your thoughts in the comments below or on our social media and check back with The Illuminerdi for more.
KEEP READING: AMBULANCE'S A. MARTINEZ DETAILS THE "INCREDIBLE" EXPERIENCE OF WORKING WITH DIRECTOR MICHAEL BAY: EXCLUSIVE INTERVIEW