Marvel Studios is famous for trying to keep their plans under wraps while developing and filming their massive blockbusters and Disney Plus series. We were able to get a peek behind the curtain when we spoke with Hawkeye actor Aleks Paunovic who played Ivan, a member of the Track Suit Mafia, and learn not only how the studio works to keep things close to the vest, but how it impacts the actors as well.
We had the opportunity to speak with Aleks Paunovic about his new movie Zero Contact as well as his time working on Hawkeye. When comparing the two experiences he explained how on Zero Contact he was able to read the full script, but didn't see any of the other performances because of how it was shot during quarantine. However, Hawkeye was the complete opposite experience with Aleks able to see the other actors performances, but only ever getting specific pieces of the scripts. During our interview Aleks further explained the secretive production practices of Marvel.
HAWKEYE ACTOR ALEKS PAUNOVIC REVEALS HOW MARVEL KEEPS SECRETS DURING PRODUCTION
With [Hawkeye], it was like no script and just the performances on the day. And knowing that we had a good time. There were a few times that I walked away after doing Hawkeye, going, I don't know how the heck they are going to make that work. Because I don't know what's going on.

And luckily with the directors, Rhys Thomas and Bert and Bertie, they were fantastic by going, "Ok, so this is what happens, and this is how you are getting into this." So, they gave us the emotionality dimension to the scene. But again, Marvel is so secret and there is a reason for it, people are out there just trying to expose it before it goes out and spoilers. It sucks sometimes for a lot of the fans. So, I'm glad they did it that way, but it was a different way, definitely a different way to shoot a show.
RELATED: WILL THE TRACK SUIT MAFIA RETURN IN ECHO? HAWKEYE STAR ALEKS PAUNOVIC PLAYS COY ABOUT MCU RETURN: EXCLUSIVE INTERVIEW
This unique filming style makes sense as it compartmentalizes the information. Actors won't accidentally spoil something if they don't know the details. However, it does seem to pose an interesting challenge with actors not knowing the larger context of the scene they are in. While Aleks may not have had the narrative context of the scene, it seems the directors did give him and the other actors the emotional context which clearly works well. Aleks also shared a memory of Jeremy Renner welcoming him to the "world of the MCU" after Aleks shared his worries about the lack of context for his upcoming scene with the Marvel veteran.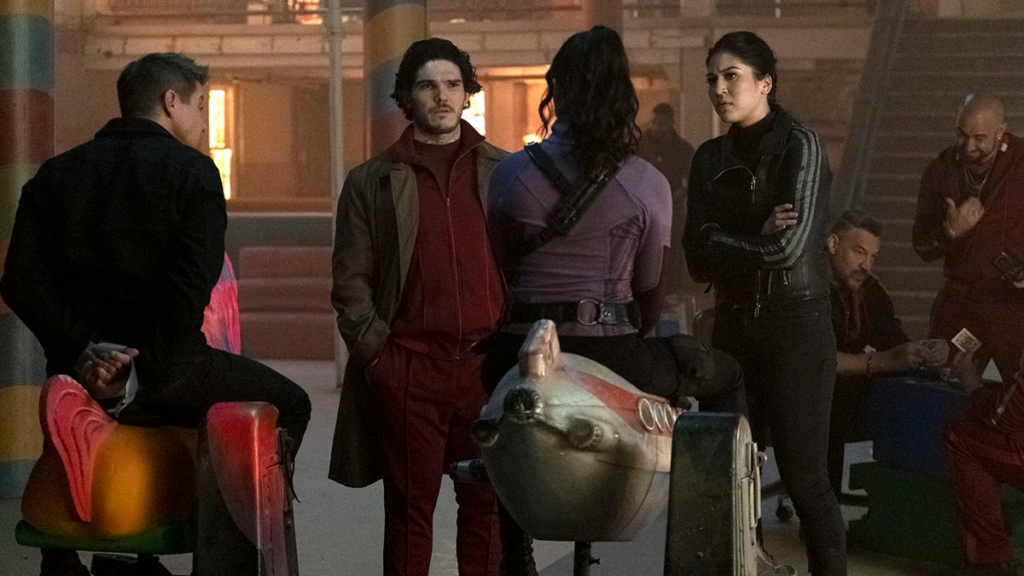 I was in the make-up chair and I was reading the sides, and I'm like, "I don't even know what is going on before or after." Jeremy Renner looks over and he goes, "Welcome to the world of MCU, kid." And I was like, "Ok, it's not just me. I get it. Alright, here we go." So, it was a great experience. It was one of the best experiences of my life.
While the experience was obviously unique it is clear that Aleks loved it. Aleks brought a ton of character and comedy to his role as Ivan with the Track Suit Mafia proving to be a truly hilarious group of antagonists. Jeremy Renner's "Welcome to the world of MCU, kid." is a hilarious response to Aleks' concerns, but it did seem to help him be more comfortable in this style of production.
RELATED: ZERO CONTACT STAR ALEKS PAUNOVIC REVEALS THE UNIQUE ZOOM FILMING STYLE USED TO CREATE THE NEW SCI-FI THRILLER: EXCLUSIVE INTERVIEW
Aleks also talked about the experience of watching Hawkeye for the first time and being able to experience it as a fan as well because he didn't know what was coming. Similarly while watching Zero Contact it was the first time Aleks was able to fully experience the movie. Aleks Paunovic can clearly work in unique production environments and hopefully he will get the chance to experience Marvel's again should Ivan and the other Track Suit Mafia bros return in the future. Marvel does an impressive job of balancing the secretive nature of their projects while pulling impressive performances out of their actors who it seems largely don't know the full picture of what they are working on.
Zero Contact is available now on digital and Hawkeye is available on Disney Plus. What did you think of Hawkeye? What do you think of how Marvel keeps secrets while filming? Do you want to see the Track Suit Mafia return? Leave your thoughts in the comments below or on our social media and check back with The Illuminerdi for more MCU.
KEEP READING: HAWKEYE'S ALEKS PAUNOVIC EXPLAINS HOW JEREMY RENNER ACTED "LIKE HE DOESN'T WANT TO BE HERE": EXCLUSIVE INTERVIEW