The Illuminerdi has learned that Union Jack is coming to the MCU in Secret Invasion played by the ever impressive Olivia Colman.
Marvel Studios shared a ton of exciting news and exclusive clips during San Diego Comic Con's Hall H presentation including a first look at Ant-Man And The Wasp Quantumania, Guardians of the Galaxy Vol. 3, and Secret Invasion. Secret Invasion, one of the most highly anticipated Disney Plus series, stars Nick Fury, Maria Hill, and the Skrull leader, Talos. The series will focus on a number of Skrulls who have been secretly infiltrating Earth using their shape shifting abilities.
RELATED: SDCC: EXCITING MARVEL PROJECTS REVEALED FOR PHASES 4, 5, AND 6
The MCU has been setting up Secret Invasion with numerous projects notably Spider-Man: Far From Home, Spider-Man: No Way Home, and potentially WandaVision. Peter Parker was unknowingly dealing with Talos disguised as Nick Fury in Far From Home with Fury revealed to be somewhere in space. No Way Home revealed that Fury had been off world for an extended period of time and WandaVision showed a Skrull hiding themselves as an FBI agent who told Monica Rambeau that someone, presumably Nick Fury, wanted to speak with her.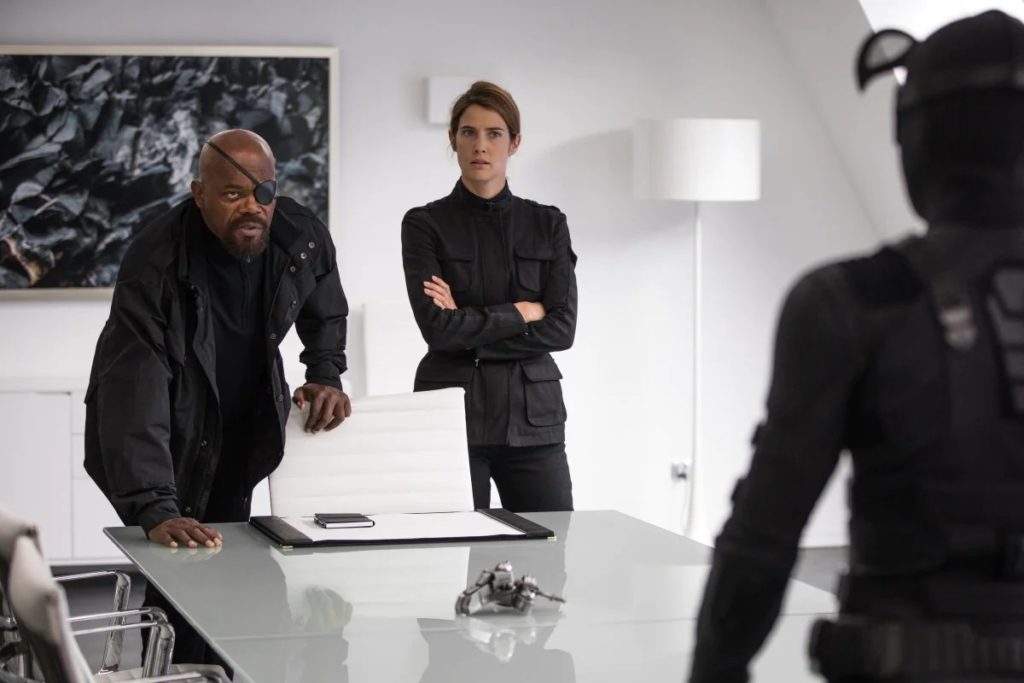 Although not many details about the limited series are known, San Diego Comic Con did offer a few clues as to what fans can expect from the upcoming Disney Plus series. During the Marvel Studios Hall H presentation at San Diego Comic Con Cobie Smulders spoke to the crowd about the upcoming series. She teased a darker tone which was followed up by footage showing not only Nick Fury and Maria Hill, but James "Rhodey" Rhodes as well.
RELATED: ANT-MAN AND THE WASP QUANTUMANIA COMPOSER CHRISTOPHE BECK TEASES A NEW CINEMATIC TONE FOR 3RD INSTALLMENT
"This is a darker show," Smulders told Hall H (via Marvel). "We're going to get deeper into the characters. We're going to see them in new ways, and it's going to be an exciting thriller, and you're never going to know who people are. Are they a Skrull? Are they a human? It's going to be a bit of a guessing game."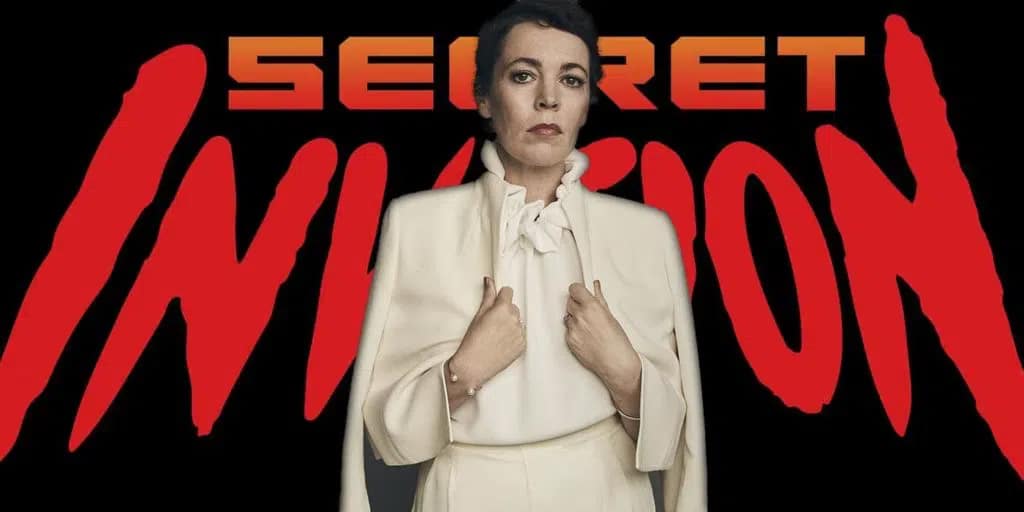 RELATED: CARMEN EJOGO IN TALKS TO JOIN SECRET INVASION: EXCLUSIVE
The series darker tone sets up a riveting mystery with the question of who is a Skrull at the center of the series. Secret Invasion features a number of new comers to the MCU including Kingsley Ben-Adir as the main villain, Dermot Mulroney as U.S. President Ritson, Emilia Clarke, Killian Scott, Christopher McDonald, and Carmen Ejogo in undisclosed roles. Although many of these roles are unknown we may have uncovered who Olivia Colman will be playing and it is intriguing casting.
UNION JACK IS COMING TO THE MCU IN SECRET INVASION
According to our sources Olivia Colman will be playing a character known as Falsworth, aka Union Jack, in Secret Invasion. Although we aren't sure which version of Union Jack she will be playing or what her character's backstory could be, this is an interesting casting development.
In the comics the current Union Jack, Joseph Chapman, was involved in the fight against the Skrulls along with a number of other UK heroes.
There have been three Union Jacks in the comics, James Montgomery Falsworth, his son Brian Falsworth, and Joseph Chapman a friend of James' grandson and Brian's nephew. James Montgomery Falsworth has already technically been in the MCU as a member of Steve Rogers' Howling Commandos, although whether or not this will play into Union Jack's storyline in Secret Invasion remains to be seen.
Each Union Jack in the comics has had a prolific career as a hero often fighting along side Captain America and against vampires. Although only one Union Jack has fought against the Skrulls in the comics, that could easily change depending on how Marvel Studios chooses to adapt the character. Olivia Colman would be the first female Union Jack which is an exciting possibility. Not many UK heroes have been introduced into the MCU at this point, so it will also be interesting to see how she is added to the Secret Invasion mayhem.
RELATED: MORE INTRIGUING DETAILS ABOUT MARVEL'S X-MEN DELAY UNTIL 2025 AND BEYOND: EXCLUSIVE
Olivia Colman is an extremely talented actress with unbelievable range from comedy to drama, she has proven herself to be amazing in whatever genre or role she takes on. Now, for Colman to become one of Marvel's iconic superheroes is an exciting new challenge. She will undoubtedly bring pathos, wit, and nuance to the role which is perfect for this darker, more mysterious series. With the question of who can be trusted at the center of the series it will be exciting to see how Secret Invasion plays out with returning favorites and new characters that are sure to capture fans' attention.
Secret Invasion is scheduled for a Spring 2023 release on Disney Plus. Are you excited for Secret Invasion? What do you think about Olivia Colman playing Union Jack? How do you think this adaptation will impact the character? Leave your thoughts on our social media and check back with The Illuminerdi for more MCU and Secret Invasion.
KEEP READING: WHO IS UNION JACK AND WHAT EXCITING NEW MCU PROJECT COULD POTENTIALLY FEATURE HIS DEBUT?