Andor is weeks away, and Star Wars fans are eagerly awaiting the newest Disney Plus series. Andor will explore the origins of Cassian Andor and how he not only became a member of the Rebellion, but what actions he was referring to in Rogue One that haunt him. With the series taking place years before the events of Rogue One many are excited to learn more about how Cassian Andor became one of the Rebels' top spies.
The Illuminerdi had the opportunity to attend the Andor virtual press conference which included Executive Producer and Writer Tony Gilroy, star and Executive Producer Diego Luna, Genevieve O'Reilly, Kyle Soller, Denise Gough, and Adria Arjona. During the press conference Diego Luna, who plays the titular Cassian Andor, revealed what drew him back to this story and character as well as what he was excited to explore that they weren't able to in Rogue One.
DIEGO LUNA REVEALS WHAT DREW HIM TO ANDOR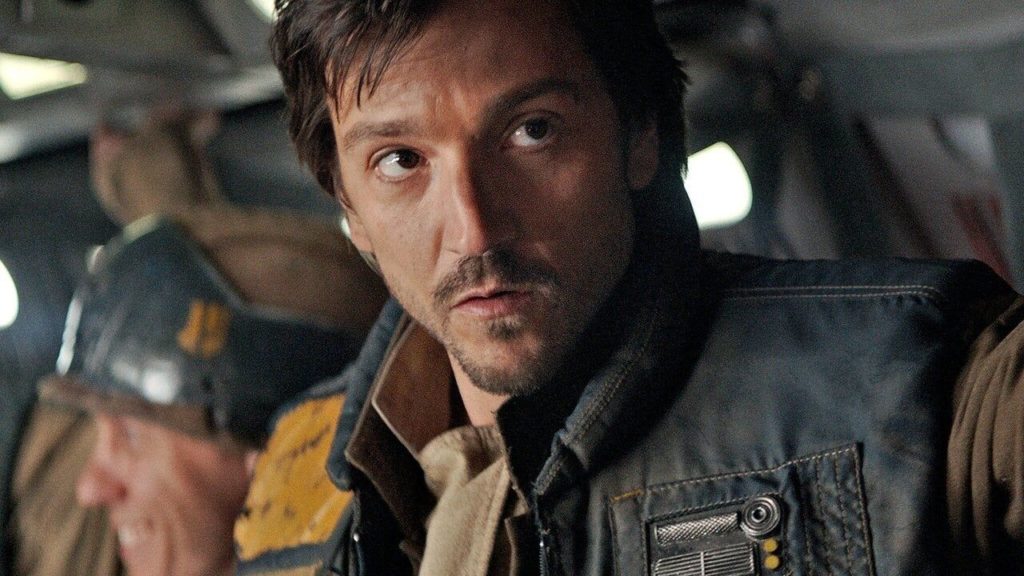 RELATED: ANDOR: CASSIAN ANDOR'S WONDROUS NEW DROID SIDEKICK REVEALED!
"First of all, just the chance to be back working with this family, getting to do more stuff with Tony [Gilroy], which is someone I admire, and I love his company and collaborating with him is amazing. So, just being back felt great. But I think Rogue One is a film about an event, you know? You don't get to know those characters. You don't get to understand exactly where they come from, what needed to happen.

And for me, it's quite relevant today to tell the story of what needs to happen for a revolutionary to emerge, to exist, to come to live. What gives meaning in the life of someone to be willing to sacrifice everything for a cause? What needs to happen? That journey matters to me. And the character says stuff that it haunts me in Rogue One. That he started to fight since he was six years old.

What does that mean, exactly? You know, why a six-year-old would miss his childhood and start a fight? That, to me, is really interesting to know. He talks about a dark past. He talks about doing terrible stuff for the Rebellion. What is he referring to? I think that story matters. That story is interesting. And there is a lot of material there for us to play. So, I was really excited to be able to go into that journey and give those answer."
Much of Cassian Andor's past is still a mystery. Part of what was so intriguing about Rogue One is that most of the characters were introduced in the movie before sacrificing their lives for the Rebellion. Andor is a chance to really dig into these characters and understand what led them to the events of Rogue One. Diego Luna seems especially excited to explore Cassian's past and what made him the man he became. During the Andor virtual press conference, Diego Luna also revealed what about Andor's past he was most excited to dive into.
RELATED: SHE-HULK ATTORNEY AT LAW: HOW BRUCE MADE THE WORLD SAFER FOR HIS COUSIN
"How far can someone be from learning he could be a tool of change? How far can you be from that and still find your way into acknowledging that you are capable of big stuff? Like, I think it was that. It was like, how far can we find Cassian? You see the guy in the first episode and you don't see any possibility of that happening. That to me gives me hope in the world we live in. If that's possible, anyone can do something.

We can all find what we are capable of and it's about the reference, it's about what we find and the people we meet in our journey. And I always thought of him as a character that has been forced to move therefore he brings a pain that he's carrying that is making him very cynical about life. And exploring that person and then finding a way to get the clarity of someone that suddenly starts believing, that goes through a process of acknowledging that articulating something in community can give you enough strength to be useful and to bring change.

I thought that story matters too much. It's a story I would like to tell to my kids, to my friends. It's a story I would like to see as audience. Again, that's why we have to be so real because it doesn't matter, we pretend to be in a galaxy far, far away. This story matters today in the world we live in. Otherwise, I wouldn't care and I always saw this potential in this story."
Star Wars has brought a ton of amazing stories to life on screen with the animated series and the more recent live-action series on Disney Plus. The Mandalorian has introduced a new gunslinger and force wielder as well as bringing tons of animated characters into the live-action side of Star Wars. The Book Of Boba Fett and Obi-Wan Kenobi exploring new stories for fan-favorite characters Andor will be joining some impressive company. Diego Luna shared what he thinks makes Andor stand out among all of this amazing Star Wars programming.
RELATED: OBI-WAN KENOBI STAR EWAN MCGREGOR ENTHUSIASTIC ABOUT A SEASON 2
"First of all, this one is written by Tony Gilroy, which makes it very special and I'll tell you why. I mean, Tony's not a writer that lives in the language of right and wrong, you know? Or like black and white. He spends of his time in the complexity of the gray areas. In the contradictions of characters. And that's where I think this real thing comes out of. Because it's full of that experience of just being someone trying to live your life and having to make choices. And this is a show about people, about real people.

It's very dark times in the galaxy, there is no Jedis around, these people having to articulate a reaction to oppression and it's the most grounded kind of Star Wars you'll get. It is a show about us, it is a show about these people finding the strength to come up with a reaction to change and bring change to their reality. It's very inspiring, I think.

It's huge, it's big as Tony says. And it's adventure and action at its best, what you expect from Star Wars, but then it goes very intimate and it's very subtle and it takes time to understand each character and it has time for each storyline. And I just think it's very rich, it's powerful, and people are gonna like it hopefully."
The combination of huge galaxy-changing events and intimate storytelling is an exciting tease about what fans can expect from the new series. Andor will not only explore more about this enigmatic character but reveal new aspects of the Rebellion and how it became powerful enough to take down the Empire. Andor is set during the height of the Empire's power so it will be interesting to see these characters decide to stand up and fight against it will be extremely compelling, especially with a mix of beloved and new characters. Andor is primed to be an intriguing new addition to the Star Wars tapestry.
The first three episodes of Andor premiere on Disney Plus September 21 with subsequent episodes debuting each Wednesday. You can watch Rogue One on Disney Plus now. Are you a Rogue One fan? Are you excited to watch Andor? Are you looking forward to exploring more about Andor's past? Leave your thoughts in the comments below or on our social media and check back with The Illuminerdi for more Star Wars and Andor.
KEEP READING: ANDOR: DISNEY ANNOUNCES NEW RELEASE SCHEDULE FOR 12-EPISODE DISNEY+ SERIES