Hexware is a new cyberpunk fantasy comic book from Image Comics. As a neon-soaked, heavy-metal reimagining of Pinnochio, this book will put a spell on you.
Writer Tim Seeley, artist Zulema Scotto Lavina, colorist Valentina Cuomo, and letterer Maurizio Clausi are the creative team behind Hexware #2. The second installment in the 6-issue miniseries is on sale now, digitally and at your local comic book shop. Hexware is the story of an android, known as "Which-Where", who makes a deal with a demon known as "The Fire".
When her owner's daughter is killed in a bombing attack, Which-Where studies pagan times in order to purchase the soul of that child. Jesminder Marks now shares a body with Which-Where, and the duo must go on a quest to destroy monsters who have escaped damnation. In the first issue, that meant going after a powerful, ancient witch.
HEXWARE IS A GENRE-BENDING, MAGICAL THRILL RIDE
In Hexware #2, Which-Where/Jesi defeats that sorceress and absorbs her essence into the flaming pentagram in her chest. A press release for the miniseries described it as Devil May Cry meets Cyberpunk 2077, but Marvel Comics fans will notice some overt similarities between Which-Where and two supernatural Marvel fan favorites.
RELATED: Watch Marvel's Midnight Suns' Exciting Prequel Short
In the Marvel Comics fandom. the flaming chest Pentagram is synonymous with Daimon Helstrom, The Son of Satan, AKA Hellstorm. Ghost Rider iconically makes a deal with a devil to save a loved one, and is set on a quest to fight evil by that same demon, much like Which-Where. Whether these similarities are due to inspiration or mere coincidence is unclear, but this new take is certain to intrigue fans of demonic comic book action.
Hexware is obviously inspired by Pinnochio, as the original tale is referenced repeatedly in the first two issues. The grim, original version of the story ends with Pinocchio hanging from a tree. In some deliciously morbid foreshadowing, Issue #2 reveals that Pinocchio kills Jiminy Cricket with a hammer in that iteration of the classic children's tale. This doesn't bode well for the young Ren, Which-Where/Jesi's companion who places himself in the role of Cricket.
HEXWARE TAKES INSPIRATION FROM THE UNLIKELIEST OF PLACES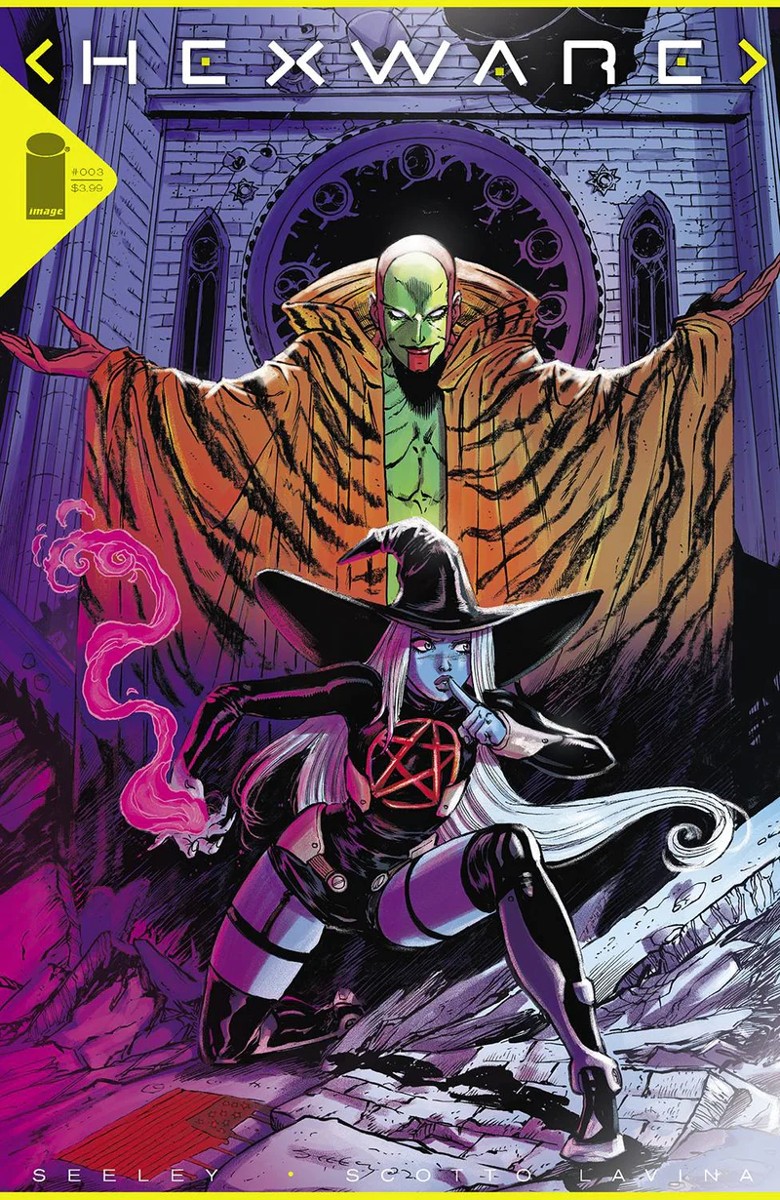 If "Ghost Rider meets Pinocchio in a futuristic, fantasy world" sounds interesting to you (and how could it not?), you're going to love the first two issues of Hexware. The coloring is bright, luminescent, and intense. The panels are angled in a manner that encourages fluid reading, giving the book a cinematic atmosphere. The illustrations are breathtaking and electric, especially the gritty linework and textured backgrounds.
RELATED: Patti Lupone Joins Cast of Agatha: Coven of Chaos As New Mystery Character
Hexware #2 isn't just gorgeous to look at, it's also an emotional, compelling read. After defeating the witch from the first issue, Jesi comes to the realization that she can't reveal herself to her family. She has to hide in the open, operating as Which-Where while her family struggles to cope with her death as Jesi. If she reveals herself now and fails the demon's quest, she'll be reopening emotional wounds and devastating her family through loss all over again.
Artist Zulema Scotto Lavina does an incredible job illustrating emotion through body language and facial expressions. The pain coming from Jesi is palpable when her mother tells someone that Which-Where is the same as she's always been. The secret identity angle was unexpected but executed intelligently and tragically in Hexware #2.
Because of thrilling, fluid action sequences, a magical and unique heroine, and punishing emotional storylines, Hexware #3 earns an 8.9/10.
HEXWARE #3 WILL CONTINUE THE SECRET IDENTITY CONFLICT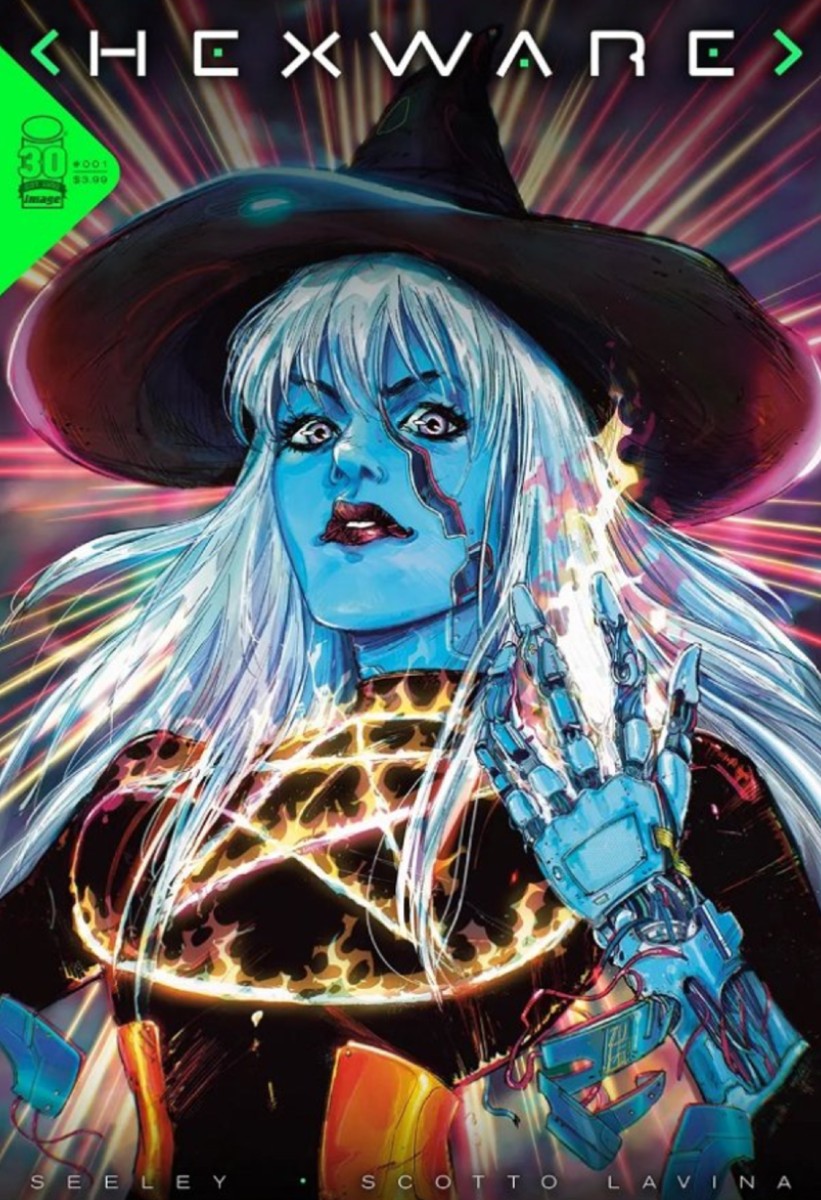 Jesi/Which-Where and Ren are getting in over their heads, as the climactic battle in issue #2 saw our hero resorting to some unsavory tactics. In an attempt to bait her werewolf combatant into attacking, she used dark magic to grab hold of some young children. After the intense, dynamic duel, Ren makes us question whether it was Jesi or the android who decided on that course of action.
The next issue promises to raise the stakes for Which-Where, as the Werewolf she defeated calls in for reinforcements. How will our new demonic-robot heroine deal with a powerful, magical rotting vampiress?
Pick up Hexware #3, available on February 8, 2023, to find out!
What did you think of Hexware #2? Let us know your thoughts in the comments below or on our social media!
KEEP READING: Chucky & Reginald The Vampire Renewed At Syfy For New Seasons