With rumors about Ghost Rider coming back to the MCU constantly swirling, The Illuminerdi presents a look at seven actors who could play The Spirit Of Vengeance.
Ghost Rider was originally created by Roy Thomas, Gary Friedrich, and Mike Ploog. The antihero usually rides a flaming motorcycle, riding around sending guilty souls to hell for the demon Mephisto to torture. Ghost Rider has been featured in two movies and one season of Agents Of SHIELD, quickly becoming a fan favorite in the show.
RELATED: LETITIA WRIGHT RETURNS TO SET OF BLACK PANTHER: WAKANDA FOREVER AMID CONTROVERSY
It's only a matter of time until the Rider returns. Who will punish the wicked in the MCU proper?
GHOST RIDER IN THE MCU #1: GABRIEL LUNA
To many, Gabriel Luna IS the definitive Ghost Rider for the MCU. He first appeared as Robbie Reyes/Ghost Rider in the fourth season of Agents Of SHIELD. He was an antihero bound to Zarathos, the spirit of Vengeance, which was transferred to him by Johnny Blaze. Ghost Rider dealt lethal justice on the guilty, sending them to hell with his Hellcharger and Penance Stare, among other means.
He was last seen exiting into a mysterious, unknown realm, taking the Darkhold with him in order to finally banish it from earth. Confusingly, The Darkhold was seen in both Runaways and WandaVision after this. With no explanation given, Marvel fans are left to assume that multiple Darkholds exist. If Marvel Studios wanted to clear things up and bring back their original Ghost Rider, a Disney+ series featuring Ghost Rider's journey with the Darkhold after Agents Of SHIELD would be a surefire hit.
GHOST RIDER IN THE MCU #2: NORMAN REEDUS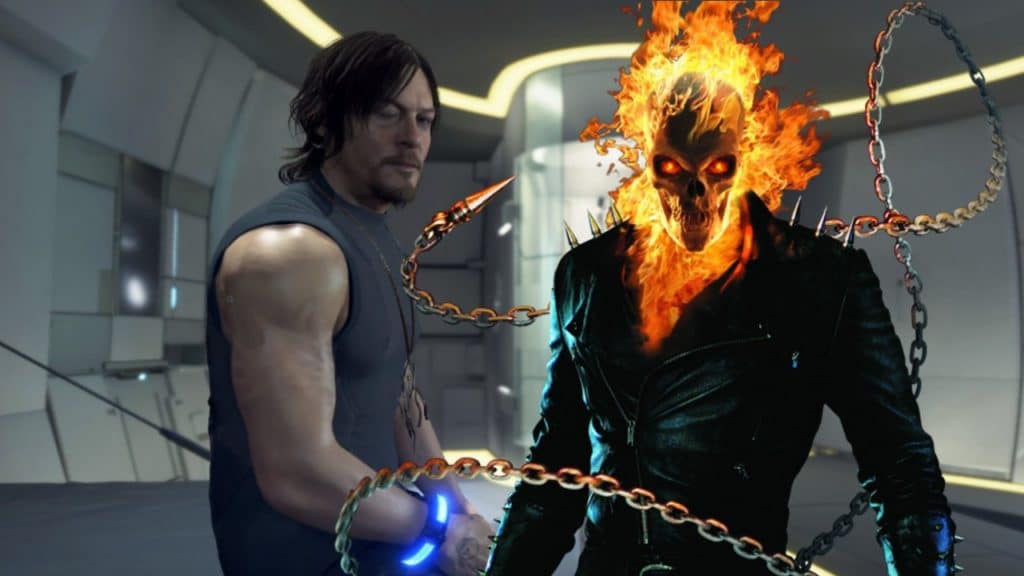 Norman Reedus is most well-known for his performance as Daryl on AMC's The Walking Dead. He's known to play rough around the edges, American badasses, who often have a love for deadly weapons or heavy metal. If Reedus was cast as Ghost Rider in the MCU, it would be a nice callback to the Blade franchise, where Reedus played "Scud". Norman Reedus also voiced The Punisher in Iron Man: Rise Of The Technovore, so he has a history with Marvel films.
On top of all that, Norman Reedus has been very vocal about his desire to play Ghost Rider on social media. Many fans share his sentiment, feeling that he would make a stellar Johnny Blaze, or even perhaps Danny Ketch. Should Marvel Studios give these fans what they want and make a flamehead out of Daryl?
GHOST RIDER IN THE MCU #3: DIEGO KLATTENHOFF
Diego Klattenhoff is best known as Special Agent Donald Ressler on The Blacklist. He has appeared as a main cast member on all nine seasons of the hit crime-drama, where he stars alongside MCU alumni Jamed Spader. Episode seven of The Blacklist season nine was effectively a solo episode for Klattenhoff's Donald Ressler.
The episode focused on Ressler's struggle with addiction, his impulse to run away from his troubles, and his ultimately compassionate and redeemable soul. These are trademark elements of a good Ghost Rider story, and I for one think that Klattenhoff looks more like Johnny Blaze than any other actor working today. Imagine if Diego Klattenhoff's Ghost Rider fought James Spader's Ultron, creating a Blacklist reunion of epic proportions in the MCU!
GHOST RIDER IN THE MCU #4: JON BERNTHAL
One of the most beloved actors from the Marvel Netflix productions was Jon Berthal, who astonished fans with his powerful performances in Daredevil and The Punisher. His work as Frank Castle was some of the MCU's finest, and while many would like to see him return alongside Kingpin and Matt Murdock, a direct sequel to The Punisher wouldn't work within the more family-friendly MCU.
The Punisher kills human beings with guns, often brutally and bloodily. The Cosmic Ghost Rider, on the other hand, fights with a litany of sci-fi powers including The Power Cosmic and The Penance Stare, which are much more likely to help achieve a PG-13 rating than Frank Castle's usual bullets to the brain approach. Jon Bernthal could play this visually stunning, emotionally rich alternate version of Frank Castle in The Multiverse Of Madness or a future season of What If…?
GHOST RIDER IN THE MCU #5: BRETT DALTON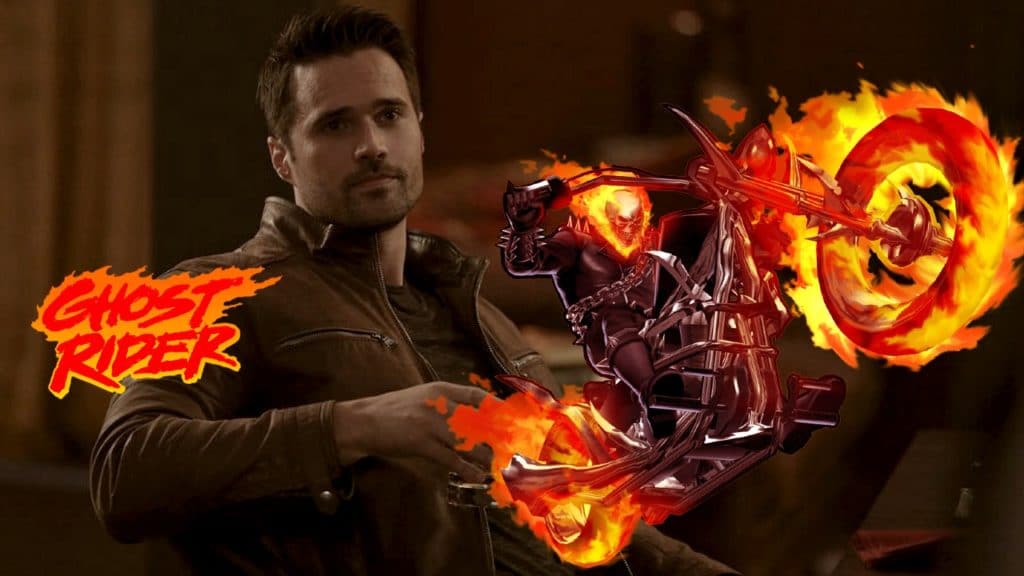 Brett Dalton, like Gabriel Luna, is a beloved member of the Agents Of SHIELD cast. Dalton played Grant Ward, a SHIELD agent turned HYDRA, turned deceased vessel for an Inhuman God named Hive. Dalton returned as yet another alternate version of Ward in "The Framework" arc of AOS season four, just to flex his range a bit more.
Dalton played a very troubled, very dark soul in Grant Ward, and he could carry some of that over to a new performance as Danny Ketch, the second Ghost Rider. Danny is darker than his estranged brother Johnny Blaze, and more prone to the corrupting influences of Hell. If Mahershala Ali can play Blade and Cottonmouth, why not recast Dalton in the MCU proper as the Danny Ketch version of Ghost Rider?
GHOST RIDER IN THE MCU#6: STEPHANIE BEATRIZ
Stephanie Beatriz is famous for her work on Brooklyn Nine Nine, where she has brought laughter to countless fans. Her fanbase is so incredible and vocal that their pleas for the MCU to cast Beatriz as She-Hulk made headlines, prior to the casting of Tatiana Maslany as She-Hulk.
Beatriz still deserves a shot at playing an iconic superhero, and I can think of no better actor to play Alejandra Jones, a Ghost Rider who followed in the footsteps of Johnny Blaze. Casting a female Ghost Rider as Marvel Studios' leading version of the character would help distinguish this new Rider from previous versions, opening up previously untapped possibilities in live-action. Perhaps, as a twist on the source material, Alejandra could take Zarathos from Robbie Reyes instead of Blaze.
GHOST RIDER IN THE MCU #7 NICOLAS CAGE
If rumors about Dr. Strange In The Multiverse Of Madness are to be believed, we could theoretically see Nicolas Cage suit up as the Ghost Rider once again. Nicolas Cage first played Johnny Blaze in Ghost Rider, which was critically maligned but moderately successful at the box office. Nicolas Cage was given a second shot at the character in the soft-reboot followup, Ghost Rider: Spirit Of Vengeance.
With the Multiverse cracking open, we now know that the stories of old Marvel films like these exist in the cosmos somewhere. Spirit Of Vengeance ended with Cage's Ghost Rider becoming purified, as symbolized by his flames turning from red to blue. This character could be a powerful asset in Dr. Strange's fight to protect the multiverse and who knows? Maybe for Nicolas Cage and Johnny Blaze, the third time could be the charm.
Ghost Rider is an amazing character from the Marvel Universe who deserves to return to the MCU. Gabriel Luna may be the most obvious casting choice, but there are some other fantastic candidates. After all, there is room for more than one Rider in the MCU.
Who do you think should play Ghost Rider in the MCU? Let us know your thoughts in the comments below or on our social media! 
KEEP READING: TESSA THOMPSON REVEALS VALKYRIE'S NEW SUPERPOWERS IN THOR: LOVE AND THUNDER