Inferno Girl Red #1 is an exciting superhero comic book that excels at executing the tropes of the genre while setting up an exciting twist.
A great story knows its audience, and the creative team on Inferno Girl Red knows that readers judge a book by its cover. If Power Rangers-inspired designs and flashy, colorful action-adventure speaks to you, the cover art is sure to catch your eye. Artist Erica D'Urso and colorist Igor Monti make an excellent team, filling this project with gorgeous, creative illustrations. 
And it's not just the super suit that shines – it's the entire world. D'Urso is a master at creating natural facial expressions through art. The lush setting, specifically Apex City, is a sight to behold in its own right. The main character, Cassia Costa relocates to Apex City with her mother after winning enrollment at a prestigious high school. 
INFERNO GIRL RED: MEET THE NEW HERO OF THE MASSIVE-VERSE
RELATED: Clementine Returns To The Walking Dead For Book 2 Of Graphic Novel Trilogy 
Cassia did have to pass an entrance exam in order to be considered for the school, but there was also a lottery element to this once-in-a-lifetime opportunity. Therefore, as excited as Cassia is for her life in this lush new town, she feels unworthy. She wants to succeed, both for herself and for her mom, but she is unsure of her capabilities. 
Unfortunately for Cassia, her complicated new life gets even crazier during Inferno Girl Red #1. The story begins with Cassia's mother recounting one of many encounters with a mysterious vigilante. This hero – Inferno Girl Red, is either an urban legend or a figure who has been systematically erased from the public memory. This becomes clear when a potential employer calls Cassia's mother about a job opening.
The news outlet tells her that they cannot employ her, due to her history of writing about "Inferno Girl Red". Frustrated and defeated, she explains to her daughter that any and all records of that individual have been altered or destroyed. To the world at large, Inferno Girl Red doesn't exist, but Cassia's mother knows the truth.
INFERNO GIRL RED #1 IS AN EXTENDED, THRILLING INTRODUCTION
RELATED: Hexware #2 Review: Ghost Rider Meets Pinocchio In Magical Cyberpunk Miniseries 
Inferno Girl Red made her Image Comics debut in a Massive-Verse crossover one-shot, titled "Supermassive". The event brought this new heroine together with Rogue Sun and Radiant Black for a teamup that would make the Avengers proud. Due to the ensemble nature of her debut story, we weren't able to explore what makes Inferno Girl Red tick.
Unfortunately, this lack of depth is still the biggest hurdle this story needs to clear. Cassia Costa is a smart, hard-working kid who wants to make her mom proud. She believes that she can do great things, but insecurity and anxiety hold her back. Cassia is the main character, but she currently feels less human and nuanced than her mother, or even her spunky roommate Harriette.
When a wizard casts a spell that thrusts Apex City into another dimension, the powers of Inferno Girl Red come to Cassia. At first, the young Costa doesn't understand what's happening to her. But before long, she quickly recognizes her new costume and abilities as the ones described by her mother. Cassia becomes Inferno Girl Red, but she doesn't know why she was chosen or how to succeed as a hero.
INFERNO GIRL RED: CAN CASSIA COSTA FIND THE STRENGTH TO SAVE HER CITY?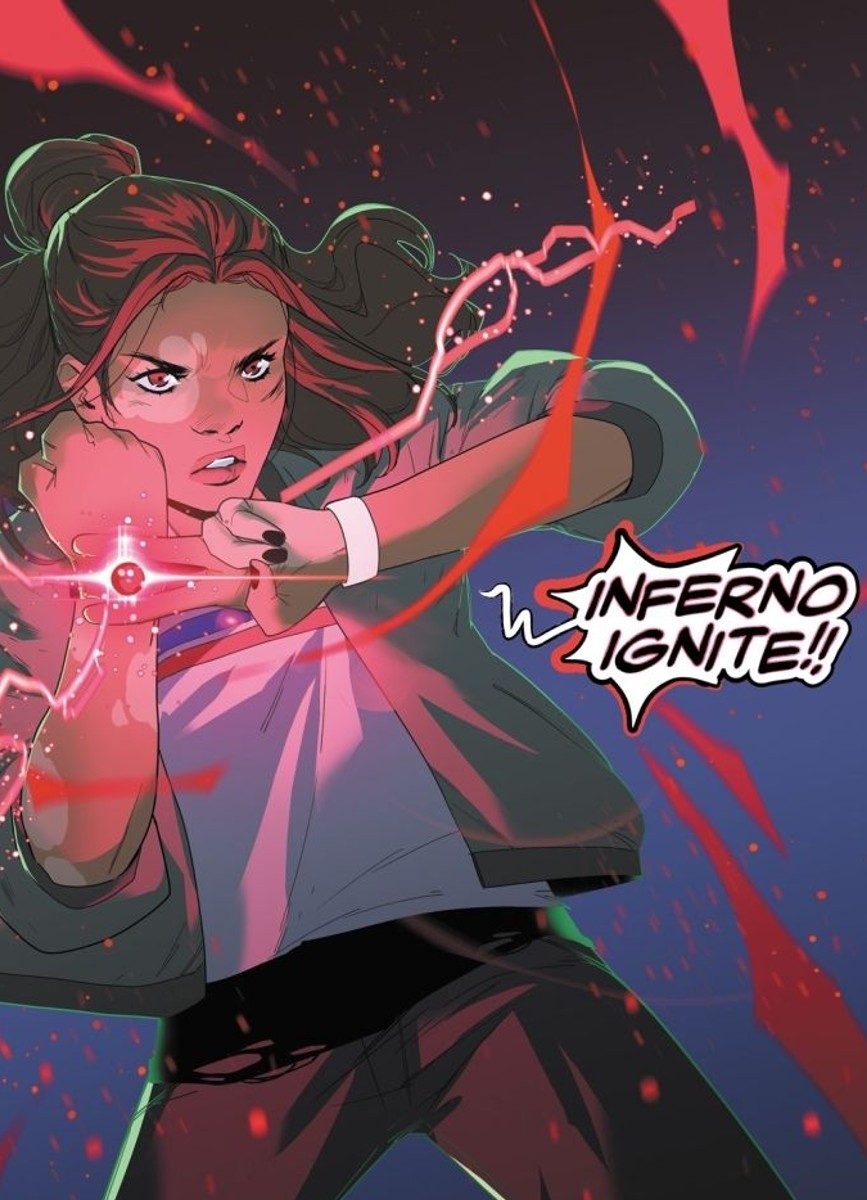 RELATED: Kroma By De Felici #3 Review: The Best Color-Driven Tragedy Since The Giver 
Cassia uses her newfound powers to fight a strange, alien monster and save Harriette. But she is hesitant to go into combat, and only does so because of her mother's push. When Cassia is finished, she comes back to mom and angrily demands help in getting rid of Inferno Girl Red. The refusal of the call is a consistent part of the hero's journey, but it doesn't make for a great cliffhanger in this comic book.
The problem is that we don't know Cassia well enough to understand why she's so determined to immediately abandon her superpowers. Perhaps that's due to the serialized nature of comic books. We need to want what the main character wants to fully embrace them, and this story just isn't there yet.
Does Cassia fear that she will fail as a hero, or is red just not her color? Is she too afraid of the danger that comes with the job? Speculation can entertain, but it ultimately becomes irrelevant guesswork once Inferno Girl Red #2 provides an official answer. 
Inferno Girl Red is a fun read with more to offer than your average comic, in terms of page count and art quality. But even in this oversized format, a clear picture of the title character has yet to come into focus.  For those reasons, we rate Inferno Girl Red #1 8/10.
What did you think of Inferno Girl Red #1? Let us know your thoughts in the comments below or on our social media! 
KEEP READING: X-Men Fan Vote Takes Marvel Comics Icons To The Polls!