More Ranger teams are on their way to completion in the Power Rangers Lightning Collection with two Yellow Ranger Exclusive releases. 
Earlier in 2023 there were leaks of both an upcoming Lost Galaxy Yellow Ranger and S.P.D. Yellow Ranger figure coming to the toy line. Lost Galaxy Yellow has leaked thanks to a listing from GameStop Ireland that was quickly pulled down and S.P.D. Yellow, who was previously thought to be part of the now-revealed retail Wave 14 lineup, was already released in Malaysia and Singapore a number of weeks ago. 
GO GALACTIC!
Now officially revealed by Hasbro earlier today are these two entires! The Lost Galaxy Yellow Ranger will be a Fan Channel Exclusive figure. This figure includes a head sculpt for the character of Maya, her holstered Quasar Saber, swappable hands, and the Quasar Launcher. The launcher was previously only released in the stand alone Lost Galaxy Red entry back in Wave 8 for the line. Having the launcher included means the figure lacks an extended Quasar Saber for the Ranger, something that has angered many fans as she will now be the only member of the team without one.
RELATED: BOOM STUDIOS' OMEGA RANGERS TO JOIN HASBRO'S FAMOUS POWER RANGERS LIGHTNING COLLECTION IN 2023
Fans have been critical of this figure release ever since its initial leak because of the lack of the Quasar Saber and further salt has been poured on this wound thanks to the box art featuring new artwork of her using just the holstered saber, something that never happened on screen and is not accurate. But with this release the entire team of 1999's Power Rangers Lost Galaxy has now been made in figure form for the Lightning Collection.
S.P.D. EMERGENCY!
S.P.D. Yellow is also a Fan Channel Exclusive release. While the layout of her accessories was previously reported on with her initial leak she will be including the typical S.P.D. arsenal with of course a new face sculpt for the character of Elizabeth "Z" Delgado. She was originally teased back during Hasbro Pulse Con 2022 as just a silhouette but now we can fully see her figure officially.
RELATED: NEW POWER RANGERS LIGHTNING COLLECTION FIGURES LEAK FOR POPULAR CHARACTERS
New pictures with the reveal now show in better detail the swappable hand accessories to recreate her signature poses from the original Sentai footage. Though for the final release her incorrect Morpher details, where the print is backwards, is still present. Z completes the main 7 Rangers from 2005's Power Rangers S.P.D. with obscure Rangers such as Nova, Orange, and Kat as possible options if Hasbro wanted to really complete the season's lineup.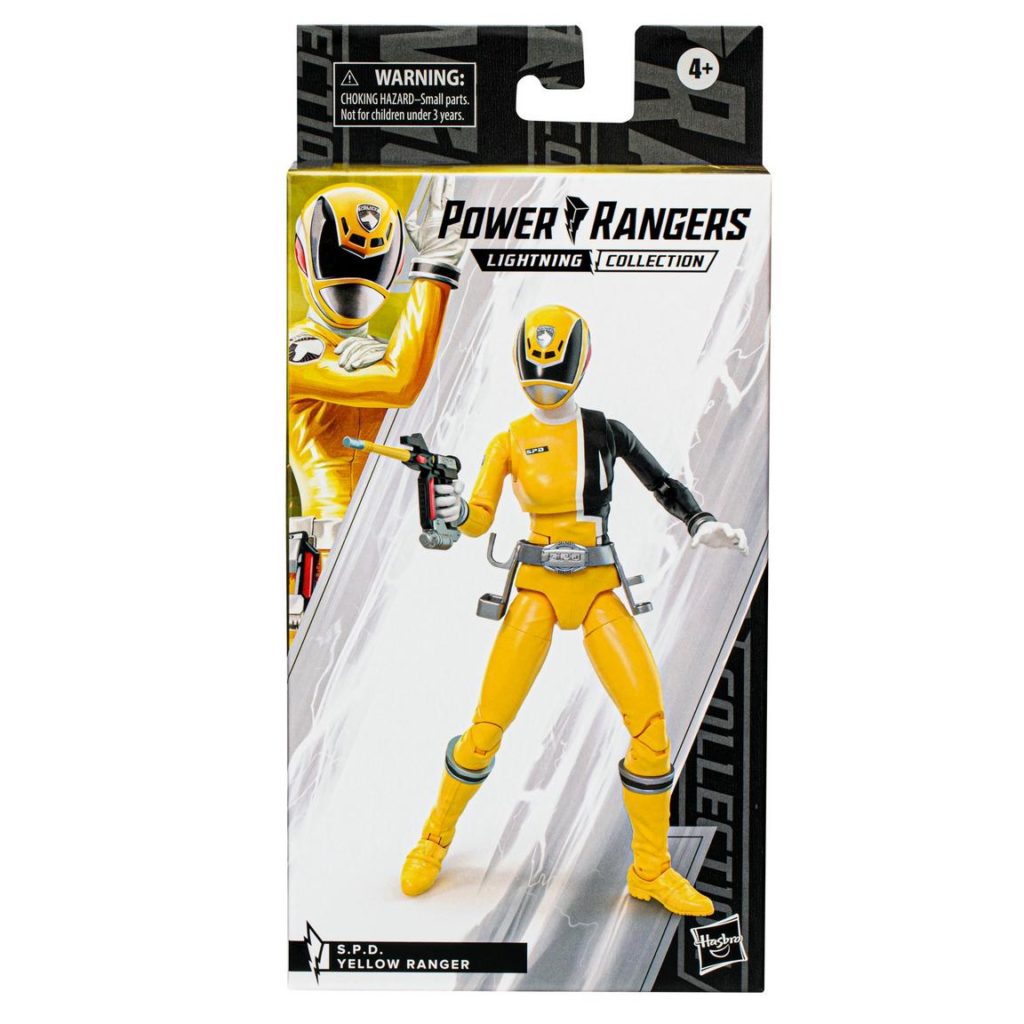 While the official announcement of both of these figures by Hasbro claimed they are GameStop Exclusives this is not the case as Fan Channel retailers Big Bad Toy Store and Entertainment Earth have both of these releases up for pre-order now for June releases. Every place except for GameStop has these listed as $25.99 while GameStop has them listed for $22.99 pre-orders. The June release date is rough though, as previously mentioned, S.P.D. Yellow has already been released internationally so expect to see these sooner than later.
Power Rangers Has One Missing In Plane Sight
RELATED: POWER RANGERS LIGHTNING COLLECTION WAVE 14 & MORE REVEALED AT 30TH ANNIVERSARY FANSTREAM
Currently, the last exclusive figure, which should actually be GameStop Exclusive, that has not been revealed officially by Hasbro but has been released internationally is the Turbo Invisible Phantom Ranger. This figure actually went up in stock on Hasbro Pulse UK and EU this past Monday but still has no official release, hopefully fans will see that soon and not have to wait as long as they did for these new Yellow releases to be shown off. 
What do you think of the latest news for the Lightning Collection? Which Helmets would you like to see Hasbro make next? Leave your thoughts in the comments below. Also, be sure to follow The Illuminerdi on social media to be notified of more Power Rangers news and updates in the future!
KEEP READING: RELATED: MIGHTY MORPHIN POWER RANGERS ONCE & ALWAYS: ROBO RITA'S PLOT FOR THE 30TH ANNIVERSARY SPECIAL REVEALED: EXCLUSIVE