This year is easily going to be more exciting than the previous one with numerous tentpole films arriving in 2022. A heavy load of new movies are coming to theaters, streaming platforms, and video on demand in February that we should not miss. These movies cross a wide plethora of genres, that includes action, romance, drama, comedy, adventure, fantasy, sci-fi, horror, and thrillers. The number of VOD releases is more this month.
In February 2022, streaming services are piled with an exciting line-up of films. On Netflix, Tall Girl 2; Fistful of Vengeance; Texas Chainsaw Massacre; A Madea Homecoming are releasing. On Amazon Prime, I Want You Back; on HBO Max, KIMI; on Apple TV+, The Sky Is Everywhere; on Paramount+, The In Between; and on Hulu, No Exit will be released.
RELATED: Red Notice Is Now The Most Watched Netflix Film Of All Time
The intriguing VOD releases of the month are Last Looks; Last Survivors; Catwoman: Hunted; Alone With You; Shapeless; Catch the Fair One; Here Before; Wolf; A Banquet; Potato Dreams of America; Big Gold Brick; Desperate Riders; and Gasoline Alley. Some of these are having a limited theatrical release as well. And the movie Apex will be released on Blu-ray & DVD.
Films that are set to release exclusively in theaters in February are Moonfall; Jackass Forever; Death on the Nile; Marry Me; Blacklight; Uncharted; and Dog. Sony's video-game adaptation Uncharted is the tentpole movie of the month which is likely to have the biggest box-office among these.
Check out the synopses and release dates for these new movies below.
NEW MOVIES TO WATCH OUT FOR IN FEBRUARY 2022
Moonfall
Moonfall is Lionsgate's sci-fi action-adventure disaster film co-written and directed by Roland Emmerich (Independence Day). It stars Halle Berry, Patrick Wilson, John Bradley, Michael Peña, Charlie Plummer, Kelly Yu, and Donald Sutherland. Emmerich is known for his big scope disaster-themed films with a lot of destruction.
Synopsis: In Moonfall, a mysterious force knocks the Moon from its orbit around Earth and sends it hurtling on a collision course with life as we know it. With mere weeks before impact and the world on the brink of annihilation, NASA executive and former astronaut Jo Fowler (Berry) is convinced she has the key to saving us all — but only one astronaut from her past, Brian Harper (Wilson) and a conspiracy theorist K.C. Houseman (Bradley) believe her. These unlikely heroes will mount an impossible last-ditch mission into space, leaving behind everyone they love, only to find out that our Moon is not what we think it is.
The film was shot with a $140 million budget, making it one of the most expensive independently-produced films of all time. Moonfall is scheduled for a wide theatrical release. The film received mixed-to-negative reviews from critics. It so far holds a 40% Rotten Tomatoes score based on 151 reviews but it has a better audience rating of 68%. This film is worth watching for sci-fi and disaster movie fans.
RELATED: ROLAND EMMERICH DISCUSSES WHETHER HE'D LAUNCH INTO SPACE TO SHOOT A MOVIE
Moonfall release date: February 4, 2022
Jackass Forever
Jackass Forever is Paramount Pictures' reality slapstick black comedy film directed by Jeff Tremaine. The sequel to Jackass 3D (2010)—it is the fourth main installment and the fifth overall installment in the Jackass film series. The film stars Johnny Knoxville, Steve-O, Chris Pontius, Dave England, Wee Man, Danger Ehren, and Preston Lacy. It also includes various celebrity guest appearances.
Synopsis: Celebrating the joy of being back together with your best friends and a perfectly executed shot to the dingdong, the original jackass crew return for another round of hilarious, wildly absurd, and often dangerous displays of comedy with a little help from some exciting new cast.
Jackass Forever is set for a wide theatrical release. The R-rated film was well-received by critics. It holds an 85% RT score so far based on 116 reviews. This is a must-watch comedy for the Jackass fans.
Jackass Forever release date: February 4, 2022
RELATED: LAST LOOKS DIRECTOR ON INCORPORATING POLICE CORRUPTION THEMES INTO HIS NEW NEO NOIR FILM: EXCLUSIVE INTERVIEW
Last Looks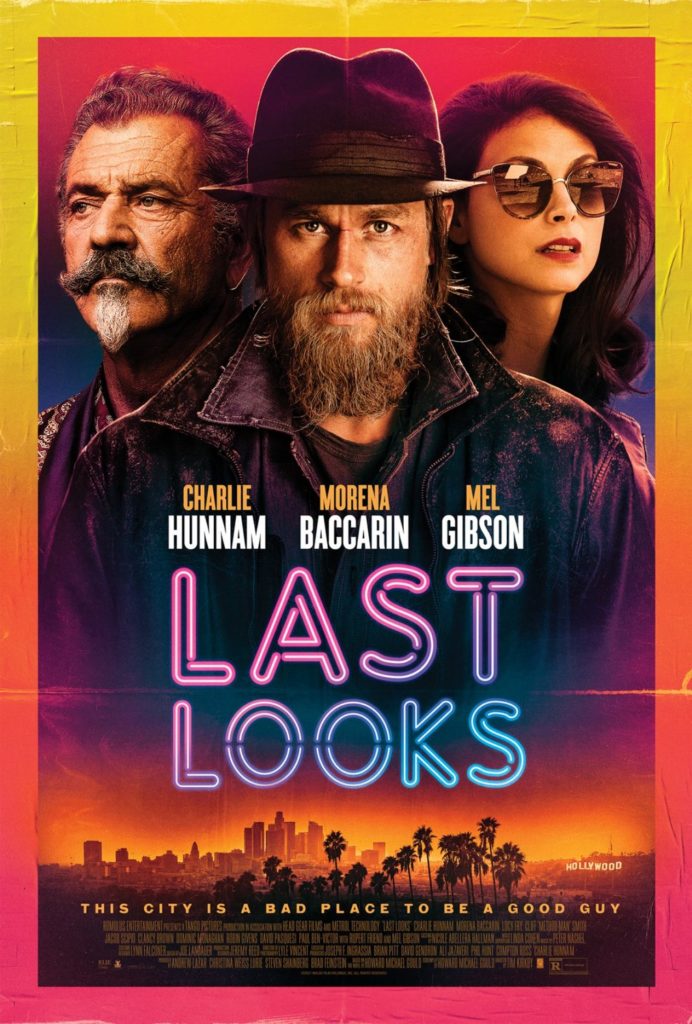 Last Looks is RLJE Films' mystery action crime thriller directed by Tim Kirkby, from a screenplay by Howard Michael Gould based on his 2018 novel of the same name. It stars Charlie Hunnam, Mel Gibson, Morena Baccarin, Lucy Fry, Rupert Friend, Dominic Monaghan, Jacob Scipio, and Clancy Brown. This R-rated thriller will be released in limited theatres and on-demand simultaneously. The film so far holds a 67% RT score based on 27 reviews.
Synopsis: Charlie Waldo (Hunnam) is an ex-LAPD superstar who left the force and now lives a life of simplicity and solitude deep in the woods. Alistair Pinch (Gibson) is an eccentric actor who spends his days drunk on the set of his TV show. When Pinch's wife is found dead, he is the prime suspect and Waldo is convinced to come out of retirement to investigate what happened. The case finds Waldo contending with gangsters, Hollywood executives, and pre-school teachers, all in pursuit of clearing Pinch's name… or confirming his guilt.
Last Looks (VOD & limited theatres) release date: February 4, 2022
RELATED: LAST LOOKS DIRECTOR REVEALS CHINATOWN, THE LONG GOODBYE, AND THE BIG LEBOWSKI INFLUENCES ON NEW NEO NOIR DETECTIVE FILM: EXCLUSIVE INTERVIEW
Last Survivors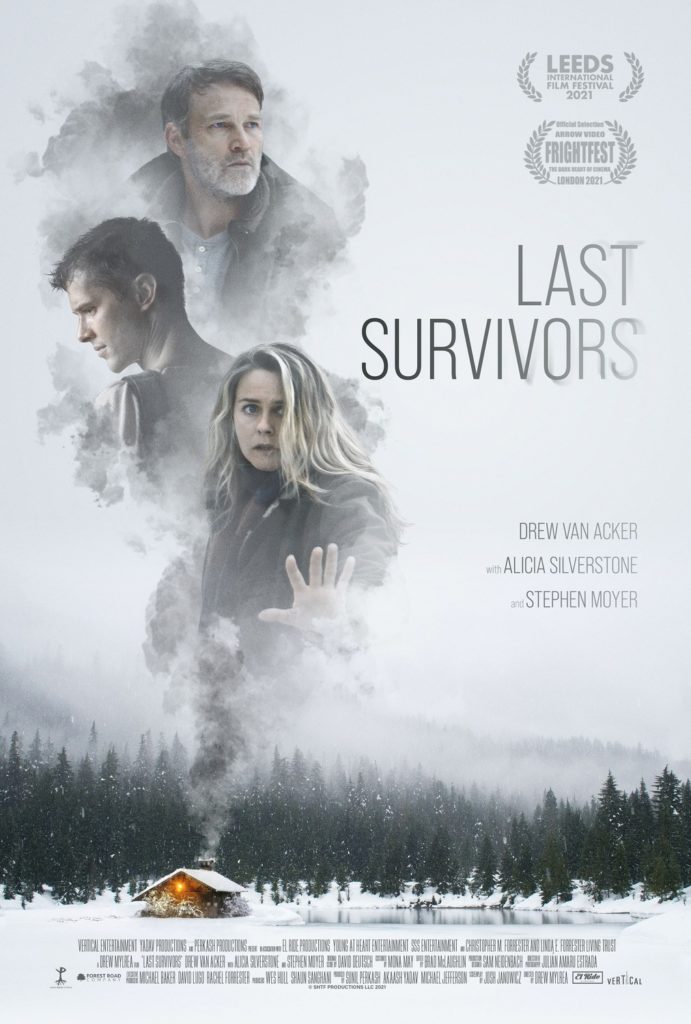 Last Survivors is Vertical Entertainment's sci-fi mystery thriller directed by Drew Mylrea and starring Drew Van Acker, Alicia Silverstone, Stephen Moyer, Benjamin Arthur, and Mark Famiglietti. It will release in limited theatres and on-demand simultaneously. The thriller so far holds a 71% RT score based on 14 reviews.
Synopsis: Troy (Moyer) and his son Jake (Acker) have been living off the grid for over twenty years. Every day is a fight for survival with Troy warning his son of dire consequences should he go beyond the barriers of the woodland Utopia they have built together as all interlopers are dealt with in the most brutal fashion. But the sheltered and naïve Jake is naturally becoming curious about life outside their isolated wilderness. And a chance encounter with a beautiful stranger (Silverstone) is about to see their world unravel in a shocking flood of secrets, lies. and homegrown horror.
Last Survivors (VOD & limited theatres) release date: February 4, 2022
Catwoman: Hunted
Catwoman: Hunted is an animated direct-to-video superhero film produced by Warner Bros. Animation and DC Entertainment, based on the DC Comics. The film is directed by Shinsuke Terasawa and written by Greg Weisman. Catwoman: Hunted is a standalone film in the DC Universe Animated Original Movies line. The anime-styled film will be released digitally.
The voice cast includes Elizabeth Gillies as Selina Kyle/Catwoman, Stephanie Beatriz as Kate Kane/Batwoman, Jonathan Banks as Roman Sionis/Black Mask, Steve Blum as Solomon Grundy, Lauren Cohan as Julia Pennyworth, Keith David as Tobias Whale, Zehra Fazal as Talia al Ghul and Nosferata, Jonathan Frakes as King Faraday and Boss Moxie, Kirby Howell-Baptiste as Barbara Minerva/Cheetah, Kelly Hu as Jade Nguyen/Cheshire, Andrew Kishino as Mr. Yakuza and Domino 6, Eric Lopez as Domino 1, Jacqueline Obradors as La Dama, and Ron Yuan as Doctor Tzin.
Synopsis: Catwoman's attempt to steal a priceless jewel puts her squarely in the crosshairs of both a powerful consortium of villains and the ever-resourceful Interpol, not to mention Batwoman. It might just be enough to contain her. Or not.
RELATED: 4 NEW CATWOMAN: HUNTED IMAGES INDICATE VILLAINS GALORE
Catwoman: Hunted VOD release date: February 8, 2022
Alone With You
Alone With You is Dark Star Pictures' horror mystery-thriller written and directed by Emily Bennett and Justin Brooks. The film stars Emily Bennett, Barbara Crampton, Emma Myles, Dora Madison, and Meghan Lane. It so far has a 75% RT score based on 16 reviews. The film is set for a limited theatrical release on February 4, 2022, and later will be released digitally through VOD.
Synopsis: As a young woman painstakingly prepares a romantic homecoming for her girlfriend, their apartment begins to feel more like a tomb when strange voices, shadows, and hallucinations reveal a truth she's been unwilling to face.
Alone With You VOD release date: February 8, 2022
Apex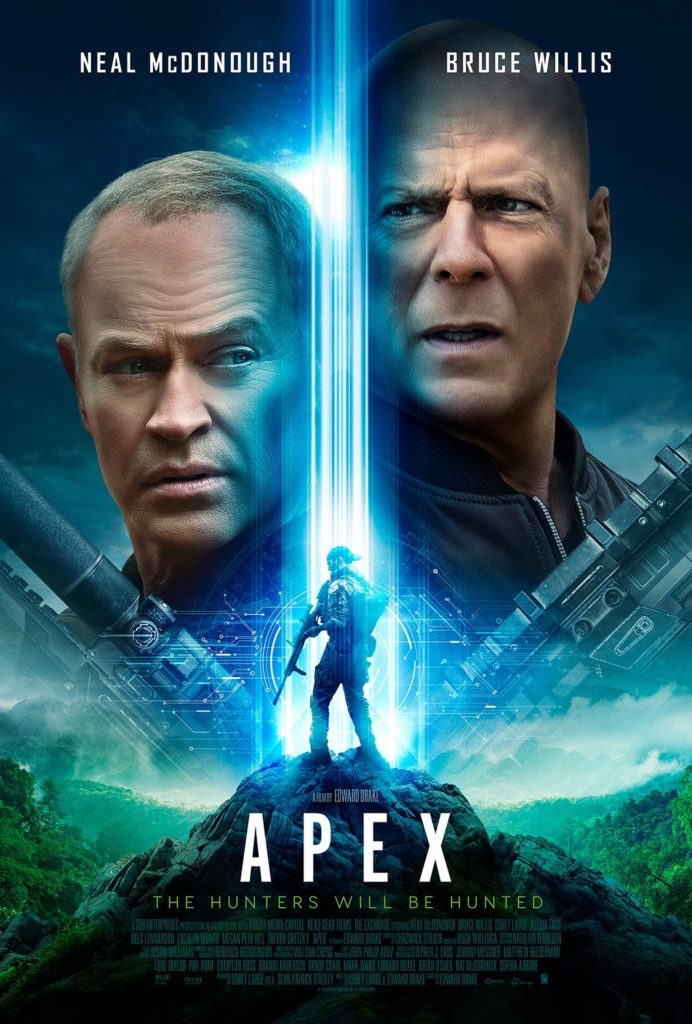 Apex is RLJE Films' sci-fi action thriller directed by Edward John Drake and written by John Drake and Corey William Large (The Ninth Passenger, Cosmic Sin). Apex stars Neal McDonough (Yellowstone, Resident Evil: Welcome to Raccoon City), Bruce Willis (Die Hard, The Sixth Sense), Corey William Large (Cosmic Sin), Lochlyn Munro (Riverdale), Trevor Gretzky (Spiral), Megan Peta Hill (Open Water 3), Alexia Fast (The Ninth Passenger), and Nels Lennarson (Broil).
RELATED: APEX: NEAL MCDONOUGH HUNTS DOWN BRUCE WILLIS IN ACTION-PACKED TRAILER
Synopsis: Serving a life sentence for a crime he didn't commit, ex-cop Thomas Malone (Willis) is offered a chance at freedom if he can survive a deadly game of Apex. Six hunters pay for the pleasure of hunting another human on a remote island, but once Malone arrives all hell breaks loose. Laying traps and playing mind games, Malone tries to turn the tables and fight for his life and his future.
Drake and Willis have been teaming up quite often recently. John Drake directed Cosmic Sin (2021) and American Siege (2021) which starred Willis and they are teaming once again for the upcoming Gasoline Alley which will be released this month as well. Willis is well known for his action films, he makes a bunch of direct-to-video action films every year.
Apex was released in limited theatres and through VOD simultaneously on November 12, 2021. It didn't get a good RT critics score but it has a 72% audience score. Now it is scheduled for a DVD and Blu-ray release.
Read our review for Apex below!
RELATED: APEX MOVIE REVIEW: LOW-BUDGET HUNGER GAMES-ESQUE ACTION FLICK IS DECENTLY THRILLING
Apex (DVD & Blue-ray) release date: February 8, 2022
Kimi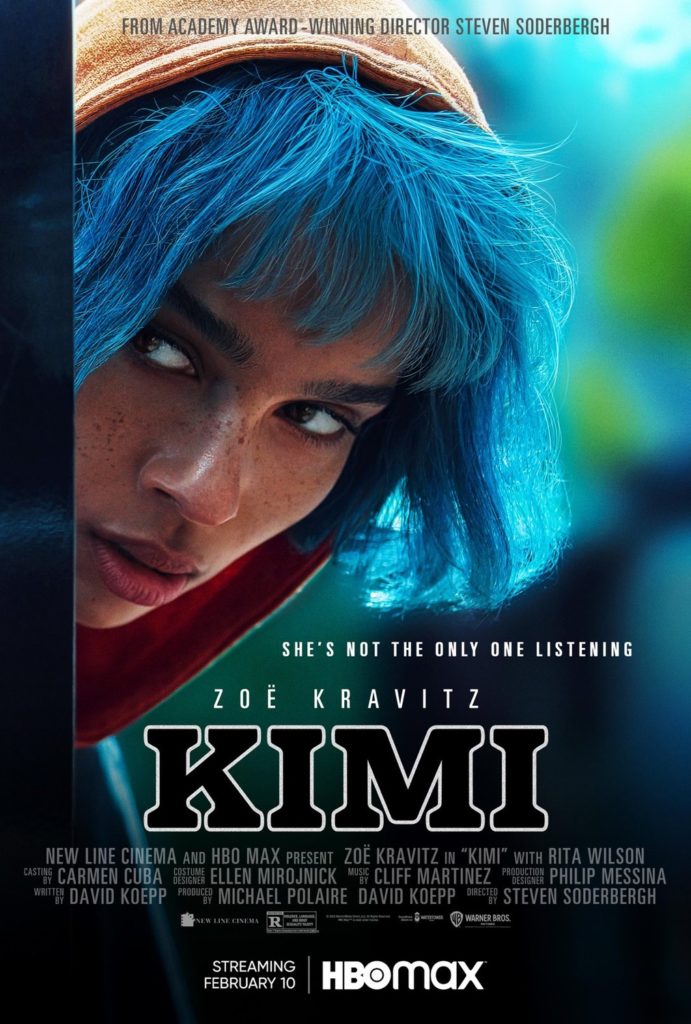 KIMI (Kimi) is HBO Max's original crime thriller drama directed by Steven Soderbergh (Ocean's trilogy) and written and produced by David Koepp. The film stars Zoë Kravitz, Rita Wilson, India de Beaufort, Emily Kuroda, Byron Bowers, Jaime Camil, Jacob Vargas, Derek DelGaudio, Erika Christensen, and Devin Ratray. The R-rated thriller is scheduled to be released on HBO Max.
Synopsis: During the COVID-19 pandemic in Seattle, an agoraphobic tech worker discovers evidence of a violent crime while reviewing a data stream, and is met with resistance and bureaucracy when she tries reporting it to her company. Seeking justice, she must now do the thing she fears the most: she must leave her apartment. To get involved, she must face her greatest fear by venturing out of her apartment and into the city streets, which are filled with protestors after the city council passes a law restricting the movements of the homeless population.
Kimi HBO Max release date: February 10, 2022
Shapeless
Shapeless is XYZ Films' horror mystery thriller drama directed by Samantha Aldana in her feature directorial debut and written by Bryce Parsons-Twesten and Kelly Murtagh. It stars Murtagh, Bobby Gilchrist, Jamie Neumann, Marco Dapper, Erika Ashley, Craig Leydecker, Sherri Eakin, and Gralen Bryant Banks. Kelly Murtagh wrote the script and also produced it.
The film follows a struggling singer trapped in grips of her eating disorder who must face her addiction or risk becoming a monster. It had its world premiere at the Tribeca Film Festival on June 12, 2021. It so far holds a 67% RT score based on 15 reviews with praise for its story. It is set for an on-demand release.
Synopsis: The world's a stage for Ivy (Murtagh)—there just aren't many people seated in front of it. Struggling to establish herself as a singer, she collects humble checks while bouncing around various New Orleans lounges and bars and crooning with her silky-smooth voice for minimal amounts of liquor-sipping patrons. But those meager paydays aren't Ivy's toughest battle. That's reserved for when she's home alone, which is when her physical insecurities overwhelm her and she succumbs to a debilitating eating disorder. Keeping her battles a secret has its consequences. Ivy is now transforming into something nightmarish. And it may be too late to reverse course.
Shapeless VOD release date: February 10, 2022
Death on the Nile
Death on the Nile is 20th Century Studios' mystery crime thriller drama directed by Kenneth Branagh from a screenplay by Michael Green, based on the 1937 novel of the same name by Agatha Christie. Produced by Branagh, Ridley Scott, Judy Hofflund, and Kevin J. Walsh, the film is a sequel to Murder on the Orient Express (2017).
It stars Branagh returning as the world-renowned private detective Hercule Poirot, along with Tom Bateman (also returning from the first film), Gal Gadot, Annette Bening, Russell Brand, Ali Fazal, Emma Mackey, Dawn French, Armie Hammer, Rose Leslie, Sophie Okonedo, Jennifer Saunders, Ann Turkel, and Letitia Wright round out the stacked ensemble cast.
Synopsis: Renowned Belgian sleuth Hercule Poirot's (Branagh) Egyptian vacation aboard a glamorous river steamer turns into a terrifying search for a murderer when a picture-perfect couple's idyllic honeymoon is tragically cut short. Poirot is entrusted with the important task of identifying which one of the passengers of S.S. Karnak is the killer before they strike again. Set against an epic landscape of sweeping desert vistas and the majestic Giza pyramids, this tale of unbridled passion and incapacitating jealousy features a cosmopolitan group of impeccably dressed travelers, and enough wicked twists and turns to leave audiences guessing until the final, shocking denouement.
The film is the third screen adaptation of Christie's novel, following the 1978 film and an episode of the television series Agatha Christie's Poirot broadcast in 2004. Its release has been delayed several times due to the pandemic since its original release date of December 20, 2019. The film so far holds a 68% RT score based on 72 reviews. The long-delayed whodunnit film is finally being released theatrically worldwide.
Death on the Nile release date: February 11, 2022
RELATED: DISNEY PLUS IS BRINGING THE LOVE FOR VALENTINE'S DAY 2022
Marry Me
Marry Me is Universal Pictures romantic musical comedy-drama directed by Kat Coiro (She-Hulk), with a screenplay by John Rogers, Tami Sagher, and Harper Dill, based on the graphic novel of the same name by Bobby Crosby, which was originally released as a webcomic.
The film will star Jennifer Lopez, Owen Wilson, Maluma (making his feature-film debut), John Bradley, Chloe Coleman (Gunpowder Milkshake), Michelle Buteau, Jameela Jamil, Jimmy Fallon as himself, Utkarsh Ambudkar, Brady Noon, and Sarah Silverman.
Synopsis: Kat Valdez (Lopez) is half of the sexiest celebrity power couple on Earth with hot new music supernova Bastian (Maluma). As Kat and Bastian's inescapable hit single, "Marry Me," climbs the charts, they are about to be wed before an audience of their fans in a ceremony that will be streamed across multiple platforms. Divorced high-school math teacher Charlie Gilbert (Wilson) has been dragged to the concert by his daughter Lou (Coleman) and his best friend (Silverman). When Kat learns, seconds before the ceremony, that Bastian has cheated on her with her assistant, her life turns left as she has a meltdown on stage, questioning love, truth, and loyalty.
As her gossamer world falls away, she locks eyes with a stranger–a face in the crowd. If what you know lets you down, then perhaps what you don't know is the answer, and so, in a moment of inspired insanity, Kat chooses to marry Charlie. What begins as an impulsive reaction evolves into an unexpected romance. But as forces conspire to separate them, the universal question arises: Can two people from such different worlds bridge the gulf between them and build a place where they both belong?
The film was previously set for February 12, 2021, but was delayed. Now it will be released theatrically worldwide and digitally on the Peacock streaming service on the same day in the US. This is a must-watch film for the fans of musicals, fans of rom-com's, and the fans of JLo and Owen Wilson.
Marry Me (theatrical & Peacock) release date: February 11, 2022
Blacklight
Blacklight is Open Road Films' action-thriller directed by Mark Williams and screenplay by Williams, Nick May from a story by May and Brandon Reavis. The film stars Liam Neeson as an FBI operative who gets involved in a government conspiracy; Emmy Raver-Lampman, Taylor John Smith, Aidan Quinn, Claire van der Boom, Yael Stone, Gabriella Sengos, Georgia Flood, Caroline Brazier, Mel Jarnson, and Tim Draxl also star.
Synopsis: Trust, identity, and the danger of unchecked power push a covert operative to the edge in this intense action-thriller. Travis Block (Neeson) lives and fights in the shadows. A freelance government "fixer," Block is a dangerous man whose assignments have included extracting agents out of deep-cover situations. When Block discovers a shadowy program called Operation Unity is striking down ordinary citizens for reasons known only to Block's boss, FBI chief Robinson (Quinn), he enlists the help of a journalist (Raver-Lampman), but his past and present collide when his daughter (van der Boo) and granddaughter (Sengos) are threatened. Now Block needs to rescue the people he loves and expose the truth for a shot at redemption. Nothing and no one is safe when secrets are hidden in Blacklight.
Liam Neeson is well known for his action films, he makes at least more than one action movie every year. Also, Neeson's character's family in his movies will always need saving from danger. This is the second time Mark Williams and Neeson teamed up before they did Honest Thief in 2020. Blacklight is scheduled to have a wide theatrical release by Open Road Films and Briarcliff Entertainment.
Blacklight release date: February 11, 2022
Tall Girl 2
Tall Girl 2 is Netflix's original teen romantic comedy-drama directed by Emily Ting from a screenplay by Sam Wolfson. It is the sequel to the 2019 film Tall Girl. The rom-com sequel is releasing on Netflix this month.
The cast of the first film returns which includes Ava Michelle, Sabrina Carpenter, Griffin Gluck, Luke Eisner, Anjelika Washington, Rico Paris, Clara Wilsey, Angela Kinsey, and Steve Zahn. Johanna Liauw and Jan Luis Castellanos are new additions to the cast.
Synopsis: Jodi Kreyman (Michelle) deals with her newfound popularity. Her miscommunications, however, start causing rifts with those around her and now she really needs to "stand tall."
Tall Girl 2 Netflix release date: February 11, 2022
I Want You Back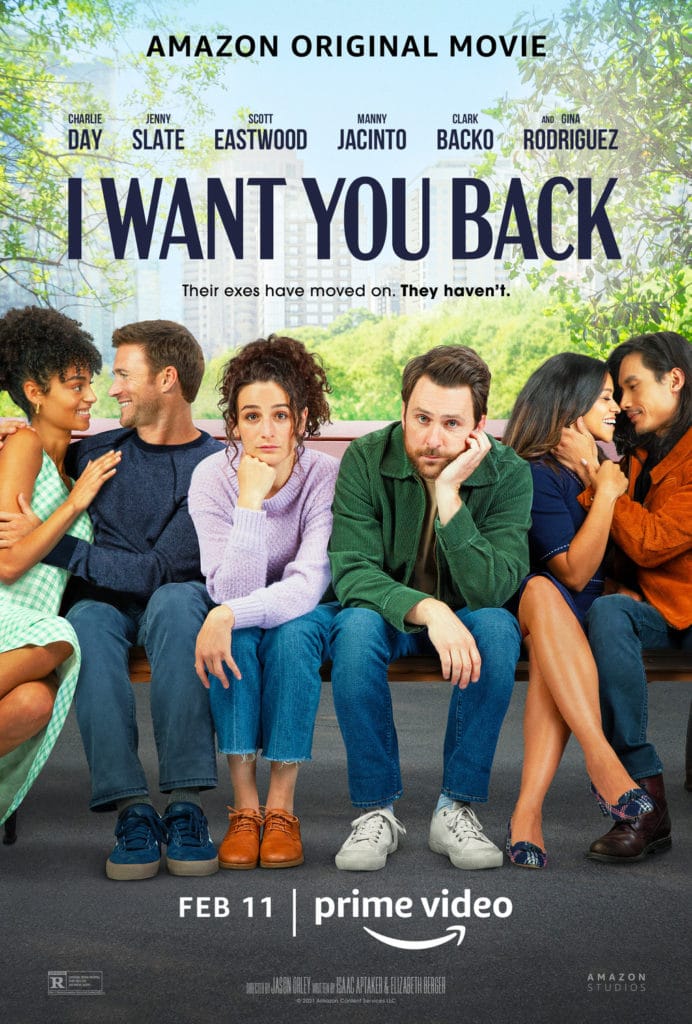 I Want You Back is Amazon Prime's original romantic comedy film directed by Jason Orley from a screenplay by Isaac Aptaker and Elizabeth Berger. The film stars Charlie Day, Jenny Slate, Gina Rodriguez, Scott Eastwood, Manny Jacinto, Clark Backo, Jami Gertz, Jordan Carlos, Dylan Gelula, Isabel May, and Mason Gooding. The film so far holds a 85% RT score based on 13 reviews. The R-rated comedy is releasing on Prime this month.
Synopsis: Peter (Day) and Emma (Slate) are total strangers, but when they meet, one thing instantly bonds them: they were both unexpectedly dumped by their respective partners, Anne (Rodriguez), and Noah (Eastwood), on the same weekend. As the saying goes, "misery loves company," but their commiseration turns into a mission when they see on social media that their exes have happily moved on to new romances, Anne with Logan (Jacinto) and Noah with Ginny (Backo). Terrified that, in their 30s, they have lost their shot at happily ever after and horrified at the prospect of having to start over, Peter and Emma hatch a desperate plot to win the loves of their lives back. Each will do whatever it takes to put an end to their exes' new relationships and send them running back to their arms.
Read our review for I Want You Back below!
RELATED: I WANT YOU BACK REVIEW: A FAMILIAR PREMISE ENJOYABLY EXECUTED
I Want You Back Amazon Prime release date: February 11, 2022
The Sky Is Everywhere
The Sky Is Everywhere is an A24's and Apple TV+ original drama film directed by Josephine Decker and written by Jandy Nelson, based on her novel of the same name. The film stars Grace Kaufman, Jason Segel, Cherry Jones, Jacques Colimon, Ji-young Yoo, Havana Rose Liu, Julia Schlaepfer, and Pico Alexander. It is scheduled to be released this month, by A24 on Apple TV+.
Synopsis: Tucked among the magical redwood trees of Northern California and surrounded by her grandmother's gargantuan roses, 17-year-old Lennie Walker (Kaufman), a radiant musical prodigy, struggles with overwhelming grief following the sudden loss of her older sister, Bailey (Rose Liu). When Joe Fontaine (Colimon), the charismatic new guy at school, enters Lennie's life, she's drawn to him. But Lennie's complicated relationship with her sister's devastated boyfriend, Toby (Alexander), starts to affect Lennie and Joe's budding love. Through her vivid imagination and honest, conflicted heart, Lennie navigates first love and first loss to create a song of her own.
The Sky Is Everywhere Apple TV+ release date: February 11, 2022
The In Between
The In Between is Paramount TV+ original romantic sci-fi drama directed by Arie Posin and written by Marc Klein. The film stars Joey King, Kyle Allen, Celeste O'Connor, Kim Dickens, John Ortiz, Anna Stadler, Diany Rodriguez, April Parker Jones, and Donna Biscoe. Joey King, Andrew Deane, Robbie Brenner, Dan Spilo serve as producers. This romantic drama is scheduled to be released on Paramount TV+.
Synopsis: This is a supernatural love story that centers on a teenage girl, Tessa (King), who, after bouncing around in foster homes for most of her childhood, doesn't believe she deserves her own love story. Everything changes after she has a chance encounter with Skylar (Allen), a senior from a neighboring town who's a true romantic. As her heart begins to open, tragedy strikes when a car accident takes Skylar's life, while Tessa survives.
As Tessa searches for answers in the aftermath of the accident, she soon believes Skylar is attempting to reconnect with her from the afterworld. With the help of her best friend and a newfound belief that love never dies, Tessa attempts to contact Skylar one last time, in order to give their love story the epic ending it deserves.
The In Between Paramount+ release date: February 11, 2022
Catch the Fair One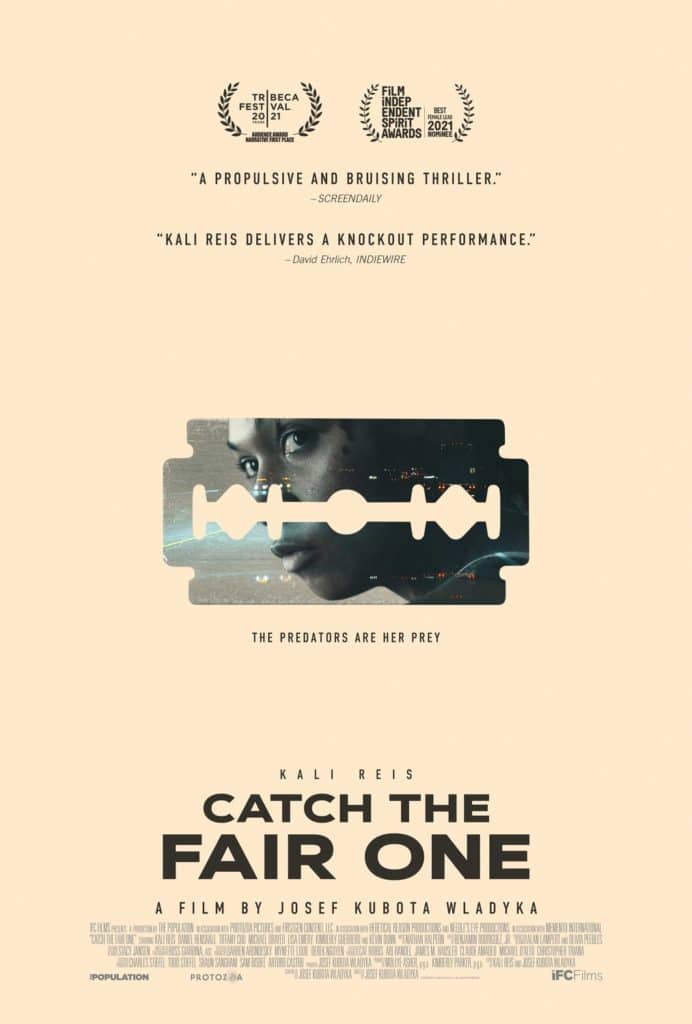 Catch the Fair One is IFC Films' crime drama thriller written and directed by Josef Kubota Wladyka. The film stars Kali Reis, Daniel Henshall, Tiffany Chu, Michael Drayer, Kimberly Guerrero, Lisa Emery, and Kevin Dunn. Darren Aronofsky serves as an executive producer.
Synopsis: A Native American former champion boxer embarks on the fight of her life when she goes in search of her missing sister. It had its world premiere at the Tribeca Film Festival on June 12, 2021. It currently holds a 94% RT score based on 32 reviews with praise for its performances and story. It is scheduled for a limited theatrical release and a simultaneous on-demand release.
Catch the Fair One (VOD & limited theatres) release date: February 11, 2022
Here Before
Here Before is BBC Films' psychological thriller drama written and directed by Stacey Gregg in her feature directorial debut. It stars Andrea Riseborough, Jonjo O'Neill, Martin McCann, Niamh Dornan, Lewis McAskie, Jesse Frazer-Filer, and Eileen O'Higgins.
Synopsis: When a new family moves in next door, their young daughter, Megan (Dornan), quickly captivates Laura (Riseborough), stirring up painful memories of her own daughter who died several years previously. Before long, Laura's memories turn to obsession as Megan's unsettling behavior begins to convince her of something supernatural. As Laura's determination to get to the bottom of it becomes all-consuming, her family begins to fracture and the line between the extraordinary and the real becomes ever more obscured in this haunting story about a mother's love.
The film had its world premiere at South by Southwest on 17 March 2021 and received positive reviews from critics, with Riseborough's performance being singled out for praise. The film was nominated to compete in the Narrative Feature Category at the 2021 SXSW Film Festival.
It so far holds an 81% RT score based on 43 reviews with praise for Riseborough and the director. The R-rated thriller is scheduled for a limited theatrical release on February 11, 2022, and later an on-demand release on February 15.
Here Before VOD release date: February 15, 2022
Wolf
Wolf is Focus Features' psychological drama written and directed by Nathalie Biancheri. An international co-production of Ireland and Poland, it stars George MacKay, Lily-Rose Depp, Paddy Considine, Eileen Walsh, Fionn O'Shea, and Lola Petticrew.
Synopsis: Believing he is a wolf trapped in a human body, Jacob (MacKay) eats, sleeps, and lives like a wolf — much to the shock of his family. When he's sent to a clinic, Jacob and his animal-bound peers are forced to undergo increasingly extreme forms of 'curative' therapies. However, once he meets the mysterious Wildcat (Lily-Rose), and as their friendship blossoms into an undeniable infatuation, Jacob is faced with a challenge: will he renounce his true self for love.
Wolf had its world premiere at the 2021 Toronto International Film Festival on 17 September 2021. It holds a 45% RT score based on 65 reviews with praise for MacKay's performance, its audience score is much better tough. The R-rated drama had a limited theatrical release in the US on 3 December 2021, by Focus Features. Now it will be released through VOD.
Read our review for Wolf below!
RELATED: WOLF REVIEW: A FILM WITH SUCH INTERESTING SUBJECT MATTER SHOULDN'T BE ALLOWED TO DO SO LITTLE WITH IT
Wolf VOD release date: February 15, 2022
Check out the rest of the February 2022 movies on the next page: