It's an exciting month, with numerous tentpole films arriving in April of 2022. A heavy load of new movies are coming to theaters, streaming platforms, and video on demand in April that we should not miss. These movies cross a wide plethora of genres, that includes action, romance, drama, comedy, adventure, fantasy, sci-fi, horror, and thrillers. Most of the movies that are releasing this month are R-rated ones.
In April 2022, streaming services are piled with an exciting line-up of films. On Netflix, The Bubble; Apollo 10½: A Space Age Childhood; Metal Lords; Along for the Ride is releasing. On Amazon Prime, All the Old Knives; on HBO Max, The Survivor; on Dinsey+, Better Nate Than Ever; and on Hulu, Crush will be released.
RELATED: SAM RAIMI ON MARVEL'S "MANDATE" TO ADD HORROR ELEMENTS IN DOCTOR STRANGE 2
The intriguing VOD releases of the month are The Contractor; Bull; Minamata; As They Made Us; 9 Bullets; and The Aviary. Some of these are having a limited theatrical release as well.
DC's The Batman is the first biggest blockbuster of the year grossing more than $700M so far. Films that are set to release exclusively in theaters in March are Morbius; Sonic the Hedgehog 2; Ambulance; Father Stu; Fantastic Beasts: The Secrets of Dumbledore; Dual; The Northman; The Bad Guys; The Unbearable Weight of Massive Talent; and Memory.
The tentpole movies of the month are Paramount's Sonic the Hedgehog 2, and WB's Fantastic Beasts: The Secrets of Dumbledore. These are among the most highly anticipated and biggest blockbusters of this year so these will be dominating the box office this month.
Check out the synopses and release dates for these new movies below.
NEW MOVIES TO WATCH OUT FOR IN APRIL 2022
Morbius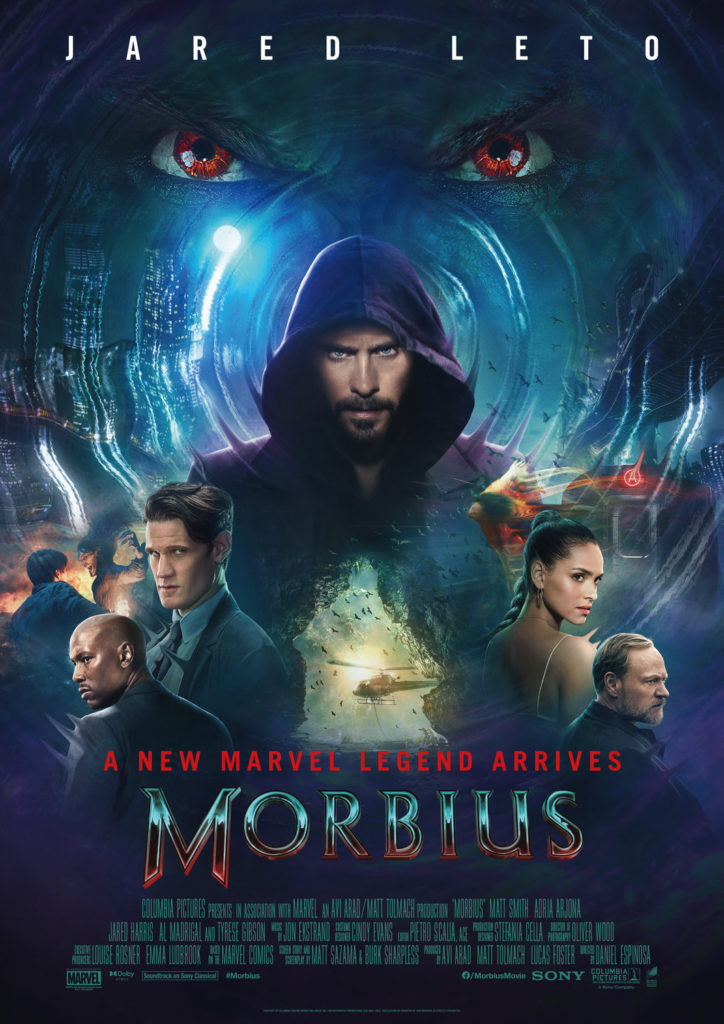 Morbius is Sony Pictures' latest comic book film featuring the Marvel comics character Morbius, the Living Vampire. It is the third film in Sony's Spider-Man Universe (SSU). It is directed by Daniel Espinosa and written by Matt Sazama and Burk Sharpless. Initially, this film was supposed to come out before Venom: Let There Be Carnage and Spider-Man: No Way Home.
It stars Jared Leto in the title role, Dr. Michael Morbius, alongside Matt Smith, Adria Arjona, Jared Harris, Al Madrigal, Corey Johnson, and Tyrese Gibson. Michael Keaton appears in a small capacity as Adrian Toomes / Vulture, reprising his role from the MCU film Spider-Man: Homecoming (2017).
Morbius is a scientist suffering from a rare blood disease whose attempts to cure himself afflict him with a form of transgenic vampirism, gaining superhuman abilities but none of the superstitious weaknesses associated with vampires.
Synopsis: Dangerously ill with a rare blood disorder and determined to save others suffering the same fate, Dr. Morbius attempts a desperate gamble. While at first, it seems to be a radical success, the darkness inside him is unleashed. Morbius becomes a living vampire after curing himself. Will good override evil — or will Morbius succumb to his mysterious new urges?
Morbius had its premiere on March 10, 2022, and is scheduled to be released in the theatres worldwide in April after being delayed seven times from an initial July 2020 date primarily due to the pandemic.
The film received negative reviews from critics, with many calling it uninspired and dated, though Leto and Smith's performances received praises. It currently holds a 17% Rotten Tomatoes score based on 220 reviews and a 70% audience score.
Both Sony's Venom and Venom: Let There Be Carnage received poor reviews from the critics but were satisfactory to many fans and found success at the box office. Similarly, Morbius might be liked and entertaining to watch for some maybe people who loved the Venom movies. This is worth a watch for audiences who are either hardcore fans of the title comic character or excited for this film as fans of the cast of this film or the fans of the Venom movies.
Morbius release date: April 1, 2022
The Bubble
The Bubble is Netflix's original meta-comedy film directed by Judd Apatow, from a screenplay by Apatow and Pam Brady. This film has a fun premise and features a great line-up of actors. It so far only received a 22% RT score based on 94 reviews and a 34% audience score but still, it can be a worthy one-time watch just for the cast.
The R-rated comedy features an ensemble cast that includes Karen Gillan, Iris Apatow, Fred Armisen, David Duchovny, Keegan-Michael Key, Leslie Mann, Maria Bakalova, Kate McKinnon, Pedro Pascal, Vir Das, Guz Khan, Maria Bamford, Rob Delaney, Ben Ashenden, Alexander Owen, Donna Air, John Lithgow, Daisy Ridley, John Cena, and Peter Serafinowicz. Also, Benedict Cumberbatch, Beck, and James McAvoy appear in a small capacity as themself.
Synopsis: Sneaking out. Hooking up. Melting down. Amid the global pandemic, a group of actors and their crew travel to a closed film set in England to film the sixth installment of Cliff Beasts, a wildly successful dinosaur-themed blockbuster action franchise. They attempt to shoot the sequel while quarantined at a posh hotel.
The Bubble Netflix release date: April 1, 2022
Better Nate Than Ever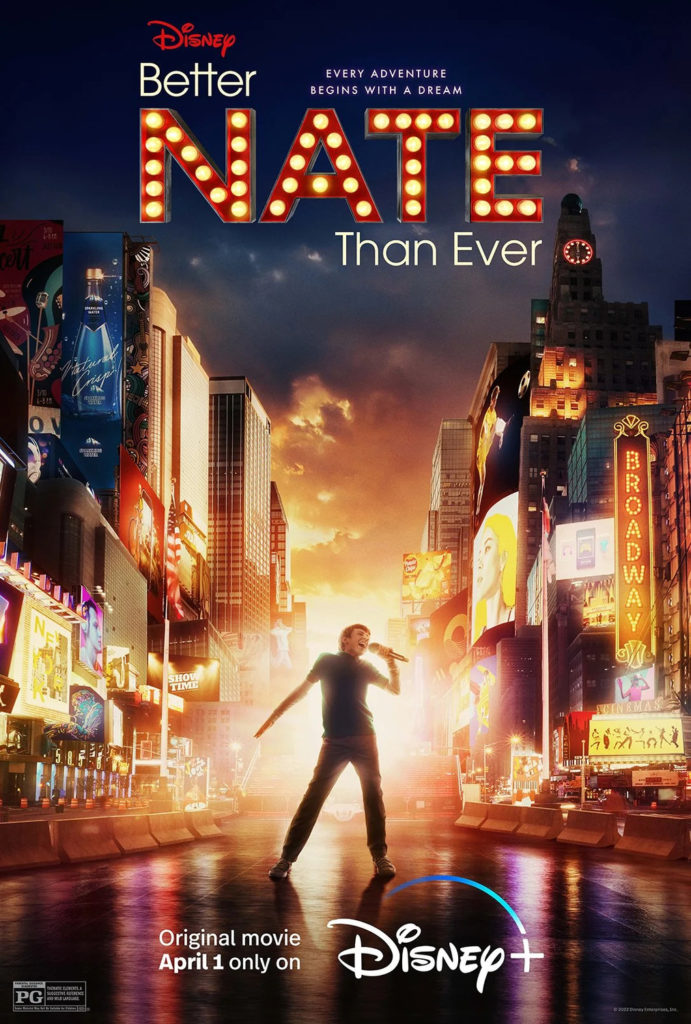 Better Nate Than Ever is a Disney+ original musical family-comedy film written and directed by Tim Federle, based on his 2013 novel of the same name. Described as a coming-of-age story involving musical theater and Broadway.
The story centers on the titular Nate Foster, played by Rueby Wood in his first film role. Lisa Kudrow, Aria Brooks, Norbert Leo Butz, Michelle Federer, Finn Egan-Liang, Krystina Alabado, Brooks Ashmanskas, Mandy Gonzalez, Kylie Kuioka, and Joshua Bassett serve in supporting cast roles.
Synopsis: 13-year-old Nate Foster (Wood) struggles to land roles in his middle school's drama productions while he fantasizes about becoming a Broadway star. When his parents leave town, Nate and his best friend Libby (Brooks) mastermind a daring trip to New York City for a once-in-a-lifetime opportunity to audition for "Lilo and Stitch: The Musical", to prove everyone wrong. A chance encounter with Nate's long-lost Aunt Heidi (Kudrow) turns his journey upside-down, and together they must learn that life's greatest adventures are only as big as your dreams.
Better Nate Than Ever had its world premiere on March 15, 2022, and it is set to be released on Disney+. It is receiving high praise for its story, music, and overall charm as it currently holds a 90% RT score based on 39 reviews making this a must-watch film for all family audiences.
Better Nate Than Ever Disney+ release date: April 1, 2022
The Contractor
The Contractor is Paramount Pictures' action thriller directed by Tarik Saleh in his English-language film debut. The film stars Chris Pine, Ben Foster, Gillian Jacobs, Eddie Marsan, J. D. Pardo, Florian Munteanu, Nina Hoss, Amira Casar, Toby Dixon, and Kiefer Sutherland.
Synopsis: The action-packed thriller follows Special Forces Sergeant James Harper, who is involuntarily discharged from the Army and cut off from his pension. In debt, out of options, and desperate to provide for his family, Harper contracts with a private underground military force. When the very first assignment goes awry, the elite soldier finds himself hunted and on the run, caught in a dangerous conspiracy and fighting to stay alive long enough to get home and uncover the true motives of those who betrayed him.
The Contractor is scheduled for a simultaneous limited theatrical and premium video-on-demand release in the US by Paramount Pictures and STXfilms internationally. The film will release on Paramount+ and Showtime later in the year.
It currently holds a 43% RT score based on 63 reviews but has a 74% audience rating. Although the R-rated action thriller received mixed reviews from critics the work of the cast was praised, it is worth a watch if you are an action lover or interested because of the cast.
The Contractor (limited theatres & VOD) release date: April 1, 2022
Apollo 10½: A Space Age Childhood
Apollo 10½: A Space Age Childhood is Netflix's original animated coming-of-age film loosely based on the childhood of writer, director, and producer Richard Linklater. Set during the events preceding the Apollo 11 Moon landing, the film presents a fictional tale of a fourth-grader who becomes the first person to land on the Moon.
It stars Glen Powell, Jack Black, Zachary Levi, Milo Coy, Lee Eddy, Bill Wise, Natalie L'Amoreaux, Jessica Brynn Cohen, Danielle Guilbot, and Josh Wiggins.
Synopsis: The film tells the story of the first moon landing in the summer of 1969 from two interwoven perspectives — the astronaut and mission control view of the triumphant moment, and through the eyes of a kid growing up in Houston, Texas who has intergalactic dreams of his own. The film is a snapshot of American life in the 1960s that is part coming of age, part societal commentary, and part out-of-this-world adventure.
Apollo 10+1⁄2: A Space Age Childhood premiered at South by Southwest on March 13, 2022, and was released in select theaters on March 24, 2022, and will premiere on Netflix. It received critical acclaim and currently holds a 92% RT score based on 102 reviews with praise for its writing, visuals, and nostalgic feel making it a must-watch film.
Apollo 10½: A Space Age Childhood Netflix release date: April 1, 2022.
Bull
Bull is Signature Films' crime thriller drama written and directed by Paul Andrew Williams. The film stars Neil Maskell as the titular character, a vicious mob enforcer who is seeking revenge on his former gang associates and father-in-law to get his son. David Hayman, Tamzin Outhwaite, Laura McAlpine, Adam Xander Angelides, Ivy Amelia Angelides, and Lois Brabin-Platt serve in supporting roles.
Synopsis: Ten years after he was last seen, Bull (Maskell) returns home to methodically track down those who betrayed him and find his beloved son. With the ominous warning: "I'm coming for all of them," Bull stalks his former gang, leading up to a savage showdown between his wife and her mob boss father (Hayman).
The R-rated revenge thriller had its world premiere at the Fantasia Film Festival in Montreal on 6 August 2021 and then had a wider release in the UK on 5 November 2021. Saban Films is releasing the movie in the US in limited theatres on April 1, 2022, and through VOD on April 5.
It received great reviews and currently holds a 100% RT score based on 33 reviews with praise for its down and dirty revenge thriller story with a tone of old-school crime dramas, making it a must-watch film for fans of pulpy crime thrillers.
Bull VOD release date: April 5, 2022
Sonic the Hedgehog 2
Sonic the Hedgehog 2 is Paramount Pictures' sci-fi action-adventure family comedy film based on the popular video game franchise published by Sega. It is the sequel to the hit Sonic the Hedgehog (2020) movie. Directed by Jeff Fowler who also directed the film and was written by Pat Casey and Josh Miller joined by John Whittington. The film follows Sonic and Tails teaming up to find Master Emerald before Dr. Eggman and Knuckles can do so.
The recurring cast includes Ben Schwartz as the voice of Sonic the Hedgehog, alongside James Marsden, Tika Sumpter, Natasha Rothwell, Adam Pally, Colleen O'Shaughnessey as the voice of Miles "Tails" Prower, Lee Majdoub, Melody Nosipho Niemann, Tom Butler, Elfina Luk, Donna Jay Fulks as the voice of Longclaw, and Jim Carrey as Dr. Ivo "Eggman" Robotnik all reprising their roles from the first film.
New additions to the cast include Idris Elba as the voice of Knuckles the Echidna and Shemar Moore. O'Shaughnessey is the only voice cast member from the Sonic the Hedgehog games to reprise her role for the films. Tails was first revealed in the end credits scene in the first film.
Synopsis: The world's favorite blue hedgehog is back for a next-level adventure in SONIC THE HEDGEHOG 2. After settling in Green Hills, Sonic (Schwartz) is eager to prove he has what it takes to be a true hero. His test comes when Dr. Robotnik (Carrey) returns, this time with a new partner, Knuckles (Elba), in search of an emerald that has the power to destroy civilizations. Sonic teams up with his own sidekick, Tails (O'Shaughnessey), and together they embark on a globe-trotting journey to find the emerald before it falls into the wrong hands.
The first Sonic movie (2020) was very charming and fun and it became a surprise hit grossing $319.7 million which is one of the highest-grossing movies of that year and has one of the highest RT scores for a video-game adaptation (63% RT score and a 93% audience score). With that Paramount has gotten a new franchise in its hands. In February 2022, Sega and Paramount Pictures confirmed that a third Sonic film and a Knuckles spin-off series are in development.
Sonic the Hedgehog 2 was theatrically released by Paramount Pictures first in several international markets, including France and the Netherlands, on March 30, 2022, the UK, on April 1, and is scheduled for a worldwide release on April 8, and in India on April 22. 45 days after the film releases in the U.S., the film is slated to be on Paramount's streaming service Paramount+.
The anticipation for the sequel is high and the trailers for it have looked great. The studio went all in and spent even more than the first movie, it is bigger in terms of scale and scope, and more action-packed. The early reviews for the film are prominent. It so far holds a 68% RT score with 108 reviews and a 98% audience rating and the site also indicates that the fans who loved the first film will love the sequel. This is a must-watch film for all audiences.
Read our review for Sonic the Hedgehog 2 below!
RELATED: SONIC THE HEDGEHOG 2 REVIEW: FASTER, BIGGER, BETTER
Sonic the Hedgehog 2 release date: April 8, 2022
Ambulance
Ambulance is Universal Pictures' crime-action thriller drama directed and produced by Michael Bay. It is based on the 2005 Danish film of the same name by Laurits Munch-Petersen and Lars Andreas Pedersen. The story follows two adoptive siblings turned bank robbers who hijack an ambulance and take two first responders hostage.
The film stars Jake Gyllenhaal (Zodiac, Nightcrawler, Spider-Man: Far From Home), Yahya Abdul-Mateen II (Candyman, Watchmen, The Matrix Resurrections), and Eiza González (Hobbs & Shaw, Baby Driver). Garret Dillahunt, Moses Ingram, Jackson White, Olivia Stambouliah, Colin Woodell, Cedric Sanders, and Keir O'Donnell serve in supporting roles.
Synopsis: Over one day across the streets of L.A., three lives will change forever. In this breakneck thriller from director-producer Michael Bay, decorated veteran Will Sharp (Abdul-Mateen II), desperate for money to cover his wife's medical bills, asks for help from the one person he knows he shouldn't–his adoptive brother Danny (Gyllenhaal).
A charismatic career criminal, Danny instead offers him a score: the biggest bank heist in Los Angeles history: $32 million. With his wife's survival on the line, Will can't say no. But when their getaway goes spectacularly wrong, the desperate brothers hijack an ambulance with a wounded cop clinging to life and ace EMT Cam Thompson (González) onboard. In a high-speed pursuit that never stops, Will and Danny must evade a massive, city-wide law enforcement response, keep their hostages alive, and somehow try not to kill each other, all while executing the most insane escape L.A. has ever seen.
The R-rated film already premiered in multiple countries starting on March 16, 2022, and is scheduled for a wide theatrical release on April 8. It received generally positive reviews from critics with a 68% RT score based on 130 reviews with praise for its high octane story. It's been a long time since a Micheal Bay-directed film received a good critic rating. This is a must-watch action entertainer.
Read our review for Ambulance below!
RELATED: AMBULANCE REVIEW: MICHAEL BAY DELIVERS A HIGH OCTANE THRILL RIDE
Ambulance release date: April 8, 2022
All the Old Knives
All the Old Knives is Amazon's original mystery thriller film directed by Janus Metz Pedersen and screenplay by Olen Steinhauer. It is based on the novel of the same name by Steinhauer. This R-rated thriller currently holds a 64% RT score based on 58 reviews.
It stars Chris Pine, Thandiwe Newton, Laurence Fishburne, Gala Gordon, Corey Johnson, Ahd Kamel, David Bedella, and Jonathan Pryce. The film is scheduled to be released in limited theaters and on Amazon Prime Video simultaneously.
Synopsis: When the CIA discovers one of its agents leaked information that cost more than 100 people their lives, veteran operative Henry Pelham (Pine) is assigned to root out the mole from among his former officemates at the agency's Vienna station. His investigation takes him from Austria to England to California, where he is reunited with his one-time colleague and ex-lover Celia Harrison (Newton). The pair are forced to blur the lines between profession and passion in this riveting tale of global espionage, moral ambiguity, and deadly betrayal.
They meet over dinner to reminisce on their time together at Vienna station. The conversation moves to the disastrous hijacking of Royal Jordanian Flight 127, which ended in the deaths of all on board. That failure haunts the CIA to this day, and Henry seeks to close the book on that seedy chapter. Over a sumptuous dinner, it becomes clear that one of them is not going to survive the meal.
All the Old Knives (Amazon Prime & limited theaters) release date: April 8, 2022
Metal Lords
Metal Lords is Netflix's original musical comedy-drama directed by Peter Sollett (Nick & Norah's Infinite Playlist) and written by D.B. Weiss (Game of Thrones). It so far has a 68% RT score based on 22 reviews. This is a must-watch film for fans of musicals.
The R-rated musical stars Jaeden Martell, Isis Hainsworth, Adrian Greensmith, Noah Urrea, Analesa Fisher, Michelle Mao, Phelan Davis, Katie O'Grady, Brett Gelman, Sufe Bradshaw, and Joe Manganiello.
Synopsis: Two kids want to start a heavy metal band in a high school where exactly two kids care about heavy metal. Hunter (Greensmith) is a diehard metal fan who knows his history and shreds. His dream is to win the upcoming Battle of the Bands. He enlists his best friend Kevin (Martell) to man the drums. But with schoolmates more interested in Bieber than Black Sabbath, finding a bassist is a struggle. Until Kevin overhears Emily (Hainsworth) playing her cello. The motley crew must contend with school, parents, hormones, and teen angst while trying to get along long enough for Skullf*cker to win the Battle of the Bands.
Metal Lords Netflix release date: April 8, 2022
Minamata
Minamata is Samuel Goldwyn Films' drama directed by Andrew Levitas, based on the book of the same name by Aileen Mioko Smith and Eugene Smith. The film stars Johnny Depp (who also produced) as Eugene Smith, a celebrated American photojournalist who documented the effects of mercury poisoning on the citizens of Minamata, Kumamoto, Japan.
Also stars Akiko Iwase, Katherine Jenkins, Bill Nighy, Minami, Tadanobu Asano, Ryo Kase, Jun Kunimura, Yosuke Hosoi, Lily Robinson, and Hiroyuki Sanada.
Synopsis: Inspired by a true story. The film takes place in 1971 when we find Eugene Smith (Depp) as a recluse and disconnected from the world he once shot. After receiving one final assignment from Life Magazine editor Robert Hayes (Nighy), Eugene must travel to the Japanese coastal city of Minamata, which has been ravaged by mercury poisoning. Ushered by an impassioned Japanese translator, Aileen (Minami), and encouraged by local villagers (Sanada), Eugene's powerful images expose decades of gross negligence by the country's Chisso Corporation.
The R-rated film premiered at the Berlin International Film Festival on February 21, 2020. It was released in the US on February 11, 2022, by Samuel Goldwyn Films. At the 94th Academy Awards in 2022, the film ranked third place in the Oscars Fan Favorite contest. It currently holds a 77% RT score based on 75 reviews and a 90% audience rating with praise for its story making this film worth a watch.
Minamata VOD release date: April 8, 2022
As They Made Us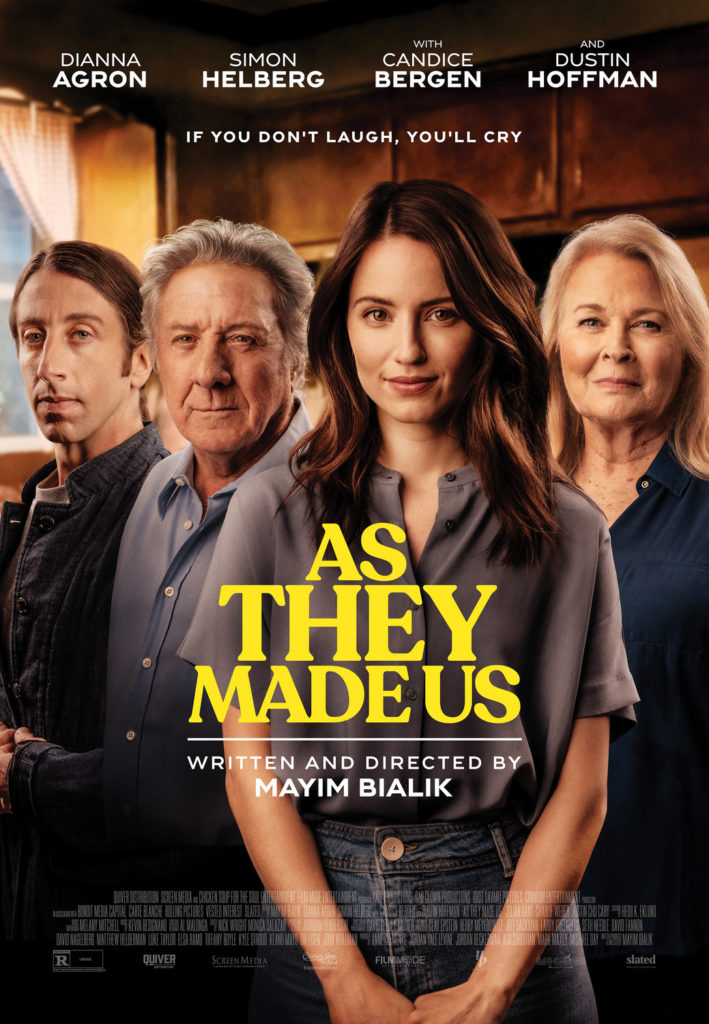 As They Made Us is Quiver Distribution's romantic comedy-drama written, directed, and produced by Mayim Bialik in her feature directorial debut. The film stars Dianna Agron, Candice Bergen, Dustin Hoffman, Justin Chu Cary, Charlie Weber, and Simon Helberg.
Synopsis: Abigail, a divorced mother of two, is struggling to balance the dynamics within her dysfunctional family as she attempts to cultivate new love. Her father Eugene (Hoffman) has a degenerative condition that he and his wife Barbara (Bergen) refuse to accept, and her brother Nathan (Helberg) has been estranged from the family for decades. A self-appointed fixer, Abigail tries to mend her complicated family before it's too late.
The film so far holds a 100% RT score based on 10 reviews. The R-rated comedy is scheduled to be released in limited theaters and on VOD simultaneously.
As They Made Us (limited theaters & VOD) release date: April 8, 2022
Father Stu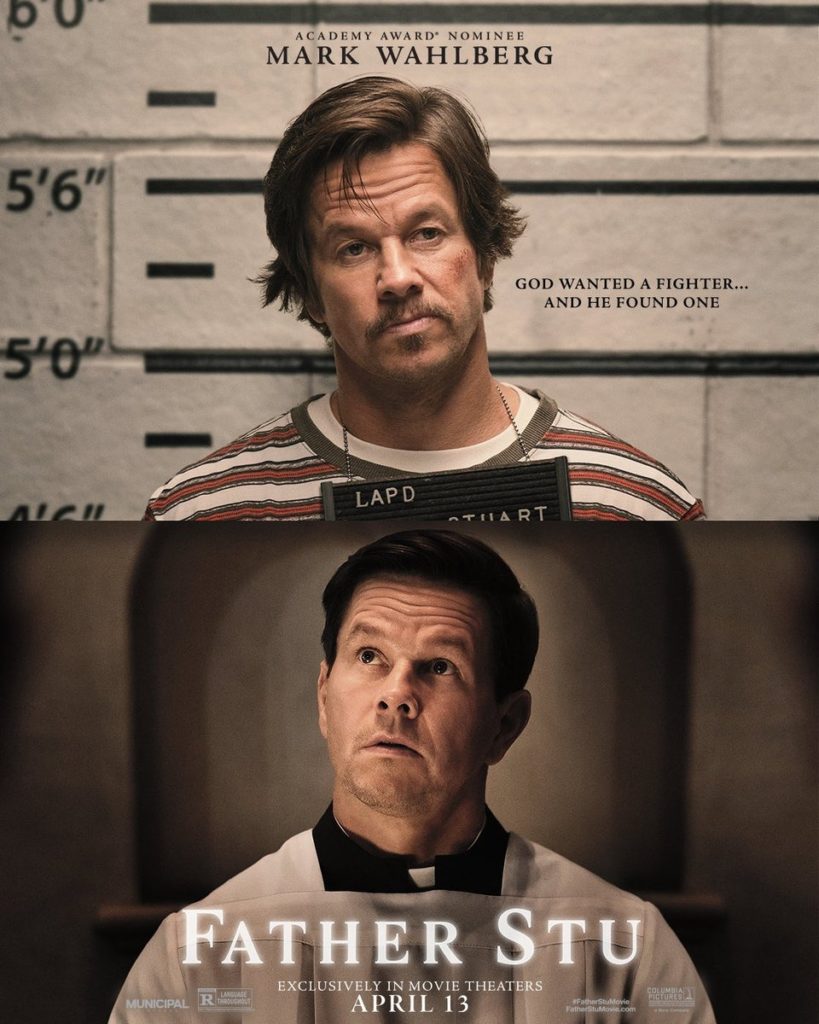 Father Stu is Sony Pictures Releasing's biographical drama written and directed by Rosalind Ross in his feature directorial debut. It is based on the true-life story of boxer-turned-priest Stuart Long. Colleen Camp serves as one of the executive producers of the film. The R-rated biopic is scheduled for a wide theatrical release.
The film stars Mark Wahlberg, who also serves as a producer of the film. Jacki Weaver, Mel Gibson, Teresa Ruiz, Niko Nicotera, Winter Ave Zoli, Chiquita Fuller, Faith Jefferies, Alain Uy, Annie Lee, and Cody Fern serve as the supporting cast.
Synopsis: After surviving a motorcycle accident, a former boxer and longtime agnostic start to wonder if he can use his second chance to help others, leading to the surprising realization that he's meant to be a Catholic priest.
Father Stu release date: April 13, 2022
Fantastic Beasts: The Secrets of Dumbledore
Fantastic Beasts: The Secrets of Dumbledore is Warner Bros. Pictures fantasy adventure directed by David Yates from a screenplay by J. K. Rowling and Steve Kloves. It is the sequel to Fantastic Beasts: The Crimes of Grindelwald (2018), the 3rd installment in the Fantastic Beasts film series, and the eleventh overall in the Wizarding World franchise. Fantastic Beasts 1 & 2 made over $1.46 billion worldwide. And two more Fantastic Beasts films are also in development.
David Yates is a veteran of the franchise, he directed the last four Harry Potter movies, from Order of the Pheonix to Deathly Hallows: Part 2, and all the Fantastic Beasts movies. Rowling has been the only writer of previous Fantastic Beasts movies but for this threequel franchise writer Steve Kloves is back. Kloves wrote all Potter movies except for the 5th movie, he didn't come back for Fantastic Beasts 1 & 2 movies. With Kloves on board, the 3rd part will likely be the best one yet.
Set several years after the events of The Crimes of Grindelwald, The Secrets of Dumbledore follows Albus Dumbledore tasking Newt Scamander and his allies with a mission that takes them into the heart of dark wizard Gellert Grindelwald's army.
The returning ensemble cast includes Eddie Redmayne, Jude Law, Ezra Miller, Dan Fogler, Alison Sudol, Callum Turner, Victoria Yeates, Poppy Corby-Tuech, Katherine Waterston, Fiona Glascott, and Jessica Williams. Mads Mikkelsen will be playing the main antagonist Gellert Grindelwald, who was previously played by Johnny Depp.
New additions to the cast include Richard Coyle as Aberforth Dumbledore, Maria Fernanda Cândido, Oliver Masucci, Dave Wong, Maja Bloom, Valerie Pachner, Paul Low-Hang, and Aleksandr Kuznetsov. Hebe Beardsall reprises her role as Ariana Dumbledore from Deathly Hallows – Part 2.
Synopsis: Set in the 1930s, the story leads up to the Wizarding World's involvement in World War II and will explore the magical communities in Bhutan, Germany, and China in addition to previously established locations including the US and the UK. Professor Albus Dumbledore (Law) knows the powerful Dark wizard Gellert Grindelwald (Mikkelsen) is moving to seize control of the wizarding world.
Unable to stop him alone, he entrusts Magizoologist Newt Scamander (Redmayne) to lead an intrepid team of wizards, witches, and one brave Muggle baker on a dangerous mission, where they encounter old and new beasts and clash with Grindelwald's growing legion of followers. But with the stakes so high, Dumbledore must also decide how long he will stay on the sidelines in the approaching war.
With the pandemic setbacks and the replacement of Johnny Depp with Mikkelsen, the film was delayed a few times but it is finally here. The new adventure in the wizarding world franchise had its world premiere in London on 29 March 2022.
It so far holds a 62% RT score based on 79 reviews with praise for the cast and saying it is an improvement over its predecessor. It will first release in some territories like the UK, China, and India on April 8, and then in the US and remaining countries on April 15. This is a must-watch film for all audiences.
Fantastic Beasts: The Secrets of Dumbledore release date: April 15, 2022
Fina out about more April 2022 movies on the next page: