Ever since Warner Bros. and HBO Max announced that the Snyder Cut aka Zack Snyder's Justice League was going to be released fans have begun campaigning for the "Ayer Cut" of Suicide Squad to also be released.
The campaign for the Snyder Cut of Justice League has been an obvious success and David Ayer has seen this as an opportunity to lay the seeds of a new campaign. Ayer has been vocal about how the final Suicide Squad that was released in theaters was not the film he envisioned with heavy influence from Warner Bros. affecting the film.
While rumors have been circling that the fan campaign has been a success and the Ayer Cut will be available on HBO Max soon David Ayer has flatly denied these claims. When asked by a fan on twitter if the news was accurate Ayer replied "Not true".
While this is likely disappointing to many, it doesn't necessarily mean they should give up hope on seeing the Ayer Cut of Suicide Squad. HBO Max could be waiting to see how successful Zack Snyder's Justice League is, which will be released in four parts on HBO Max in 2021. How vocal fans get in fighting for the Ayer Cut of Suicide Squad could be an important part of any potential decision as it has not yet reached Snyder Cut levels.
DAVID AYER'S SUICIDE SQUAD
According to David Ayer it would have been a very different film as he explained on Twitter.
"Methodical. Layered. Complex, beautiful and sad. After BVS reviews shell shocked the leadership at the time, and the success of Deadpool – My soulful drama was beaten into a "comedy""
David Ayer has also stated that the Ayer Cut "definitely exists" and urges fans to ask AT&T and HBO Max to release it as they are with the Snyder Cut of Justice League.
RELATED: COULD DAVID AYER'S ORIGINAL SUICIDE SQUAD COME TO HBO MAX?
Had David Ayer's original vision of Suicide Squad been released it would have been a much darker film. Ayer has revealed some pieces that would have resulted in a very different tone and story. Many of which pertain to Jared Leto's Joker and Margot Robbie's Harley Quinn. As fans know, most of Jared Leto's scenes as the Clown Prince of Gotham were not in the final film. Joker would have had a much more prominent role and his infamously toxic and abusive relationship with Harley would have been shown more on screen.
RELATED: JARED LETO TO RETURN AS JOKER IN ZACK SNYDER'S JUSTICE LEAGUE
Harley's story would have looked very different as well. Ayer has stated on his Twitter that Harley Quinn's "story arc was eviscerated. It was her movie in so many ways.". David Ayer also revealed on Twitter an important piece of Joker's cut storyline and how it tied into Harley's arc. Joker would have teamed up with Enchantress after the helicopter crash in order to take Harley with him and rule over Gotham.
However, Harley would have chosen her new friends over Joker which would have been a complete change from what fans saw in Suicide Squad. Harley's split from the Joker would have been on her terms and while Birds of Prey sees Harley Quinn post break up and making a name for herself it would have been powerful to watch as she chose herself over him in Suicide Squad.
RELATED: JAMES GUNN'S THE SUICIDE SQUAD: A HANDSPUN LABOR OF LOVE
David Ayer has also revealed on his Twitter that Chato Santana aka El Diablo survived in the original version. In the theatrical release Diablo sacrifices himself in order to kill Incubus. While the film may be a commercial success for Warner Bros. grossing over $746 million worldwide many fans were disappointed by Suicide Squad and critics gave the film scathing reviews. Suicide Squad holds a 26% score from critics and a 59% from audience on rotten tomato. Perhaps one day David Ayer's vision for the film could come to fruition, but for now it doesn't look like that is the case.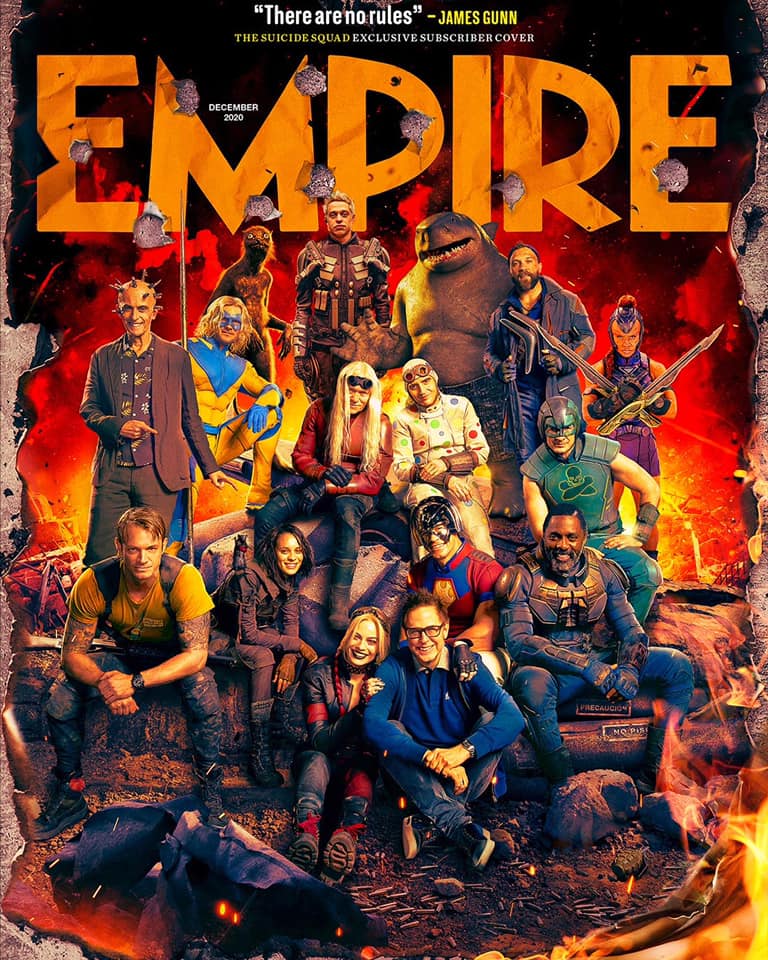 However, Suicide Squad fans do have something to celebrate as a new film will be coming in 2021. James Gunn, best known for his MCU Guardians of the Galaxy films, looks to have completely revamped Task Force X with the upcoming film The Suicide Squad, but there will be some familiar faces. Margot Robbie once again reprising her role as Harley Quinn, along with Jai Courtney returning as George "Digger" Harkness aka Captain Boomerang, Joel Kinnaman as Rick Flag, and Viola Davis as Amanda Waller.
James Gunn's The Suicide Squad is set to hit theaters August 6, 2021. Do you want to see the Ayer Cut of Suicide Squad? Are you excited to see James Gunn's The Suicide Squad? Leave your thoughts in the comments below or on our social media.
KEEP READING: EMPIRE RELEASES 2 NEW COVER PHOTOS OF THE SUICIDE SQUAD LOOKING READY FOR BATTLE