The Illuminerdi has uncovered exclusive info about the characters and direction of the upcoming Green Lantern HBO Max series.
HBO Max continues to make its mark in the ongoing streaming wars with a new direction that is aimed to please superfans of DC Comics related entertainment. Yesterday's announcement of Wonder Woman 1984 being released simultaneously in theaters and on HBO Max was only the latest encouraging news. There is also the much hyped revamp of Zack Snyder's Justice League, along with The Suicide Squad spin-off Peacemaker, are just some of the headline grabbing projects in currently development.
One of the most exciting projects announced for HBO Max is the developing Green Lantern series. The show is produced by Greg Berlanti and written by Berlanti, Marc Guggenheim, and Seth Grahame-Smith. The show has been revealed to focus on multiple heroes from the Green Lantern Corps and we have fresh details on the new superhero leads.
The New Faces of HBO Max's Green Lantern
Last month The Direct cracked the egg on the project and now we have even more green goodness to share. Green Lantern is looking to begin shooting in April of 2021. Unlike many other Berlanti Productions, particularly those set in the Arrowverse, this project is looking to shoot in Los Angeles. We were also unable to find out the number of episodes expected to shoot and the scope of the show in terms of a commitment from HBO. We were only able to confirm a commitment for the pilot episode, which is worth mentioning and monitoring during pre-production.
They are currently casting the leads for Green Lantern and we have some interesting info on the characters and the setup of the developing series. The three leads – Guy Gardner, Bree Jarta, and Alan Scott – are all intended to be series regulars and are described as follows:
Guy Gardner: White Male, 30's. A hulking mass of masculinity, as rendered in the comics. Guy is a personification of the hyper-patriotism found in the 1980's that birthed Hulk Hogan and Rambo. However, Guy is still likable. He might act foolish, but he is not a fool. Guy loves his daughter and wife with all of his hard-partying, fast driving, hot tempered heart. But like many alpha males, there is a deep undercurrent of pain driving it all.
Bree Jarta: Black, Female, 30's. Few Lanterns take their commitment to the Corps and it's purpose more seriously than Bree. Bree is half-human and it's the half she's worked hard to forget. Bree has an alien mother and a human father. However, she was raised on a more enlightened planet with an advanced society. Bree outworked her peers and earner her Ring only to find herself partnered with Guy Gardner.
Alan Scott: White Male, 28 years old. From the outside, Alan is the model of early 1940's. The image of a G-Man. Alan is handsome, clean-shaven and well dressed without a hair out of place. He has spent his young life trying to personify truth, justice, and the American Way. He is already a household name in L.A. and is seen as hero thanks to positive press coverage. However, for all of Alan's honesty, there is one huge lie that follows him. He is a gay man. A fact that, in his era, could cost him his job, or even his life.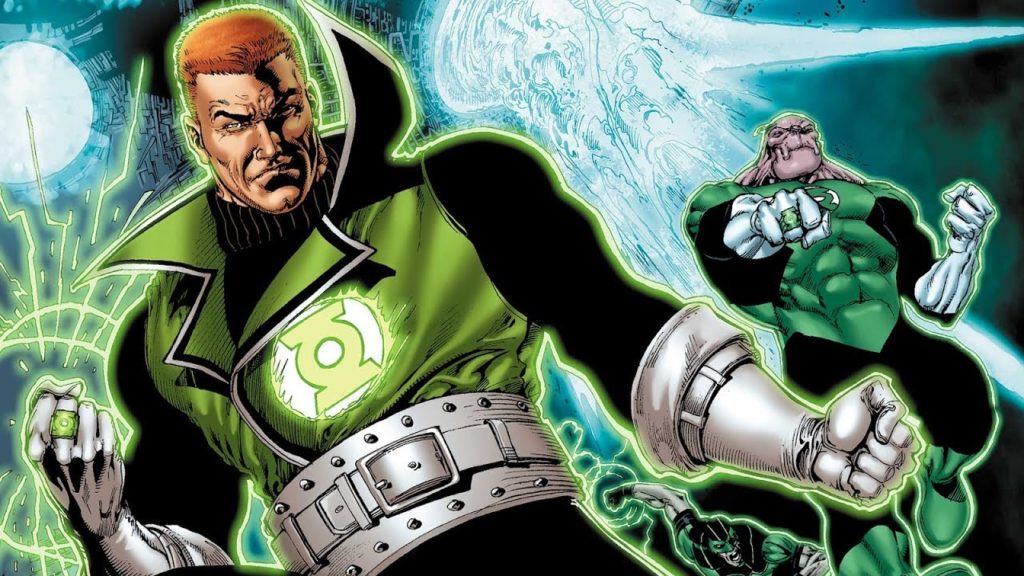 Many were curious how the brash hero Guy Gardner would be adapted for the big (or small) screen. Apparently they are using the action star of the 1980's as a motif for the lead. Those leads were often portrayed as overly muscular gunners, who could take out an entire army without getting shot. Fans of the comics are also familiar with Gardner's darker side, which seems like could be addressed in the series eventually as well.
We don't have any info on who is currently under consideration to play Guy, however it feels like this role would have been John Cena's for the taking if he hadn't been snagged by James Gunn for The Suicide Squad and Peacemaker spin-off series. C'est la vie.
RELATED: THE BATMAN SPIN-OFF HBO MAX SHOW LOSES SHOWRUNNER TERENCE WINTER IN SHOCKING DEVELOPMENT
Just as interesting as the direction of Gardner is his pairing with Bree Jarta, a new Green Lantern in the canon. There had been early rumblings that the series focusing on the Green Lantern Corps would have a Lethal Weapon buddy cop feel. It seems that Bree and Guy are the perfectly imperfect duo to track during the series. With the brash patriotism and masculinity of Guy contrasted by the alien with mixed heritage that really feels above her Earthling roots. This promises to be a fresh pairing, particularly for the superhero genre.
The description of Alan Scott is equally compelling as his story almost seems to be told apart from the duo. It could be that he is simply a man out-of-time with 1940's sensibilities. However the struggles that the description provides really seems to point to a storyline and struggle set in the 40's, as previously indicated by The Direct.
It appears that the Green Lantern series is being built on solid foundation. Recent revelations of the show featuring a mature tone only increase the anticipation for the first big-budget adventure for the Green Lantern Corps. With shooting scheduled in six short months, there will surely be a lot more to report from one of HBO Max's most ambitious projects.
What do you think of the characterization of Guy Gardner, Bree Jarta, and Alan Scott in the upcoming Green Lantern series? What are you hoping to see in the new show? Let us know in the comment section below and let's talk more on Twitter!
KEEP READING: GREEN LANTERN SERIES ON HBO MAX WILL REPORTEDLY FEATURE DOMINATORS, HAVE A TV-MA RATING, AND MORE EXCITING NEWS