[Warning: this contains major spoilers for Season 4 episode 12 of Wynonna Earp, "Old Souls"]
Wynonna Earp delivers a finale that is the perfect love letter to the Earpers who have fought so hard for this fantastic series. With the long awaited WayHaught wedding, taking place on the Earp Homestead just as Katherine Barrell described at Comic Con 2019, but of course the day can't be without the classic Wynonna Earp supernatural shenanigans. While Wynonna Earp is going full "bridezilla" and the actual brides to be are more relaxed than ever, Wynonna decides to try on Waverly's wedding dress. Which surprise, surprise is not your average wedding dress.
Wynonna gets stuck in the dress that immediately begins destroying anything related to the wedding in her path. Wynonna goes to Doc for help and the pair end up at the creepy wedding dress boutique. The owner of "Cursey's Vintages" is played to perfection by Charlotte Sullivan who brings a hilarious and memorable witch into this finale. And although Wynonna and Doc try to figure out how to defeat the silk witch and her cursed or haunted dress, it is actually defeated by Waverly.
When Waverly and Nicole see the destruction of much of their wedding décor and then realize the dress is missing, they instantly know that the dress is haunted. They do some research to figure out who cursed the dress, why, and how to defeat it. Waverly then swoops in with a silk banner to wrangle the silk witch and a standard removal spell to get Wynonna Earp out of the dress. But then Waverly chooses to show the silk witch kindness and empathy saying, "Everyone deserves love."
One of the reasons this storyline is so important in the episode is it proves Wynonna Earp as the Earp heir is not the only one who can handle the craziness of the Ghost River Triangle. Waverly, Nicole, Jeremy, along with their friends and family can hold down the fort while Wynonna and Doc travel to find their fresh start.
RELATED: WYNONNA EARP SEASON 4 EPISODE 7 REVIEW: LOVE'S ALL OVER
The finale of Wynonna Earp is full of love and hope including beautiful moments between each of the characters. Waverly asking Doc to be her best man while gifting him with Wyatt Earp's saddle shows the love that these two characters have for each other. Waverly appreciating Doc always trying to be a better man with Doc clearly touch by Waverly's pride, love, and trust as he agrees to be her best man. And although we didn't see it, we learn that Wynonna will be standing up for Nicole because they are best friends, a beautiful call back to the first episode of the season.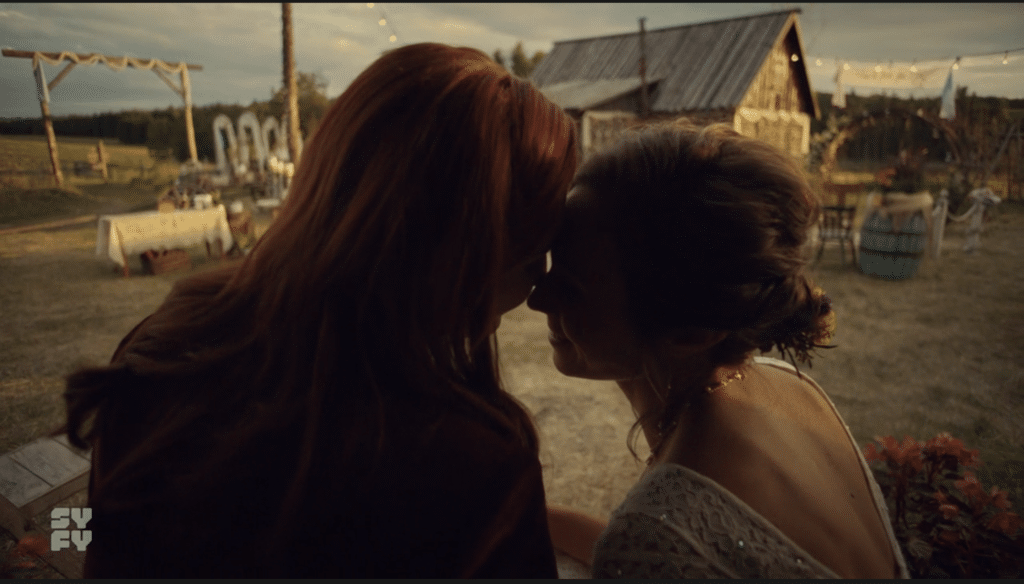 Nicole asking Nedley to walk her down the aisle once again shows off their love for one another and the parental relationship that Nedley has had with Nicole. Nedley has chosen Nicole as his successor to protect the town and he will continue to be there for her. But unlike Nedley, Nicole has a new plan. As the Angel's Shield and Sheriff Nicole will protect everyone who lives in the Ghost River Triangle, human and demon, with the town now needing to find a way to live together in peace.
WYNONNA EARP ENDS WITH LOVE AND HOPE
The WayHaught wedding itself is full of love, happiness, and hope. Seeing the LGBTQ characters get their happy endings and be celebrated is still a rarity on television, but Wynonna Earp has never shied away. From the very first season this series has had magnificent representation for women and LGBTQ characters with complex and layered characters.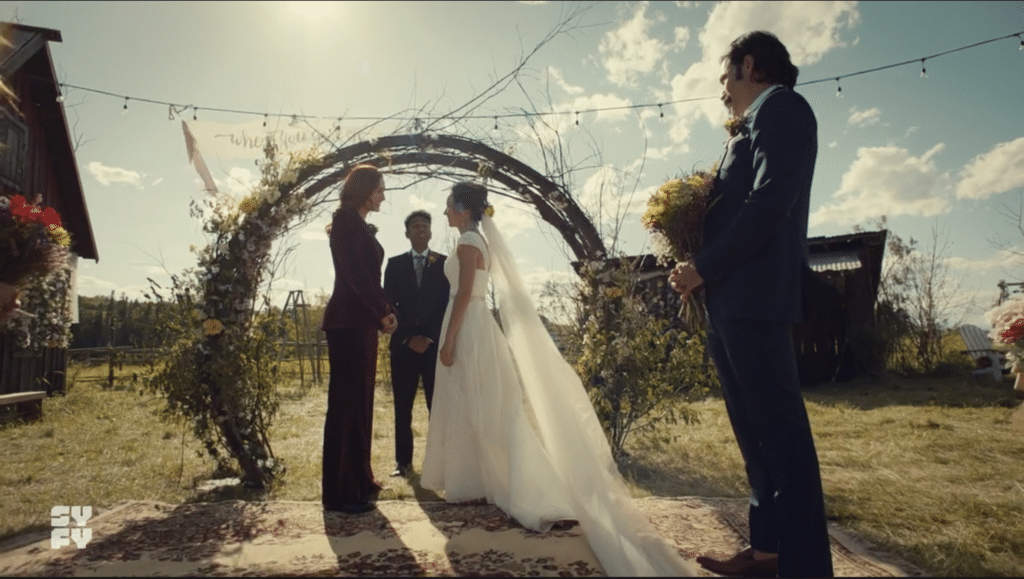 The Waverly and Nicole relationship has always been healthy with the pair communicating and loving one another even when problems would arise. This wedding is a celebration of love for not only these characters, but for the LGBTQ Eapers that have supported Wynonna Earp for years.
The wedding itself includes a number of Wynonna Earp call backs including chairs with the names of those who have been lost or could not be at the wedding, perhaps most notably the chair for Xavier Dolls who gave his life to protect this family that he found in Purgatory. Rachel sings Fleurie's "Wildwood" which was the song playing the first time WayHaught kissed. And their vows include references to other moments, maybe the most important being when Waverly thanks the bulletproof vest that saved Nicole's life at the end of the first season. LGBTQ audience members know the true importance that the bullet proof vest held especially at the time the episode aired.
RELATED: WYNONNA EARP SEASON 4 EPISODE 8 REVIEW: HELL RAISIN' GOOD TIMEWYNONNA EARP SEASON 4 EPISODE 7 REVIEW: LOVE'S ALL OVER
Jeremy learns he has been promoted to Deputy Director of BBD for the Ghost River Triangle. This seems to indicate BBD should be taken care of for now, but it is BBD so that probably won't last too long. It also looks like Jeremy is finally ready to forgive himself for what happened to Robin and move on, as he is asked out on a date with a new guy.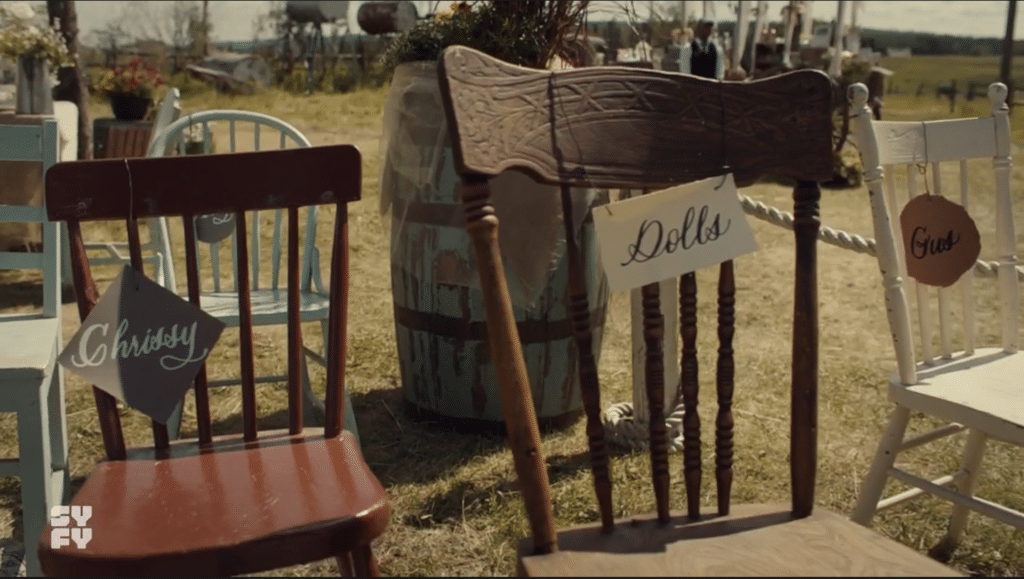 Nedley is giving Rachel and Billy, who he hilariously refers to as former invisible monster teen, with normalcy by planning a fishing trip. Rachel's excitement is infectious. She has found this new family that will love and protect her while also trying to give her some sense of normalcy, at least as much as that is possible when growing up in the Ghost River Triangle.
Finally, Wynonna Earp and Doc Holiday. Doc Holiday wants a fresh start, he is no longer a vampire and there are no more enemies or threats against his loved ones that he must worry about right now. Wynonna is furious that he is leaving, clearly feeling like he is abandoning her. But, it is Waverly herself who finally talks some sense into her sister, after dragging Wynonna to the barn by her ear.
After the reception when Doc leaves, Waverly asks Wynonna the most important question. Does she want to go? Wynonna admits that she loves Doc, chases him down on her motorcycle, and shoots out his tires. The pair admit their love to each other and then Wynonna Earp and Doc Holiday ride off to see their daughter, with Wynonna riding on the front and Doc sitting behind her of course.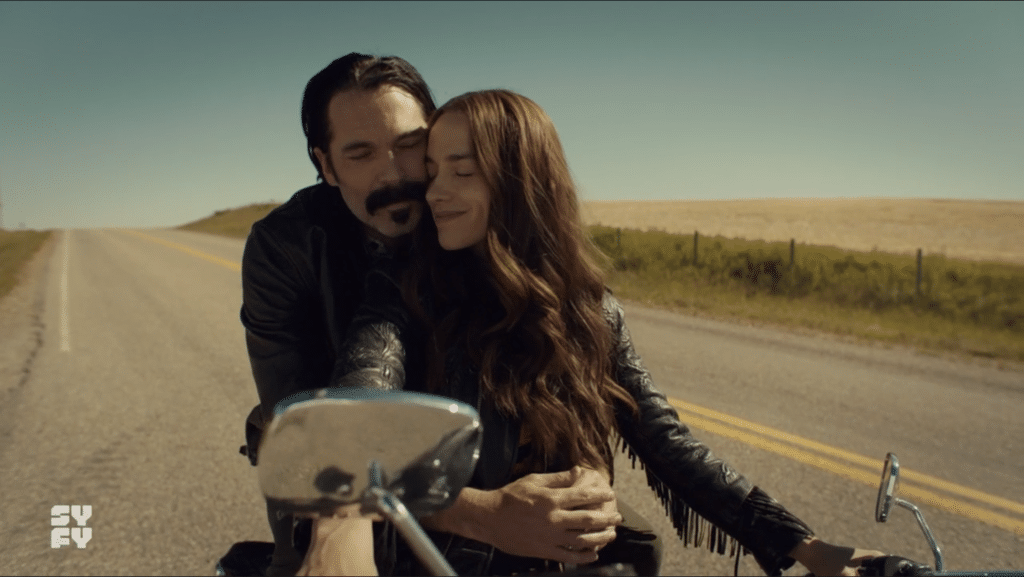 Wynonna Earp began with Wynonna Earp begrudgingly returning to a town that she hated and full of people who hated her for a funeral. Wynonna felt undeserving of love continuing to punish herself for accidentally killing her father and failing to save Willa. Waverly was terrified that Wynonna would leave and never return after the funeral. Waverly had felt abandoned by Wynonna and was envious of the fact that she was the Earp Heir which Wynonna did not want to be.
Doc was fueled by hatred and vengeance after being trapped in a well for over a century. Nicole was new to town, an outsider who didn't have a family in Purgatory. Jeremy, when first introduced, was hesitant and an outsider distrusted by Wynonna because of his ties to Black Badge.
RELATED: WYNONNA EARP SEASON 4 EPISODE 9 REVIEW: CRAZY
And in the perfect bookend, Wynonna Earp ends with Wynonna leaving town with the man she loves to see their daughter. Accepting that she deserves love, happiness, and knowing that she is not alone. Waverly has found love, she herself is an angel with a destiny, and she knows that Wynonna will always return to their home where she and Nicole will be waiting while watching over the Ghost River Triangle together.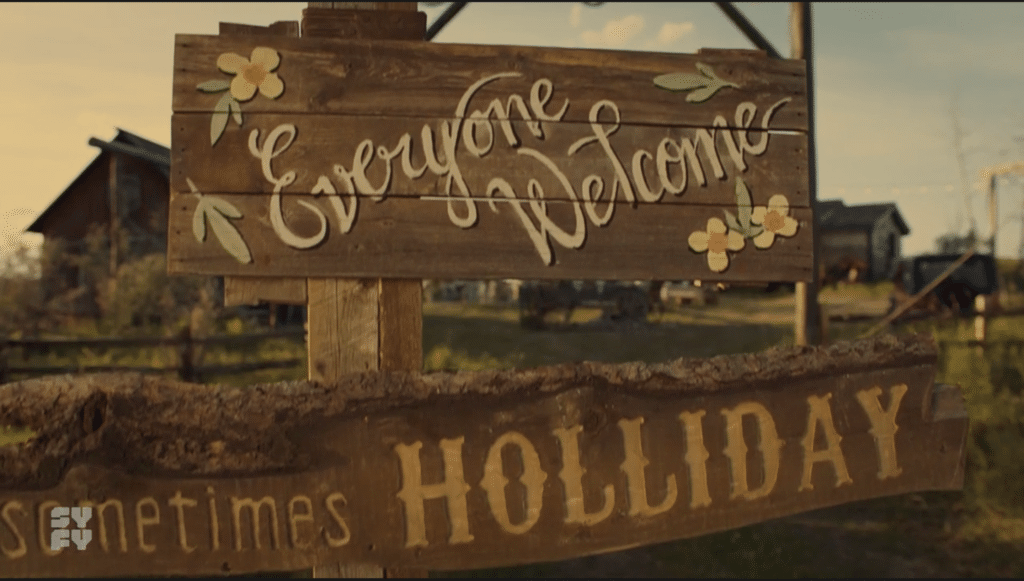 Doc is no longer fueled by vengeance, but love as he continues to work to be a better man. Nicole has built a life, a family, and she has found her purpose as the Angel's Shield and Sheriff of Purgatory. Jeremy has found confidence, hope for the future, along with love and trust from this family that he has become a part of. The Earp sisters' relationship has always been the heart of Wynonna Earp and their bond is stronger than ever even as they part ways for now.
The final shot is the mailbox of the Earp homestead. The Earp mailbox that was put together by Doc in the first season along with a carved sign reading "And Haught" that Wynonna was working on earlier in the episode, "Sometimes Holiday" above it which based on the skillful carving may have been carved by Doc himself showing that he considers the homestead his home even if his path is taking him away for now. And finally "Everyone Welcome".
RELATED: WYNONNA EARP SEASON 4 EPISODE 10 REVIEW: LIFE TURNED HER THAT WAY
The Earp homestead was once meant as a safe place away from the demons of Purgatory where the Earp sisters could hide away and not be at risk, but is now open to everyone. But on a larger scale this sign is about Wynonna Earp itself. Wynonna Earp is a series where anyone can find a home and Earpers have come together to find a community that welcomes all. Earpers can watch the behind the scenes video "Making Your Peace" for the Wynonna Earp finale below. As the stars share their thoughts and feelings about this fantastic finale.
And on a personal note, I remember watching the Wynonna Earp pilot and knowing this show was going to be a blast, but I never could have imagined just how important Wynonna Earp would become to me and so many others. Thank you, Emily Andras, thank you to the cast and crew of Wynonna Earp for bringing this glorious shit show to fans who often felt they weren't seen or represented.
Thank you for bringing these characters to life and for celebrating along with the Earpers at every chance. Thank you for an amazing four seasons and thank you for continuing to try and find a way to continue this truly amazing story in whatever capacity that may be. Simply put Thank you Wynonna Earp, a series and fandom that is truly a once in a lifetime experience.
The first three seasons of Wynonna Earp are available on Netflix. What did you think of the Wynonna Earp finale? Leave your thoughts in the comments below or on our social media.
KEEP READING: WYNONNA EARP SEASON 4 EPISODE 11 REVIEW: BETTER DIG TWO