Critical Role has come a long way since it began as a weekly Dungeons & Dragons livestream game between friends on the Geek & Sundry Twitch channel. While Critical Role is still most well-known for the livestream, it has grown into a multimedia empire. With many shows created and released through Critical Role Productions, multiple comic book series, live shows that are filled to the brim, and an upcoming animated series that will be released on Amazon Prime.
In October 2020, Critical Role announced a new arm of the company, Darrington Press game publishing. The web series is built on the table top role-playing game Dungeons & Dragons and now they are creating and publishing new games. Darrington Press has just announced that their first game, Uk'otoa will be available May 27, 2021.
RELATED: CRITICAL ROLE ANNOUNCES FIRST OFFICIAL NOVEL WHICH FOCUSES ON 2 CHARACTERS FROM CAMPAIGN 1
To celebrate the announcement of Uk'otoa's release date, Critical Role released an impressive sea shanty written by Taliesin Jaffe and Dani Carr sung by Ashley Johnson, Sam Riegel, Taliesin Jaffe, and Steve Failows, with artwork by Hannah Friederichs.
CRITICAL ROLE DARRINGTON PRESS' NEW GAME UK'OTOA
Uk'otoa will be a familiar name to Critters. Uk'otoa was Fjord's patron at the beginning of campaign 2. In Critical Role Uk'otoa is a sea creature, a leviathan, who was created by Zehir the Cloaked Serpent. Uk'otoa was locked beneath the Lucigian Ocean and has been attempting to escape ever since.
"This flagship title from Darrington Press is a tactical game of semi-cooperative card play where factions of sailors vie to be the last claimed by the raging sea leviathan, Uk'otoa.

Uk'otoa is the first official board game developed by the Darrington Press team—a fast-paced, enthralling game of thrilling nautical adventure from the world of Exandria (as seen on the webseries Critical Role), for gamers everywhere.

Uk'otoa is a must-have for fans of tactical card play, map reduction board games, and legendary sea creature enthusiasts.

All sailors fear the tales of Uk'otoa, the all-seeing Great Leviathan beneath the sea. The worst has come to pass—the beast has you in its serpentine clutches. As the toothy maw of Uk'otoa ravages your ship, you'll have to run, push, and sacrifice others to win!"
GAMEPLAY OF DARRINGTON PRESS' UK'OTOA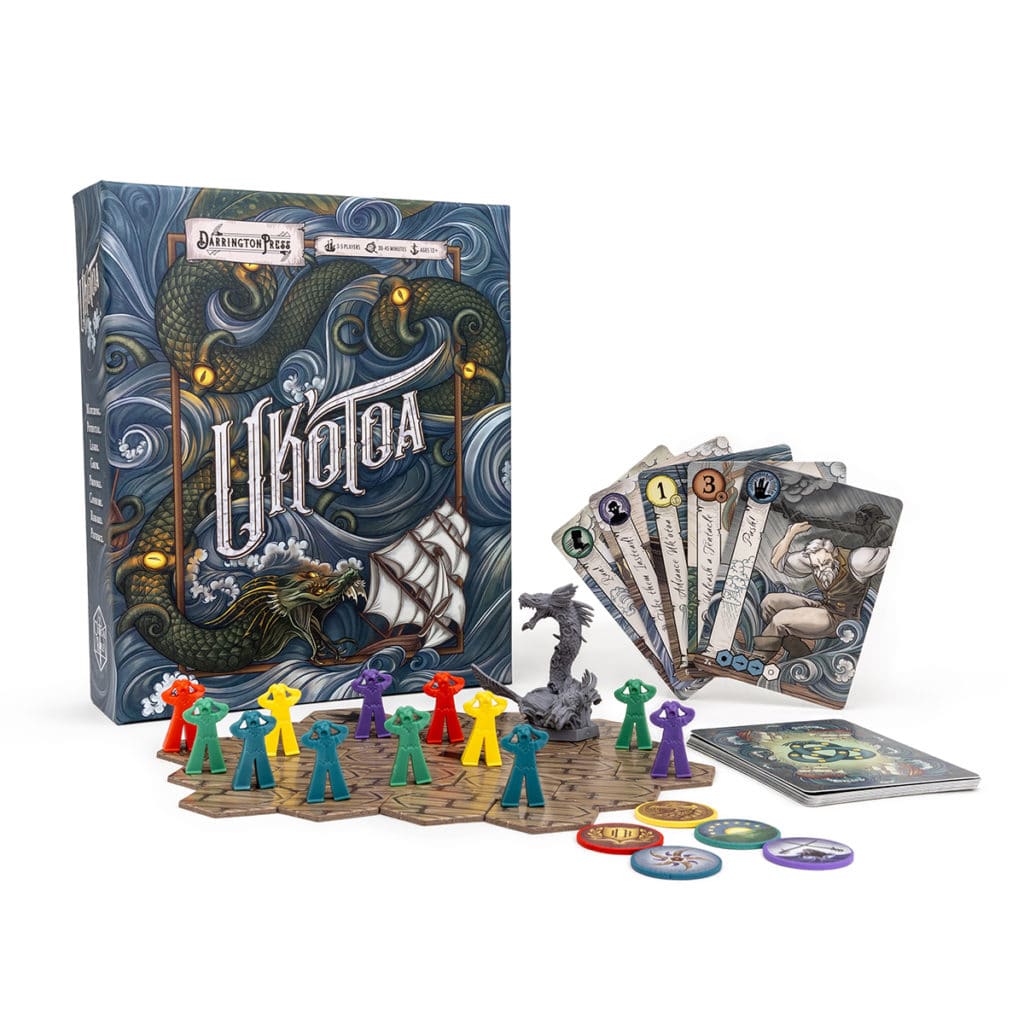 "Hexes are placed on the board to represent the wreckage of a destroyed ship, and are progressively removed as they are consumed by the dauntless Uk'otoa. Players take on the roles of two factions which they share with their neighboring players, and use cards to best position their two teams to survive. Each card in a player's hand carries immersive, gorgeous art and easy-to-understand icons depicting the movement it provides."
RELATED: CRITICAL ROLE PARTNERS WITH SIDESHOW COLLECTIBLES AND REVEALS NEW MIGHTY NEIN ART AND STATUES
When Darrington Press, was first announced they revealed three other games that Critters can look forward to along with Uk'otoa. Critical Role Adventures a cooperative legacy-lite campaign game, Syndicult an original modern magic roleplaying game, and Guardians of Matrimonia a cooperative card game.
Darrington Press is run by Ivan Van Norman with Matt Mercer on board as a creative advisor. Matt's involvement makes sense given that some of the games will be set in Exandria the world he created for the Critical Role campaigns. Critters have a lot to look forward to from Darrington Press and with the release of Uk'otoa on the horizon fans can explore the world of Critical Role in a whole new way.
Uk'otoa is available for purchase in the Critical Role US, UK, CA, and AU online shops and Darrington Press Guild stores on May 27, 2021. Uk'otoa will also be available not long after in other local game shops in the US. Are you going to buy Uk'otoa? What other Darrington Press games are you looking forward to? Leave your thoughts in the comments below or on our social media.
KEEP READING: CRITICAL ROLE ANNOUNCES THE MIGHTY NEIN ORIGINS: YASHA NYDOORIN SET FOR SEPTEMBER 15TH RELEASE
Source: Darrington Press