New Spider-Man No Way Home Lego set reveals a new Spidey suit, and the inclusion of Wong and the Sanctum Sanctorum in the film.
The Marvel Cinematic Universe has kicked off Phase Four with an impressive line up of new Disney Plus series including WandaVision, The Falcon And The Winter Soldier, and the currently airing Loki. And with Black Widow, the first film of Phase Four, finally hitting theaters and Disney Plus July 9 ending the two-year MCU film hiatus, fans have no shortage of enthralling content. And with even more exciting Disney Plus shows and films on the horizon 2021 is going to be a fantastic year for the MCU.
RELATED: SPIDER-MAN 3: WILLEM DAFOE AND THOMAS HADEN CHURCH NEGOTIATING A RETURN IN MIND-BLOWING SEQUEL: EXCLUSIVE
One of the most highly anticipated MCU films of the year is Spider-Man No Way Home with characters from Sony's previous Spider-Man franchises rumored to return and Doctor Strange making an appearance, fans are eagerly awaiting this new film. But now a new Lego set gives fans even more to look forward to.
NEW SPIDER-MAN NO WAY HOME LEGO SET REVEALS NEW SUIT FOR TITULAR HERO
From the Lego set it is clear to see that Spider-Man has a new impressive suit for his new film. The suit looks sleek with the addition of the gold emblem and what appear to be gauntlets of the same material. Could this be inspired by the red and gold Iron Spider suit that Tony Stark made for Peter Parker in the comics? The suits that Tony gave Peter in the MCU already had many of the abilities of the Iron Spider suit, but this new version could be a final gift from Tony Stark or perhaps even an homage to the red and gold adorned fallen Avenger.
RELATED: ALFRED MOLINA SPEAKS ABOUT DOCTOR OCTOPUS' RETURN IN NEW SPIDER-MAN MOVIE
But that isn't the only intriguing news from this Lego set. While it has long been known that Doctor Strange would be making an appearance in Spider-Man No Way Home, this toy reveals that Wong will also be in the film and the Sanctum Sanctorum looks to be an important location. Based on the Lego set it would seem that Spider-Man, MJ, Wong, and Doctor Strange will be involved in a battle likely defending the Sanctum Sanctorum.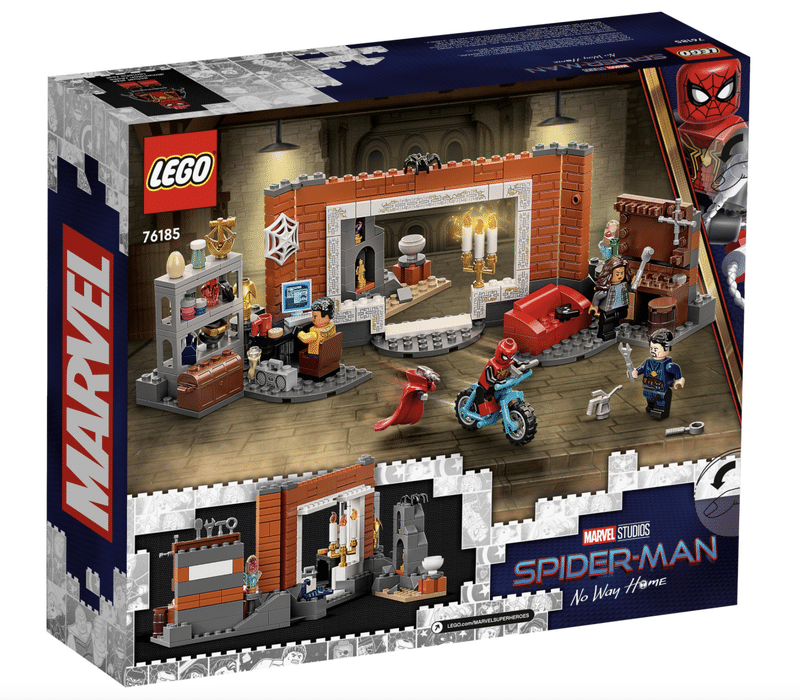 Wong appears to have a bit of a new look, with a yellow coat over his traditional costume and Doctor Strange seems to be wearing the Eye of Agamotto necklace once again. It also looks like they will be fighting against some sort of green monster with pincers. Could this be a multiversal threat that Strange is battling against with the help of Spider-Man or could Spider-Man have brought this creature to the Sanctum Sanctorum?
RELATED: SPIDER-MAN 3: FIRST STILLS AND OFFICIAL TITLE REVEALED AFTER THE CAST TROLLS FANS
A past reddit leak claimed that Doctor Strange was keeping the villains from the past Sony Spider-Man films in a prison of sorts in the Sanctum Sanctorum. This Lego set seems to make this a more likely possibility with the toys pointing to a fight at the Sanctum in the upcoming film.
With Wong and the Sanctum Sanctorum it seems like magic and the multiverse will, unsurprisingly, be a major part of the film. Perhaps Peter is hiding out at the Sanctum while he is on the run after his identity was revealed and he was framed for murder. Or if the reddit leak about Doctor Strange keeping the multiversal villains in a prison in the Sanctum Sanctorum is true, then maybe Peter Parker is lending a hand to guard these alternate universe villains. However, this newly revealed plot element comes into play Spider-Man Now Way Home is set up to be an epic film. Spider-Man No Way Home is scheduled to hit theaters December 17, 2021.
Are you excited about Spider-Man No Way Home? What do you think about the new suit? Why do you think there could be a battle at the Sanctum Sanctorum? Leave your thoughts in the comments below or on our social media and check back with The Illuminerdi for more MCU news.
KEEP READING: MAJOR ALLEGED SPIDER-MAN: NO WAY HOME SPOILERS LEAK ONLINE
Source: Lego