It looks like Daredevil fans have reason to celebrate with the new rumors of not only Daredevil and Kingpin, but most of the main cast making their long-awaited return to Marvel.
According to Daniel Richtman, Marvel is planning a new Daredevil project down the line with Charlie Cox taking on the lead role once more. However, it has also been rumored that this will not be the first appearance of Charlie Cox as Daredevil, nor will it be for his arch enemy the Kingpin.
Daredevil may have been the most successful Netflix Marvel series, running for three seasons and spawning a fan campaign to save the series after the cancellation. Although the Netflix Marvel series are not considered part of the main MCU canon many fans hope that the actors will reprise their roles and officially join the MCU. If the rumors are true it looks like the cast of Daredevil may be the first.
This is not the first MCU project with Daredevil related rumors floating around. Spider-Man: No Way Home is rumored to include Charlie Cox making his debut as Matt Murdock in the MCU and She-Hulk is also rumored to include an appearance by The Devil of Hell's Kitchen. Vincent D'Onofrio is rumored to appear as Wilson Fisk in Hawkeye, which will include the introduction of Echo into the MCU.
Both Wilson Fisk and Matt Murdock are a huge part of Maya Lopez/Echo's story so it would make sense for them to be a part of her spin-off solo series, but what is most interesting about this rumor is that it apparently also includes most of the main cast of the Netflix series.
RELATED: MARVEL CINEMATIC UNIVERSE: ANALYZING THE NEW PETITION PLEADING MARVEL STUDIOS TO KEEP THE 11 ORIGINAL MCU TV SHOWS CANON
According to Richtman, Echo may feel a bit like Daredevil season 4 because of the returning cast. However, Richtman does say (via The Direct), "to be clear, this is still very much Echo's show," and that "Echo is still the lead and it's her show." These also won't be exactly the same characters from the Netflix series with the characters rumored to have a somewhat soft reboot as part of their introduction into the MCU.
ECHO'S TIES TO KINGPIN AND DAREDEVIL IN THE COMICS
Fisk and Murdock would be perfect fits for the series given their ties to Echo in the comics. In the comics Maya Lopez was born deaf and her father was killed by Wilson Fisk when she was a young girl. Her father's dying wish was that Fisk would care for Maya as his own, a wish that Fisk honored taking Maya in and raising her as his daughter. Fisk sent Maya to the best schools where she was a brilliantly gifted student.
RELATED: MARVEL STUDIOS CASTING ECHO FOR HAWKEYE ON DISNEY+: EXCLUSIVE
Later Fisk would send Echo after Daredevil. Echo and Matt would grow close and fall in love while she continues hunting for his alter ego Daredevil, having been told by Fisk that Daredevil waa responsible for her father's death. Maya, who has photographic reflexes like Taskmaster in the comics, is easily able to defeat Daredevil after watching videos of his fights. When Maya discovers the truth, that Matt is Daredevil and that he didn't kill her father, she is infuriated by Fisk's betrayal. Maya confronts the man who both killed her father and then raised her and shoots him in the face blinding Fisk, until he has surgery to recover from the injury.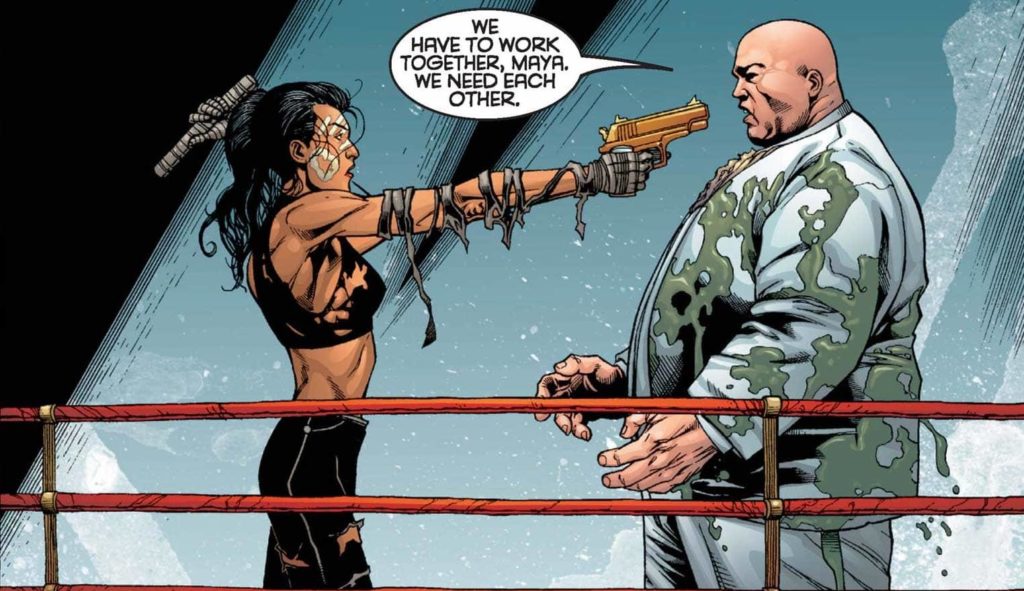 Given the importance of Daredevil and Kingpin in Echo's backstory in the comics it is no wonder these characters, who were already rumored to appear in upcoming MCU projects, could also be a big part of the Echo series. But who from the Netflix cast could come to the MCU and how is still a mystery. And while Daredevil fans are excited, others are concerned about what this could mean for Echo. The new Echo series will star a deaf Native American woman who is also an amputee playing a superhero. Alaqua must have made quite an impression with her work on Hawkeye with how quickly an Echo spin-off series was fast tracked.
The concern by many fans is tied to the rumor that not only will many of the Daredevil characters be returning, but it seems like they could have a prominent enough role that the series is rumored to feel like Daredevil season 4 to some degree. Fans are worried that this rumor may point to Echo no longer focusing on this new and extremely interesting character instead overshadowing her story with Matt Murdock, Wilson Fisk, and other Daredevil characters.
RELATED: DAREDEVIL'S VINCENT D'ONOFRIO FUELS RUMORED RETURN IN HAWKEYE AS FANS EXCITEDLY ANALYZE SOCIAL MEDIA ACTIVITY
Hopefully these characters only add to the story and support Echo's narrative, but only time will tell. It is exciting that more rumors are circling regarding the return of fan favorite actors to play their iconic Marvel characters in the MCU after the series were cancelled at Netflix.
Echo is expected to begin filming early next year with the character first debuting in the new MCU Disney Plus series Hawkeye, which premieres November 24. Are you excited about these Daredevil rumors? What projects do you hope to see Charlie Cox as Matt Murdock aka Daredevil or Vincent D'Onofrio as Wilson Fisk? Are you looking forward to Echo? Leave your thoughts in the comments below or on our social media and check back with The Illuminerdi for more MCU and Echo news.
KEEP READING: SHE-HULK: HOW DAREDEVIL COULD FACTOR INTO SEASON 1 OF THE EXCITING NEW LEGAL COMEDY
Source: The Direct