[SPOILER ALERT: PLEASE BE AWARE THIS ARTICLE AND VIDEO CONTAIN SPOILERS FOR ETERNALS]
The MCU Introduced a ton of new characters in Eternals, but a particularly exciting one made his debut in the film's mid-credit scene. Eros or as many comic book fans know him, Starfox, is now a part of the MCU played by Harry Styles. A notable part of his short appearance was in his actual introduction, Eros is the brother of the most notorious villain in the MCU's Infinity Saga – Thanos. So, who exactly is Eros and what could his introduction into the MCU mean?
Eros debuted in The Invincible Iron Man #55 in 1973 created by Mike Friedrich and Jim Starlin. In the comics, Eros is an Eternal from Titan and along with his older brother Thanos is the son of Sui-San and A'lars aka Mentor. In contrast to Thanos, the power hungry nihilistic warrior, Eros is a fun-loving, easygoing womanizer with wanderlust. After Thanos' first major attack against Titan, Eros was forced to take a bit more serious approach to life. He fought against Thanos' campaign of terror on Titan. He later joined the Avengers and was given the name Starfox by Wasp and would fight alongside them when he wasn't roaming space in search of romance and excitement.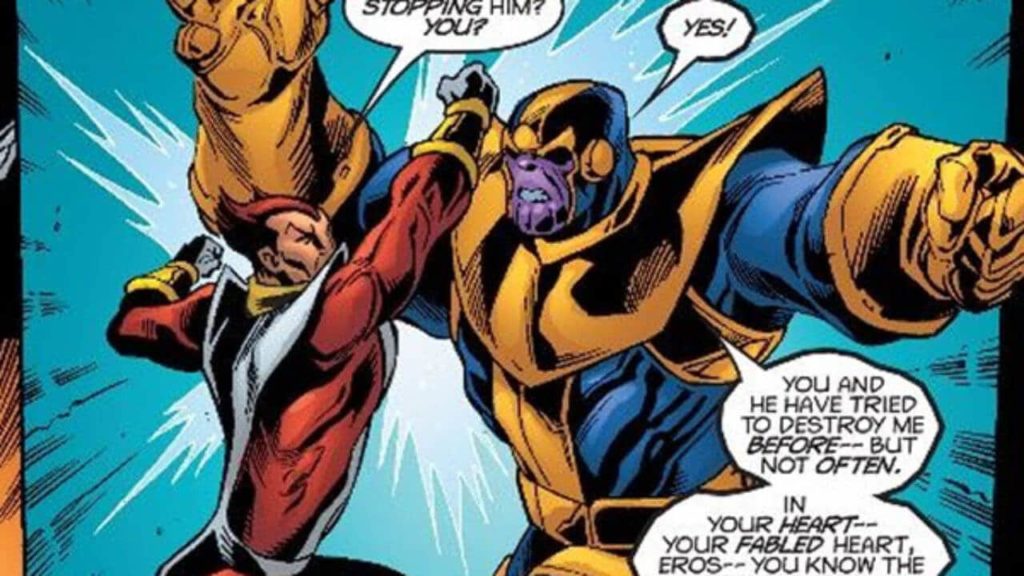 While the two brothers often fight against each other, they do meet up once every thousand years at a neutral location to bury the hatchet and exchange gifts. During this meeting they refuse to attack one another, the meeting is known as The Truce and began as a promise to their father. In the comics, Eros has many of the same powers that other Eternals do with his body being enhanced by cosmic energy, but he also has the distinct ability to psychically control other's emotions.
Eros' power, specifically to control other people's emotions will likely need to be updated especially given the implications of this ability which were explored somewhat in the comics. Similar to Druig's mind control powers, but with the added concern of Eros using his abilities in his romantic liaisons. In the comics Starfox stood trial on both Earth and Titan after being accused of sexual assault by using his powers to seduce women.
RELATED: WHO IS BALDER THE BRAVE AND WHAT MYSTERY MCU PROJECT IS HE RUMORED TO MAKE HIS 1ST APPEARANCE?
He was even banned from the courtroom on Earth when it was suspected he was influencing the jury with his ability. Jennifer Walters aka She-Hulk was hired to defend Starfox in the Earth trial, but suspected him of using his powers on her when they worked together as Avengers. She questioned him and upon his evasive lack of answers beat him into unconsciousness.
This alone is proof that if Eros, aka Starfox, is going to be portrayed as a hero, he'll need a bit of an update especially given the present era where consent and sexual misconduct have become an even more prominent public issue. How exactly the MCU can update his abilities or perhaps his morals is yet to be seen.
His appearance in the MCU opens a number of possibilities especially with the cosmic corner of the MCU. Although his introduction after the death of Thanos is an interesting choice. Eros has set himself up to help Thena, Makkari, and Druig in their search for the Eternals who were taken by Arishem at the end of the film. But where else could he appear in the MCU?
WHERE COULD EROS POP UP NEXT IN THE MCU?
Harry Styles' Eros definitely has a Guardians of the Galaxy vibe, right down to the music that was used in his introduction. And realistically the Guardians are the most intertwined to Thanos even after his death, specifically Nebula and Gamora who could be considered Eros' adopted nieces in a way. His adventuring spirit and romantic mindset would be a perfect fit with the Guardians especially if their stories continue beyond James Gunn's tenure at Marvel. Eros could also make an appearance in the upcoming The Marvels film given the cosmic nature of it, any future Eternals projects, or possibly even an Avengers team up down the line.
RELATED: WHO IS UNION JACK AND WHAT EXCITING NEW MCU PROJECT COULD POTENTIALLY FEATURE HIS DEBUT?
Although he has direct ties to She-Hulk, in the comics through the trial, it seems unlikely that he would be featured in the upcoming She-Hulk series, at least in the first season. The MCU would likely want to let audiences get to know Eros' character better before possibly exploring the trial storyline. The MCU would likely also need to connect She-Hulk and Eros on screen to explain her level of anger at his actions and how they impact her personally.
On our MCU wish list of appearances Eros' debut could lead to a Thanos film or Disney Plus series where the Mad Titan's past, and his relationship with his brother, could be explored. How ever his future plays out Eros' introduction brings in an exciting new character with intriguing ties to a fan favorite villain.
Are you excited Eros is in the MCU? Do you think Eros will be updated to fit into the present era? Where do you think he will show up next? Leave you thoughts in the comments below or on our social media and check back with The Illuminerdi for more MCU.
KEEP READING: HERE IS HOW THE ETERNALS AND SHANG-CHI'S WORLDS COULD COLLIDE ON A COSMIC SCALE IN THE MCU