Spider-Man: No Way Home star Tom Holland has some choice words regarding the future of Spider-Man that may dampen the webs of some of his fans. 
In an interview with GQ magazine, the 25-year-old actor opened up about his future in the role of New York's favorite webhead:
"Maybe it is time for me to move on," Holland ponders when asked about his Marvel future. "Maybe what's best for Spider-Man is that they do a Miles Morales film. I have to take Peter Parker into account as well, because he is an important part of my life. If I'm playing Spider-Man after I'm 30, I've done something wrong."
There's a lot to unpack there. Since debuting as the MCU"s Spider-Man in 2016's Captain America: Civil War, Tom Holland has shown nothing but love and enthusiasm for the role (even going as far as to help broker the Marvel/Sony deal that allows both companies to share the rights to the character). If he wants to move on following Spider-Man: No Way Home, then many would agree he's left an eternal mark on the character of Peter Parker. 
It's also intriguing to hear Tom Holland mention his desire to see a live-action Miles Morales film. The character has been a fan favorite in the comics ever since his debut in Ultimate Fallout #4 in August 2011, but wider audiences were introduced to him in 2018's Academy Award-winning animated film Spider-Man: Into the Spiderverse, which currently has a sequel in the works set for release October 7, 2022.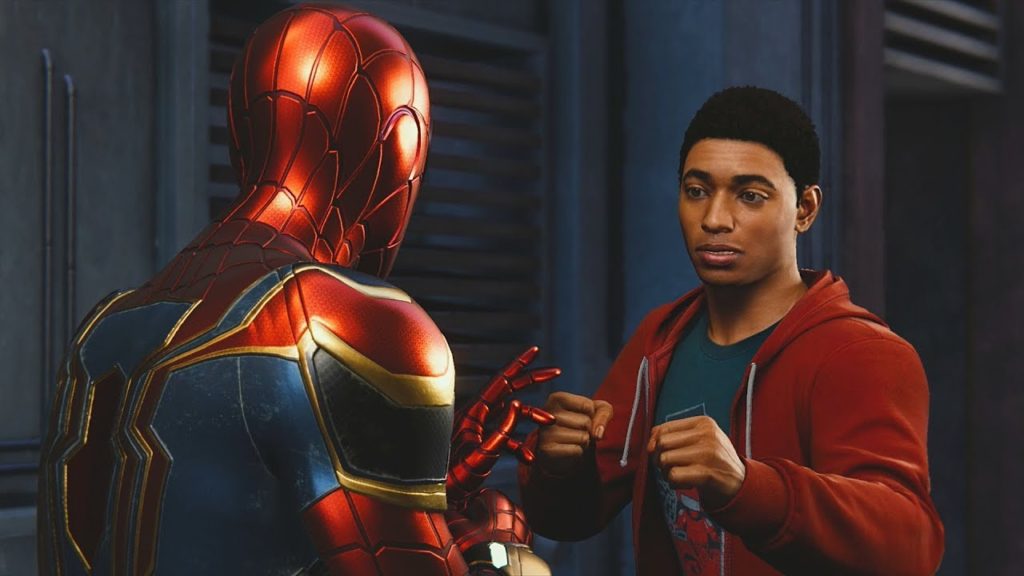 RELATED: HAWKEYE: THE BIGGEST QUOTES AND MOST INTRIGUING TAKEAWAYS FROM THE MARVEL PRESS CONFERENCE
Fans have clamored for a live-action version of Miles Morales on the big screen, and with the success of both Into the Spiderverse and the PS4 game Spider-Man: Miles Morales, it's clear that this character has an ardent and hungry fanbase. Donald Glover's brief appearance in 2017's Spider-Man; Homecoming as a character named "Aaron" who mentions a nephew led many to believe he was referring to Miles back in the day, but that was neither confirmed nor denied by Marvel execs.
Tom Holland On His Future In The Spider-Man Suit
As tantalizing as the prospect of a live-action Miles Morales movie is, Tom Holland's next quote could really send fans spinning:
"I might start shooting The Crowded Room and go, 'You know what, this is what I'm going to do for the rest of my life.' Or I might do Spider-Man 4, 5, and 6, finish when I'm 32, and never make another," he admits. "I'm not sure what I want to do."
Tom Holland is widely known for being the youngest actor to have portrayed Spider-Man in live-action up to this point, with Andrew Garfield being 29 when he was cast and Tobey Maguire being 27. Both actors and were criticized by some for looking too old to play high school students, while the more youthful Holland has largely evaded such criticism. 
RELATED: NEW SYNOPSIS FOR SPIDER-MAN NO WAY HOME TEASES MULTIPLE WEB-HEADS
However, while much of the internet sees Tom Holland primarily as Spider-Man, he has shown a good deal of dramatic acting range elsewhere that proves he can take on more mature projects if he so chooses. From 2011's The Impossible to 2016's one-two punch of In the Heart of the Sea and Lost City of Z to 2020's The Devil All The Time and 2021's Cherry, Holland is capable of being far more than your Friendly Neighborhood Spider-Man and should be able to leave the role whenever he chooses if he desires to pursue more challenging roles. 
Regardless, you can see him suit up as Spider-Man when dimensions collide in Spider-Man: No Way Home on December 17, 2021. Whether he'll continue to accept the Great Responsibility of being Marvel's web head following that film or not, his fans will always champion him as an Amazing Spider-Man. What do you think of Tom Holland's quotes regarding the future of Spider-Man? Would you like to see a live-action Miles Morales film in the MCU? How many times have you watched the new trailer for Spider-Man: No Way Home? Who's your favorite version of Spider-Man? Let us know in the comments below and on our Twitter.
KEEP READING: BLADE: WESLEY SNIPES GIVES HIS PUBLIC SEAL OF APPROVAL TO MAHERSHALA ALI AS THE NEW MARVEL VAMPIRE HUNTER
Source: GQ