Walt Disney Animation Studio's 60th canonical animated film features masterful animation, beautiful new music, and a compelling family-based story. Encanto follows the magical Madrigal family with each family member having a magical gift bestowed upon them when they are of age, except for Mirabel. When the family's magic is threatened Mirabel decides to discover and solve the problem thereby saving her family's magical legacy.
The Illuminerdi was able to attend the Encanto Virtual Press Conference where the filmmakers talked about balancing such a large cast of characters and the gorgeous new music that Lin-Manuel Miranda created for the film.
The music in Encanto is used throughout the film to push the story forward and further develop the characters. "Waiting On A Miracle", "Surface Pressure" and "What Else Can I Do?" are perfect examples revealing previously hidden aspects of Mirabel, Louisa, and Isabela's personality.
RELATED: ENCANTO: STEPHANIE BEATRIZ GLOWS ABOUT JOINING THE IMPRESSIVE LEGACY OF DISNEY HEROINES
During the Encanto press conference co-writer and co-director Charise Castro Smith revealed that Lin-Manuel Miranda was instrumental in how they use the music to showcase each character, even giving each character their own distinct musical style.
"We had a little help in doing that. From one of the people who's also on this Zoom. But seriously, I do give a lot of credit to Lin-Manuel for this, because from early on, he knew that he wanted each character to have their own distinct musical style, really character driven. The choices he made musically were really driven by the characters themselves. And then once he made those choices, and wrote those songs, it really made those characters even stronger and deeper as Jared and I were writing the script. So, it's Lin. I gotta hand it to him."
ENCANTO'S JARED BUSH REVEALS HOW THE TEAM BALANCED THE 12 MEMBERS OF THE MADRIGAL FAMILY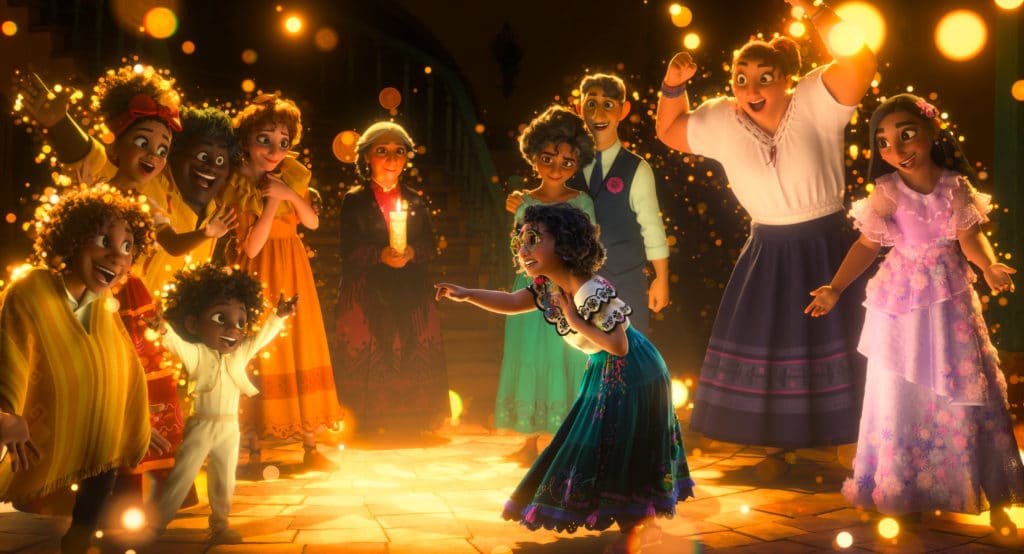 Encanto includes one of the biggest casts in a Disney animated film with 12 different members of the Madrigal family all featured throughout the film. Although Mirabel is clearly the lead her investigation uncovers new information about each of her family members and a new perspective for the young heroine. co-writer and director Jared Bush revealed how the team managed to juggle all 12 distinct characters while making sure each had their own moment to shine.
RELATED: ENCANTO REVIEW: A MASTERFULLY ANIMATED MAGICAL TALE FULL OF HEART, HUMOR, AND TREMENDOUS MUSIC
"So, I would like to give everybody more screen time. Clark's the president of Disney animation, so I think it's up to Clark to make sure that everyone gets their own spin off series and film. So, we can talk to him about that later. But I think across the board, from the beginning, we knew that we wanted to tell a story with 12 different characters it just took a lot of time. I think as we were moving through, we knew the movie was gonna be grounded and anchored by Mirabel, that she had to be a character in her own right that could carry everything, it's not a buddy movie.

But she would interact with all the members of her family in ways that felt like you were meeting real people. And so, I think for Charise and I, I think the trick was, as we're moving through and saying, "Okay, are we giving enough screen time to this person?"  Or, "Are we giving enough screen time to that person?"  Or, "How can we squeeze a little extra here or get more specificity?" 

So even if we don't see the character on screen as much as we'd love to, 'cause we're limited by time, how do we make it so memorable that people go, "Oh, I love that"? And then I'd say a huge breakthrough was "We Don't Talk About Bruno", where Lin literally took the entire ensemble, and everyone not only got to sing, but you also got little windows into their life. Without doing any spoilers, you learn a little bit more about Dolores that was new there, right? We're singing about Bruno, but in comes Dolores with a little side bit of information.

So, there were really wonderful little discoveries like that throughout, these little nuggets, and we sort of hold on to those.  I think one of the things I'm most excited about is, yes, I think you wanna spend more time with everybody. Hopefully when audiences see that, that's what they feeI. I love every single one of these characters. I would watch movies about all of them. And like I said, Clark just has to foot the bill."
RELATED: PRESIDENT OF WALT DISNEY ANIMATION STUDIOS REFLECTS ON ANIMATED CLASSIC FILMS FROM SNOW WHITE TO ENCANTO AND INTO THE FUTURE
Lin-Manuel Miranda has upped his game for Encanto experimenting with numerous styles of music. Each character has their own style of music, but Disney animated films are famous for their classic "I Want" songs.
During the Encanto press conference Lin-Manuel Miranda talked about adding to the legacy of famous Disney "I Want" songs with "Waiting On A Miracle" and why the memory of Stephanie Beatriz recording it is so special to him.
"Disney has almost cornered the market in this particular type of song. And it's an intimidating fact, you know? "There's Part Of Your World"; there's "Into the Unknown"; there's "Reflection" from Mulan; there's "Out There" from Hunchback; there's "I just Can't Wait to Be King". I mean, I could go on and on, which is probably why the "I Want" song is always what takes me the longest. I'm just trying to push all those other songs [LAUGH] out of my head.

Because you know that if you do it right, you're going on that playlist. And I think something that all of those songs I just listed share, is that they soar in this really specific way, and they're so specific that as a kid, you go, "I get it, and I understand, and I'm with you on this journey." And that is the hardest to pin down because it takes making your entire movie to understand the journey you're going on in the first place. So, by the time I wrote "Waiting on a Miracle" time was of the essence, not only with the production of the movie, but with Stefanie Beatriz 'cause she was eight and a half months pregnant.

And it was like, "We really gotta finish this song. Like, we are on a real ticking clock." And the joy of Stef's vocals on that tune with her child sitting on her lungs while she has to hit these notes and the fact that she is singing "Waiting on a Miracle" while she is literally waiting on a miracle I will never forget that. Like, those two experiences of seeing her singing, in this moment in her life they're inextricably bound up together for me, and I'll always cherish that."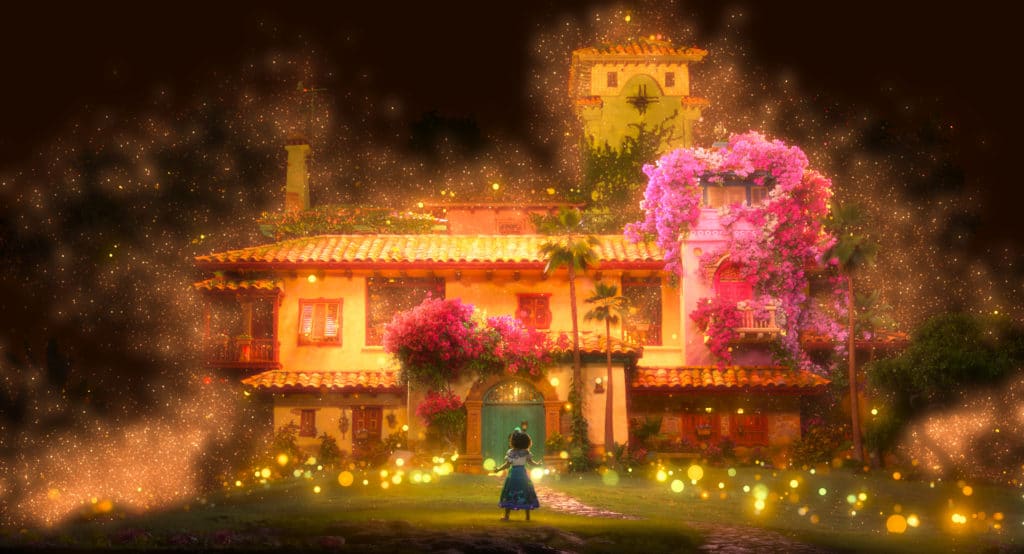 Walt Disney Animation Studio's newest film, Encanto, features magical characters, music, and a uniquely introspective journey for the main character, Mirabel. The impact that Lin-Manuel Miranda had on Encanto's creation beyond even the music is an integral part of the film. His newest addition to the catalogue of Disney's "I Want" song is beautiful and how the team was able to balance so many characters in part through music is an impressive feat.
Encanto is exclusively in theaters November 24, 2021. Are you going to see Encanto? Are you excited for Lin-Manuel Miranda's magical Disney music? Leave your thoughts in the comments below or on our social media and check back with The Illuminerdi for more Disney and Encanto.
KEEP READING: ENCANTO: LIN-MANUEL MIRANDA REVEALS HIS FATHER'S INFLUENCE ON THE FILM AND BREAKS DOWN HIS WRITING PROCESS FOR 2 NEW SONGS