The first two episodes of Hawkeye started off with a bang introducing a ton of new characters and a refreshingly street level story after a number of bombastic cosmic and multiverse projects. Hawkeye introduced an exciting new hero in Kate Bishop as well as a few new villains for both Clint and Kate to take on. Both Clint Barton and Kate Bishop fight the Tracksuit Mafia in the first two episodes of Hawkeye before being captured by the ridiculous criminal gang. But the most intriguing villainous reveal comes in the final moments of episode 2 when Echo makes her brief debut.
Echo's ties to the Tracksuit Mafia and her interest in both Clint and Kate, as Hawkeye and who they mistakenly assume to be Ronin respectively, seems to point to her being an antagonist that the archers will be fighting against in future episodes. This seems to take inspiration from her more villainous backstory in the comics before she morphed into the hero she eventually becomes. In the comics Echo has major ties to Kingpin, who is rumored to appear in Hawkeye, having been adopted by the crime lord after he murdered her father. She eventually helps Kingpin by going after Daredevil after Kingpin lied to her blaming Daredevil for her father's death.
As she is hunting down the Devil of Hell's Kitchen she falls for Daredevil's alter ego, Matt Murdock. She later learns the truth about not only Daredevil's identity, but the fact that Kingpin was actually the one responsible for her father's death. After learning the truth, she confronts Kingpin shooting him in the head, blinding him.
Echo seem like the perfect entry point to bring Kingpin into Hawkeye, especially with rumors of Vincent D'Onofrio reprising his role from the Daredevil series, especially given the fact that she seems to be in charge of the Tracksuit Mafia who were hunting down Kate Bishop who they thought was Ronin. The Tracksuit Mafia are fantastic, and hilarious, as foot soldiers, but there must be a larger threat pulling the strings.
RELATED: ECHO: EXPLORING THE MCU'S NEWEST VIGILANTE BEFORE THE BIG HAWKEYE DEBUT
With the apparent return of Ronin, who fought a one-man war against the criminal underworld, becoming a threat to any criminal enterprises at work whoever the Tracksuit Mafia are working for would need that threat taken care of quickly. And although the larger plan is still a mystery one major clue that will likely come into play later is the watch from Avengers Compound that the Tracksuit Mafia stole from the black market auction.
HOW KINGPIN'S RUMORED APPEARANCE IN HAWKEYE COULD SET UP A COMIC INSPIRED ARC FOR THE SPIN-OFF SERIES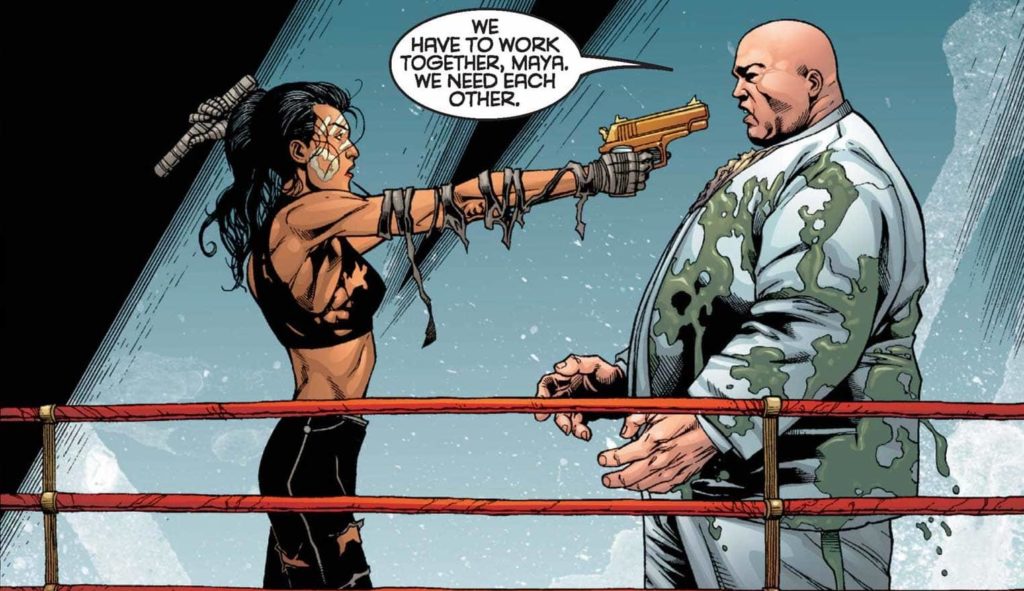 Echo's introduction is not only the perfect way to bring Kingpin officially into the MCU, but Daredevil and his team as well. Charlie Cox is rumored to reprise his role as Matt Murdock potentially appearing in a number of upcoming MCU projects including Spider-Man: No Way Home, She-Hulk, and Echo. Interestingly Echo isn't only rumored to include Daredevil himself, but a number of other returning cast members from the Netflix Daredevil series as well.
If this turns out to be true this could be an indication that the MCU is pulling from the comics as inspiration for Echo's arc. Hawkeye could begin Echo's redemption arc from the comics as she starts out possibly working for Kingpin and being loyal to the man that she believed saved her. And with Daredevil rumored to be a prominent part of the Echo series this could mean that the spin-off could pull directly from the comics as inspiration for her eventual redemption.
RELATED: ECHO: WHAT YOU NEED TO KNOW ABOUT THE EXCITING NEW HAWKEYE SPIN-OFF SERIES
The Echo spin-off could go one of two ways depending on what happens in Hawkeye. In the upcoming series she could still be working for Kingpin and going after Daredevil before eventually learning the truth about Kingpin, potentially pulling directly from her storyline in the comics. However, if she learns the truth about the crime boss by the end of Hawkeye, Echo could see Daredevil as a potential ally in taking down Kingpin in the spin-off series and thus avenging her father. This also assumed that Kingpin killed Echo's father and adopted her like he did in the comics.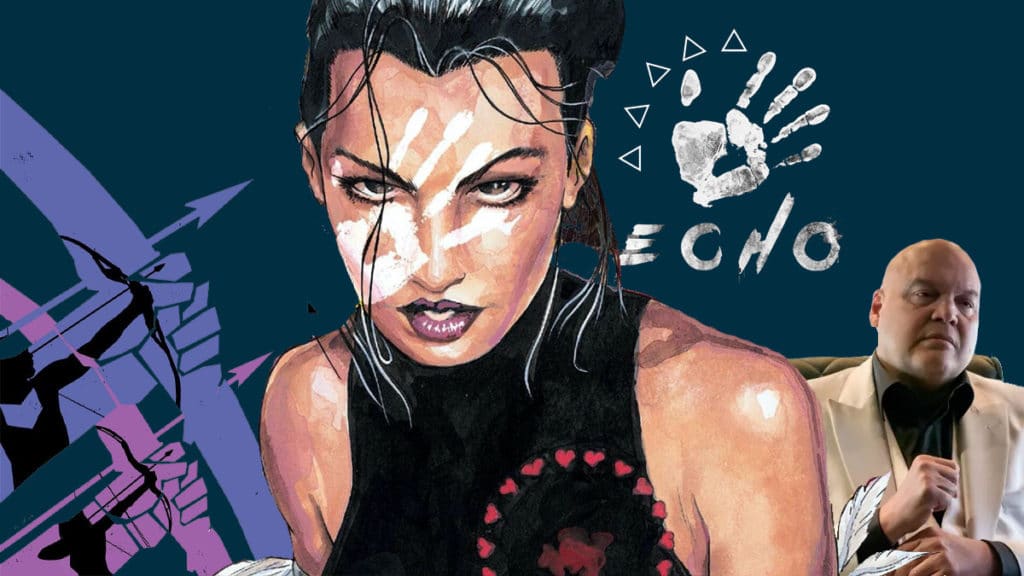 Echo's comic storyline is a gold mine for emotionally driven and intriguing character arcs, with ties to Kingpin, Daredevil, and Ronin. Her introduction at the end of Hawkeye's second episode opens the door to a ton of exciting possibilities especially with the rumors of Kingpin and eventually Daredevil possibly coming into play. Echo is primed to become a major player in the MCU, fighting against an Avenger in her debut series and possibly tying in both Kingpin and Daredevil to the larger MCU stories.
RELATED: HAWKEYE STAR JEREMY RENNER ADDRESSES CLINT'S HEARING LOSS
Her ties to both Kingpin and Daredevil are especially intriguing with the rumors of Vincent D'Onofrio, Charlie Cox, and possibly other Netflix Daredevil alum reprising their roles. With the revelation that she seems to be running the Tracksuit Mafia as they searched for and later captured both Clint Barton and Kate Bishop, Echo seems to hint at a larger force at play in the series that could be key not only to Hawkeye, but Echo as well.
What did you think of Echo's introduction? Do you think she could be how Kingpin is introduced? Do you think Marvel is setting up a comic inspired arc for Echo? Leave your thoughts in the comments below or on our social media and check back with The Illuminerdi for more MCU and Hawkeye. And for more Hawkeye join us on our Marvel Watch A Long on The Illuminerdi's Twitch.
KEEP READING: HAWKEYE EPISODES 1-2 REVIEW: A FUN START TO A STREET LEVEL ADVENTURE