Spoilers ahead for Hawkeye and Spider-Man: No Way Home!!!
The final episode of Hawkeye aired one week ago, giving us the moment that fans have been waiting for…the return of the king!
That's right, Vincent D'onofrio is back as everyone's favorite big, bad, bald villain, and the MCU will never be the same. The reveal of Kingpin is a moment that many fans have been waiting for since his first appearance in Daredevil season 1, which aired on Netflix all the way back in 2015. At that time, the film and TV branches of Marvel Studios were operated completely independently of each other, and while all the shows insisted that they belonged in the MCU, the films never truly acknowledged the characters or events of the television series (minus a brief appearance of an Agent Carter character in Avengers: Endgame).
What's Next For Kingpin? – MCU Theory
THE KINGPIN: PAST & PRESENT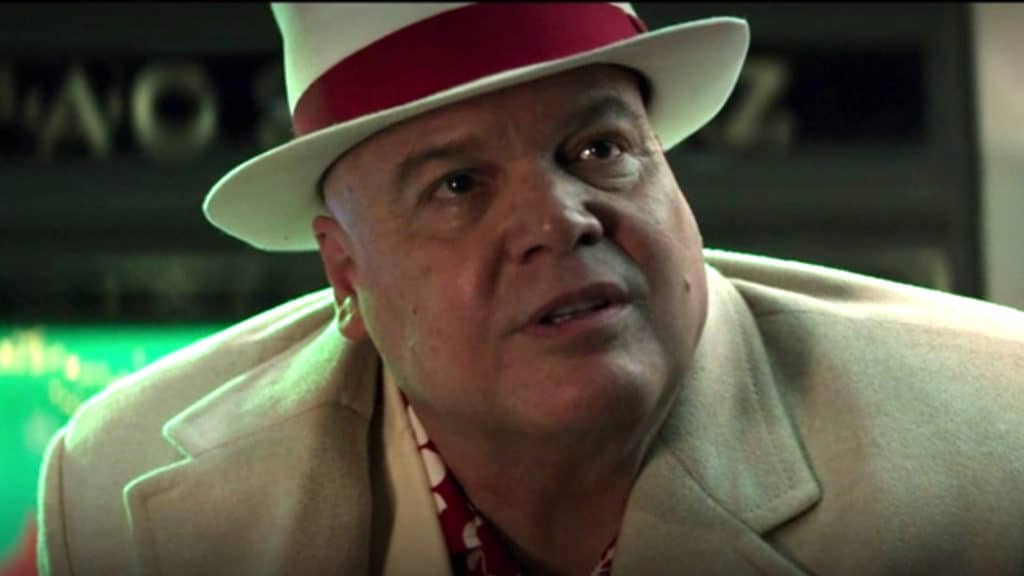 However now all of that has changed! Kingpin is back! And along with him is Charlie Cox's Daredevil, who just showed up in Spider-Man: No Way Home. What's even more exciting is that these seem to be the same versions of the characters from the shows…essentially canonizing the entire Netflix universe for the first time since it began!
RELATED: DAREDEVIL: THE ILLUMINERDI REVISITS THE LEGENDARY MARVEL NETFLIX SERIES
Kingpin and Daredevil both look exactly the same as they did in their previous show, even down to Fisk's cufflinks, so yes, this does seem to be the same Kingpin that you know and love! Of course, this opens up a lot of questions (like how did Fisk get out of prison again after the events of Daredevil Season 3), but it also opens up a world of possibilities for the future of the character. So let's talk about what happened to Fisk in the finale of Hawkeye and where we expect him to show up next!
FISK, FISK…BOOM!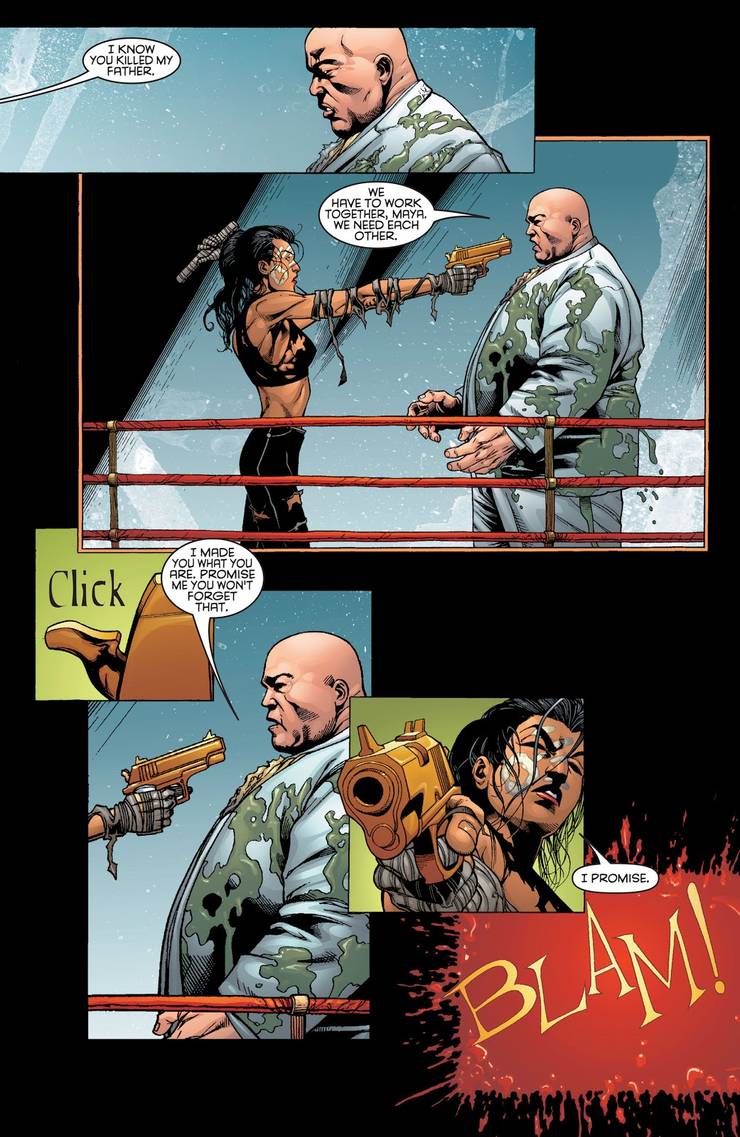 Hawkeye episode 6 ended with a shocking moment: Maya Lopez, aka Echo, confronted Wilson Fisk for his role in killing her father and seemingly shot him point blank in the face. Of course, the camera panned away right as this moment happened. And in strict accordance with screenwriting rules, if we don't see the character die, they aren't really dead. Yes, Kingpin survived, and this moment was pulled straight out of the comics.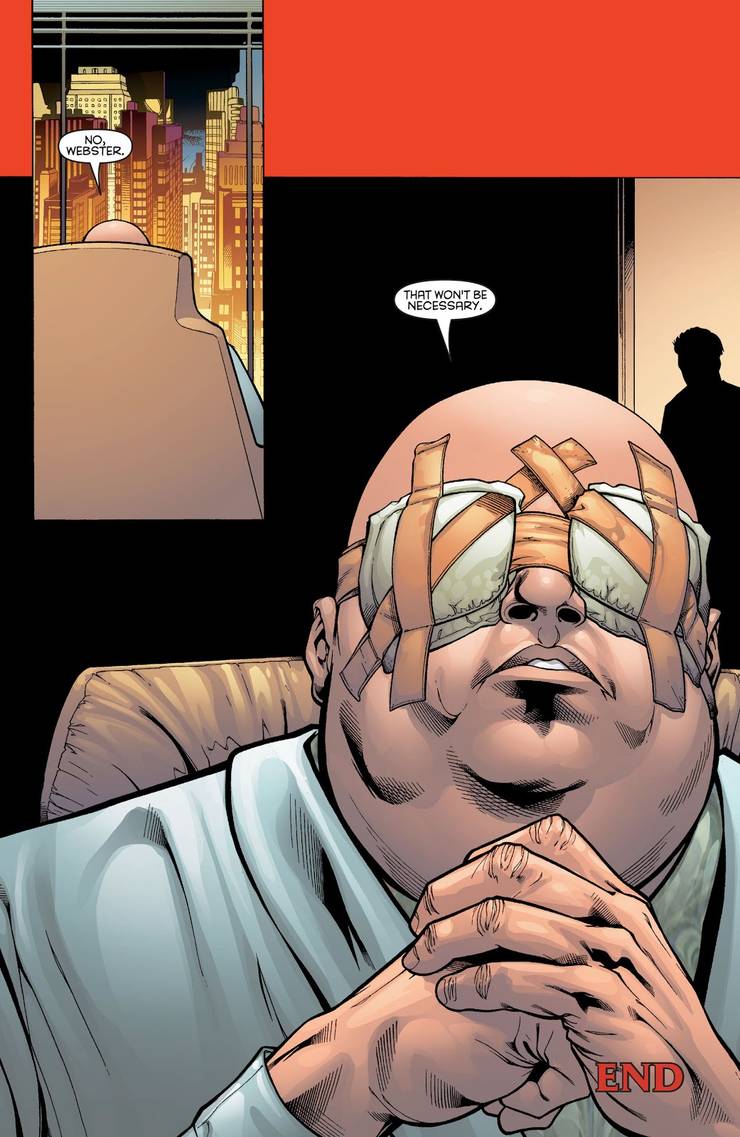 In Daredevil #15 (written by David Mack and drawn by David Ross in 1998), Echo confronts Kingpin for his involvement in her father's murder and shoots him in the face. He doesn't die however, but is blinded in both eyes for a time, thereby connecting him thematically to his adversary Matt Murdock.
Kingpin later recovers his vision, but the moment was a memorable one and the MCU will almost certainly follow in the comic's footsteps. Fisk even tells Maya in those final moments that family, "doesn't always see eye to eye", which is absolutely a heavy-handed reference to this comic run. So if Wilson Fisk is still alive, what does that mean for the future of Kingpin in the MCU, and where can fans expect him to show up next?
ECHO SPIN-OFF SERIES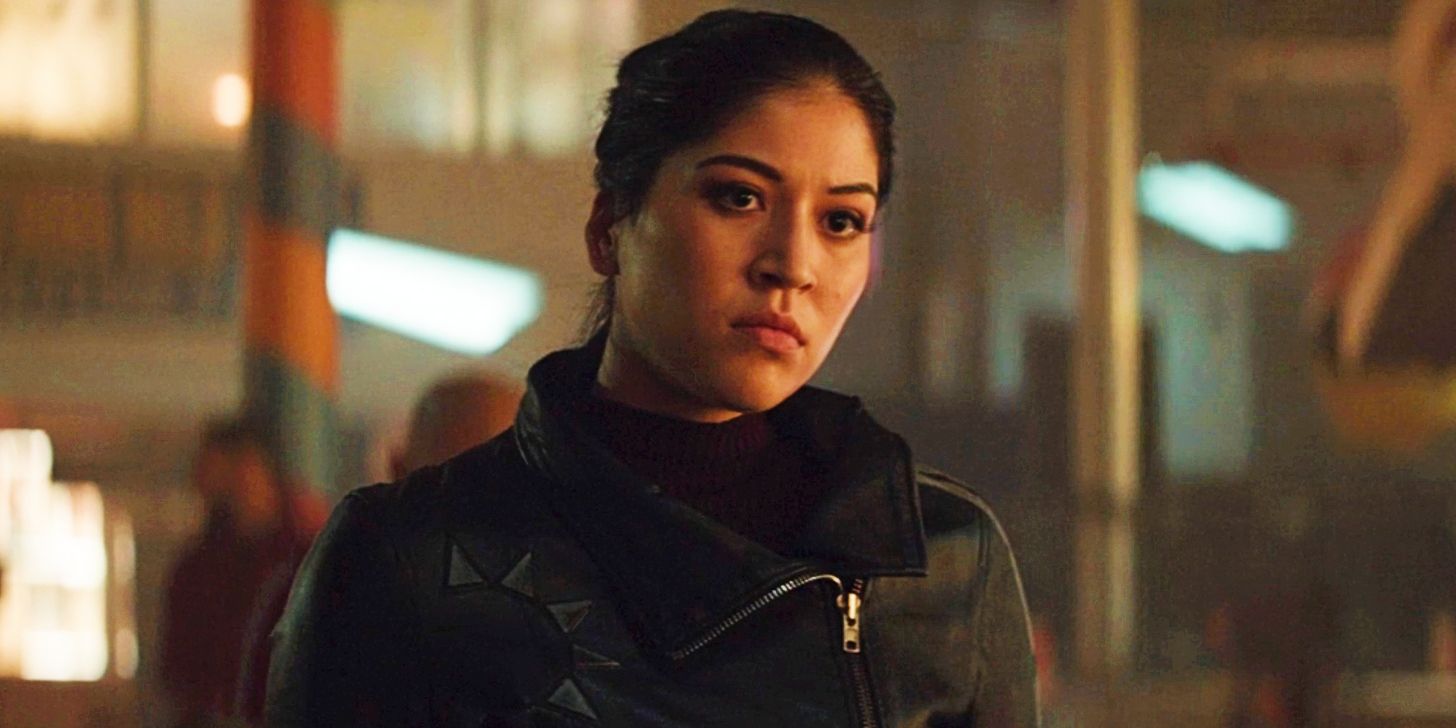 The most obvious place for Fisk to appear next would be the Echo spin-off series. Announced even before the Hawkeye show had aired, Echo is a spin-off Disney+ show that will revolve around Maya Lopez, played by the amazing newcomer Alaqua Cox. Not much is known about the plot of the show, but it's easy to imagine that Maya wouldn't be too happy about hearing that Wilson Fisk survived her attack.
RELATED: ECHO: EXPLORING THE MCU'S NEWEST VIGILANTE BEFORE THE BIG HAWKEYE DEBUT
The show could revolve around her hunting down the Kingpin to finish the job, or it could go any number of other directions. But we can expect Kingpin to show up either way, rocking his double-eyepatch like a more furious Nick Fury. Even if Maya's need for revenge is satisfied, Kingpin is certainly not going to let her get away with blinding him, and a rematch is almost certainly coming.
From there, we expect to see the blind beating the blind in a Daredevil revival series.
DAREDEVIL DISNEY+ SHOW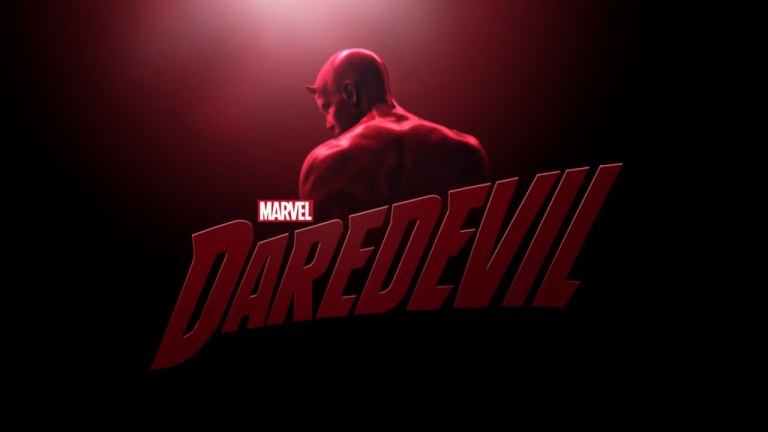 While a standalone revival of Daredevil hasn't been announced yet, it is almost certainly going to happen. After all, Charlie Cox just showed up as Peter Parker's lawyer in Spider-Man: No Way Home, and we guarantee that Marvel and Kevin Feige have plans to continue the character in his own Disney+ show or movie in the future.
RELATED: SHE-HULK: HOW DAREDEVIL COULD FACTOR INTO SEASON 1 OF THE EXCITING NEW LEGAL COMEDY
Cox is highly rumored to appear in the upcoming She-Hulk (releasing sometime in 2022), which makes sense as that show is said to have elements of a courtroom drama. We expect that both the Echo and She-Hulk series will lay the groundwork for a Daredevil reboot that will see the Kingpin return to his never-ending struggle with Matt Murdock, hopefully picking up some of the loose threads of the Netflix shows. Specifically, we want to know how Wilson Fisk managed to make it out of custody a SECOND TIME after the events of Daredevil Season 3. Keep on the lookout for announcements in the near future!
SPIDER-MAN COLLEGE TRILOGY
The third place we expect Kingpin to be appearing is the next Spider-Man trilogy, which is set to focus on Peter Parker's college years. No Way Home ended by giving many fans exactly what they wanted: a classic Peter Parker who relies on his own ingenuity and fights crime in New York City. The final scene even shows his swinging past Rockefeller Center, passing the Christmas tree and ice rink where the finale of Hawkeye took place! It's obviously on a different night than the Hawkeye battle since the tree is still up…but the implication remains.
The MCU is a vast web of storylines that can come together at any moment, and with Spider-Man seemingly staying in the neighborhood, we at The Illuminerdi expect to see him go up against the Kingpin at some point over his next few movies. And since Matt Murdock made a brief appearance in No Way Home, it's not outside the realm of possibility that we could see Spider-Man teaming up with Daredevil to take down Kingpin.
RELATED: THE AMAZING SPIDER-MAN 3: ANDREW GARFIELD'S STUNT DOUBLE WANTS A SEQUEL AND SO DO WE!
Imagine a criminal organization that pulls in Michael Mando's Scorpion and Michael Keaton's Vulture from Spider-Man: Homecoming…all run by Wilson Fisk. It's an exciting possibility, and one that has a very good chance of coming true now that Marvel has chosen to embrace the Netflix characters.
The future of Kingpin is bright (even if he can't see it), and we are more excited than ever to see where it goes! What are your theories on where Kingpin goes next? Let us know in the comments below or over on social media!
KEEP READING: SPIDER-MAN: NO WAY HOME SWINGS PAST EXPLOSIVE $500 MILLION DOMESTIC BOX OFFICE