Doomsday, the DC Supervillain most famous for killing Superman, is headed to the CW series Superman & Lois. 
Doomsday was first created by Dan Jurgens, first making a cameo appearance in Superman: Man Of Steel #17 before making his full debut in the following issue. Doomsday is one of the most enduring villains of the Superman mythos, appearing in several TV shows and films, both animated and live-action.
RELATED: BATWOMAN SEASON 3 EPISODE 9 "MEET YOUR MAKER" REVIEW: IVY IS AN EVIL THREAT TO BE RECKONED WITH
As a matter of technicality, the villain already appeared in the first two episodes of Superman & Lois, but the show has yet to unveil a clear look at the immortal beast. 
Doomsday Will Be A Supervillain In Superman & Lois Season Two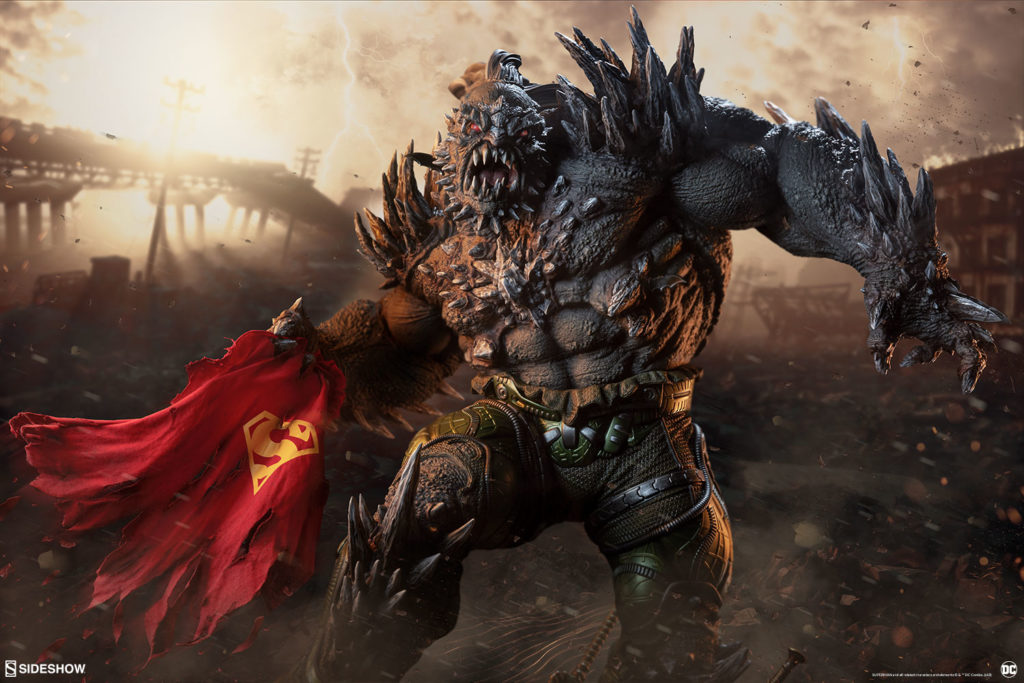 Thankfully, the showrunner of Superman & Lois, Todd Helbing has confirmed that the next episode will reveal "The Ultimate" in all his destructive glory.
"That [the end of Superman & Lois S2E1] is our homage to a classic Doomsday cover…Then in episode 2, you're going to see him a little bit more. In episode 3, you'll get the full reveal."

– Todd Helbing, Superman & Lois Showrunner
This will be mark the first time the character has appeared in live-action since the cancellation of SYFY's Krypton. Prior to that, Batman V Superman: Dawn Of Justice and Smallville featured him as an antagonist. It is currently unknown who is playing this new version of the villain, or if he is a completely digital creation. 
On Krypton, Doomsday's origin story told the tragic tale of a soldier named Dax-Baron. He was unique, possessing a special gene which aided him in regeneration and invulnerability. He agreed to work with the House of El and the House of Zod, Superman and General Zod's ancestors, to become something like a superhero.
He's Previously Appeared In Smallville, Krypton & Batman Vs. Superman: Dawn Of Justice
Instead, the scientists killed Dax-Baron and brought him back over and over again, testing him each time to make sure he couldn't be killed by the same means twice. After over five hundred tests, Baron was turned into the beast known as Doomsday.
In the present day events of Krpyton, General Zod captured Doomsday and unleashed him on his enemies. This version of Doomsday featured an origin story that was inspired by the comics, but only loosely adapting them. His character design is my favorite in live-action, looking the closest to the original character.
Smallville's version was a being named Davis Bloome. He came from Krypton, where he was created by combining multiple strands of deadly, powerful Krpytonian DNA. Davis harbored a beast inside, the creature known as Doomsday. He arrived in Smallville alongside Clark, but he wasn't discovered by a loving family like the future Superman. 
Davis was eventually unable to keep the beast contained, and thus attacked the wedding of Chloe Sullivan and Jimmy Olsen. Later, Davis Bloome became a serial killer, keeping the beast in by killing those he deemed guilty. Davis and Doomsday were eventually split in two with Black Kryptonite, but Davis was killed and Doomsday was defeated shortly thereafter. 
In Batman Vs Superman: Dawn Of  Justice, he was a creature Lex Luthor created using forbidden Krpytonian knowledge and technology. He used General Zod's corpse as part of the incubation process, and unleashed the beast on Superman and the world. 
Doomsday: This Version May Be The First To Wear The Classic Comic Book Costume
Batman, Superman and Wonder Woman fought together to kill Doomsday, marking the first time DC's trinity united to fight in live-action. This Doomsday is the only live-action version to kill Superman in battle, mirroring the classic comic book, The Death Of Superman.
We don't know much about the version of Doomsday coming to Superman & Lois. It looks like he could be wearing a suit similar to the one he wore in The Death Of Superman, but I can't be sure since we've only seen Doomsday in obscure darkness.
The arrival of this classic Superman supervillain on Superman & Lois is one of the most exciting things happening on DC TV right now. Don't miss Superman & Lois when it returns on January 25, 2022 at 8PM EST, with "The Thing In The Mines".
Are you excited to see Superman & Lois bring Doomsday to life? Let us know your thoughts in the comments below or on our social media!
KEEP READING: BATGIRL SET VIDEO MAY REVEAL JACOB SCIPIO'S MYSTERY VILLAIN