Lumpia was a passion project of Patricio Ginelsa Jr. for years before the film even came out in 2003. The film has grown into a cult classic over with fans begging for more of the Lumpia wielding superhero and thus Lumpia With A Vengeance was born. But this was just the start, Lumpia With A Vengeance has grown beyond a sequel movie spawning numerous comics within what is now known as the Deep Fried Universe. The comics fill in some of the blanks between the original Lumpia and this exciting new sequel as well as expanding upon the events of the sequel and what happens after the events of both movies.
At WonderCon 2022 The Illuminerdi had the opportunity to speak with Lawrence Iriarte who is not only one of the producers of Lumpia With A Vengeance but a writer and artist on the Lumpia With A Vengeance comics as well. Lawrence explained where in the timeline of Lumpia and Lumpia With A Vengeance the comics fit.
"That's the great thing is that we have different chapters. The last chapter, called the postlude, is coming after the fact of the movie, but we actually have a prelude, which happens between the original movie of Lumpia and to Lumpia With A Vengeance. And then we have the interlude which is happening right in between the scenes of the movie itself. So, you could actually watch the movie and read the interlude and find scenes and go, 'Oh my gosh, this is happening between these scenes.' And then now we have, which just came out [March 30th] is the postlude, the follow up after the end of our film."

"A broader universe of the Deep Fried Universe, as we call it. It's a chance to actually explore more behind the scenes kind of like what Marvel has done with Agents OF SHIELD and Agent Carter and that sort of thing. Well we're exploring the background of sometimes just the background characters themselves that are in the scene. And giving you a broader universe, a bigger sandbox to play in."
RELATED: The Bob's Burgers Movie Writers and Directors Tease What They Were Able To Do In The Movie That They Couldn't Do In The Show: Exclusive
This exploration of the Deep Fried Universe through comics allows the creators to dig deeper into characters introduced in both Lumpia and Lumpia With A Vengeance, including those that may not be the central characters of the films. Lawrence Iriarte talked about writing one of the chapters in the Lumpia With A Vengeance prelude focusing on the detective introduced in Lumpia With A Vengeance and explained how this character is the James Gordon of the Deep Fried Universe.
LAWRENCE IRIARTE TALKS ABOUT THE GORDON OF LUMPIA WITH A VENGEANCE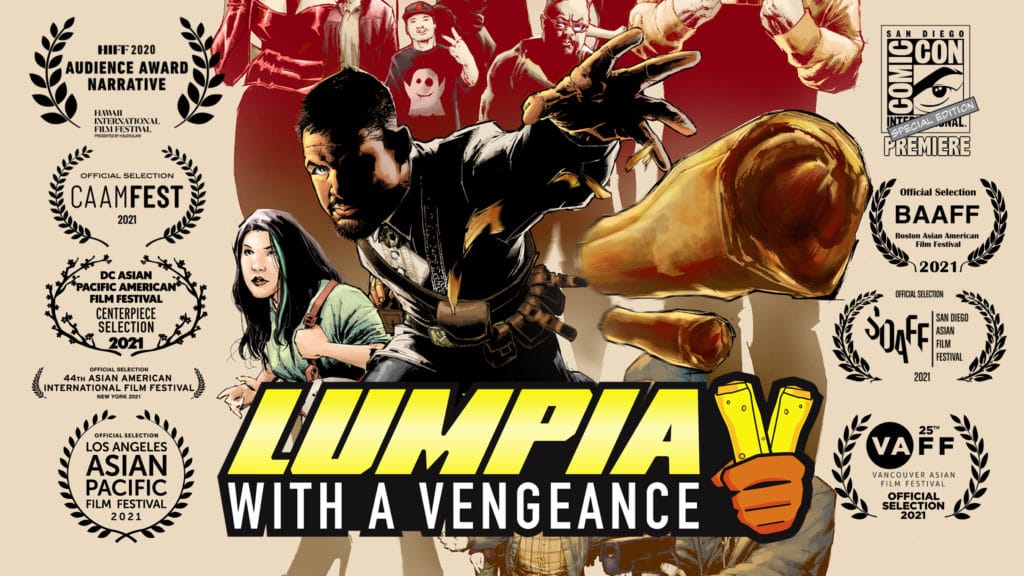 "I actually wrote one of the chapters in the prelude and my favorite is that we introduce a detective in the movie. And so, we get his background story and his involvement of the case of finding out this mysterious Lumpia Avenger. He's the Gordon! And he's finding out who is this mysterious vigilante who uses Lumpia. And so, I get a chance to actually write that story, the encounter of that."
This isn't the only character introduced in Lumpia With A Vengeance that has been further explored through the comics. One of the main antagonists in Lumpia With A Vengeance has actually been explored not only in the prelude, interlude, postlude comics, but in her own spin-off comic book series as well. Lawrence revealed what about Jemini stood out to them and why she was primed for a spin-off series of her own.
RELATED: LUMPIA WITH A VENGEANCE COMES TO WONDERCON 2022
LAWRENCE IRIARTE REVEALS WHY THEY WANTED TO WRITE A SPIN-OFF COMIC BASED AROUND JEMINI AND TEASES AN EPIC FIGHT SCENE IN ONE OF THE LUMPIA WITH A VENGEANCE INTERLUDES
"The character is very visually really, really cool. The character that we have in the movie with this divided lipstick different kind of sunglasses and it gave us a chance to explore her origins, her backstory and is there more behind her. And introduce something a little bit more of a different flavor that's within this superhero genre and expand the universe that we already did.

And just make it more even outlandish. I mean having villains that use yo-yos as a weapon, yet at the same time, you're like, is kind of cool. It's familiar, but cool. So, it gives a chance to actually touch into the culture, but actually gives us a chance to actually design and write. And just create that voice for that villain of like what could they be? And what kind of fun could we have with it?"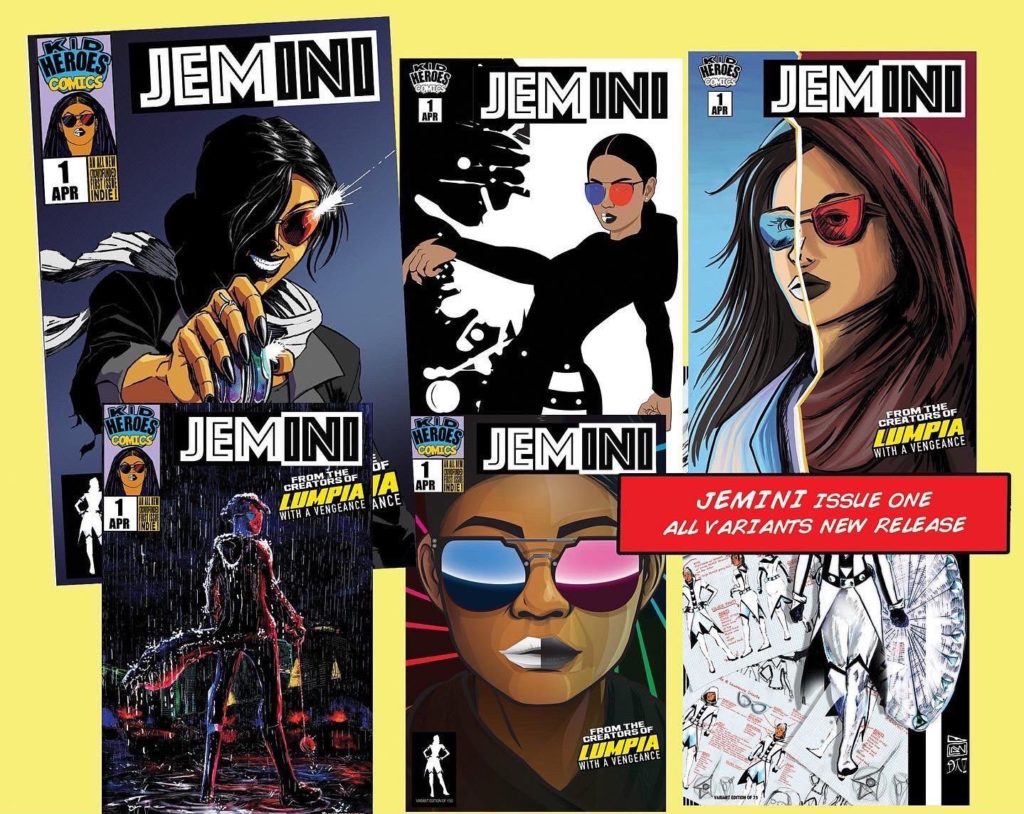 It seems Jemini may be only the first to gain her own spin-off series. In our interview Lawrence mentioned talking to his son, one of the co-designers of Jemini, about exploring the backstories of the kids in Lumpia With a Vengeance. He explained, "There's so many different characters that I would like to explore and we're creating that world. We're creating even more of just taking that challenge of, if you can believe that Lumpia can fight crime than the world is like blown open with that possibility."
RELATED: THE LEGENDARY LUMPIA SQUAD: FILIPINO AMERICAN COMIC BOOK KICKSTARTER LAUNCHED
Part of what is so exciting about the comics is the ability to explore the more outlandish aspects of this Deep Fried Universe. Lumpia With A Vengeance isn't a big budget movie on par with Marvel meaning the special effects and stunts while fun aren't at the blockbuster level that so many have come to expect from superhero movies. However, in the comics they are able to go all out with the action and stunts. Lawrence Iriarte revealed an action sequence that he was able to draw for the Lumpia With A Vengeance comics that they never would have been able to do in the film.
"Absolutely, I mean we're talking stunts, marital arts. So, rather than, 'Oh we can only afford three people.' Now, I was able to draw an entire fight sequence of an army of in this case, this is a spoiler, but in the issue of the interlude I have a bunch of bowlers that are just a gang of bowlers. Kind of like, it was inspired by the movie The Warriors and I'm going, 'Well, they have the Baseball Furies, like I have the Holy Rollers.' Like this bowling gang with pins and bowling balls.

So, you know, there's no way we're going to do that in it. We're talking like big budget special effects and major props and stunts. So, I threw in as many people as I wanted into the comic book strip because I could draw it and had a fight sequence, just an extravaganza. And no one got hurt! A lot of carnage, but no one got hurt."
Lumpia With A Vengeance brings all the crazy outlandish fun that is possible in the superhero genre not only to the screen, but comic book pages as well. From a hero who fights crime with Lumpia to villains that use yo-yos and bowling pins, this is the superhero insanity that makes this genre such a blast. Lawrence Iriarte's excitement, passion, and experience is obvious not only in this interview, but in his work. The Deep Fried Universe seems to be vast with endless possibilities and stories.
Be sure to check out the Lumpia Movie website for details about Lumpia With A Vengeance screenings and to buy the Lumpia With A Vengeance comic books including prelude, interlude, postlude, and spin-offs.
Have you seen Lumpia or Lumpia With A Vengeance? Are you going to read the Lumpia With A Vengeance comic books? Leave your thoughts in the comments below or on our social media and check back with The Illuminerdi for more Lumpia With A Vengeance.
KEEP READING: CONSTANTINE: SECRET WORKING TITLE AND NEW LEAD CASTING DETAILS REVEALED FOR J.J. ABRAMS LED HBO MAX SERIES: EXCLUSIVE