Over two decades later Toy Story is still an important corner stone of Pixar with the newest theatrical release, the highly anticipated Lightyear, bringing a unique new element to the franchise. Lightyear is set within the universe of Toy Story and is in fact the movie that the beloved Buzz Lightyear toy is based on.
The Illuminerdi had the opportunity to attend a virtual press conference and presentation by the impressive team of creators behind Lightyear. During this presentation director Angus McLande revealed that there are two movies that changed his life one being Star Wars and years later Toy Story. Interestingly these two loves seem to have come together with Lightyear being inspired by Andy's own love for his brand-new toy and the story behind it.
"Now you remember in Toy Story, Andy had a birthday party. His favorite gift was a character that he loved, Buzz Lightyear the Space Ranger. And it was a toy that would redefine playtime for Andy. And I've always wondered what movie was Buzz from, you know? Why couldn't we just make that movie? So that's what we did. Presenting Lightyear, the movie that Andy saw that changed his life. Andy's Star Wars. A sci-fi epic designed to inspire a new generation."
RELATED: BOB'S BURGERS CREATOR TEASES "FAVORITE RETURNING GUEST STARS" IN THE NEW BOB'S BURGERS MOVIE: EXCLUSIVE
For many young fans Star Wars had the genre defining effects that it did for Angus McLane and to now bring that into the world of Toy Story seems like the perfect way to combine two of McLane's most important cinematic experiences.
LIGHTYEAR IS PIXAR'S FIRST SCI-FI ACTION ADVENTURE FILM
Lightyear is exciting for a number of reasons including the fact that this film is set within the Toy Story universe expanding the story in a completely new way. Lightyear is also adding a new tool to the animation power house's tool belt. Angus excitedly explained during the presentation that "[Buzz Lightyear's] starring in Pixar's first sci-fi action adventure movie." While Pixar has dabbled in science fiction before with Wall-E, Lightyear looks to be a more gritty and action packed sci-fi film.
RELATED: THE BOB'S BURGERS MOVIE CAST REVEALS SURPRISE CHARACTERS FROM DISNEY'S VAULT THEY WANT TO CAMEO: EXCLUSIVE
Director Angus McLane also gave special insight into the heart of Buzz. This is a character dear to McLane's heart having worked on a number of Toy Story projects including Toy Story 2, Toy Story 3, Toy Story 4, and a few shorts including Small Fry. It seems with this new film McLane took the opportunity to really dig into the heart of Buzz and what makes him such a compelling character.
"Although I'd been working with the character for the better part of two decades, It was in the development for this film that we truly discovered the unifying character trait of the character that we know and love as Buzz Lightyear. See, he's a character who is at odds at with his surroundings. Or to put it another way, Buzz always has a disagreement over the nature of reality.

So, in Toy Story, Buzz thinks he's a space ranger, Woody disagrees. In Toy Story 2, Buzz thinks he's the Buzz Lightyear, the other Buzz Lightyear disagrees. We had Spanish Buzz in Toy Story 3. In the shorts we had tiny Buzz. Buzz is a character who is best when he is at odds with his surroundings."
RELATED: THE BOB'S BURGERS MOVIE WRITERS AND DIRECTORS TEASE WHAT THEY WERE ABLE TO DO IN THE MOVIE THAT THEY COULDN'T DO IN THE SHOW: EXCLUSIVE
With this being Pixar's first sci-fi action adventure, the filmmakers wanted to be sure that this tone was set by every aspect of the film. This includes not only the character and sets design, but the score as well. Producer Galyn Susman revealed what made Michael Giacchino the ideal choice to bring the film to life with a "bombastic sci-fi score."
"Lightyear is a sci-fi action adventure movie, and it needs to have a bombastic sci-fi score. Michael has been a friend and colleague for many years now. But that's not the only reason he was our first and only choice for Lightyear. Between Star Trek and Rogue One, he has clearly proven his sci-fi chops, and honestly, he is so much fun to work with, you can just hear it in the music. And after all, isn't that why people go to the movies, especially to see sci-fi action epics?"
RELATED: THE BOB'S BURGERS MOVIE CREATOR EXPLAINS THE BENEFITS OF NEW MOVIE BEING 2D: EXCLUSIVE
Lightyear is like no other Pixar movie, as a sci-fi action adventure film set within the Toy Story universe this is a unique and thrilling new adventure. With a "bombastic sci-fi score," a deeper look into the beloved Pixar character, and a new genre to explore Lightyear is primed to be a truly new Pixar experience.
LIGHTYEAR OFFICIAL TRAILER AND SYNOPSIS
A sci-fi action adventure and the definitive origin story of Buzz Lightyear (voice of Chris Evans), the hero who inspired the toy, "Lightyear" follows the legendary Space Ranger on an intergalactic adventure alongside a group of ambitious recruits (voices of Keke Palmer, Dale Soules and Taika Waititi), and his robot companion Sox (voice of Peter Sohn). Also joining the cast are Uzo Aduba, James Brolin, Mary McDonald-Lewis, Efren Ramirez and Isiah Whitlock Jr. Directed by Angus MacLane (co-director "Finding Dory") and produced by Galyn Susman ("Toy Story That Time Forgot"), "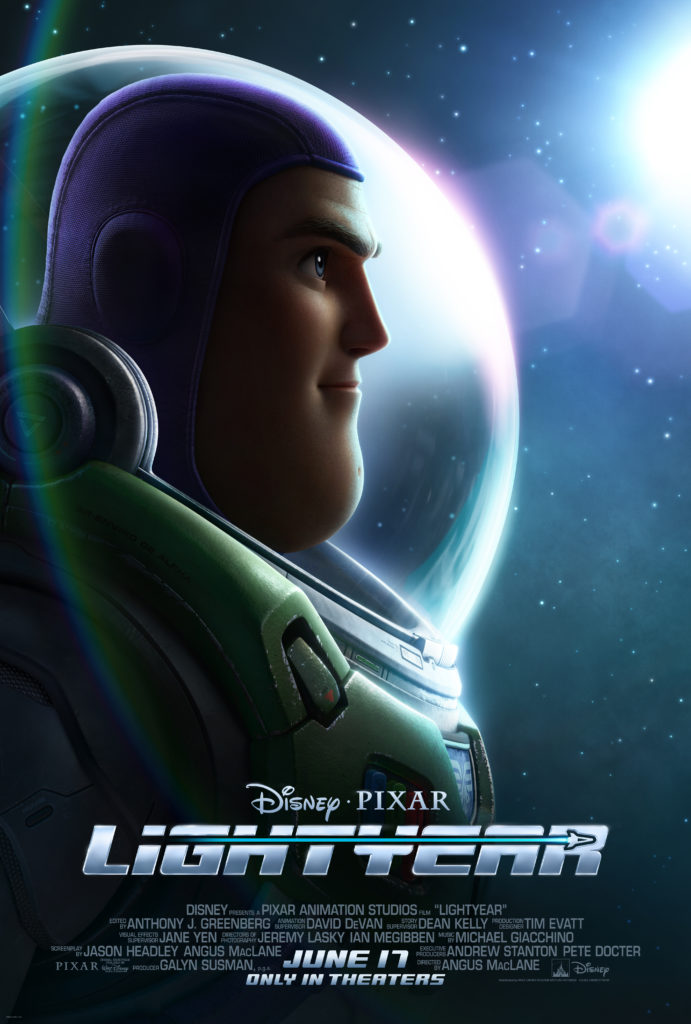 Lightyear is scheduled to hit theaters June 17, 2022. Are you looking forward to seeing Lightyear? Are you excited to see Andy's Star Wars within the Toy Story universe? What do you think about Pixar branching out into sci-fi action? Leave your thoughts in the comments below or on our social media and check back with The Illuminerdi for more Disney, Pixar, and Lightyear.
KEEP READING: THE BOB'S BURGERS MOVIE CAST TEASE THE MYSTERY BEHIND LOUISE'S BUNNY EARS WILL BE REVEALED IN NEW FILM: EXCLUSIVE