Disney is synonymous with animation, creating some of the most iconic films and characters in animation history. Now, fans can learn to draw some of these beloved characters including Aladdin's Genie, young Simba from The Lion King, Frozen's Olaf, Encanto's Maribel, and more from Walt Disney Animation Studios' own artists in Sketchbook.
Sketchbook combines "how to draw" with deep dives into the lives and histories of six Walt Disney Animation Studios artists and animators. The Illuminerdi had the opportunity to participate in a press day for Disney Plus' new series Sketchbook with these artists including Eric Goldberg who was integral in creating one of the most iconic characters in Disney history, Genie. Eric is a skilled hand-drawn animator and while Walt Disney Animation Studio has primarily focused on CG animated projects it seems the studio may be going back to their roots of hand-drawn animation. During the Sketchbook Q&A, Eric Goldberg talked about a "new trainee program for hand-drawn animation," and teased several upcoming projects involving hand-drawn animation.
SKETCHBOOK'S ERIC GOLDBERG TEASES UPCOMING HAND-DRAWN ANIMATION PROJECTS
"Well, I'm happy to report that, first of all, we've just started a new trainee program for hand-drawn animators here. We're thrilled to have them here. And, you know, with that, it means that we have several projects that I can't talk about, several projects on the boil that involve hand-drawn animation. Also, it never really went away. People like Mark and myself and Randy Haycock, we've all been doing and drawing all this time, but all of a sudden, it's coming back.

You know, as a teacher we noticed that our students- I teach at USC- we notice that our students want to learn traditional and draw. And that's really what's driving so many of them these days. And to actually have the studio put into force a program where we're actually going to be augmenting that and bringing up a new generation is very, very exciting. Plus, it's great just to have lots of hand-drawn work in the studio."
RELATED: THE BOB'S BURGERS MOVIE CREATOR EXPLAINS THE BENEFITS OF NEW MOVIE BEING 2D: EXCLUSIVE
Walt Disney Animation Studios has created some of the most beloved movies and characters with many being in the style of hand-drawn animation. The different styles of art through the years have demonstrated the studio's evolution over time, but the continued popularity has shown the legacy of this style. Walt Disney Animation Studios movies and characters have managed to stand the test of time with people still fascinated not only by the characters but animation as a whole. Sketchbook taps into this wonder pulling the curtain back a bit on not only the artistry but everyone's ability to draw. Eric Goldberg, who has been working with Walt Disney Animation Studios since Aladdin, talked about the far reach of animation.
"My first gig here was doing the Genie and my first Disney film was Aladdin, and I learned an awful lot about both making those films here and what it means. What really struck me more than anything else was just how far reaching these films are that we are involved in. Animation enjoys a very healthy shelf-life compared to many live action films. And these things, if you do them well enough, can last for decades and decades.

The fact that we can be part of that is, first of all, daunting, but second of all, very, very heartening. The fact that we can be part of something that millions of people can see and enjoy. That's a very heady concept for somebody who came from television commercials to work here. So, it's very profound, the effect that Disney films have on a world audience. And I am delighted to be part of it."
RELATED: LIGHTYEAR DIRECTOR EXPLAINS HOW "ANDY'S STAR WARS" WITHIN THE TOY STORY UNIVERSE IS PIXAR'S 1ST SCI-FI ACTION ADVENTURE MOVIE
Genie is one of the characters that has truly stood the test of time much to Eric's joy as he described revisiting the Genie as "visiting an old friend." He has tapped back into this character a number of times which is a rarity, but it seems a happy one as he explains. "And when we do new projects with the characters and things where we get to draw reanimate them again, it's like, 'yeah, they're still around.' They haven't lost their sheen. It's really fun to revisit them and reconnect."
Sketchbook gives audiences the chance to not only learn to draw some of these fan favorites but to get to know the people either behind these characters or why the character they chose to draw is so important to them. Sketchbook gives long-time Disney fans a peek behind the curtain of one of Disney's most magical elements, art and animation. And beyond that, it gives audiences a chance to try their hand at bringing these characters to life themselves.
Sketchbook is available now on Disney Plus.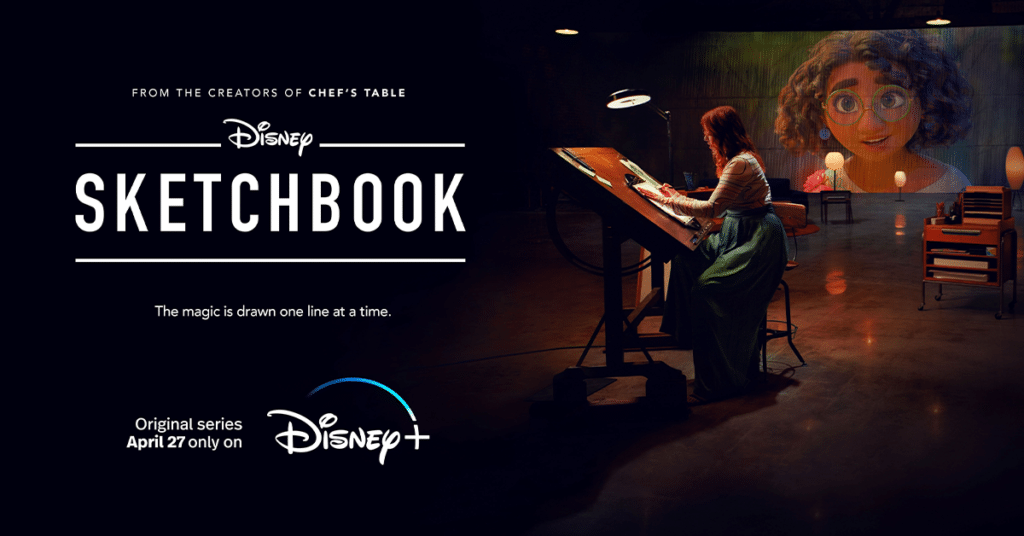 Are you a fan of hand-drawn animation? Are you excited to learn how to draw some of Disney's most iconic characters? What do you think about the legacy of animation? Leave your thoughts in the comments below or on our social media and check back with The Illuminerdi for more Disney and Walt Disney Animation.
KEEP READING: LIGHTYEAR: HOW CHRIS EVANS' CAPTAIN AMERICA PERFORMANCE MADE HIM PERFECT TO VOICE BUZZ LIGHTYEAR